New York Summer 2019 : 5 Must-Visit Events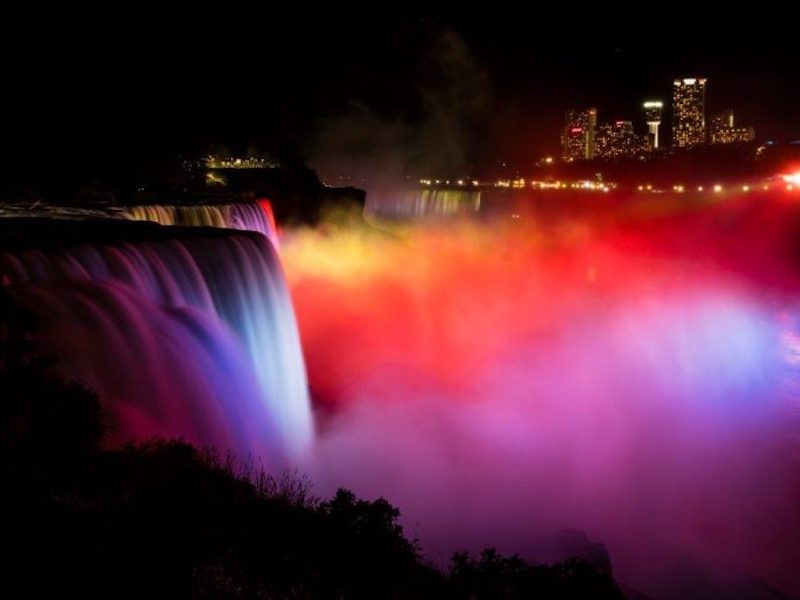 As the northeast begins its annual thaw, New York State is finalizing its preparations for the millions of tourists and locals that rely on the multifarious state to deliver on a wide spectrum of sights, adventures and entertainment. From the beaches of Fire Island to the mountains in the Adirondacks to the Falls at Niagara, New York has some of the most stunning landscapes maintained in over 100 natural preserves and roughly two dozen national parks. But this summer, New York is especially proud of its long legacy, as well as its new history-making sites. Highlighted below are just 5 must-see offerings, celebrating old and new, this New York summer 2019.
World Pride 2019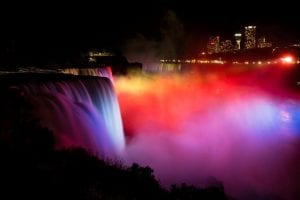 For the first time, The United States will host the largest Pride celebration in the world. The international event will coincide with the 50th anniversary of the Stonewall uprising – the riot at the Stonewall Inn that catalyzed the LGBTQ rights movement in June of 1969. Though Stonewall is at the heart of the celebration, World Pride will be celebrated state-wide.
Woodstock turns 50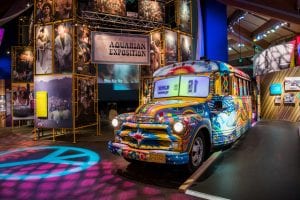 Up in the Catskills in the town of Bethel, another pivotal event will join the Stonewall uprising in celebrating its golden anniversary: The Woodstock Music Festival. The famous music and art fair where an estimated 400,000 revelers flocked to a 600 acre dairy farm just northwest of New York City will turn 50 this summer. Special commemorations to the world-famous counterculture event are planned in August.
August 15 – 18 : "Woodstock", the 1970 documentary film, will be screened on the field where the fair took place. The screening, hosted by the Bethel Woods Center for the Arts, is part of the center's  "A Season of Song and Celebration" which includes performances by legends such as Ringo Starr, Arlo Guthrie and Santana.
August 16 – 18 : Woodstock 50 – The 3 day multistage event will hosted by the original Woodstock's co-founder, Michael Lang, in Watkins Glen NY. The impressive lineup of artists that come from various musical genres and generations include Jay-Z, David Crosby, Imagine Dragons, Janelle Monae, John Fogerty, Miley Cyrus, Santana, The Killers and much much more.
A Poetic Bicentennial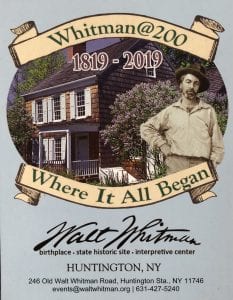 Though the Golden anniversaries of the Stonewall uprising and Woodstock are impressive, the longevity of Walt Whitman's celebration has them both beat. Born May 31, 1819, in Long Island, NY, Walt Whitman is one of America's prolific and cherished poets. His birthplace in Huntington Station, Long Island is a state historic site and still stands to commemorate his nativity.
May 31 – June 2: The Whitman Bicentennial Birthday Weekend, featuring tours, panels and musical theater pieces.

June 1 : A Poet's Picnic: a marathon reading of "Leaves of Grass" while Whitman-era music is presented.

August 9 – 11 : The Annual Walt Whitman International Festival – international presenters, panel presentations, student poetry writing workshop, musical and theatrical performances.

August 10 : Keynote speaker: Whitman Scholar Ed Folsom
A Whole New Neighborhood
Though New York is rich with history, it is constantly innovating and surprising visitors with new sites and experiences. You would think that New York City's most densely populated, yet smallest borough would have no room left to develop, but you'd be wrong. Developers have turned roughly 25 acres of space that sits mainly above an active storage yard for trains into a brand new neighborhood. Surrounded by Hell's Kitchen, the Garment District and Chelsea, the new area in Midtown West will have a public green space, an entrance to the Highline Park, office buildings, a hotel, residences, a 7 story mall, and a cultural facility called "The Shed".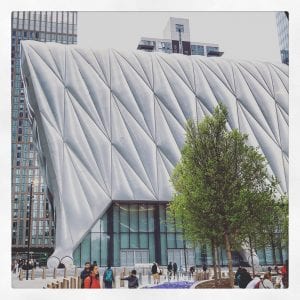 The Shed is both an organization that "commissions original works of art, across all disciplines, for all audiences" and a 200,000 square foot center for art and performance. The eight level building is enveloped by a massive, movable outer shell.
April 6- June 2 : Reich Richter Pärt – Painter Gerhard Richter collaborates with Composers Steve Reich and Arvo Pärt to explore the relationship between music and visual art in two immersive live performances.
April 6- May 30 : new work by conceptual artist Trisha Donnelly.
April 6- May 19 : Norma Jeane Baker of Troy – star A theatrical work by Anne Carson performed by Ben Whishaw and Renée Fleming exploring the lives of Euripides's Helen and Marilyn Monroe.
May 18 – May 19 : POWERPLAY – "A women-centered celebration of radical art and healing". Artists tell stories through spoken word, moving images, hip hop, music, and dance.
May 30 – August 25 : Open call – new art from 52 New York City-based up-and-comers.
A New Museum of Laughs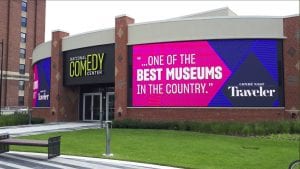 While the Shed is a new place to experience visual and performance art, the National Comedy Center  is a new state-of-the-art museum dedicated to the art of comedy. Found in Lucille Ball's birthplace of Jamestown, NY, the center is the nation's official cultural institution dedicated to American comedy. Visitors will learn and laugh at the history of American comedy by interacting with over 50 immersive exhibits. Through cutting-edge personalization technology guests can explore comedy that is tailored to their own specific tastes after creating a unique "humor profile". Whether it be stand-up, cartooning, comedy writing, slapstick, satire or sit-coms American comedy is celebrated and on full-display at the National Comedy Center.
July 27 – August 3 : "What's Funny?" – A week-long program created by the National Comedy Center and the Chautauqua Institution that will explore the art of comedy and its impact on society.
August 7 – August 11 : The Lucille Ball Comedy Festival – Featuring more than 50 events and 30 artists in Jamestown, NY. The annual festival takes place across multiple venues across Lucille Ball's hometown, along with events and exhibitions at the National Comedy Center. This year the festival features stand up from John Mulaney, an Ernie Kovacs Exhibition and a Block Party outside of the National Comedy Center.

National Comedy Museum courtesy of iloveny.com
These are just a few of the sites and events that New York summer 2019 has to offer. So whether you're a native New Yorker or looking to visit the Empire State for the first time, make sure you add these memorable and exciting sites to your New York itinerary!
Learn more at iloveny.com and nycgo.com.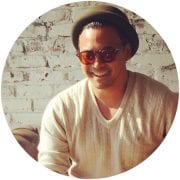 jordi adiao
I learned early in life to embrace your awkwardness... now, are you going to eat your chicken skin?