The latest in NY from Thai fare legend Andy Ricker is Pok Pok Phat Thai in the Lower East Side. Elspeth Velten checked it out.
By Elspeth Velten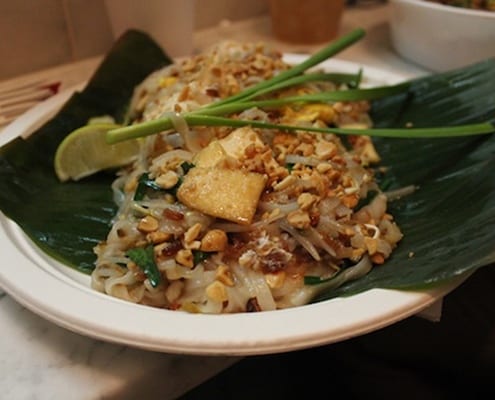 The latest in NY from Thai fare legend Andy Ricker is Pok Pok Phat Thai in the Lower East Side. Phat Thai took over the tiny former Pok Pok Wing spot, and besides the fact that spirits on Yelp are mourning the loss of wings, the first reviews of Phat Thai are mixed. Ricker has said that he hasn't put pad Thai on the menu at any of his other restaurants because he thinks that the dish deserves the same attention and care that it gets on the streets in Thailand. Thus, a whole space and staff are now dedicated to it. I went down there with some friends a few weeks ago to try it out.
A friend and I split the Phat Thai Ruam with ground pork and shrimp, the Kuaytiaw Khua Kai and a tamarind drinking vinegar. They don't sell water but there is a free-for-all cooler of pandanus water in the corner.
When the food came I was surprised how huge the pad Thai was. Served on a banana leaf and garnished with scallions, peanuts and lime, this was a delicious rendition. One of the best I've had in New York. One of my companions couldn't stop raving about the fresh pieces of scrambled egg scattered throughout, and I thought the tamarind sauce was really nice and the tofu tender. Another friend thought there was too much fish sauce but I disagree. The noodles were perhaps just a bit overcooked and bordering on gummy in my opinion.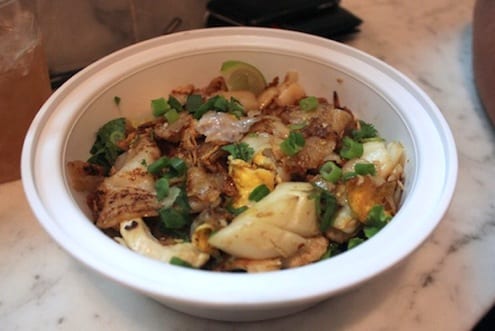 The Kuaytiaw Khua Kai, wide rice noodles stir-fried in pork fat with chicken, cuttlefish, egg and green onions served on lettuce was a bit more out there. The portion was much smaller but the noodles had a golden brown crisp and the cuttlefish was tender. We loved this dish, and the drinking vinegar as well.
Dishes here aren't super cheap but the food is certainly worth it. (The pad Thai was $12 but huge.) Don't get drunk before Pok Pok Phat Thai because the tiny store has no bathroom.
Pok Pok Phat Thai
137 Rivington St. between Norfolk and Suffolk. (212) 477-1299