In New York City, there's no lack of chefs who profess a passion for locally sourced, high quality ingredients. Yet even when the best purveyors and ingredients are a given, how do loyalists to this admirable trend ensure their restaurant doesn't become just another kale salad spot?
By Carly DeFilippo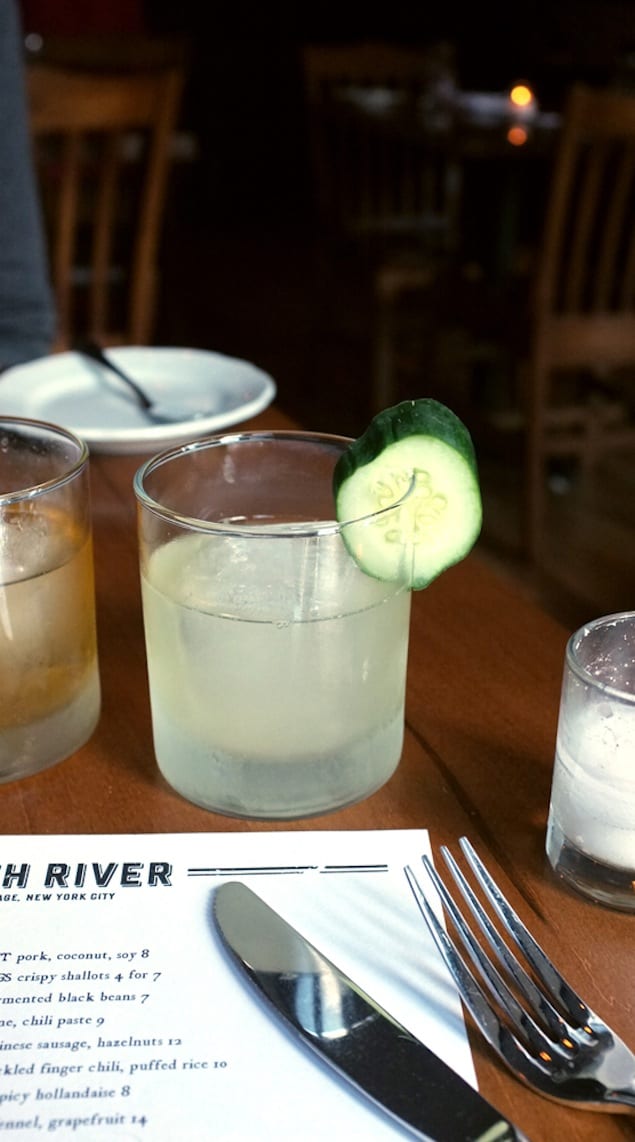 Shockingly, on the menu at East Village newcomer North River, there's not a leaf of kale in sight. That may not be a conscious choice, but it seems an apt representation for the restaurant's philosophy, which is to fall squarely within the "farm to table" trend without falling back on the expected clichés.
For starters, the cocktail menu offers a "spring milk punch": an infusion of gin, yogurt and cucumber, strained into a translucent, frosty glass of what might be called the cocktail cousin of tzatziki. It's one of those ideas you're really not sure should work, but ends up surpassing all expectations. Adding a slightly more viscous mouthfeel to the gin, it's a refreshing (in all senses of the word) new perspective on spring cocktails.
On the appetizer side, given all the pork belly and donuts strewn about this city, I was skeptical of the restaurant's "belly doughnut." Yet what could have been another overly indulgent crowd-pleaser turned out to be an unexpectedly elegant and tasty dish. Beautifully presented, the toasted coconut-topped donut was sliced sandwich style and artfully tilted to reveal just enough sliced belly and a contrasting layer of pickled Persian cucumbers. It's safe to say I've never had a more balanced, subtle donut or pork belly dish in my life.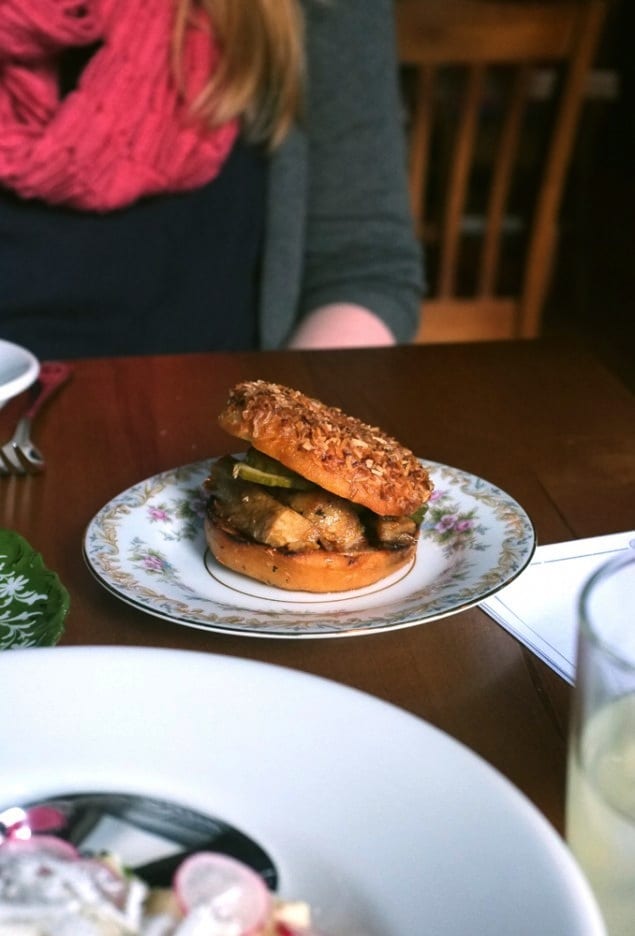 The pork ribs were equally addicting. Rubbed with an intensely savory spice blend that packed just enough lip-tingling heat, the more meaty-than-fatty flesh pulled clean off the bone. Accompanied by a refreshing slaw of purple cabbage, broccoli and apple, it was BBQ, but a bit more buttoned up.
Among the menu's other innovative moves, a favorite dish was the cauliflower salad. Blanched, then butter poached, but still al dente, these small florets were paired with peppery shaved radish and threads of salty, tangy ricotta salata. My dining companion already has plans to return and eat a whole bowl in one sitting.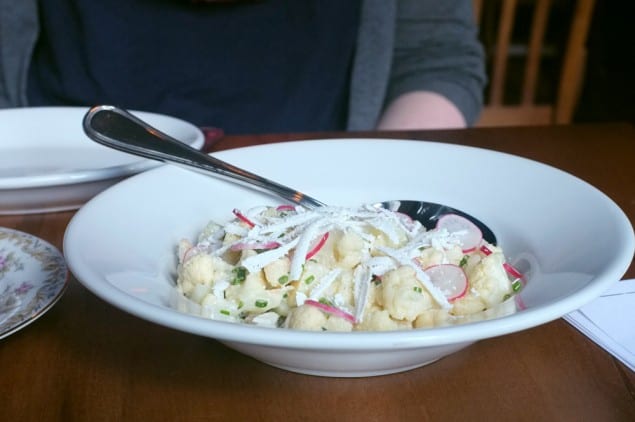 For our main course, we shared the Arctic char and buttermilk cavatelli. Far from the subtle flavors often paired with fish, the meaty char was dressed with a spicy green puree and crisped up garnish of shishito pepper and charred shiitake. The buttermilk cavatelli was another unexpected star—creamy, tangy and so ingenious that it could convert even the staunchest supporters of regular old macaroni and cheese. Served with a side of still-crunchy gai lan (Chinese broccoli)  dressed with spicy pork sausage and garlic chips, it was a flavor forward meal that left us fully satisfied but not heavy or stuffed.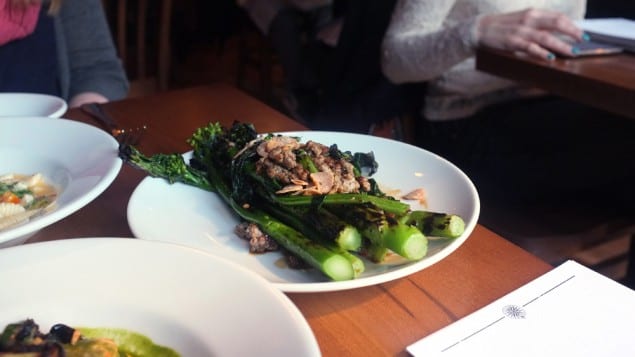 For dessert, we opted for the homey pecan tart with butternut squash whipped cream. Far from the saccharine, sticky pecan desserts we've all grown up on, this crumblier rectangle of candied pecans and shortbread crust was perfectly salty and, while easy to share, worth hogging.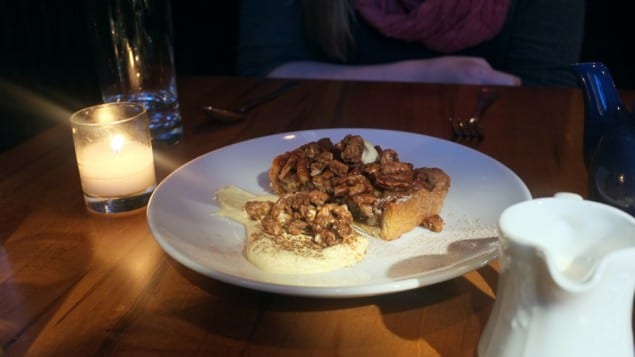 A crowd of fans has already descended on North River, and it's easy to see why. Chef Starowicz's refreshing spin on farm-to-table cuisine turns what could be overly-indulgent comfort food or staid locally sourced classics into surprising dishes that are more witty than weird. It's an impressive start for a four-month-old restaurant, and diners will be smart to nab a table before admirable nods from the name brand critics start rolling in.