New Jersey And The Most Delicious Way To Disgrace Your People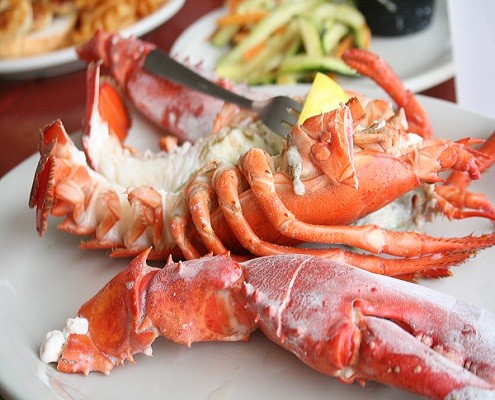 Sarah Spiegelman decides that sometimes its better to be a horrible Jew than to be a hungry Jew.
Text And Photos By Sarah Spiegelman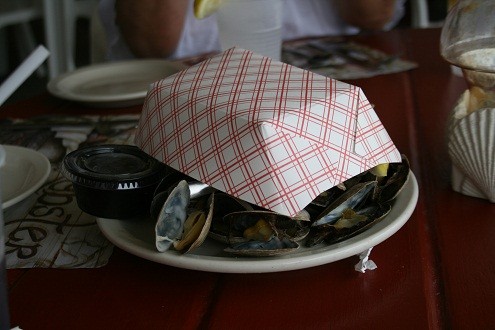 Being Jewish has so many fun things about it. The huge family dinners where your grandmother guilts you into eating huge quantities of saltless food. The bar and bat mitzvahs that record in photographs the ugliest times of your lives. The hamburgers – NEVER, EVER CHEESEBURGERS – that must be eaten sans milkshakes. Okay, so these aren't the best parts of my culture. In fact, they are some of the most annoying parts. They are the reason that I cannot help myself from going against the grain.
I continue to disgrace my people.
In New Jersey.  This is where my people COME from (well, not since biblical times, just from the sixties on. My PERSONAL people did better in the suburbs than the middle east. Wouldn't you?).  Point is, I shame them on their home turf.  But I'm not alone.
Look at what this place is called for instance. You think the people that own Klein's Fishmarket, Grill, and Waterside Cafe are Protestants? Probably not. And look at the gorgeous menu chock full of shellfish and pork.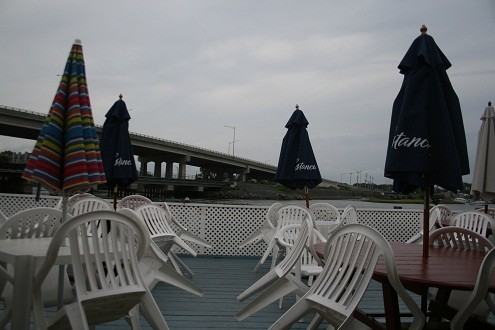 Even the less than charming set-up fails to put a damper on the amazing meals that follows.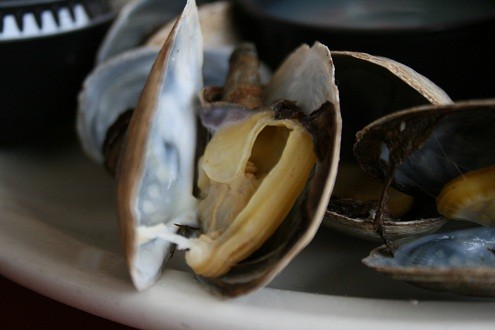 Be still my heart.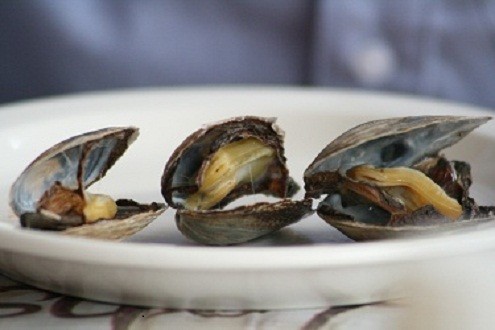 These are steamers. They are the KING of clams.  And this is how you eat them: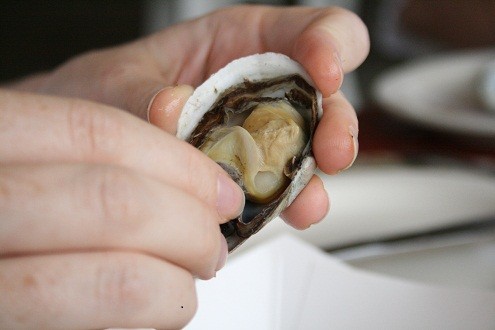 1)Open the clam and rip off the empty half of the shell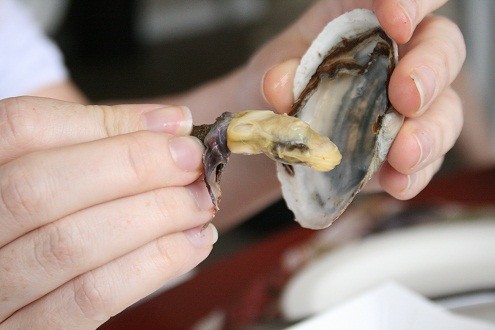 2) Separate the entire clam from the shell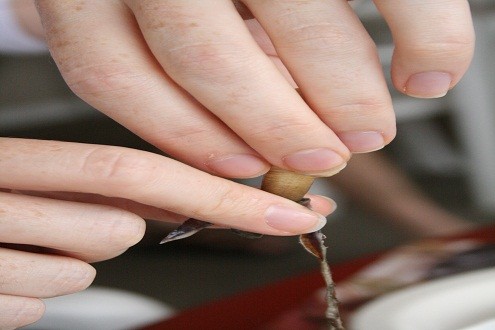 3) Grab hold of the little black sock thing on the end of the clam, and slip it off (thats what she said)
4) Dip it in clam broth first, to rid it of any residual sand, then into the melted butter and enjoy the briny, tender, sweet, buttery, juicy, flavorful mollusk and hope that the Lord does not smite you on the spot.
As long as you are still alive, on to: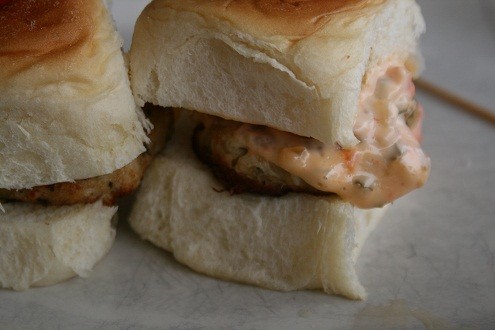 The crabcake sliders. Pan fried to crispy perfection, loaded with rich crab and just a touch of buttery breadcrumbs.  Spread with a caper, chili sauce, and mayonnaise remoulade that was creamy, tangy, salty, and sweet, the slider was a bite of heaven on the soft potato roll.
See Also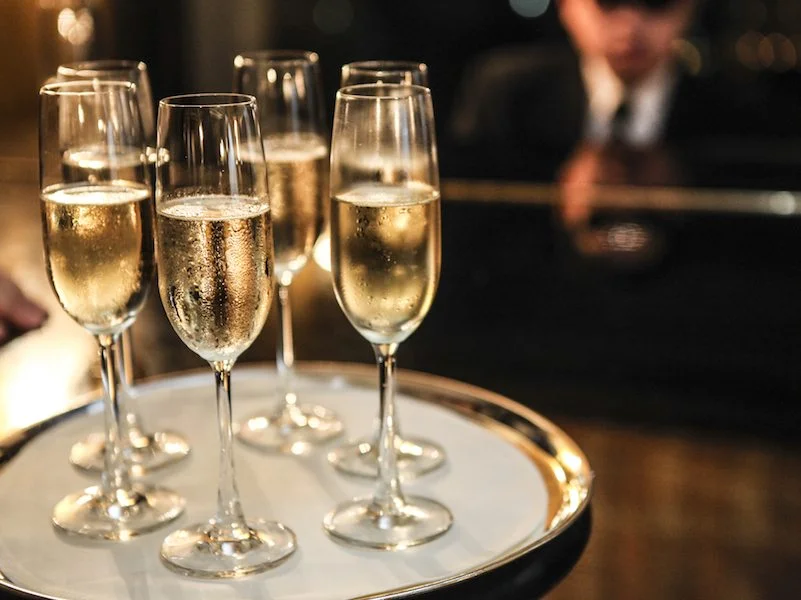 It paired perfectly with: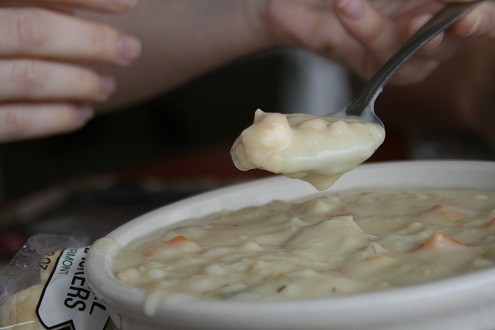 Clam chowder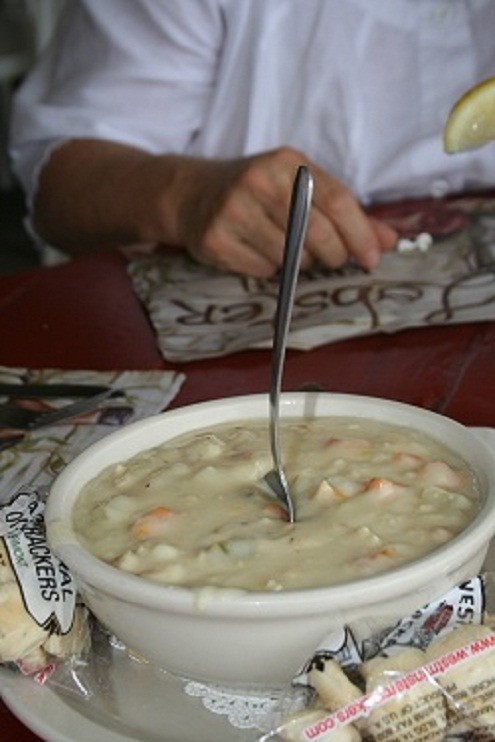 That is a spoon standing upright
in the soup.  That is how thick this incredibly un-Kosher THRILL is.
Cream, butter, thyme, butter, clams, butter, bacon, butter, potatoes, butter, onions, BUTTER…this clam chowder was reminiscent of the my Proust-ian relationship with clam chowder at 
Disneyland's New Orleans Square
. Rich, buttery, almost embarassingly thick…this tasted more of potatoes than clams.  Usually I would hate that, but since it reminds me of childhood, I felt at once giddy and satiated…
and forgot that i was sinning.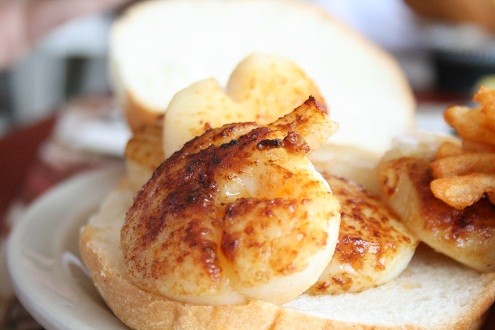 Scallops.  These mollusks are broiled quickly so the outside is caramelized with paprika and the inside is still slightly translucent.  Velvety, succulent, soft, with just the faintest crunch on the outside.  With a dollop of spicy cocktail sauce and some  creamy coleslaw, it is the world's most delicious way to sin.  I have NEVER had scallops better than at this little bare bone establishment.  Butter with only the faintest hint of the sea.  This is great way to introduce someone to seafood.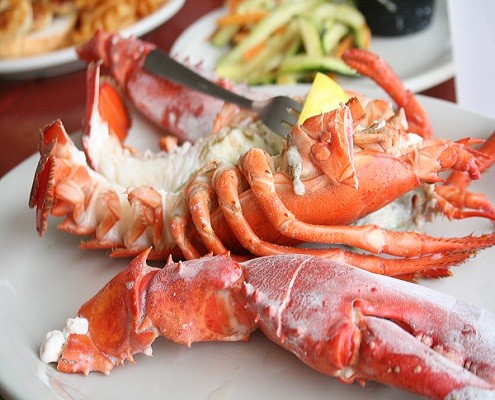 And this is a great way to be a bad follower of the Torah.
The lobster roll has got to be the most indulgent way to eat this fabulous crustacean.  Creamy mayo, crunchy celery, the faint acidic tang of vinegar, the bite of pepper and salt.  Sweet, meaty pieces of lobster piled into a buttered and toasted hot dog bun.  Those DELICIOUS waffle fries.  Well, at least the fries are not treif.
This meal was simply divine.  Fresh seafood, very reasonable prices, casual atmosphere, wonderful company.  I would go back in a HEARTBEAT.  It might mean that I am a horrible Jew, but… a horrible Jew is better than a hungry one.
Sarah Spigelman
Sarah Spigelman is a New York based writer, editor and lifelong food enthusiast. Her writing can be seen in Northeast Flavor, Burn! and Bites.com, among other outlets. She also is an avid improv comedian, and performs weekly with National Comedy Theatre. More of her gustatory adventures in NYC and beyond can be seen at her personal website Fritos And Foie Gras