Pack yer clogs and hop on a plane to the Netherlands. Simone Van Den Berg dines ahead to make sure you don't go wrong in the land of tulips.
By Simone Van Den Berg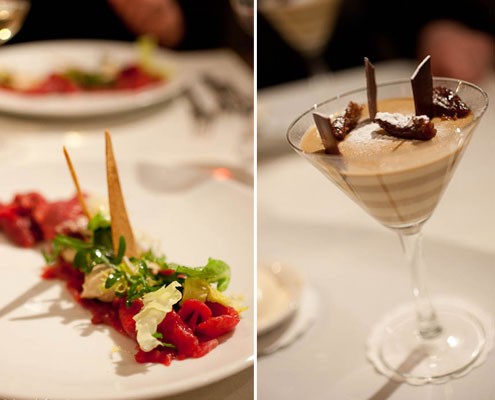 The Dutch Restaurant week is an initiative taken by Dining City who organize this event once or twice every year. The aim is to give everyone a chance to eat at the best restaurants in the Netherlands for a reasonable price. There are a total of 1250 restaurants that take part in the event and the idea is to have a fixed three course menu for the fixed price of € 27,50 per person, excluding drinks. In a lot of these restaurants the normal price for a 3-course meal would not start anywhere under 50 euro's. So this is a rare opportunity for everyone to take a peak into the finest kitchens in the Netherlands. For the first time this year the event was expanded to also include some restaurants in Belgium.
We have friends with whom we go out for dinner on a regular basis and we were able to book a table at restaurant L'Auberge, located in Damhotel in Edam. You have to know that this restaurantweek is immensely popular and places are booked very quickly, especially at the toprestaurants. We were late  – as usual – with booking but thankfully there was still a spot at restaurant L'Auberge, which we had not visited before.
If you've never been to the Netherlands then you should definitely be thinking of visiting Edam. It is a beautiful old town, with traditional houses, small canals and famous for the Edammer cheese. It's touristic but not as much  as the town of Volendam which is not too far from Edam. Finding a parkingspot in historic towns is always a struggle but we were lucky enough to find one within walking distance of the Dam Hotel. The decor of the restaurant is beautiful. The hotel is located in a building from the 16th century which has recently been renovated but still kept most of it's charm.
It is rather large with 80 seats, but given their space, they have managed to give it still a charming and "small" feeling. Our table was located next to a huge wallpainting of the Night Watch by Rembrandt. Obviously not the real one.
We started with a couple of amuse dishes, one of which was a mousse of tomato and basil, so basically a caprese salad in a glass. Wonderfully colorful and tasty. For our menu we could choose to stay with the three course menu, or we could expand that to 5 courses for an additional fee of 6,50 per extra course. We opted to go for the full 5 course meal.
Our first starter was a dish with scallops, Brussels chicory and foam, followed by fillet of beef with a mousse of duck liver. For mains we had cod with pearl barley, Belgian wild spinach and beurre blanc followed by a guinea fowl with polenta, artichok, asparagus and truffle sauce and to finish it all of we had a dessert with an Irish Coffee mousse with icecream of Werthers Echte (typical caramel like Dutch candy).
First of all I thought the portions were all far too big. The menu was obviously geared towards people using 3 courses rather then the full 5, so quantities were too much for most of our table (including two big guys!).
See Also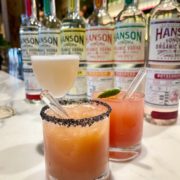 I also felt, that because it was more or less mass production (the restaurant was packed), there was not enough attention to detail in the dishes itself. Far too much duckliver for the fillet of beef, too much salt on the scallops and the guinea fowl was a bit too dry. The staff was wonderful, despite the incredibly busy week they must have had. They were friendly and attentive, so we couldn't have wished for anything better there.
All in all it was certainly an enjoyable visit and I might still recommend this restaurant as my guess is that they will perform much better under normal circumstances.
L'Auberge Damhotel
keizersgracht 1
1135 AZ EDAM

Simone Van Den Berg
Simone van den Berg is a Netherlands based freelance food photographer and food blogger. She has a passion for cooking, food and travel, which she shares on her blog Simone's Kitchen and of course right here on Honest Cooking.