Places We Love – Neon Lobster Taqueria, Adelaide, Australia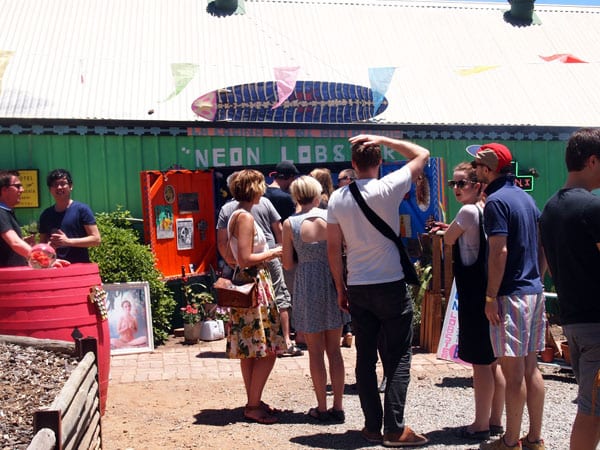 What do you do when you find yourself in Adelaide, are winding down from all the Holiday eating and just need to chill? You head to the hottest popup in town.
By Celeste Wong
What do you do when you are winding down from all the Christmas eating, need a break from the crazy frenzied season, and just need to chill? You head to the hottest popup in town: the Neon Lobster Taquerie by the Happy Motel guys who had set up shop at Alpha Box & Dice.
The experience starts from when you get out of the car. The wafting smells lead you in, followed by the sound of joyful laughter from relaxed and happy people. We (myself, Natasha and her sister) got ourselves set up with some Sangria and then joined the queue of eager eaters. Make no mistake, it was a very long queue. Combine that with a very hot day, it really wasn't my preferred choice of entertainment. However, the allure of tacos, the amazing smell, and the sizzling beef on the bbq made me grit my teeth and stayed in the line I did.
Was it worth it? Oh, many times over. The decision to brave the sun is not taken lightly, given I love chilly weather and hate the sun, but this was worth it many times over. For myself, I devoured the 'shark' taco along with the char beef skirt taco. Swooned over the impeccable flavours, the taste of which filled my mouth and sent shivers down my spine. It was the stuff dreams are made of, and then more. Granted, the serving sizes could have been bigger. 4 tacos later and I wasn't really at my happy level yet. However, as I stood in line for my second shot at this wonder food, the dreaded yell of "Sold out" came echoing down the line. It was not meant to be.
If you see these guys popping up, you have to go. It's that good.
Check out this video from the restaurant

Celeste Wong
A lover of all things beautiful, Celeste has travelled to many countries to marvel at all the different cultures, food and beauties that gives the country its mystery. Writing for BerryTravels.com and Becoming-Beautiful.com, she strives to share as much of herself while still enjoying life to its fullest.