PRESENTED BY FIJI WATER – SHARE YOUR OWN #HOMETOWNGUIDE HERE
Honest Cooking editor in chief Kalle Bergman with a personal #myhometownguide to his native Stockholm, Sweden.
By Kalle Bergman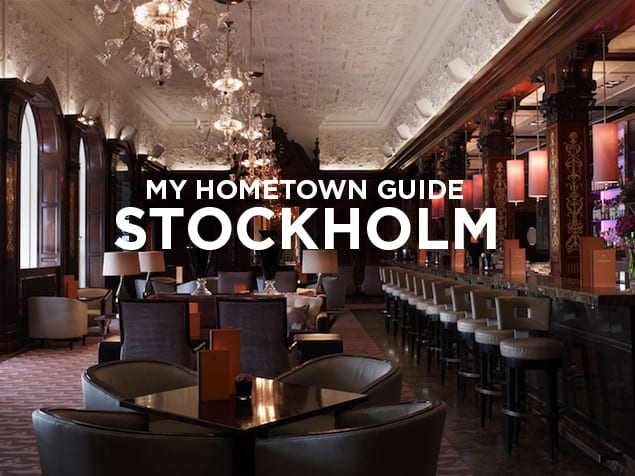 Cadierbaren at Grand Hotel
Uniquely scattered over 14 islands, the water and Stockholm cannot be separated from one another. Wherever you are in the city, you are either close to water, on the water or next to the water. A morning stroll from the Grand Hotel, across the bridge to the Old Town, the Royal Castle and on to Södermalm is a breathtaking experience. And if water defines Stockholm from a geographic perspective – to me, culinary Stockholm is about the classics. The food fabric of the city if you will. Yes, there are trendier restaurants and more elaborate dining concepts all over Stockholm, but these restaurants are part of defining what I think my hometown is really about. From exclusive to laid back, they are all very important to me personally – and for anyone who wants to capture the soul of (my) Stockholm, they are definitely must visits.
1. Grand Hotel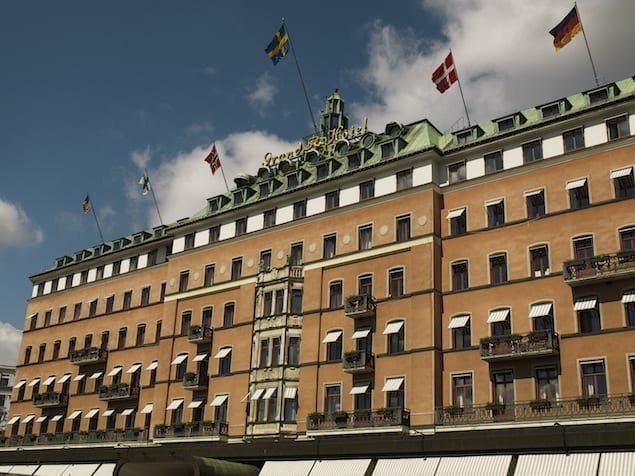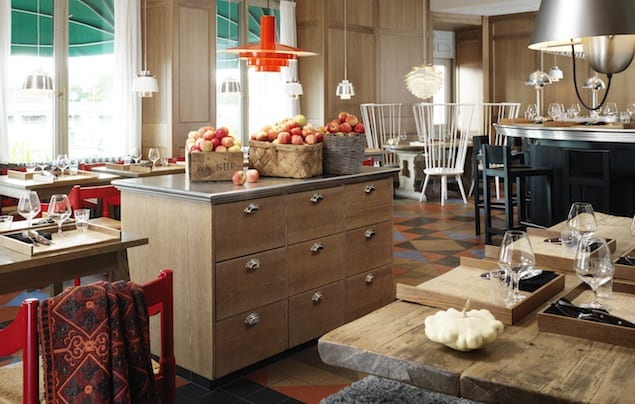 Matbaren at Grand Hotel


The Grand Old Lady of Stockholm, and one of the most luxurious hotels in Northern Europe. Beautifully located across the water from the Royal Castle, and subsequently with one of the best views in the city. Whenever I am in Stockholm, I try to get in at least a couple of visits to the Grand's different food and drinks destinations. For classic cocktails and an opulent afternoon tea – head for the legendary Cadier Bar. For contemporary but casual dining, try the one Michelin starred Matbaren. And if you want to go all in on fine dining, try the two Michelin starred Matsalen from über-chef Mattias Dahlgren.
Grand Hôtel
Södra Blasieholmshamnen 8
103 27 Stockholm
Sweden
Phone +46 8 679 35 00
Website

2. Sturehof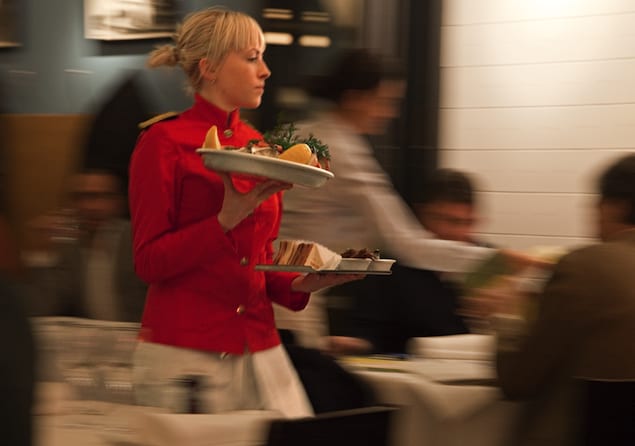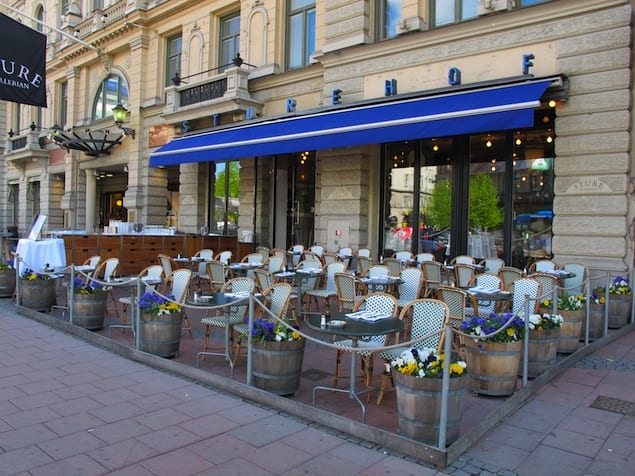 Sturehof is the perfect spot for people watching during the summer months
Anyone who loves restaurants with a soul cannot miss this wonderful classic in Stockholm. This is truly Stockholm's answer to New York's Balthazar (or actually, it's the other way around, since Sturehof is about 100 years older than Balthazar). Open 7 days a week, 365 days a year, from 11am-2am, Sturehof is always buzzing and serving up a mix of French bistro fare and Swedish classics. It's one of those places that will never be the most trendy, but also never goes out of style. Drop in for a glass of Champagne after shopping in the local Stureplan district, catch a long wine soaked lunch, or a late dinner with friends – Sturehof works for every occasion.
Sturehof
Sturegallerian 42
Stureplan 2
114 46 Stockholm
Sweden
Phone +46 8 440 57 30
Website

3. Hötorgshallen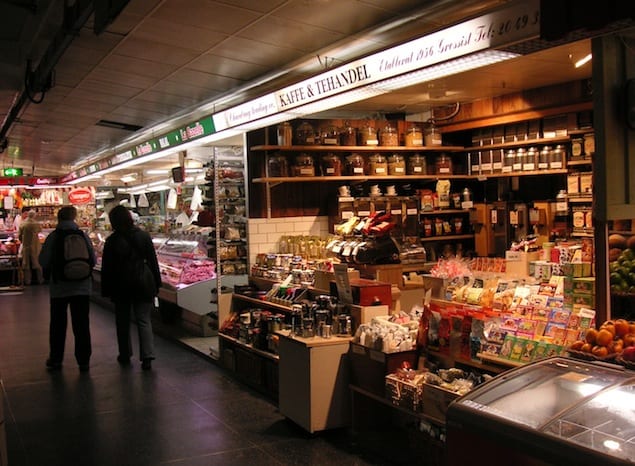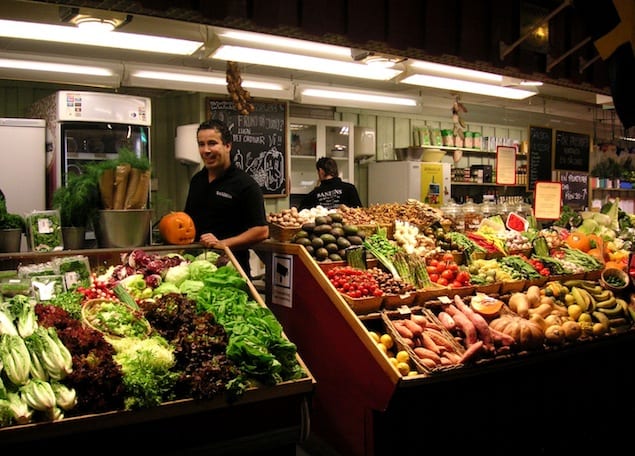 Hötorgshallen is one of the best places in the city local and international delicacies
A snack-sized dish that I find myself returning to almost every time I visit Stockholm is Fried Herring on Crisp Bread with Onions and Tartar Sauce. It's served at one of my absolute favorite places in the city. The cosmopolitan market hall Hötorgshallen is situated in the very center of the Swedish capital. Delicacies from across the world share the space with numerous Scandinavian food treasures, and in one of the corners you'll find an unpretentious bar that serves fried herring in this slightly non-traditional manner. Accompanied by a cold beer, it's a perfect light lunch for both winter and summertime.
Hötorgshallen
Hötorget
111 57 Stockholm
Sweden
Website
4. Frantzén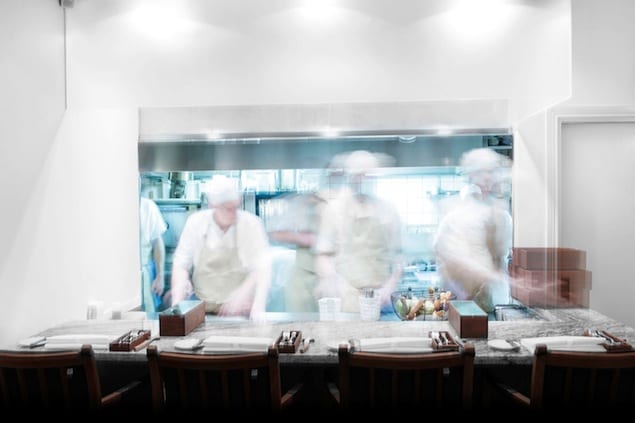 Take a seat at the bar, and watch Chef Frantzén create culinary magic
Time to get serious about gastronomy. And even if Restaurant Frantzén isn't as old as the others on the list, it has certainly become a classic within the fine dining world during its six years of existence. The dedicated and very talented Björn Frantzén's eponymous restaurant in the Old Town is a true destination for foodies from across the globe. A staple on the World's 50 Best Restaurant list, Frantzén delivers an ultra local New Nordic gourmet experience with inspiration from classic French cuisine – big bold flavors and full steam ahead on each plate. It is expensive, but quite a wonderful experience – especially if you find yourself seated at the 4 person bar, where Chef Frantzén will prepare the dishes right in front of you.
Restaurant Frantzèn
Lilla Nygatan 21
111 28 Stockholm
Sweden
Email: reservation@restaurantfrantzen.com
Website
5. Kvarnen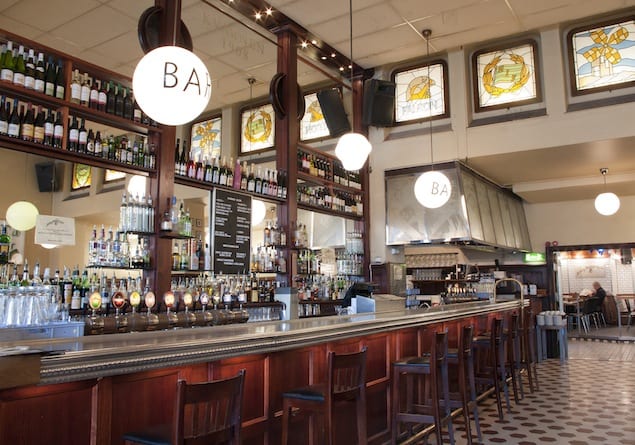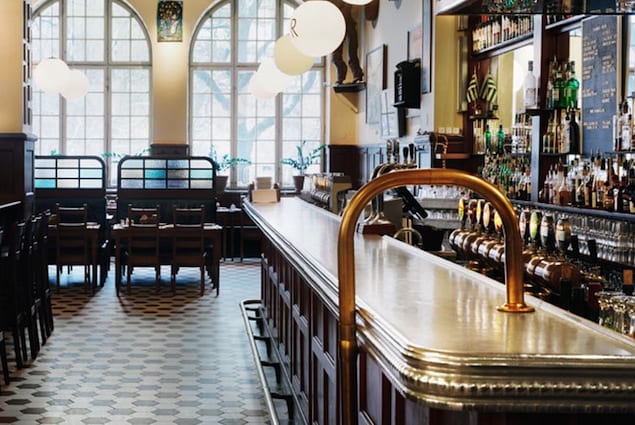 The beautiful large beer hall at Kvarnen
One of my preferred past times when I visit Stockholm is to watch my favourite soccer team Hammarby play. The club is absolutely legendary in Sweden, with its roots firmly placed in the historically poor southern parts of the Swedish capital. Hammarby was, is and will always be the people's club. Always fighting an uphill struggle, but never giving up. Other clubs might be loved by Kings or business leaders, but Hammarby is loved by the People. If you want to experience the club first hand, there is actually one thing that brings the Hammarby myth to life more than anything else. One place that more than anything personifies the club. Kvarnen.
Kvarnen – The Mill – is a more than 100 years old beer hall, placed proudly in the center of Södermalm, it is still as popular as ever with its striking but almost ascetic beauty. It has the traits of a church, and the passion with which the fans relate to Kvarnen is almost religious as their passion for the team. Go through the old doorway, and the grand hall reveals itself to you. Dark wood, white stone and wooden benches along the walls. Old school waiters that take their jobs utterly seriously, even if the audience might not be a hundred percent appreciative of it at all times. Young and old people mixed together, and a warm and hearty atmosphere that you won't find in many other sportsbars or soccer pubs. Because at Kvarnen you don't fight. You sing. Loud and often. So have a seat at one of the tables. Order a Pytt i Panna and a cold beer, and just absorb the scenery.
Kvarnen
Tjärhovsgatan 4
116 21 Stockholm
Sweden
Website