Tamara Novacoviç with her second report from the beautiful Tuscan landscape.
By Tamara Novacoviç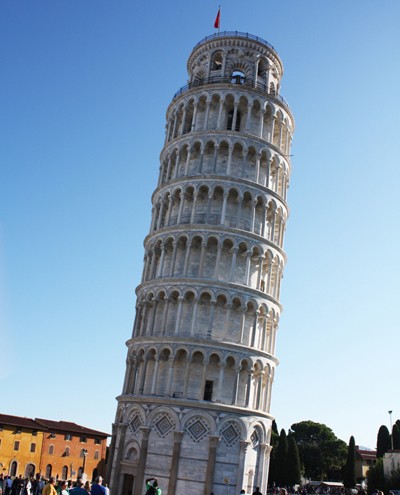 We're driving through the beautiful Tuscan scenery, hearts filled with joy and memory filled with mental photographs of beautiful Florence we visited the day before. Ahead of us awaits another Italian gem, the city of Pisa. As our bus (along with numerous other tourist busses from all over the world) stops at a bus parking lot, it is instantly surrounded by immigrant merchants who carry all the goods in their hands. They have everything, fake bags, belts, watches, pictures. One of them is older, others are mainly young men, and he carries his stuff in a large store cart. They are so determined, even if you don't plan on buying anything, they will convince you to do so. We came across the same story in Florence. Bargaining is obligatory: what starts at 50 euros ends up at 6. In case you stay headstrong and claim you absolutely aren't interested in anything and start to back off, they will simply give you the goods for anything you have or offer, even if it's just a euro or two.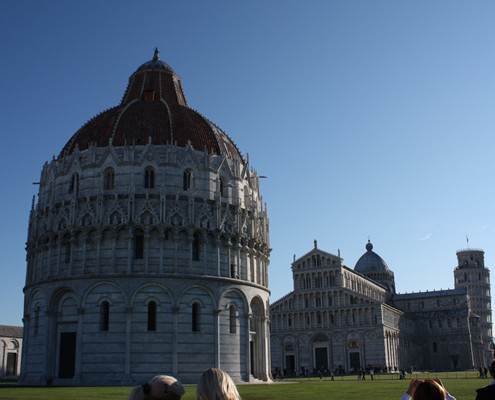 We say goodbye and march onwards to the Field of Miracles (Piazza dei Miracoli) where a miraculous sight greets us, as well as many other tourists who stroll around. The famous Leaning towel of Pisa, the beautiful Cathedral and its Baptistery, Monumental cemetery. Leaning tower is actually a freestanding bell of the Cathedral. It is 55 m (183 ft) tall. Its construction began back in the 12th century and the tower began to sink soon after. This is due to a shallow foundation set in weak, unstable subsoil. In the years between 1990 and 2001, the tower was closed for public due to its structural strengthening and is now estimated to be safe for another 9 years. Then new structural solutions will take place. You can climb atop of it, the ticket is 15 euros per person and the number of people climbing the tower at once is limited. We didn't have the time to climb, although I really wished to do so. Next time, I guess.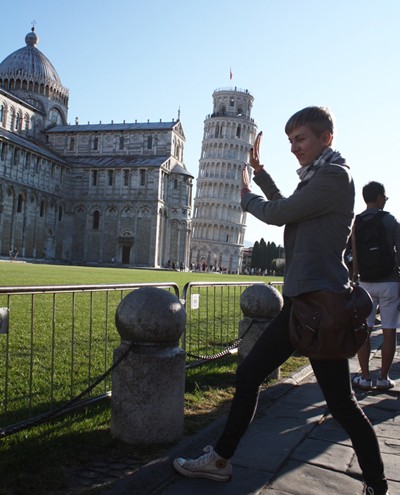 Besides this world miracle, you can enter the Cathedral for free. It is a beautiful Romanesque gem. It's baptistery is another lovely sight for your eyes, entirely made of white marble, with extraordinary acoustic interior.
We take a break at one of the nearby caffes and order, once again, the finest coffee. I get a slice of delicious ricotta torte with almonds.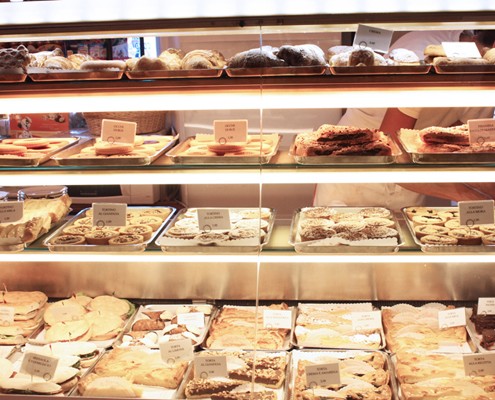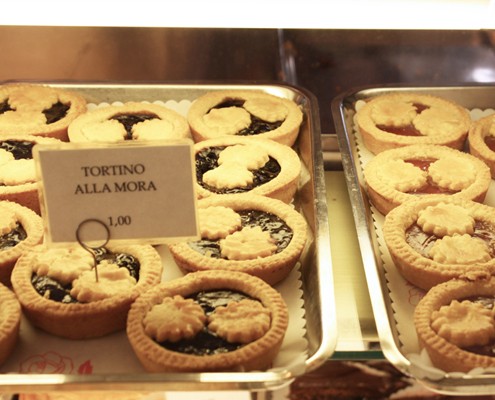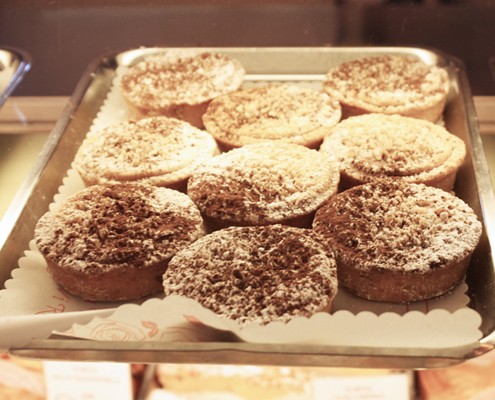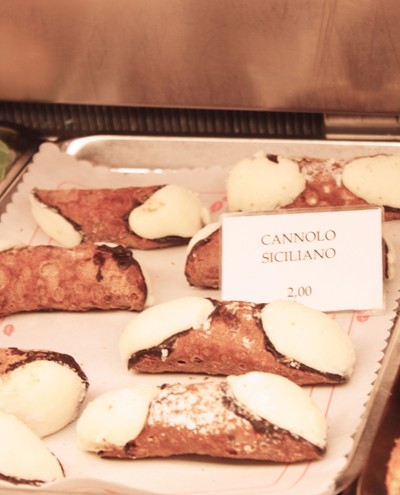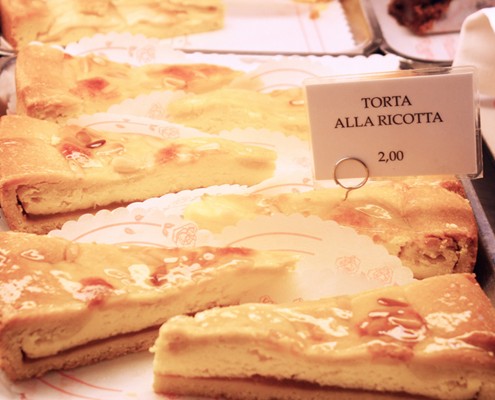 On our way back, we stop to take a look at local stands selling souvenirs. When in Pisa, you get the Leaning tower souvenir, of course (smile).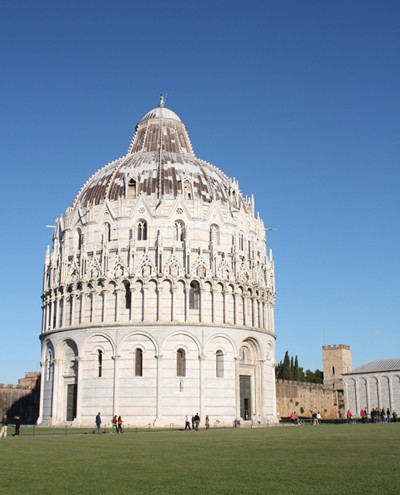 Our final destination is the beautiful town of Lucca. A birthplace to one of the most renowned composers Puccini, a cute little place not packed with tourists, but full of lovely trattorias, cafes, pastry shops, churches, small alleys.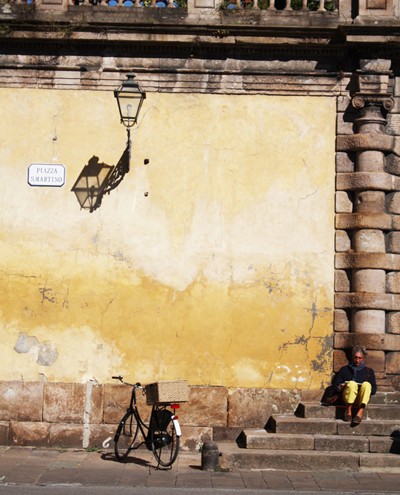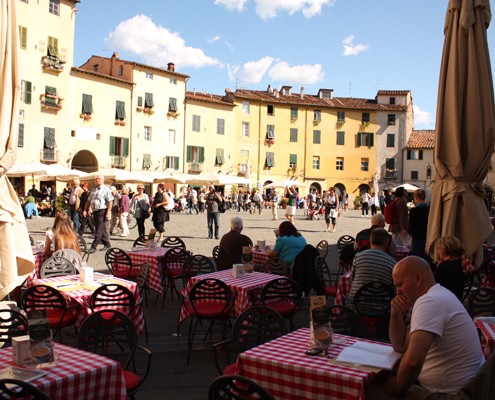 We rest in one of the trattiorias right in front of Puccini's house (which is also available for tour) where we order some wine and pasta (better than the one in Florence the day before). A narrow alley packed with pastry and sweets shops leads us back to the place where the bus is parked. Just in the end, we come across a chocolateria, called Canpiaroli (you can view their website here). Just like in Joanne Harris' "Chocolat", the smell of melted chocolate and fresh cacao beans lures the customers in. Oh, those sweet, little sins! The place is full of hand made pralines, raw cacao beans, blocks and shaves of chocolate, with different kinds of nuts, tiny meringue cakes, chocolate covered arancini… Heaven, a sweet treat for the end of a lovely three-day journey.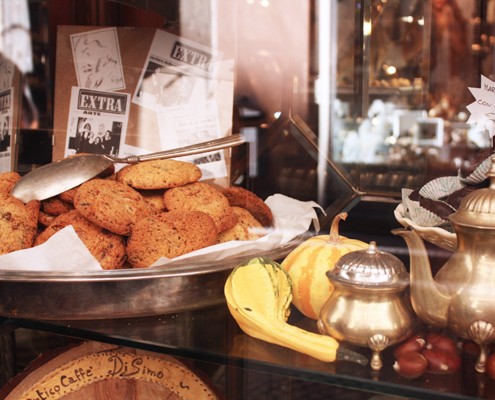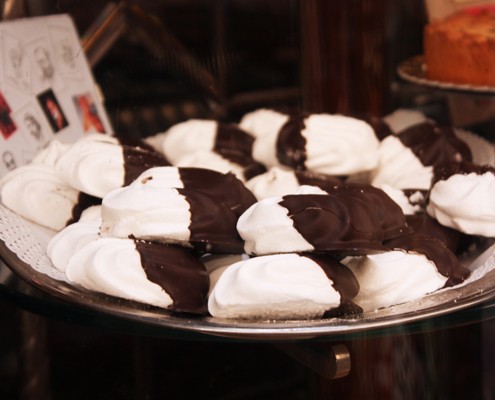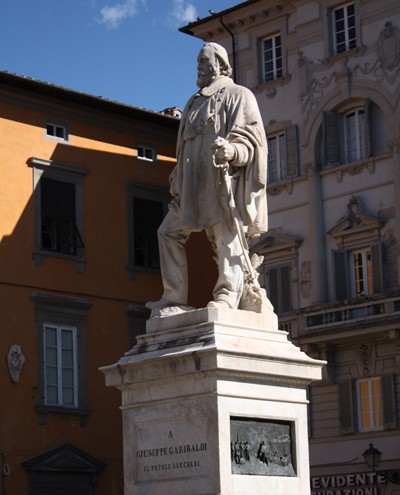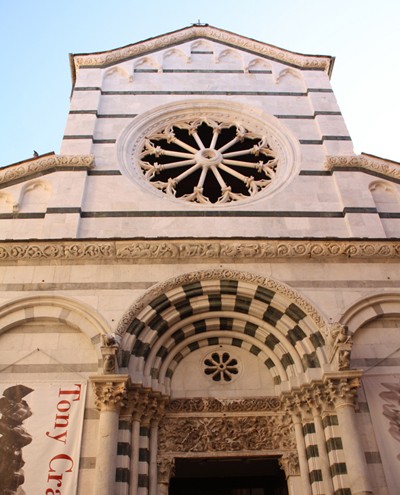 We get back onto bus and a long drive home is ahead. With joy in our hearts, Tuscan flavors on our pallate, scents in our noses and most beautiful scenery in our memories we depart, say good bye. Until next time, Italy!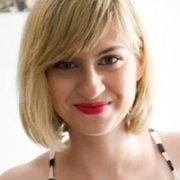 Tamara Novakoviç
Tamara Novakovic is a passionate self-taught cook, food blogger, freelance food writer and photographer behind bite-my-cake.blogspot.com. Her life journey has led her through Faculty of Humanities in Zagreb, Croatia to discovering passion for making cakes. She is currently a weekly food columnist for Croatian newspaper V magazine and food magazine Repete.