Chef Dennis K Littley has many fond memories of his first trip to Rome. This recipe for beautiful Zucchini Blossoms is one of them.
By Dennis K Littley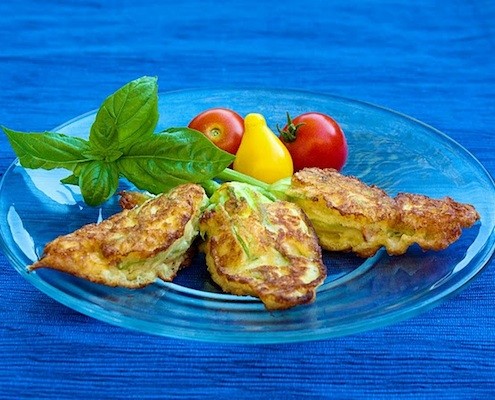 The first time my wife and I were in Rome, we stumbled upon this little restaurant near the mouth of truth. We went in for lunch and saw a couple next to us getting all this wonderful food brought out to them. That's when I first saw zucchini blossoms, I had no idea what they were but I knew I wanted them!
I told our waitress that I wanted to have what the other couple was having since I couldn't find it on the menu, told me they were friends of the chef and the chef had sent out the food to them with his compliments……sigh….I said I understood, and thanked her, and asked for a few more minutes to go over the menu. I don't know if its the sad puppy dog eyes that got her, but she came back out and told me the chef would be happy to make it for us, so as the course's came out, so did the zucchini blossoms.
Romans do make them a bit differently, a piece of  anchovy, a little bit of mozzarella, and quick fried till golden…..a work of art!  But while we savored them in Rome, when we got home agreed the anchovies had to go!  So I started tinkering with them and decided upon just a cheese filling, and that seemed to do the trick…dipped in an egg batter and quickly fried in olive oil, patted dry and served at room temp.  Little bites of heaven!
Stuffed Zucchini Blossoms
12-15 Zucchini Blossoms
1/2 cup Ricotta Cheese (1,25dl)
1 oz grated Romano Cheese (30g)
1 oz Shredded Mozzarella Cheese (30g)
1 egg
Pinch of Black Pepper
Pinch of Granulated Garlic
1. Mix all the ingredients together and place in small pastry bag, or a ziplock bag with an end snipped off.
2. Open one end of the blossom gently and squeeze a small amount of cheese into the blossom. Do not overfill, you want enough to almost fill the blossom not to make it bulge. Gently twist the blossom closed. (you may also make a small slit in the side of the blossom and fill it from there).
3. Refrigerate the blossoms for about 10-15 minutes while you get the egg mixture together.
Egg Mixture
2 whole eggs
1/4 cup milk (0,6dl)
1/4 cup flour (0,6dl)
1/4 cup grated Romano (0,6dl)
1 Tablespoon chopped Basil or Italian Parsley
1. Lightly beat the eggs and add in milk, flour, cheese, and basil. Mix well. Egg Mixture should be about pancake mix thickness. If the mix is too thick the egg coating will be to thick and if its too thin it will run off.
2. Heat a large sauté pan and then add about 1/4 inch of olive oil to the pan.
3. Lightly dredge stuffed blossom in plain flour, shake off excess.  Dip floured Zucchini Blossom in egg mixture, shed any excess egg and place into hot oil, continue the process till you fill the pan.
4. Fry each side of the Blossom until golden brown, about two minutes on each side, the second side may cook faster, keep an eye on them.
5. Place finished blossom on paper towels to drain off any excess oil.  When all the blossoms are finished place a paper towel on top of the flowers and pat dry.
6. Serve the Blossoms at room temperature, then get ready for your guests to storm your kitchen looking for more!
Dennis K Littley
Dennis K Littley is the Chef / Director of Dining Services at Mount Saint Joseph Academy in Flourtown, Pa. From White Table Cloth restaurants to Executive Dining his career in food service has spanned the past 35 years, and over the past year he has added the title's of blogger, photographer, columnist and most recently food blog festival coordinator, to his list of accomplishments.