PRESENTED BY FIJI WATER – SHARE YOUR OWN #HOMETOWNGUIDE HERE
Manassas Virginia, my hometown, is full of amazing history. It's also home to a diverse and delicious array of food.
By Maya Dangerfield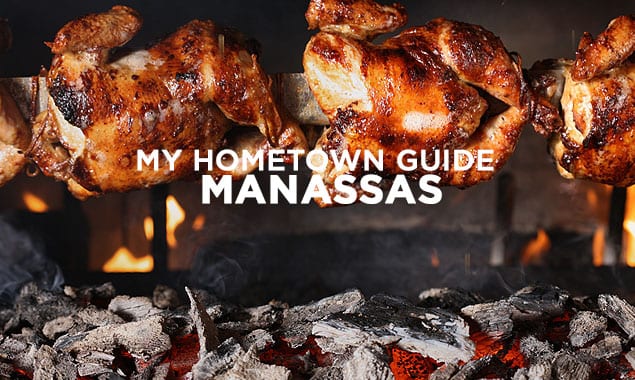 Best known for its wealth of Civil War battlefields and historical sites, Manassas Virginia has evolved beyond its antebellum roots into a diverse city with a cuisine to match the palates of its inhabitants. Lying 32 miles south of Washington D.C, Manassas—the home of the Battle of Bull Run and an impressive number of strip malls—yields an impressive array of culinary options despite the city's relatively small size. Balancing its southern roots with its new identity as a D.C commuting suburb, Manassas Virginia is perfect microcosm of contemporary Northern Virginian culture; Manassas is  home to military families, great outlet shopping, battered but dogged Redskins fans, and local food businesses dishing out exceptional  yet  inexpensive Tex Mex, Southern, Greek, and Thai fare.
1. Guapos Restaurant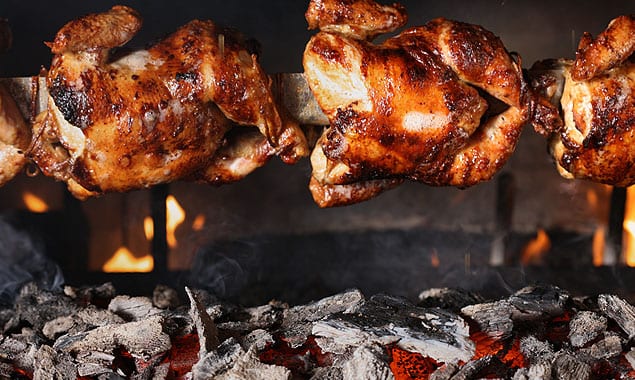 www.guaposrestaurant.com
Though originally founded in Fairfax Virginia (Manassas's sprawling northern neighbor), Guapos Restaurant is known as the Manassas destination for delicious Tex-Mex cuisine. Known for their rotisserie chicken—a heaping mass of perfectly spiced breasts and thighs—Guapos roasts the delectable birds on site. The perfectly cooked chicken inspires legions of faithful regulars who wait patiently for the restaurant's much loved rotisserie platters. Home to cheesy but not greasy enchiladas, beef tacos, and a vegetarian burrito unrivaled in size and bursting with red, yellow and green peppers, Guapos also boasts an addicting array of condiments. One sauce that merits attention is the Guapos house sauce, which is an impressively versatile mayo and mustard based dip that complements everything from fried yucca to chicken thighs.
Guapos Restaurant
8498 Centreville Rd
Manassas, VA 20111
Phone (703) 393-9449
Website
2. Dixie Bones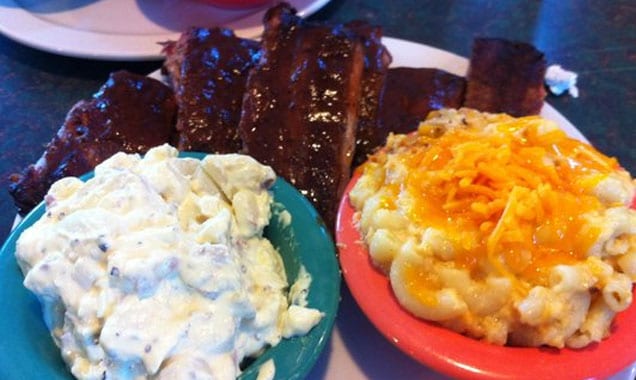 http://www.yelp.com/Dixie Bones is the Northern Virginian classic for Southern cuisine. Located in a grim strip mall with neighbors who frequently change, Dixie Bones remains a perennial institution. Although it's technically outside of Manassas city limits, anyone familiar with Northern Virginia understands  how cities seamlessly and unexpectedly meld into border-less neighborhoods. Dixie Bones was where my family spent the majority of our Sunday afternoons, bumping elbows in a well-worn booth, comparing  which house sauce best complimented the pulled pork sandwiches. The menu has all the Southern staples—fried catfish, Dixie Chips (a variation of potato chips with thicker potato slices), ribs (half, 3/4, or full rack), and beef brisket—and comes with the added Southern authenticity of ordering items individually or by the pound. Any Northern Virginian with public access television can recite by heart the restaurant's commitment to fresh, homemade food. If you're craving Southern cuisine in Manassas look no further than Dixie Bones; the tea is sweet, the pulled pork is piled high, and the chocolate pie is a molten delight.
Dixie Bones
13440 Occoquan Rd
Woodbridge, VA 22191
Phone (703) 492-7885
Website
3. Kline's Freeze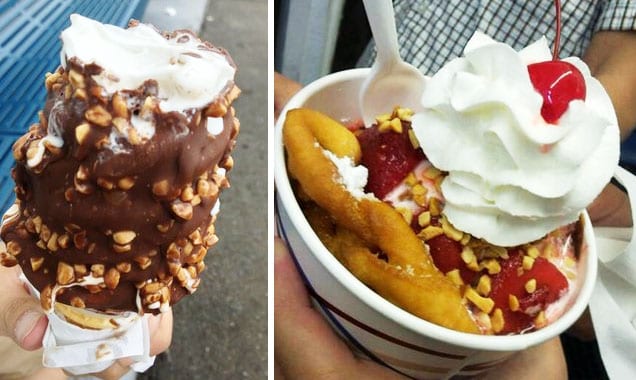 http://www.yelp.comIf it's above 70 degrees , you can bet the majority of your neighbors are at Kline's Freeze. Perched atop an asphalt hill, the small blue building holds a delicious array of soft serve and summertime treats.  Serving Manassas for over 49 years, Klein's Freeze has assumed something of a cult status for the community; the place is so popular that there's an online countdown for opening day. A soft serve strawberry, vanilla, or chocolate cone is best when  dipped in any number of shells like chocolate, butterscotch or peanut. The sundaes are topped with a generous amount of cherries and whipped cream, with the diet-killing but delectable option of adding a bottom layer of funnel cake. Kline's also serves the typical summertime fare of  burgers, loaded chili dogs, and fries, but most locals make the trip to the hill for the inexpensive but delicious soft serve.
Kline's Freeze
8200 Centerville Rd
Manassas, VA 20111
Phone (703) 368-2013
Website
4. Katerina's Greek Cuisine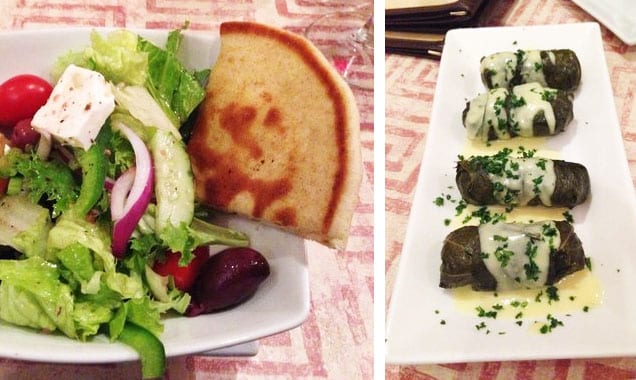 http://www.yelp.comLocated in Old Town Manassas (a downtown area designed to reflect the city's antebellum past and aversion to non-horse parking ), across the street from the famous Manassas train station, Katerina's Greek Cuisine  is one of the busiest restaurants in town. A go-to for those craving Greek cuisine, the small restaurant has treated everyone, from soccer teams to church groups, to their expertly prepared Greek staples. From  flaky Spanakopita to large gyros bursting with lamb, the restaurant has a number of favorites like the  Moussaka —served piping hot with never-ending layers of eggplant and spiced beef. Most dishes are served with a complimentary Greek salad— which is perfect way to justify your marathon binge session as "healthy."
Katerina's Greek Cuisine
9212 Center Street
Manassas, VA 20110
Phone (703) 361-4976
Website
5. Siam Classic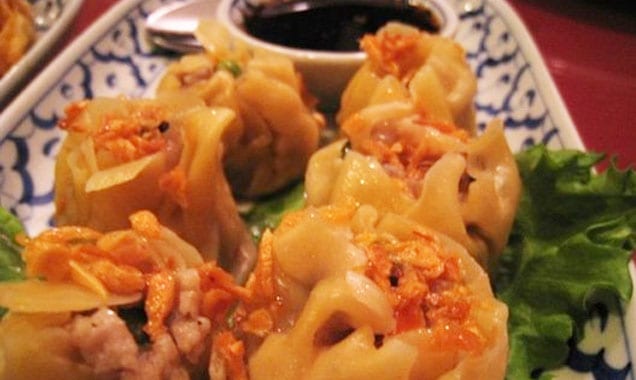 http://www.yelp.comA typical Northern Virginia city isn't complete without a standout Thai restaurant.  For Manassas, that restaurant is Siam Classic.  Another Old Town Manassas staple ( good luck with parking), Siam Classic is great lunch option. Evenings are always busy as nearby city employees and their families converge to the location to enjoy the chive dumpling and mouthwatering Nook Gata (fried quail pieces with a spicy dipping sauce). The menu is large, but the best entrees are the noodle variations; the Pad Thai and the Drunken Noodles are by far the most popular items, and their standout quality is shoulder's above their local competition. Each menus item is customizable to a preferred level of spiciness from one (not spicy) to ten (native Thai), with portions  large enough to share.
Siam Classic
9403 East Street
Manassas, VA 20110
Phone (703) 368-5647
Website