Delicious, wholesome, nutritious and quick breakfast based on grains, nuts, seeds and fruits. Spend 10 minutes to make a big jar and use it whenever you need.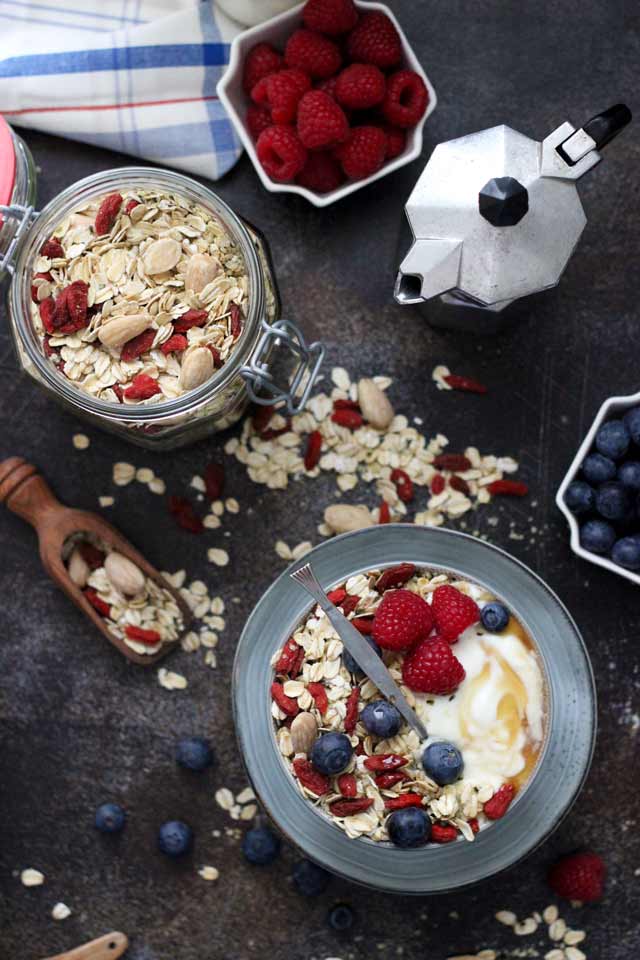 I've been eating muesli for breakfast for such a long time, but only now it occurred to me that I haven't posted a muesli recipe on my blog yet! It's such a wholesome, nutritious and quick breakfast that your family will love for its simplicity and great taste.
When I started living with my husband, we would buy packaged muesli, but then I realized that it's much healthier and cheaper to make it by myself. It just takes 10 minutes to assemble a 1 liter (1 liquid quart) jar enough for 22 portions!
This is the quickest breakfast ever created. I recommend it to everyone who is seeking for new healthy and nutrient-dense breakfast options, which takes zero time.
Muesli (also referred to as "Müsli" or "Müesli") is a raw-cereal-based mixture developed by Swiss physician Maximilian Bircher-Benner as a nutritious breakfast for his patients in the early 20th century.
Muesli can contain various ingredients, with uncooked rolled oats, various grains, nuts, seeds and dried fruits being the most common. It can be mixed with any type of milk or yogurt.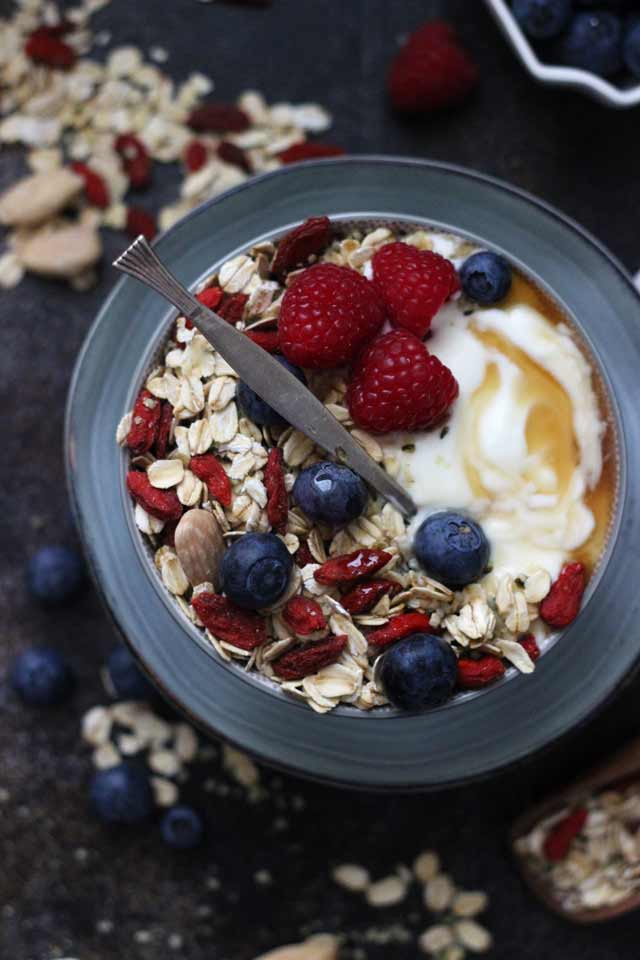 What is the difference between muesli and granola?
In fact muesli and granola share a lot of similarities. Both contain grains, nuts, seeds and fruits, both are served with either milk or yogurt and both are delicious. There are some differences though
First, muesli lacks unnecessary calories from fats and sugar syrups, that are used as binding agents in granola.
Second, muesli is a raw cereal mixture, while granola is baked (and might contain cholesterol and trans-fats!).
Third, muesli is a more healthy option than granola (especially ready-made!) and here is why.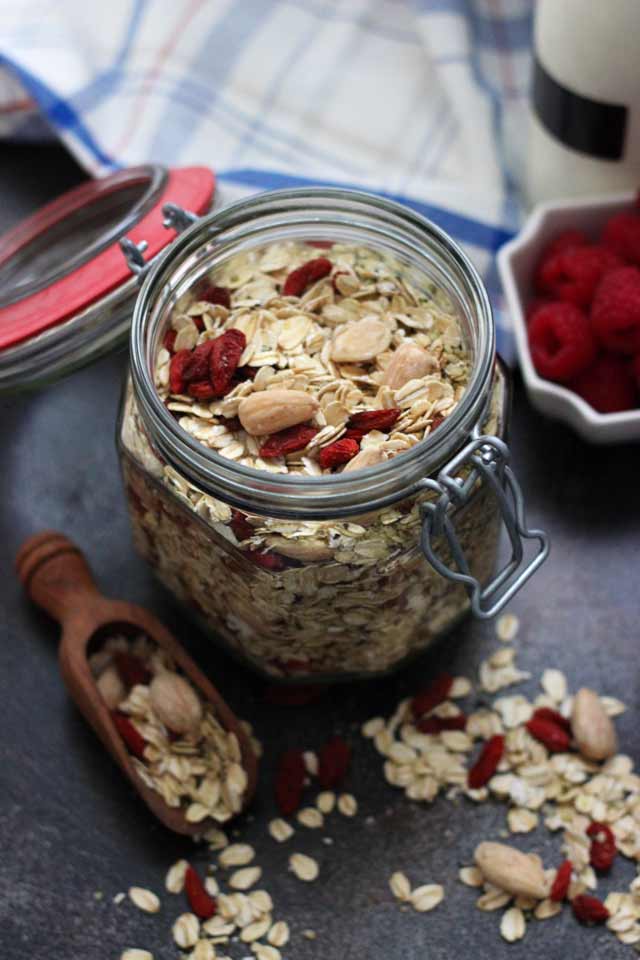 Muesli has a very high nutritional value making it an ideally balanced breakfast;
Oats and wheat are both great sources of dietary fiber, preventing digestion problems and restraining high cholesterol level;
Muesli helps you to lose weight thanks to dietary fiber, which absorbs water and occupies more space in the stomach to make you feel full for a longer period, preventing you from unhealthy snacking;
Muesli is a good source of B-complex vitamins, which help to speed metabolism and control weight;
It has a high food energy level which helps you to feel revitalized in the morning;
Muesli contains antioxidants, protecting your body from harmful molecules (e.g. cancer);
Adding nuts provide you with omega-3 fatty acids and protein making your skin glow;
The Johns Hopkins Bloomberg School of Public Health (claims that breakfast is the most important meal of the day, and a combination of cereal grains, fruits, seeds and nuts is the most nutrient rich choice to start your day. (Btw, I'm currently attending an online course from John Hopkins University, called "An Introduction to the U.S. Food System: Perspectives from Public Health")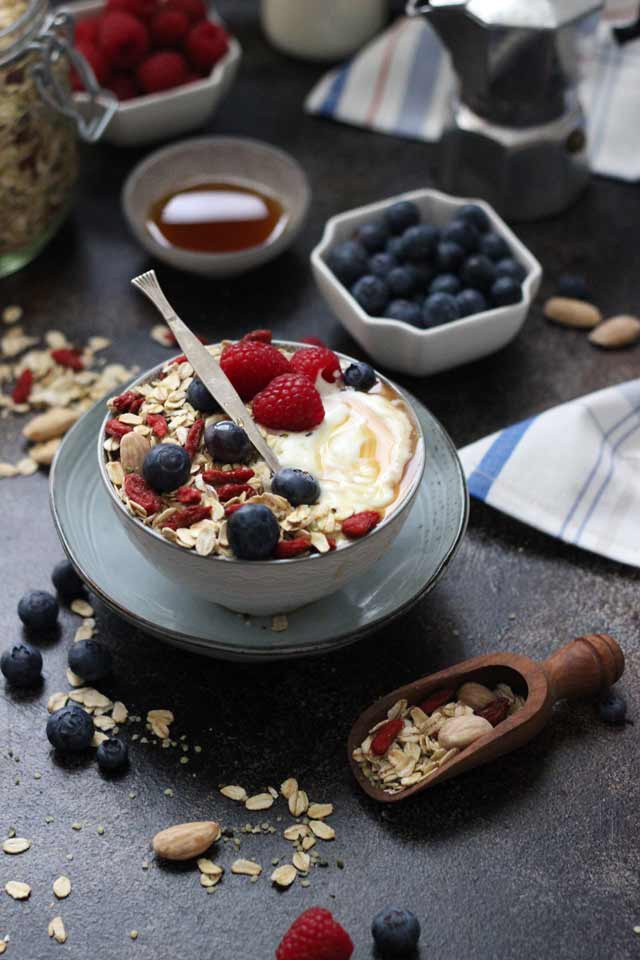 If you make your muesli at home, you can add your favorite grains, seeds, nuts and fruits, which gives you endless possibilities! Equally important, you can adjust your homemade muesli recipe to your dietary needs (gluten-free, vegan, nut-free, sugar-free, etc).
My muesli recipe is very flexible and I make it differently every time, according to what I'm up to. Select a combination of the following ingredients, taking 2-3 kinds of each: cereals, seeds, nuts and fruits and one kind of milk and sweetener.
My recent favorite is almond Goji berry muesli mix with hemp seeds and fresh berries. To make the muesli mix, combine rolled oats, peeled almonds, Goji berries and hemp seeds in a large mixing bowl. Transfer to a jar. Serve 3-5 tablespoons of muesli mix with Greek yogurt, maple syrup and fresh blueberries and raspberries. Feel free to tweak the recipe to your liking. Let me know what is your favorite combo in comments below!