Miss Lily's offers diverse Jamaican cuisine, from savory ackee dip and plantain chips to oxtails.
By Nanette McLain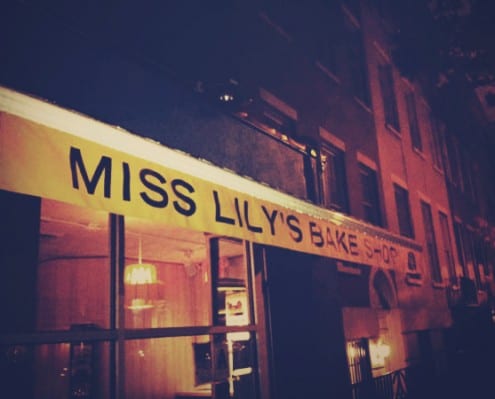 The hastily scribbled address on an ATM receipt, a location filed to memory that will disappear as easily as it appeared.  Maybe the CVS nearby will trigger a memory, but isn't there a CVS always nearby?  Tearing an address from the free morning paper but when hastily done it is no surprise that a portion will be lost along the crude, torn line.  Likely to be the one important detail West versus East, Street versus Avenue or a seven becomes a one, which will undoubtedly lead to a corner bodega. Of course, there is also the glowing word-of-mouth recommendation but days later the address is forgotten.
To my elation, a hand-held device has replaced all this: 4.5 inches high, 2.4 inches wide and weighing in at 4.8 ounces, my iPhone.  Snap a photo of the address, the storefront, the phone number, a street sign, write a quick note.  From the contacts of my phone I can find the restaurant that is likely to serve the "best of" something.  My organizational skills for restaurant addresses are by far superior to my organizational skills for paying my credit card bills.  Each restaurant is entered by location first, than restaurant name.  With a tap and a swipe of the touch screen my restaurant contact information is literally at my fingertips, leading me to my next restaurant destination.  I could rely on a free app to do this, but there is something satisfying about discovering an unexpected spot that far exceeds what technology can offer.
On this day I feel adventurous and let the touch screen decide.  With the swipe of the screen restaurant names and locations pass, a game of Restaurant Wheel of Fortune, at last settling in the W's and the West Village. Okay, maybe it is not all left to chance.   It is a jerk chicken kind of day, and Miss Lily's is on my mind.
Miss Lily's is located on Houston Street across from SoHo where there is eclectic art, jewelry, boutiques and terrific window-shopping.  Though it is near a main thoroughfare Miss Lily's is unassuming.  Visible to those passing by yet it still seems tucked away and far from the hustle and bustle of the City.  Miss Lily's offers diverse Jamaican cuisine from savory ackee dip and plantain chips to oxtails.  My evening feast at Miss Lily's includes jerk grilled corn with coconut flakes, codfish fritters with curry dipping sauce, plantains, rice and peas, marinated cucumbers and jerk chicken.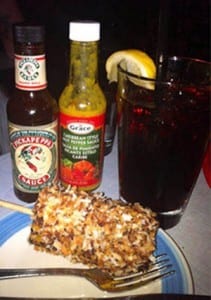 I gaze with awe as the flawlessly grilled sweet corn is placed on the table. The colorful seasonings are a tease and with anticipation I envision devouring the corncob clean.  When it comes to grilled sweet corn there is nothing more satisfying than biting into perfectly sweet and appropriately juicy kernels.  Similarly, there is nothing more disappointing than to have a mouthful of bland, tasteless and sweet "less" corn.  Miss Lily's does not disappointment. The sweet corn is perfection.  The seasonings are just right and any food connoisseur; restaurant critic or armchair food channel quarterback will enjoy the toasted coconut flakes and squeeze of lime that tops it off.
The codfish fritters are also a delightful prelude to the main course. Never a fan of the "too fishy" fish the fritters are just right, and the curry dipping sauce nicely compliments this appetizer.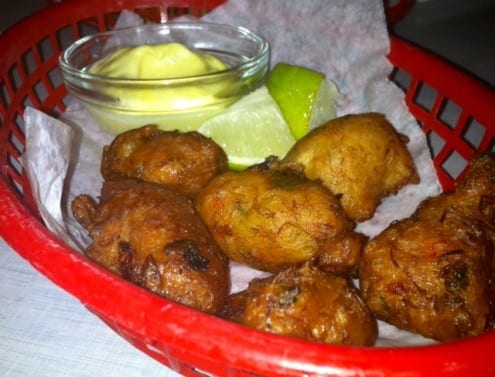 At last the main course arrives. The jerk chicken is served on a nice blue and white platter. The bowls of rice and peas are plentiful. The friendly waitress ensures that a bottle of jerk sauce is available, which I use generously on the already flavorful chicken as well as adding a little extra spice to my rice and peas.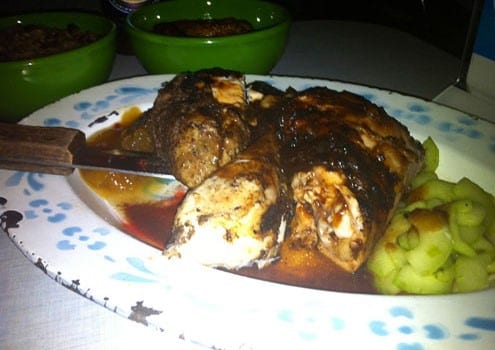 The plantains are the right texture and the edges are nicely caramelized. They are not too hot, not too cold, but just right. The main course is enough to serve two, an added bonus to the already savory fare.
To no surprise there is a wait at Miss Lily's, and it can be challenging even with reservations. The bar is always buzzing with conversation, and as reggae plays in the background it seems to rise and fall with the drumbeats and off beat bass lines. If it is not your night for crowds or maybe you enjoy something more simple and subdued step around the corner and visit Miss Lily's Bakeshop and Melvin's Juice Box.  The menu at Miss Lily's Bakeshop is the same as Miss Lily's restaurant except for some solid anchors of Caribbean cuisine. Enjoy beef and chicken patties or curry chicken roti.  Also located in the same space is Melvin's Juice Box, which exudes health and wellness.  A favorite, the Harry Fontabella, is the ideal smoothie combination of rice milk, banana, blueberry or strawberry and granola.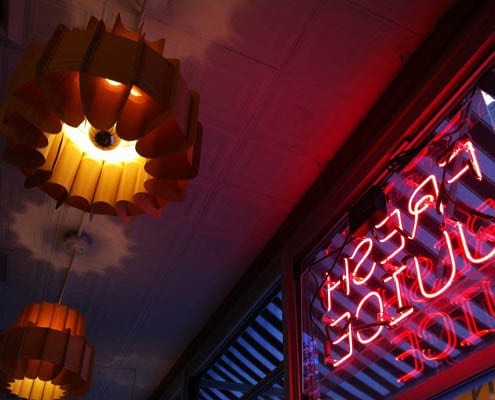 Miss Lily's Bakeshop and Melvin's Juice Box are both a refreshing reprieve from the busy City.  The space is quaint.  The blue and white checkerboard floor and green, gold and red accents are welcoming even on a gray day.  If not enough, nestled between Miss Lily's Restaurant, Bakeshop and Melvin's Juice Box is Miss Lily's Variety serving up legendary reggae vinyl, West Indian-inspired jewelry, books, shirts and Miss Lily's Radio an internet radio station. Miss Lily's is undoubtedly diverse and offers a sampling of the cooking styles, flavors, spices, music and clothing of the many cultures that make Jamaica and the Caribbean a tropical paradise.
What more can be added other than to top off a visit to Miss Lily's with banana pudding or a slice of the cake of the day.
Miss Lily's New York
Homepage
132 West Houston Street at Sullivan Street
New York, NY 10012