Mini Guide – Eating Amsterdam on Any Budget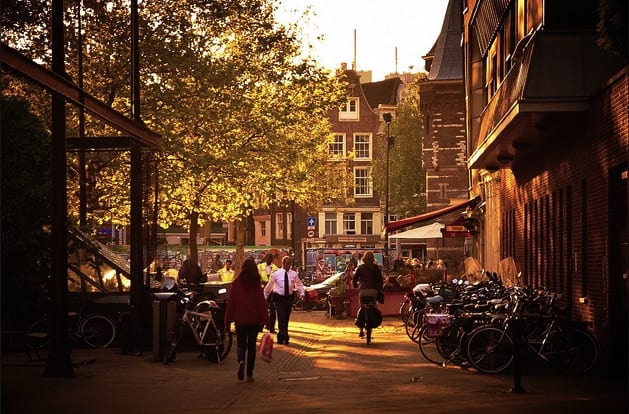 Jess Lacey with a shortlist of her personal favorite places to eat in Amsterdam, for every budget.
By Jess Lacey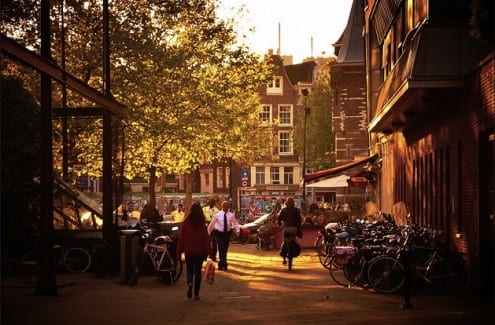 Amsterdam is full of fantastic museums, shops, bars and sights, but finding a place to eat that doesn't involve satay or cheap pizza can be a little bit challenging. After nearly two years of living, studying and working in Holland, I have honed down my favourite places in Amsterdam to eat for every budget, and here they are:
Definitely not budget
De Kas is one of my favourite restaurants ever, and by far my favourite in Holland. It is located in a beautiful 1920s greenhouse a short tram ride from Amsterdam Centraal (or extortionate taxi ride, Amsterdam taxi drivers take obscene advantage of visitors in their charging). The menu although not vegetarian, is quite vegetable oriented, and they use vegetables grown organically onsite in their greenhouse and in a nearby field also planted and managed by the owner. Dinner is an three course set menu for €49.50, consisting of three small dishes as a starter, a main and a dessert or cheese. Although this may seem daunting, picky eaters or those with dietary requirements can mention these to the staff when they order, and will be accomodated without fuss. That being said, I have never had a dish I did not like here, and on my first visit they really tested me with a starter dish of sweetbreads (I'm not a huge fan of offal) which were absolutely delicious. The cooking is innovative, and complex, involving a wide mix of flavours and textures you would never have thought of. The timing is well executed, neither rushing the courses (as is a risk with set menu only) nor leaving you twiddling your thumbs for too long between courses.The wine list is also extensive ranging from reasonable to extravagant, and wine pairing is on offer too (and definitely worth stretching to if possible).
Restaurant Antoine is a small and elegant restaurant off Utrechtsestraat run by a husband and wife team. The food is modern European, with the usual emphasis on French with some unusual touches (caramelized black olive tapenade, anyone?). This is definitely a pricey experience, however you can see where your money has gone. The food is quite luxurious, and the service is beyond reproach. Set menus from 34.50 are available.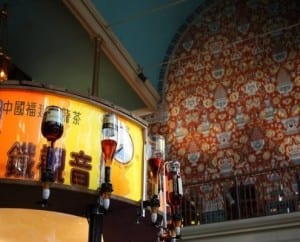 Kind of budget
Probably the most beautiful setting for a restaurant, Bazar is located in a deconsecrated Church on Albert Cuypstraat, now decorated with giant Moroccan lanterns and tiling. The food is a mix of Middle Eastern, Turkish and North African, with ample mains around the 10-15 mark served on giant silver platters. The mixed starters for two make an excellent main course for one person, and give you a chance to try a wide range of food. They are also one of the few places in Holland to stock my favourite Belgian beer, Gueze, which wins maximum bonus points in my mind. You can pretty comfortably get away with two main courses and not be hungry after, so about 45-50 for two people with drinks is within reach.
Burgermeester markets itself as healthy fast food. Spectacular organic burgers come in two sizes (your regular quarter pounder size, and mini) which can allow you to try a few varieties. They also have a great selection of vegetarian burgers such as feta, dates and honey or red lentil and aubergine. You can't even get chips, only sides such as salads, grilled corn and baked potatoes. There are a few branches dotted around Amsterdam, including one in the Jordaan and one on the Albert Cuypstraat. Regular sized burgers range from 8-12 and sides are around the 3 mark.
Tucked down a sidestreet off Elandsgracht in the Jordaan, La Plancha is one of the more authentic tapas bars I have encountered outside of Spain in that it is cramped, decorated largely with tiles and cured meat, and ever so slightly grubby, but serves excellent food. Most seats are at the bar with displays of daily specials lined in front with about four small tables down the back. It serves the usual range of traditional tapas from patatas bravas to croquettas to ensalada rusa and cured meats with prices ranging upwards from 2.75. It also offers an excellent value tasting selection for 21, which is just about enough for two. The service is quite laid back, but the place is small enough that its not too hard to flag them down.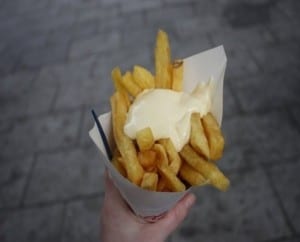 Very Budget (Dutch Fast Food)
Holland is pretty famous for it's chip/french fry habit and rightly so. Every town will have multiple chip shops and every train station is equipped with a Smullers, leading to the rather incongruous sight of well groomed businessmen in suits wolfing down pataat orlog (chips with a mix of mayonaise (fritesaus), sate sauce and chopped onions) on their commute home. It is a national institution. The mayo the chips come drowned in is a slightly sweeter, tangier version of regular mayo, somewhere in between it and thousand island dressing. Steer clear of the puntzak (cone) if at all possible. The Dutch are famed worldwide for their design and yet this is possibly the worst designed container in history which will inevitably lead you to spill fritesaus  down your front. For the best chips in Amsterdam head to Vlaamsefrites on Lange Leidsedwarsstraat near Leidseplein. It may not look like much from the outside, but these are the best vlaamsefrites money can buy, thick, very crispy on the outside, and very rich from being double cooked in beef fat. What every gastropub aspires to.
Krokketen (croquettes) are deep fried balls of flavoured savoury bechamel. Disturbingly,they tend to be sold in vending machines which took a lot of mental adjustment when I first arrived in Holland, but even if you order them at the counter, staff will just retrieve one from the machine and hand it to you. They come in a variety of fillings, satay and kalfsvlees being my favourite, though where the veal comes into it, I do not really know, it tastes nothing like it..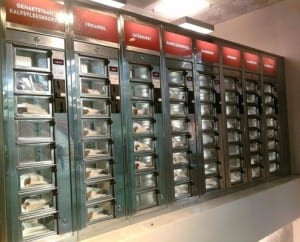 Jess Lacey
Jess Lacey is an Irish food blogger and soon to be lawyer. She has found a home in London, Dublin, Leiden, Melbourne and Aarhus. After a brief foray into the world of Michelin starred cooking, she decided to keep cooking and food as relationships based purely on passion rather than income. She travels frequently, and justifies this by writing about it. More of her musings and recipes are available on her blog, Canal Cook.