Midtown Gets a Modern Italian Makeover—Mozzarella & Vino, NYC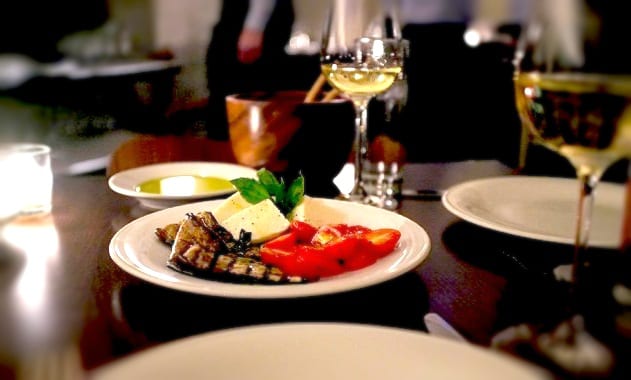 Simply elegant with outstanding ingredients are hard qualities to find in a restaurant in midtown. However, Carly discovers a recently opened New York City cheese trattoria that fits the bill.
By Carly Defilippo
While it's easier in Manhattan to find great food than in most cities, there are still a few neighborhoods that lag behind in the great restaurant race. Downtown, there's a new crop of buzzworthy openings each week, but in midtown, the grand avenues are more often lined with banks than biscuits, bibimbap or burrata.
But burrata and other buffalo milk cheeses are exactly what you'll find at the unassuming Mozzarella & Vino on West 54th Street. Housed in the former space of celebrated sister restaurant, Il Gattopardo, this casual, cheese-centric trattoria is an especially appealing addition for visitors to the nearby MoMA, as finding high quality, moderately priced eats in the area has long been a struggle.
True to its Italian roots, the restaurant balances sleek modern design with charming old-world hospitality. The menu encourages a multi-course sharing of plates, and I highly advise diners to consult the charming sommelier, George, whose food suggestions were as impressive as his knowledge of the wine.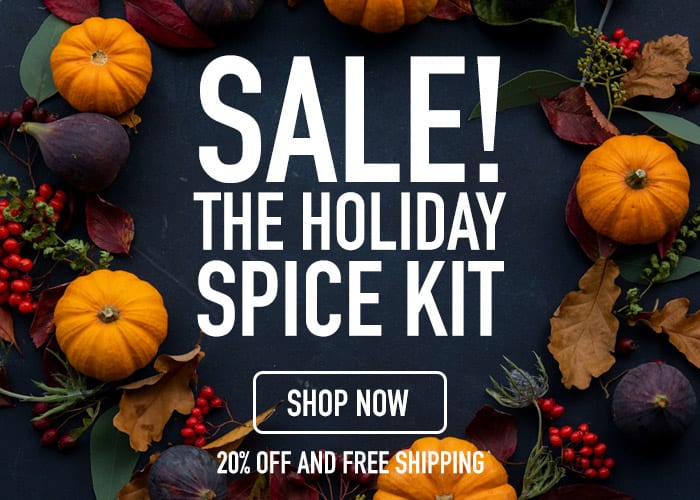 Following his lead, we started with a white Falanghina, lightly gold in color. The nose featured honey and pear, but the flavor cut this sweetness with a refreshing burst of mineral and citrus. It played beautifully with a simple appetizer of zucchini, soaked in milk, then fried in a feather-light batter.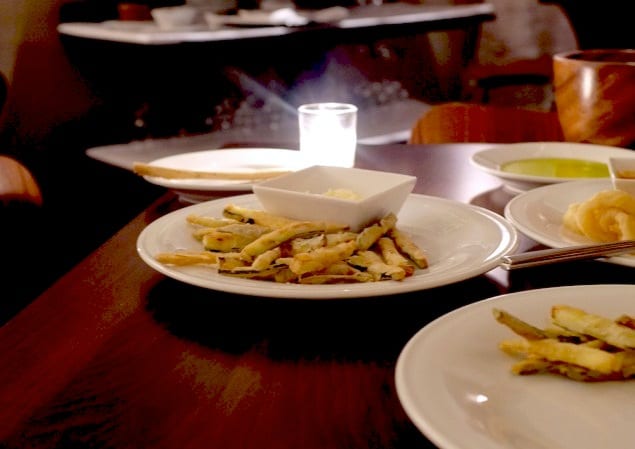 From there, we sampled a plate of fresh mozzarella di bufala with grilled eggplant and grape tomatoes. Far from the rubbery rounds that are sliced and melted over many a New York City pizza, this cheese was more delicate in texture, lightly sweet with a mild grassy note—a pleasant reminder of the miracle of fields transformed into milk. The eggplant was equally unusual, less bitter and yet more flavorful than your average aubergine dish. And the tomatoes, despite being out of season, were so addictive you would have sworn outside it was summer.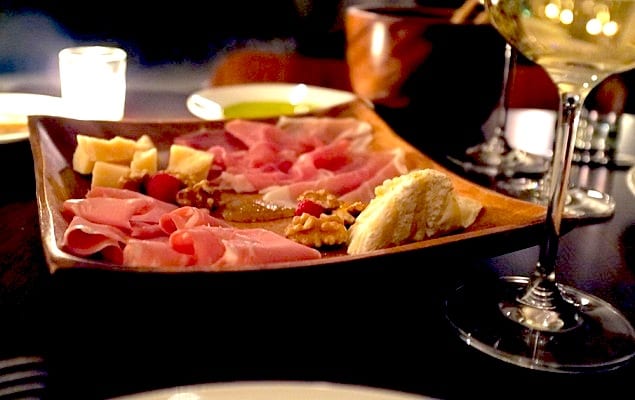 Continuing to explore the restaurant's cheese selection, we opted for a plate of buffalo milk ricotta, parmigiano-reggiano, speck and prosciutto. Served with a sticky fig spread and tawny, fresh walnuts, it was an indulgent spread of the highest quality. The ricotta, in particular, underscored the significant difference between fresh buffalo and cow's milk cheeses with its light, yet complex flavor. (A similar comparison might be that of vanilla bean ice cream with generic vanilla—both are pleasant, but the former is more refined.) The speck was also unusually tasty, shaved thin and flecked with spots of luscious fat. Washed down with a deeply colored Nebbiolo Langhe—medium bodied with a touch of herbal eucalyptus—it was the perfect winter picnic.
Rounding out the evening, George suggested two pastas. The first, a special of rigatoni with zucchini, pork sausage and tomato sauce. Arriving under a layer of bubbling mozzarella, its satisfying flavors reminded me of deconstructed lasagna. But my personal favorite was the tender, slow-cooked beef ragu, served over polenta. Deeply flavorful, it was an elegant twist on the hearty fare of la cucina della nonna—perfected over decades of patience and practice.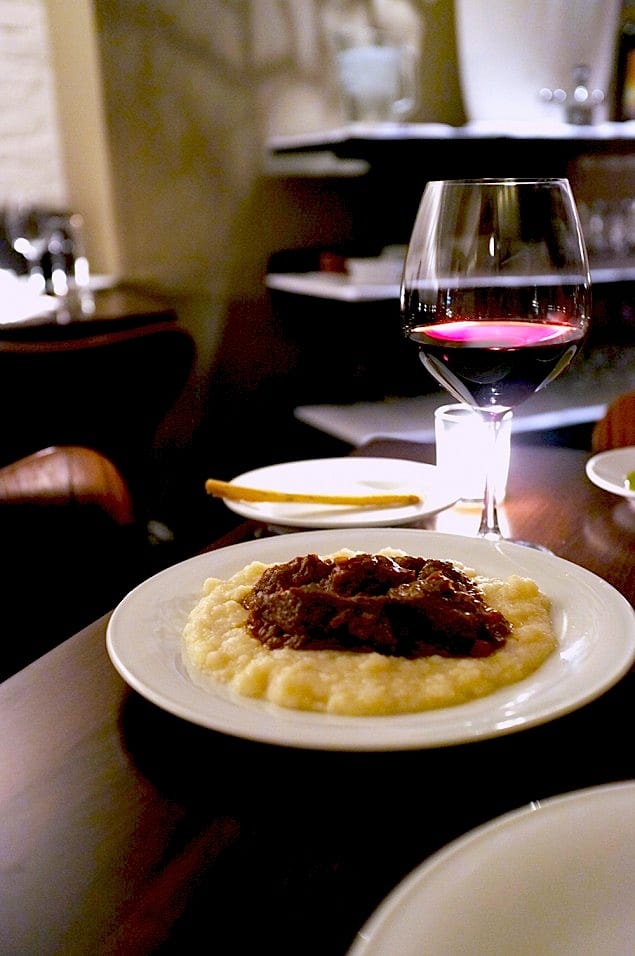 We finished the night with pear-walnut strudel, served with cinnamon gelato. It wasn't the flaky, feather light crust of Austrian strudel, but it offered a pleasant, more rustic and sticky chewiness. Better yet was the mildly sweet gelato—almost like a frozen version of a cinnamon creme anglaise.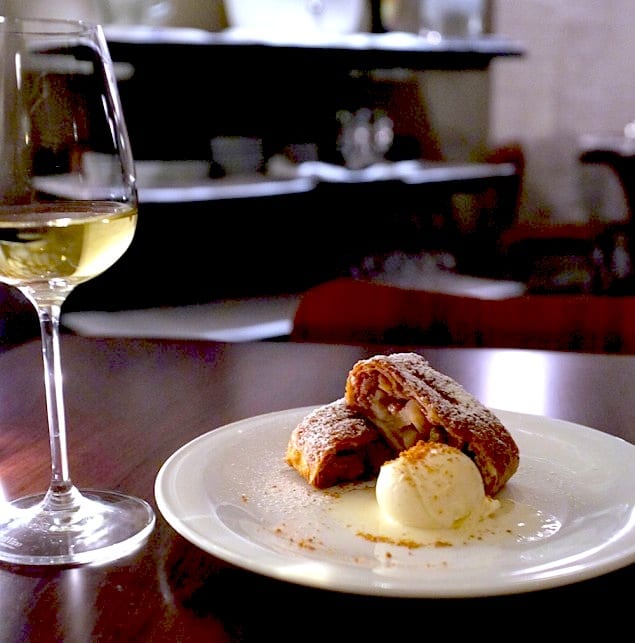 Throughout the meal, I was continuously impressed with the quality of the restaurant's ingredients. A single artisanal cheese maker in Campania crafts the buffalo milk cheeses, and the dishes prepared on-site echo this passionate attention to detail. Such elegant simplicity is exactly what you would hope for in a neighborhood restaurant, and it's sure to make Mozzarella & Vino a standby for neighbors and modern art lovers alike.
Mozzarella & Vino
33 W 54th St, New York, NY 10019
(646) 692-8849
Website


Carly DeFilippo
Carly is a Contributing Writer at Honest Cooking. Though the first line of her college application essay was "I love tunafish," it wasn't until she pursued graduate studies in Paris that she ever considered a future in food. Based in Manhattan, Carly is a freelance writer and the co-founder of Cognoscenti Creative, a boutique branding agency dedicated to establishing artisans as influencers.