Brenda Benoit visits SAWA in Miami, a slightly confusing restaurant with interesting ambitions.
By Brenda Benoit
As we sat together at SAWA Restaurant & Lounge in Miami, we shared a mélange of Mediterranean and Japanese dishes that made our palates think.  Four of us – a dear friend of mine, my daughters and I were perplexed by the combination of flavours on the menu, so why not try it?
The locale was also not ordinary in that in included indoor seating but also a massive outdoor area that had a lounge that was large yet intimate.
The Falafel with Tahini was delicious, very savory and complimented by a creamy tahini sauce. It was served on top of a salad that made for a fresh-tasting mixture of tastes and textures.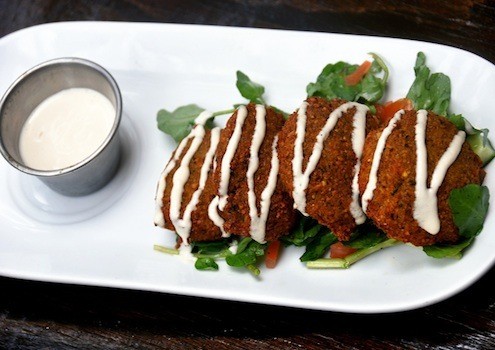 I had the Chicken Kebabs, the chicken was truly juicy and tender, seasoned with some really appetizing spices and accompanied by Garlic Aioli. The basmati rice it came with was also full of taste, the basil and pine nuts adding crunch and substance, but the rice was a bit on the dry side to be honest.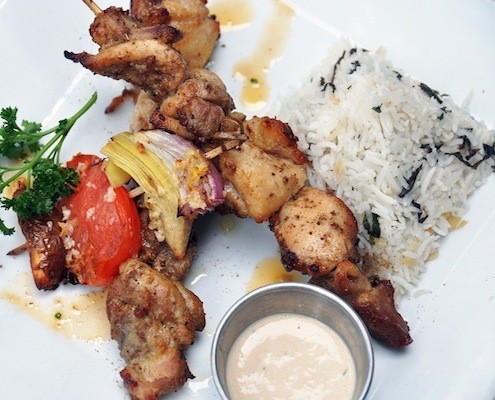 The Angus Kefta Burger came with an over-sized serving of fries, the fries being livened up with a sprinkling of parsley.   This was not my dish but I got to sample a tiny bit of it.  Miss E. (my friend) said that she was expecting something different. "It was OK. ", she said.  I did like the robustness of it and the fact that it came with so many side sauces, but then again, I did not taste enough of it to say.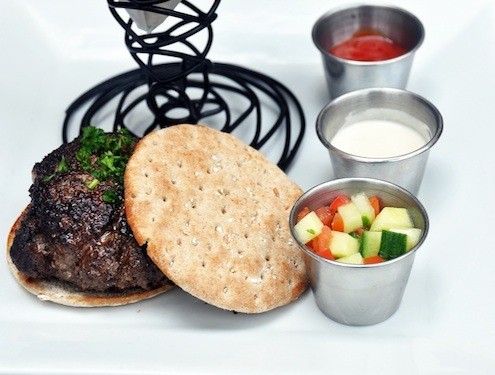 Miss E. and my daughter shared the Salmon Hand Roll which was garnished with scallions and a combination of black and white sesame seeds. I did not actually taste this but Issa, my little one, loved it. Miss E. said that it was not bad, but was not the best. The nori was chewy and not quite fresh.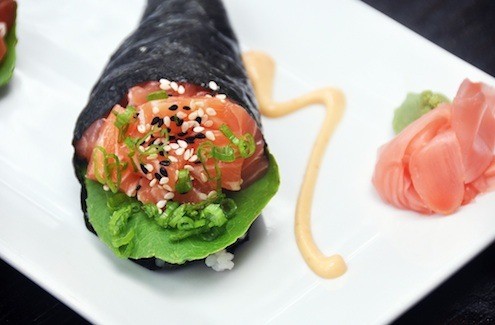 I shared the assorted plate of Baklava with Issa. The presentation was beautiful but the actual baklavas were way to sweet for me, like swallowing a whole bag of sugar in just one bite.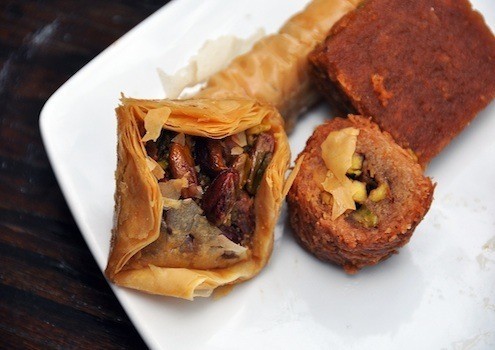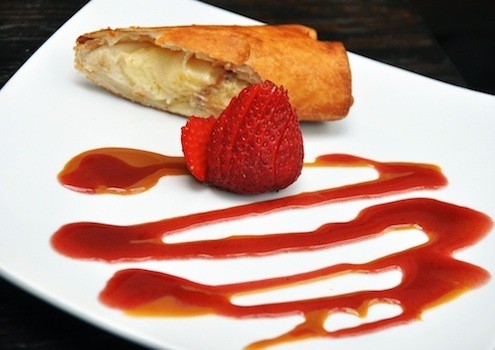 The Banana Spring Roll was the best part of Miss E.'s meal. She loved it!
I did not have the opportunity to speak to the Chef, Jouvens Jean, to ask him about the thinking behind combining Mediterranean and Japanese food in one menu. It is an original idea that I still find puzzling.
Will I come back? The answer is yes because I am still intrigued by the merging of Japan/Med cuisines.
How was the service? We got one of the best waiters ever who went out of his way to be helpful.
Is it worth a trip? Definitely, if nothing else to sample the variety of dishes included in this unconventional menu. It may not be to everyone's taste but this is a chance to go on a food adventure and why miss that?
We visited at lunchtime but the vibe at night is totally different. You can puff flavored Hookahs and also enjoy belly dancers on the weekends.
Unusual indeed.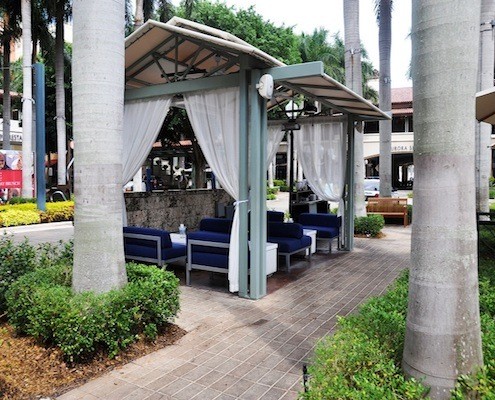 SAWA Restaurant & Lounge
360 SAN LORENZO AVE # 1500
CORAL GABLES, FLORIDA 33146
MONDAY THRU WEDNESDAY 11 AM TO 12 AM
KITCHEN CLOSES AT 11 PM
TEL: 305-447-6555
Brenda Benoit
Brenda Benoit was born in the city of St. George's in Grenada and grew up in Caracas, Venezuela. She has been living in Miami for over 20 years, loves to cook, eat and to try new restaurants & cuisines - always with her camera as a companion. She's a dedicated cookbook collector and is in the process of writing one of her own.