Meet the Team – Suzie Castello from Da Minha Cozinha
Suzie Castello is an American writer living in a small town in the mountains just outside Rio de Janeiro. Read more about her in this issue of "Meet the Team".
By Kalle Bergman
Suzie Castello is an American writer living and raising a family in a small town in the mountains just outside Rio de Janeiro. She writes about finding ways to cook, with the regional ingredients, dishes that tell her life story, from childhood in the States to travels abroad, and anything new discovered along the way. She is also the Editor of Da Minha Cozinha, a Portuguese-language blog about honest home-cooking.
When and how did your passion for food start?
When I was 15 my family moved to a neighborhood far from any shopping mall or other form of civilization recognizable to a teenager. It was June, school was out and I had no chance to make any friends. It was the beginning of a long California summer, I was alone in the house and had nothing to do. Thankfully I discovered a stack of Bon Appetit magazines left from the previous owner. I cooked through my boredom with the same enthusiasm of those early eighties recipes for pesto and lots of things made with eggplant. My mom would come home to hot meals on the table and be sent off the next the morning with a grocery list.
Do you think you have a specific cooking style or philosophy?
My cooking has largely been informed by place. I grew up in Los Angeles where Mexican and Asian flavors where part of my food vocabulary. In my early twenties, I backpacked around Thailand and India where my palate was further tempered. Looking for ways to continue exploring those flavors in Los Angeles was easy because of the culture created by large immigrant populations.
Then, at 30, I got married and moved to Brazil where I have spent the last 14 years rasing a family. I had to learn how to make my own tortillas, salsa and sambal paste. I had to figure out how to make a pumpkin pie from a real pumpkin. I learned about local ingredients, techniques and tools. My cooking changed entirely! I was suddenly making everything from scratch, my own chicken stock, my own pasta, my own sourdough bread. My cooking in Los Angeles was largely about shopping. In Brazil my cooking is more about cooking – figuring out how to make what I and my family hunger for with what I have on hand.
What's your favorite restaurant, and why?
My favorite restaurant is Dona Irene (http://www.donairene.com.br/). It is located in Teresópolis, about 90km outside of Rio de Janeiro. They serve a multi-course menu of traditional Russian dishes and home-made vodka. It's not my favorite because I love Russian food (although I do love their vodka!). I love this restaurant because they have managed to buck the odds and exist since 1964. In a town of 150,000, where a simple sushi bar is something very exotic, an 3-hour long Russian lunch is a hard sell.
The restaurant was originally in the home of Siberian immigrants Mikhail and Eupraxia Smolianikoff, known locally as Miguel and Irene. They invited groups of locals and tourists into their home to enjoy lovingly homemade meals that follow the tradition of the Russian aristocratic four-course meal. They had the courage and the vision to invite Brazilians to know their food and culture, treating their guests as if they were family. Today, the current owners, Sr. Hisbelo and Dona Emília, have not lost the founders' original vision. The restaurant continues in a house, though not the original, tucked away in a resedencial neighborhhood. Reservations are required in advance, not only to guarantee a table, but so the kitchen can begin preparing your meal. It's where I go for special occasions like my birthday or Mother's Day because, beyond the delicious food and elaborate dining experience, there they treat me like family.
What's your favorite holiday from a food perspective?
Halloween has always been my favorite holiday. But since moving to Brazil and having kids, it has made me the coolest mom, at least starting about mid-October. We throw a party every year. Last year we made a very Brazilian Halloween churrasco complete with a skull filled with guacamole and doce de leite apples along with the usual picanha, farofa and grilled chicken hearts.
Halloween is just starting to filter into Brazilian popular culture. Most of the other parents see the humor of my hill-billy zombie costume while fa ew, I sense, fear the whole experience and don't let their children come to our parties. I try to assure them by explaining that their kids are too young for human sacrafice.
What I most love about Halloween as a cook, is that all the rules of good cooking go out the window. Any ingredient, independent of its culture baggage or nutricional value, is allowed and success is measured by the pure shock value of a dish. It is a totally liberating experience, creatively or otherwise, to carve a hard cheese into a the shape of a brain.
What do you think or hope will be the next big food trend?
I would like to see Brazilian food be the next big thing. Brazil will be the host of the next World Cup of Soccer in 2014 and the summer Olympics in 2016. I hope that by being on the world stage, the foodie culture will take a good long look at all the great regional cuisines there are here. It would be nice to grow people's awareness of Brazilian food past feijoada and caipirinhas.
What's your best tip for anyone who wants to improve their cooking?
Try eliminating one ready-made or very specific, hard-to-find ingredient from your repetoire, and replace it with something homemade and/or nearby. If you can't get something, try to figure out how to make it with what you have.I have turned to Brazil nuts in the place of pignoles. I have stopped obsessing about not having blueberries or maple syrup. I make pancakes with amazing local honey and the wild strawberries that grow in my yard.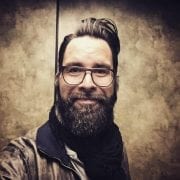 Kalle Bergman
Kalle Bergman is a food writer and media entrepreneur who is the founder of Honest Cooking. As a food writer, his writing has been regularly featured in publications like Gourmet, Los Angeles Times, Huffington Post and Serious Eats. He is obsessed with simple food, more often than not from his native Scandinavia.