South African born Duncan Welgemoed has worked with Heston Blumenthal and Gordon Ramsay. Christina Soong-Kroeger chats with him about his cooking philosophy, what brought him to Australia and what he's creating at Bistro Dom.
By Christina Soong-Kroeger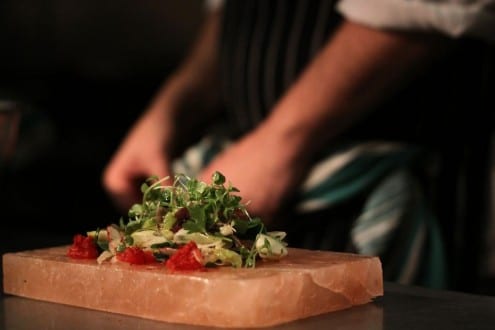 Duncan, what inspired your interest in food and cooking?
My inspiration first and foremost came from my father who was also a chef. My school lunch box was my dad's pride and consisted of various restaurant dishes he was working on. I don't know if it was done to impress me or my teachers. My godparents being Italian and Portuguese also played a huge part in my learning – I was very lucky enough to cook with them and eat their food.
Where did you do your training and where did you work previously?
I did my training with Micheal North at the Goose at Britwell Salome which was one of a very few pubs that earned a Michelin star at the time. It was just myself and him in the kitchen so I absorbed alot from our time together, after that I staged at Le Manoir Aux Quat Saisons, The Fat Duck in Bray and Restaurant Gordon Ramsay. I went into those restaurants with a clear goal of what I wanted to take away from each kitchen. Le Manoir plating style had a huge impact on me, when I went to the Fat Duck, I wanted to see how Heston and Ashley took their ambitious food ideas and made them work on the plate and in the mouth. Restaurant Gordon Ramsay showed me that its possible to create relevant three star cuisine with traditional pan work and classical techniques.
What is your cooking philosophy?
My cooking philosophy is all about the terroir, the earth, the seasons,  and the producers. Clean flavours, well-seasoned food, and simple techniques with a few twists.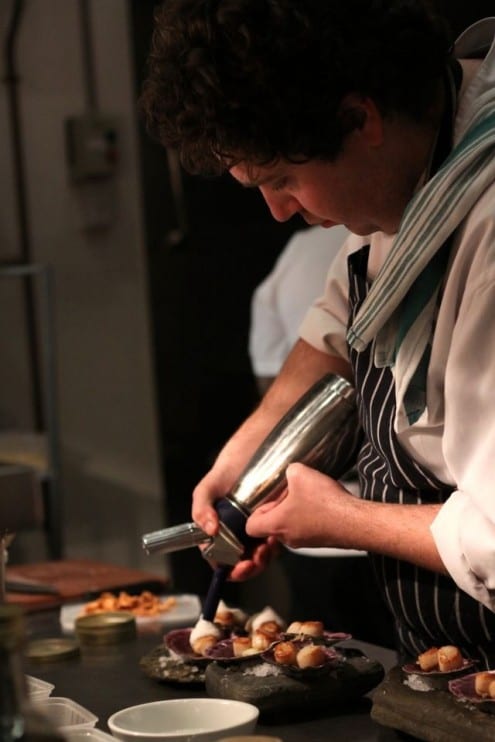 Where did you grow up and what brought you to Adelaide?
I was born and bred in Johannesburg in South Africa, and left home at 17 to pursue my cooking career in Europe. In that time I met my wife and got married in Adelaide (South Australia). When we heard Catherine was pregnant, it was an obvious choice to move to Adelaide;  the city is perfect for raising a family and the wine and produce is world -class.
You teamed up with Quang from Devour Dessert Bar and the boys from Natural Selection Theory wines for a memorable wine degustation last year. Do you have any more similar events planned?
We have been talking about doing another dinner in the next couple of months, something a little different. It will have a little bit more ambition and plenty more drinking.
What are some of your favourite dishes on the current menu?
We have a kitchen menu which we cook to suit each table. It always throws interesting produce and techniques to the table, and is a great way to see what we are thinking and our favourite things to cook. We're currently doing dishes like hot pâté de campagne with poached cumquats, warm salted cod with chlorophyl puree and pickled fennel, boudin blanc with wild asparagus and black mustard.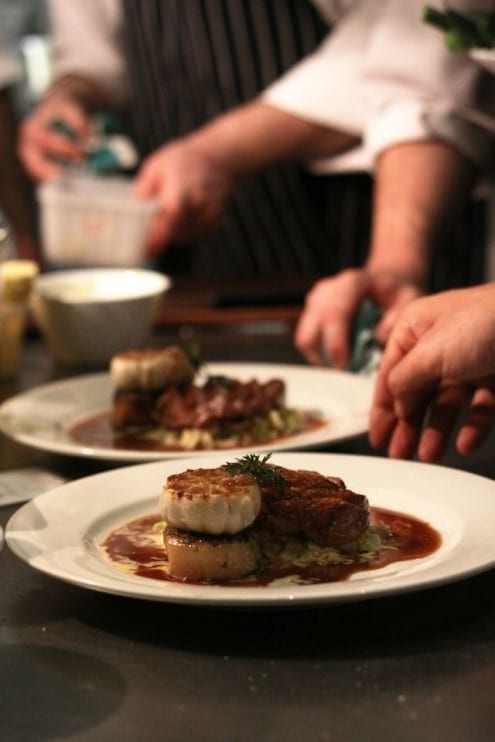 Do you have any fave restaurants  you'd like to share?
Favorite places to dine in Australia are Raymond Capaldi's Hare and Grace, which is doing some of the most exciting food around, Devour Dessert Bar which is always fabulous and Hey Jupiter, which is a brand new concept cafe that has opened in Ebenezer place in Adelaide.
What do you like to eat on your days off?
I mostly cook on my day off and it depends who wins the argument between me and my wife on what we will be eating. Generally comfort food based on what looks good at the butchers or what we pull out in our vegetable garden.
How would you describe the Bistro Dom experience to someone who had never visited?
Informal, buzzy and quirky. Interesting food and wine and cheeky service.
Bistro Dom
24 Waymouth Street
Adelaide SA 5000
Tel 08 8231 7000 or info@bistrodom.com.au
Open: Monday – Tuesday: 11:30am – 4:30pm; Wednesday – Friday: 11:30am – late; and Saturday: 6pm – late.