McObama or Quarter Pounder Romney? Mr. Bartley's Burger Cottage Rocks the Vote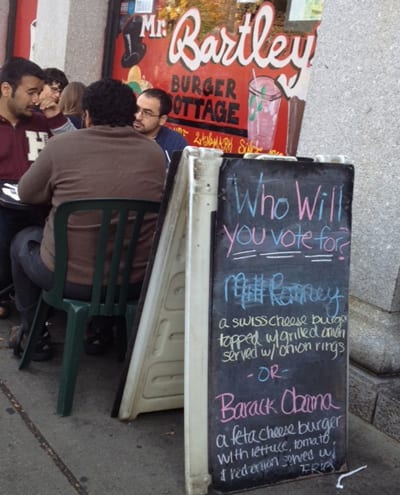 In celebration of the Presidential election, two of the featured items on Cambridge burger joint Mr. Bartley's menu honor this year's presidential candidates Barack Obama and Mitt Romney. Guess which one is the most popular.
By Val Bitici Twerdahl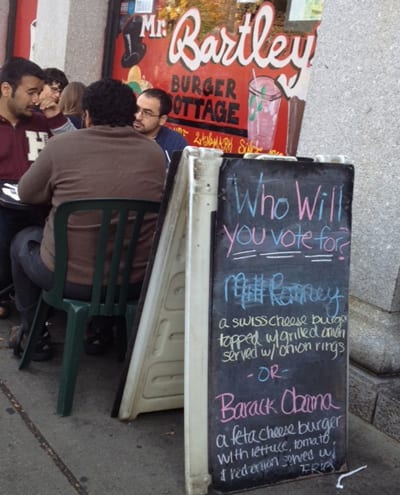 A cornerstone of the Cambridge food scene, Mr. Bartley's has been serving mouthwatering hamburgers and frappes near Harvard Square since 1960. Today, the bustling restaurant offers dozens of burgers named after present-day pop icons such as Tom Brady and the iPhone. In celebration of campaign season, two of the featured items on Mr. Bartley's menu even honor this year's presidential candidates Barack Obama and Mitt Romney.
A chalkboard sign at the entrance of the restaurant probingly asks diners, "Who will you vote for?" With just a few days left until the election, Mr. Bartley's has lightheartedly turned the decision into a purely palatable one. And, much like the actual candidates, our options could not be more different.
Served with a side of French fries, the Barack Obama burger is topped with sharp feta cheese, spicy red onion, and a refreshing mix of lettuce and tomato. Do some find this mixture of bold ingredients comparable to our current president's platform? Absolutely. The same holds true for the Mitt Romney burger—a traditional concoction of melted Swiss cheese and sweet grilled onions, which is served with a side of salty, deep-fried onion rings. Unlike our candidates, both are equally attractive choices.
As I waited on line for a burger last weekend, debating which one to choose, Mr. Bartley himself asked if he could take my order. "Which is the biggest crowd-pleaser?" I responded, gesturing to the chalkboard. "Neither," he said, with a cheeky smile. "Most people prefer the Jersey Shore and the Viagra."
Val Twerdahl
Val Twerdahl is a writer with a passion for food, art, fashion, and travel. Born and raised in New York City, she has become a master explorer of her hometown, constantly scoping out new hubs of creativity in the form of restaurants, art galleries, and shops. To visit her in the blogosphere, go to miscv.tumblr.com.