Matcha Ice Cream Sandwiches with Tahini Cookies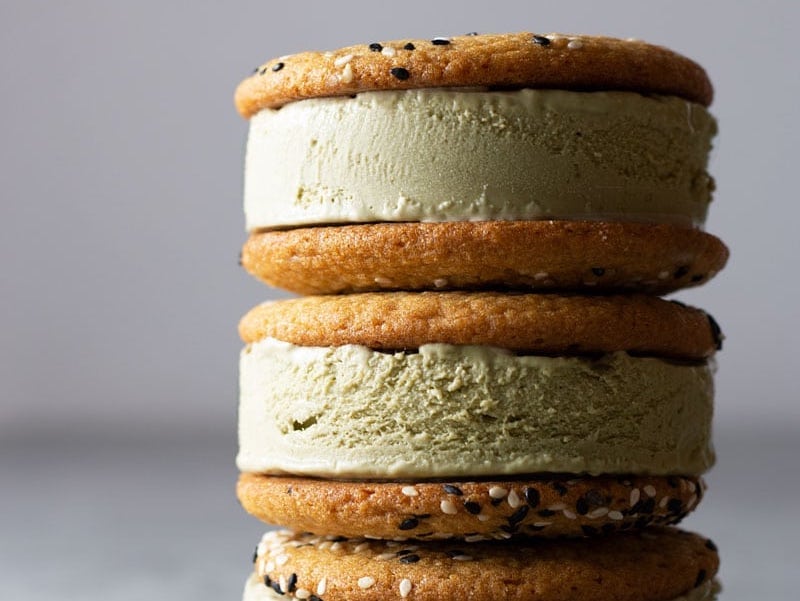 These ice cream sandwiches combine matcha ice cream and nutty sesame cookies for a fun treat. Let's dig in.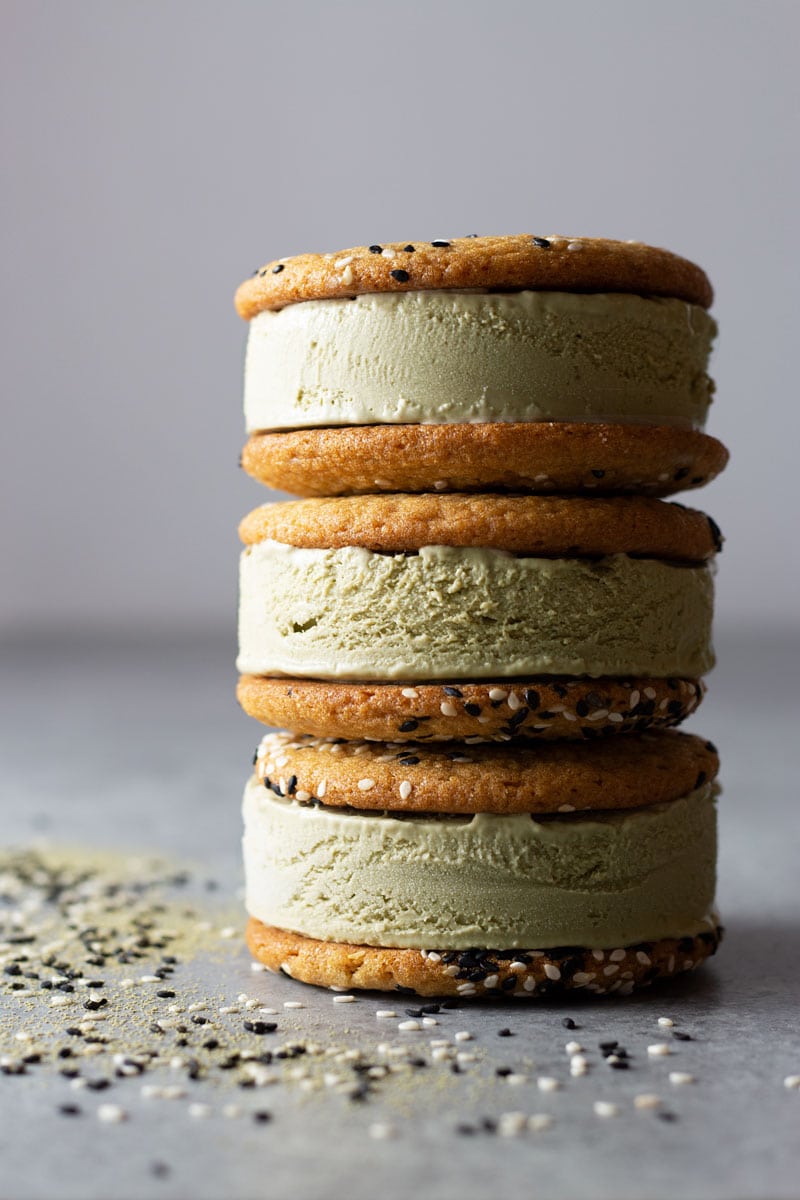 Matcha ice cream has been a long time favorite of mine, so it was about time to make my own version. Formulating this matcha ice cream recipe was a cinch. I added a few tablespoons of matcha powder to my vanilla ice cream base and added a little extra sugar to balance out the bitter flavor.
I adapted the tahini cookie recipe from David Lebovitz. He has a lot of great recipes on his site and is definitely more than worth the follow. I scaled down the cookie recipe, increased the ratio of brown to white sugar, and rolled my cookies in sesame seeds for texture.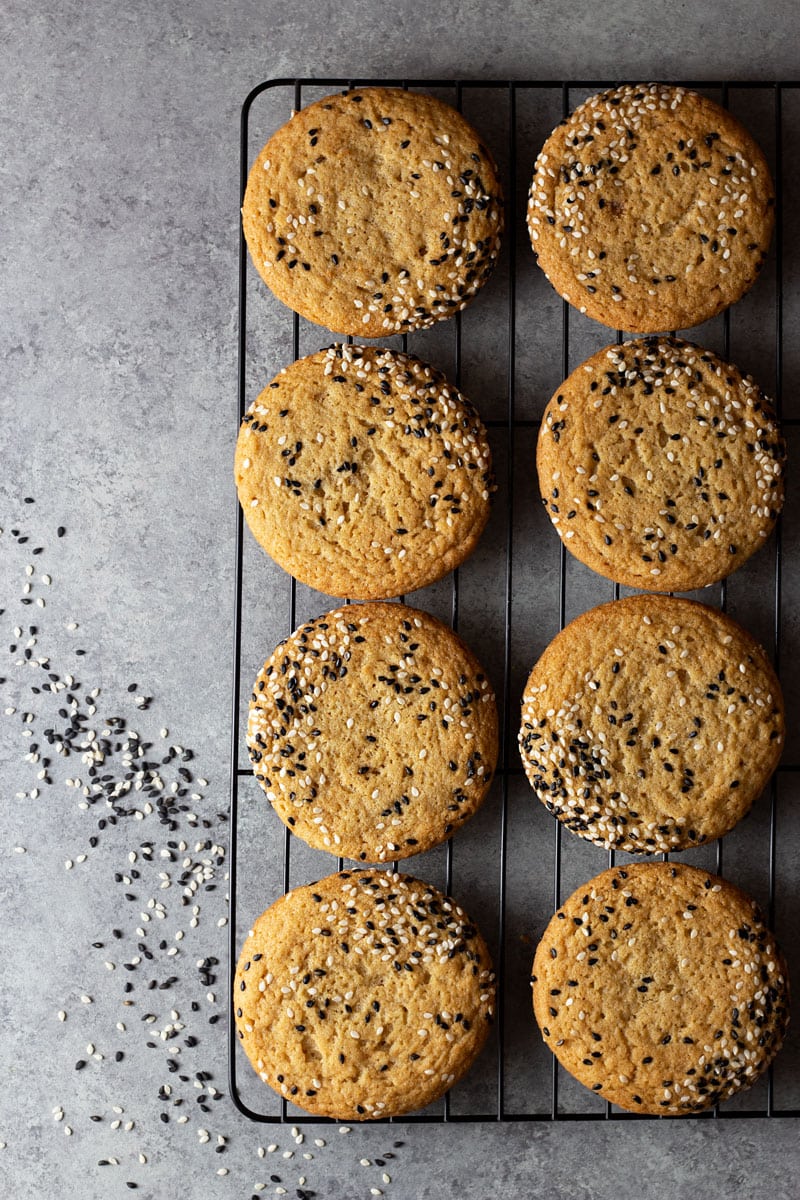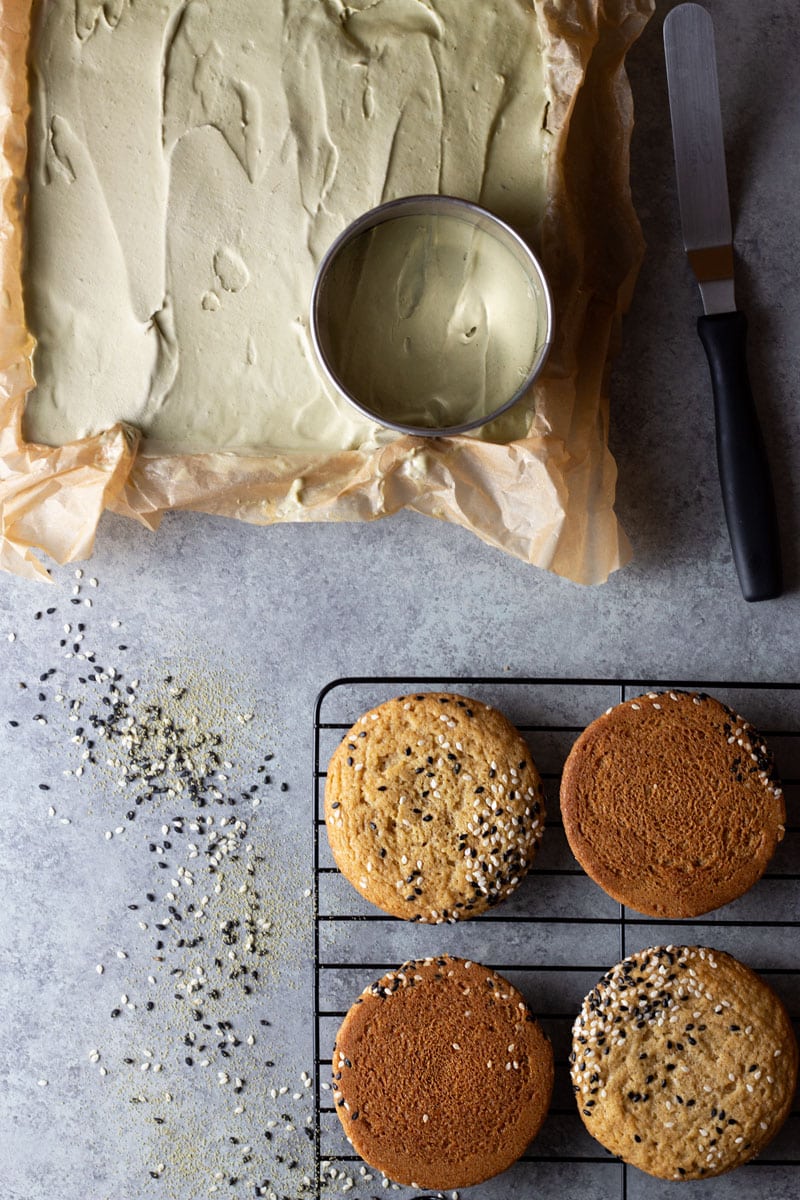 Matcha ice cream and these tahini cookies make such a great combination. The ice cream is refreshing with a slight earthy flavor; and the cookies are nutty, somewhat savory and chewy with crispy edges. It just works. Matcha ice cream fans, make these NOW!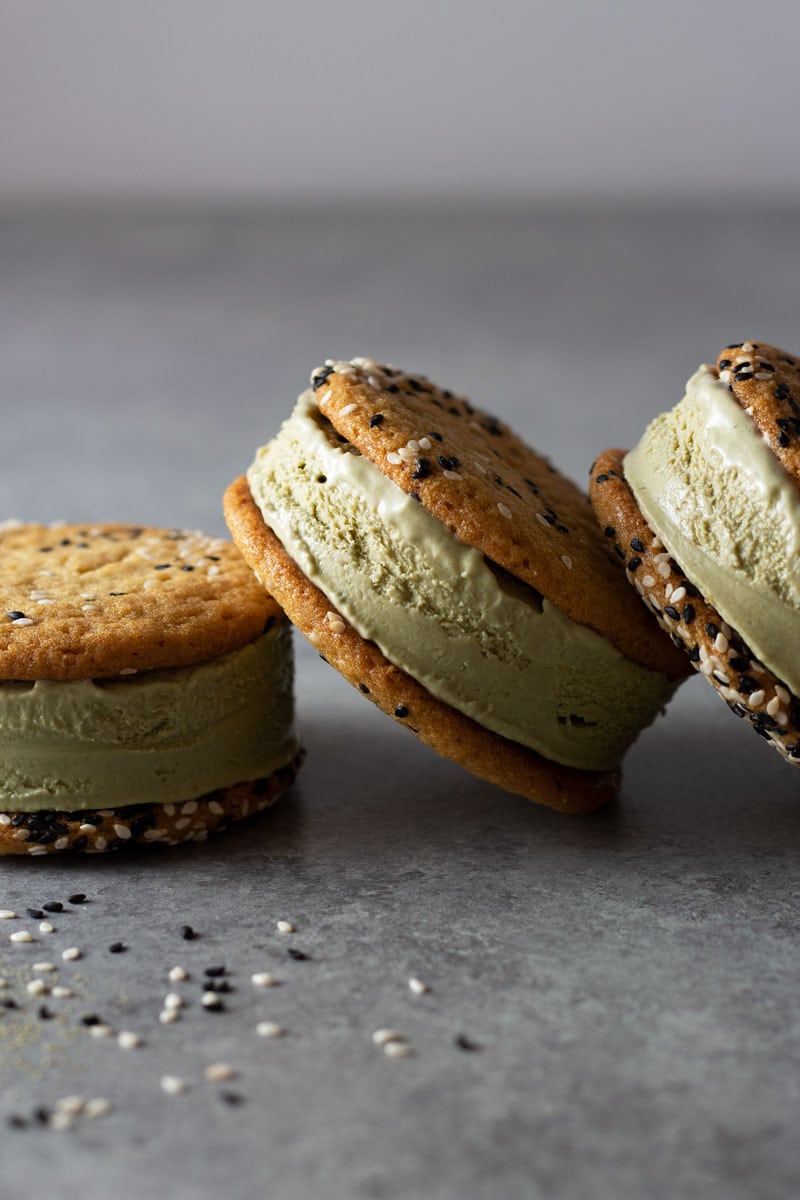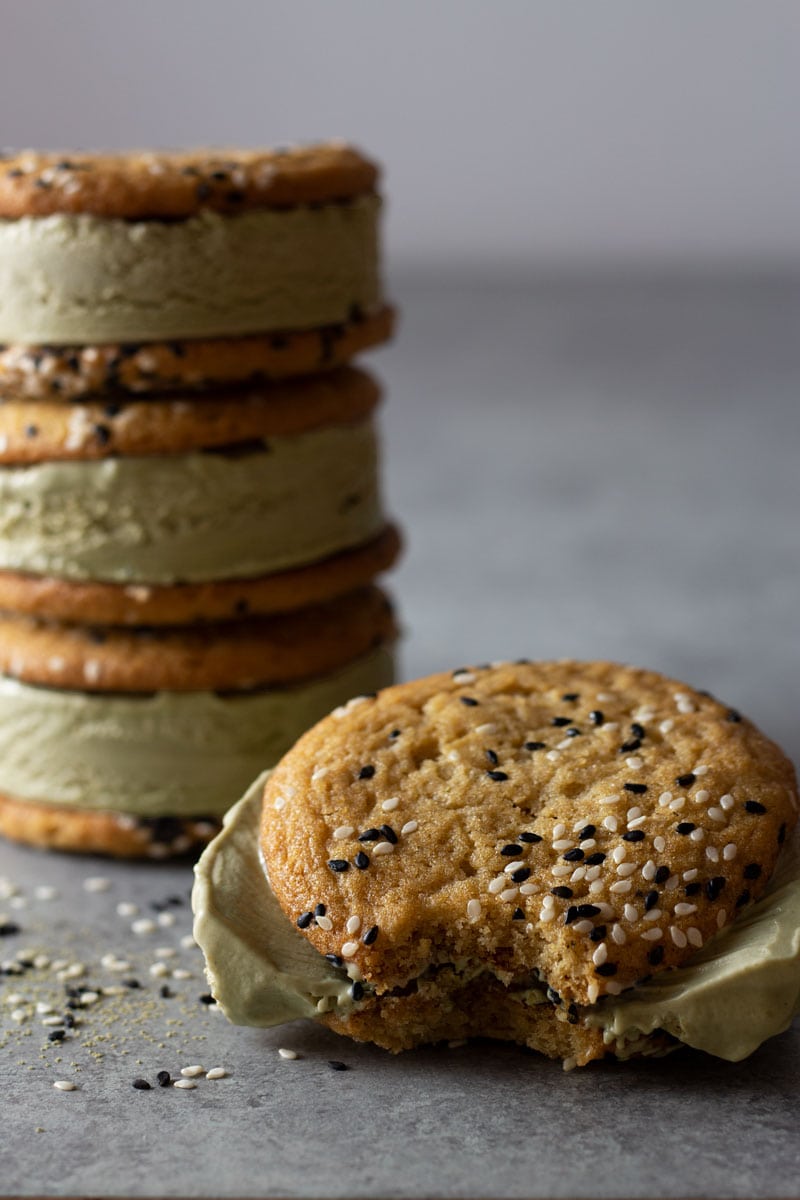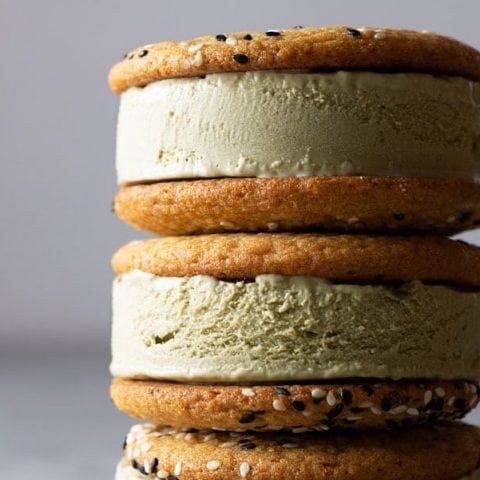 Matcha Ice Cream Sandwiches with Tahini Cookies
Sabrina Russo
These Asian-inspired ice cream sandwiches combine matcha green tea ice cream and nutty sesame cookies for a fun summer treat.
Ingredients
2

cups

heavy cream

1

cup

whole milk

6

egg yolks

3/4

cup

granulated sugar

2

tbsp

matcha powder

1/4

tsp

kosher salt

½

tsp

vanilla extract

4

tbsp

unsalted butter

softened at room temperature

1/4

cup

tahini

sesame seed paste

5

tbsp

light brown sugar

packed

3

tbsp

granulated sugar

1

large egg

½

tsp

vanilla extract

½

cup

plus 1 tbsp all purpose flour

½

tsp

kosher salt

1/4

tsp

baking soda

heaping

1

tbsp

white sesame seeds

1

tbsp

black sesame seeds
Instructions
Make ice cream: Place a sieve over a large bowl and set aside. Warm cream and milk in a mid-sized pot over medium heat. Meanwhile, whisk egg yolks and sugar for about 3-5 minutes or until pale and creamy. Whisk in matcha and salt. When cream mixture comes to a simmer, temper egg/matcha mixture by slowing ladling in about a ½ cup of warm cream into eggs while whisking constantly. Slowly pour egg mixture into cream mixture while whisking constantly. Continue to whisk for 3-5 minutes or until mixture is thick enough to coat the back of a spoon. Pour ice cream base through sieve into bowl to remove any lumps. Stir in vanilla. Cool at room temperature over a wire rack. When cool, refrigerate 4-6 hours or up to 24 hours. Freeze in ice cream machine according to manufacturer's instructions. Line an 8 x 8 inch pan with parchment. Pour ice cream into pan, cover with plastic wrap and place in freezer to set up completely. I suggest freezing the ice cream the day before composing the sandwiches.

Make cookie dough: Using a standing mixer fitted with a paddle attachment, beat together butter, tahini and sugars for about 3 minutes or until light and creamy. Add egg and vanilla, and beat to combine. Add dry ingredients and blend over low speed until just combined. Refrigerate for several hours until firmed or preferably overnight.

Bake cookies: Preheat oven to 350°F. Line a baking sheet with parchment paper or a silpat. Add sesame seeds to a small bowl and mix. Using a tablespoon scoop or two spoons, spoon rounds of dough and dip into sesame seeds. I dipped one half into the seeds and lightly sprinkled the seeds on the other half. Transfer to baking sheet spaced two inches apartment. Slightly press down tops. Place in freezer to firm up again for 5 minutes before baking. Bake 12-14 minutes or until golden brown. Cool for 5 minutes, transfer to wire rack and cool completely. Bake in batches, as needed.

Make sandwiches: Using a round cutter the size of the cookies, punch out rounds of ice cream. Use a small offset spatula to place ice cream round on a cookie and top with another cookie. Eat immediately or freeze until ready to eat. The cookies will start to become soggy after several days in the freezer, so I recommend filling the cookies close to the time you want to eat them. Enjoy.
Sabrina Russo
My Three Seasons represents the 3 key factors that are most important to me in cooking. #1 Seasonal ingredients #2 Proper Seasoning (don't skimp on that salt!) #3 Cooking like a Seasoned chef (technique is everything). My name's Sabrina. I live in NYC. I'm a registered dietitian with professional cooking and food styling experience. Come cook with me.