Discover the basics to creating the savory version of this French delicacy. Remember, whipping is the key.
By Audrey Ling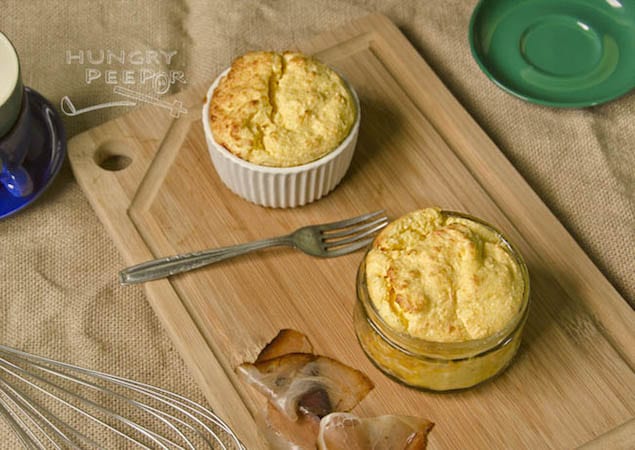 A soufflé is a French delicacy which can be whipped up with either a sweet or savoury flavour. The word 'soufflé' means 'to blow up' or to 'puff up' in French. In the process of making a soufflé, the egg whites and yolks are separated, with the whites whisked to form a soft peak meringue and then recombined with a flavoured yolk mixture. This combination is then baked till the cake batter rises and puffs up to create a very light and airy appetiser (savoury) or dessert (sweet).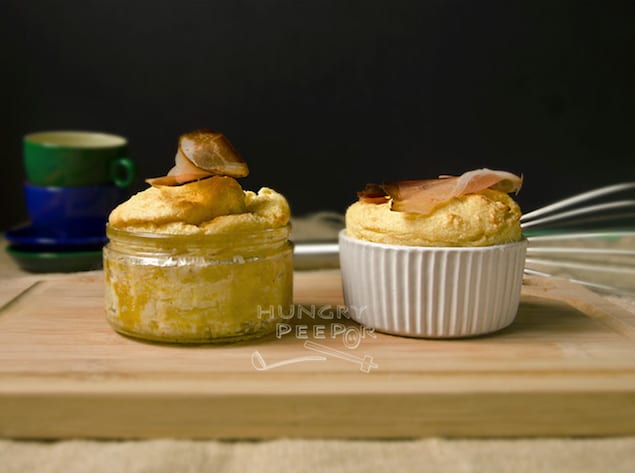 Albeit sounding like an easy feat, be prepared to fail the first time you attempt this dish, because after all, it takes an amount of skill and experience to know how much whisking is enough and how best to combine the yolk sauce. It is also a recipe that sets one out to be disappointed when one sees how quickly the risen batter collapses once it is taken out of the oven (which is normal!). Nevertheless, I had to give this classic French dish a try, especially since the savoury ones are difficult to find in Singapore.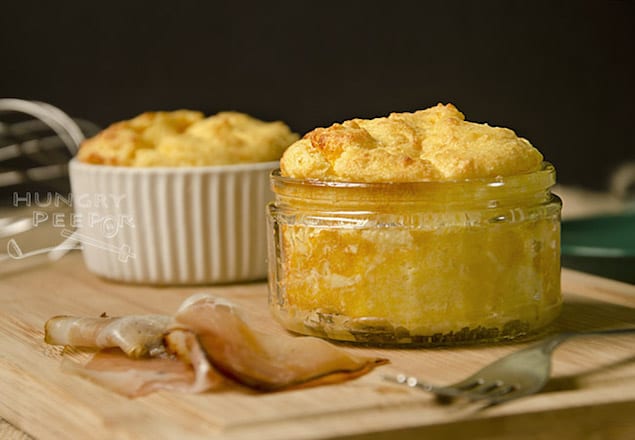 Master French Cuisine: Cheese Soufflé
Discover the basics to creating the savory version of this French delicacy. Remember, whipping is the key.
Recipe Type:
Side, Baking
Ingredients
Unsalted butter: 2 tbsp + 1 tbsp (24g)
Powdered parmesan cheese: 4 tbsp
Plain flour: 24g (0.8 ounces)
Plain milk: 300g (10.5 ounces)
Mature cheddar cheese: 50g, grated (1.7 ounces)
White vinegar: 1 tsp
Mayonnaise: 1 tsp
Salt: 1 tsp
Egg: 4, yolks & whites separated
Instructions
Coat 4 ramekins twice using 2 tbsp of softened butter. Leave them to chill in the fridge in between coats. Use an upward stroke while coating.
Fill each ramekin with 1 tbsp parmesan cheese. Roll to coat, tapping out the excess. Leave in fridge to chill again.
Preheat oven at 160 degrees Celsius.
Melt 1 tbsp butter in saucepan. Stir in plain flour to make a roux.
Whisk milk into roux to produce a smooth sauce.
Add cheddar cheese, vinegar, mayonnaise and salt. Cook on low heat for 10 min.
Remove sauce from heat. Whisk in egg yolks, stirring to mix well.
In a separate mixing bowl, whisk egg whites till soft peaks form.
Using a metal spoon, fold ¼ of egg white into sauce to loosen the mixture first.
Fold in remaining egg whites gently till evenly mixed. Do not overfold.
Fill ramekins with batter till the brim. Level with back of spoon and run a finger around the rims of the ramekins (without rubbing away the butter) to separate the batter from their edges.
Bake 16 min till risen.
Serve immediately while hot.