Fort Greene, Brooklyn – Breaking the Rules at Martha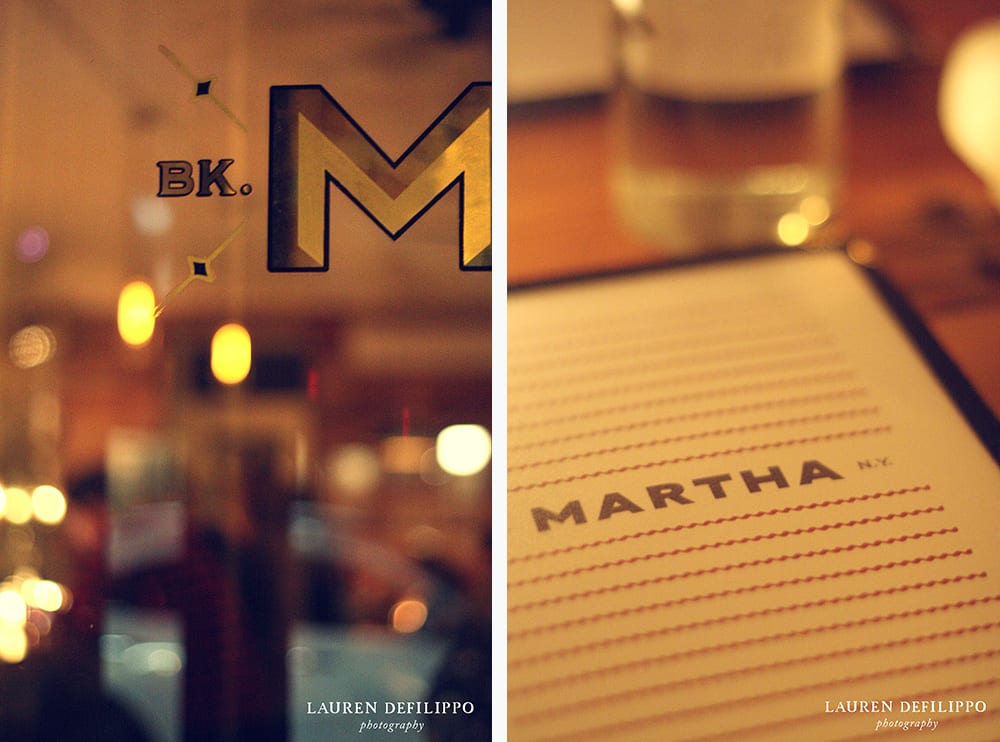 At Martha in Fort Greene, Chef Andres Valbuena serves up a multi-cultural menu that riffs on cuisine from all corners of the globe.
By Carly DeFilippo – Photos by Lauren DeFilippo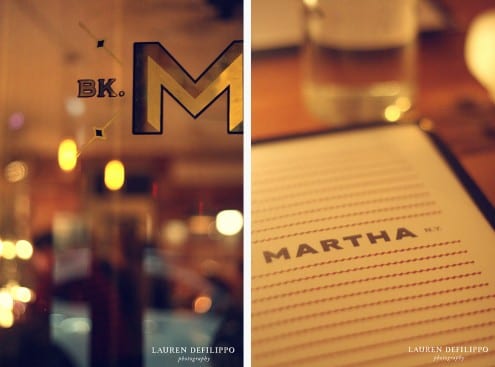 There are few restaurants where I would advise diners to order both curry and creme brûlée. And yet, at Martha in Fort Greene, Brooklyn, I enthusiastically recommend indulging in both dishes.
Having refined his culinary chops at Michelin-starred establishments and underground supper clubs alike, Chef Andres Valbuena serves up a multi-cultural menu that riffs on cuisine from all corners of the globe. What's more, he pulls this mish-mash off without a whiff of pretension.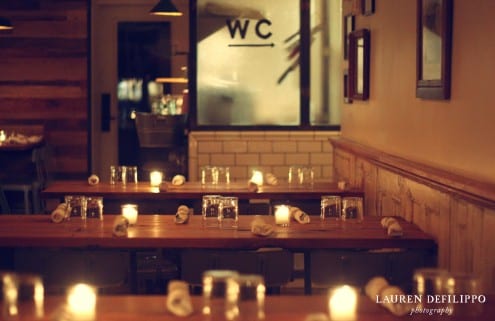 Let's start with the cocktails. As a fan of heavy-on-the-bitters drinks, I was pleased o be steered towards the more subtle Double Trouble: a simple mix of dry vermouth, cocchi americano and orange bitters. It was a diner's refreshment, perfect for pairing with a variety of plates (a cocktail virtue that is too often overlooked). The Apple Fizz was equally drinkable, with the mineral bite of a dry French cider.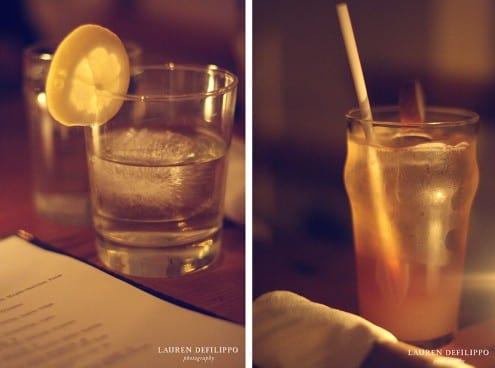 Moving on to small plates, we opted to test out the fluke crudo. On first impression, the portion was doubly generous, paired with hijiki (an "al dente" seaweed with distinct umami flavor) and salmon roe. The dish's salinity highlighted the fish's exceptional quality, as well as the chef's unassuming creativity—a trait similarly infused in the dishes that followed.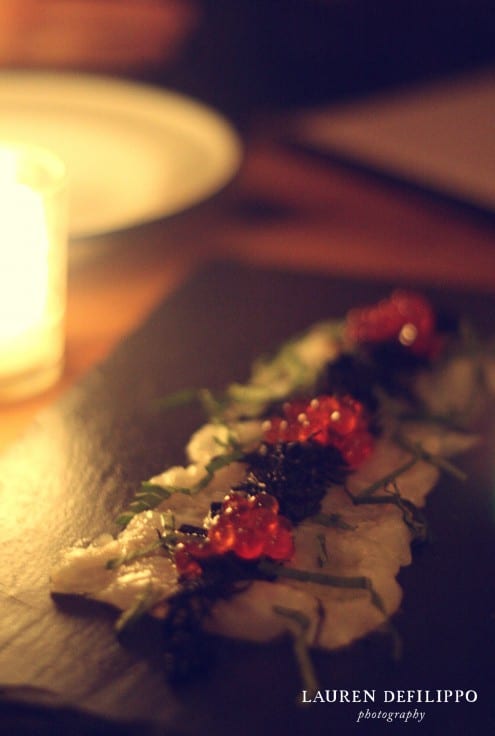 Next, a miniature cast iron pan of crispy brussel sprouts, so perfectly dressed that they fit every taste bud's fancy. The plate-licking combination of sticky honey, funky fish sauce, pickled jalapeño and crunchy peanuts was nothing if not cravable. (In a city full of fresh takes on what used to be an abhorred vegetable, these are easily among the most addictive sprouts I've found.)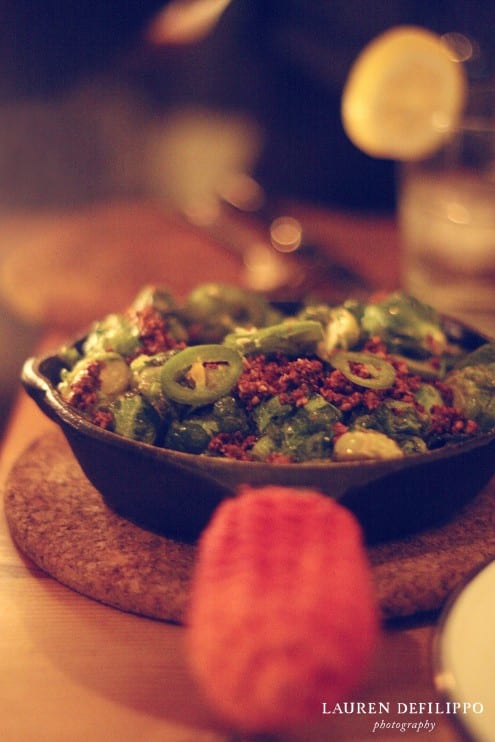 A steaming dish of congee might have seemed a bit of a curve ball, served alongside two remarkably juicy, skewered lamb meatballs. Yet this savory porridge could easily transfer to a hip Brooklyn brunch—indulgent enough to satisfy those who hit the drink a bit too hard, but subtle enough to please more wide-eyed, curious customers.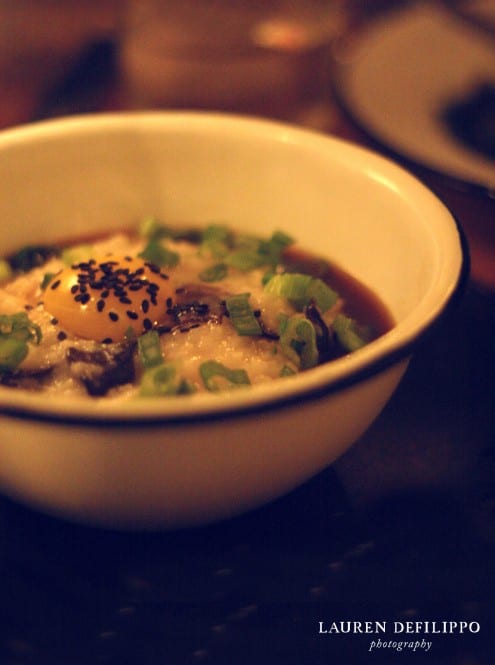 Three courses of shared plates deep, we had already encountered enough variety that our palates risked losing their footing. But then, a rock-solid dish of little neck clam green curry arrived—spiced, but not overly rich—to refresh and center our senses. The shellfish themselves were meaty and tender (an ode to local sourcing), while the curry offered heat and focused flavor.
Then arrived the fried chicken, a dish so beloved and contested in today's restaurant culture that we couldn't pass up a taste. Its crispy, intensely spiced batter was dressed with a honey-based spin on General Tsao. In fact, there are so many layers of flavor in this creative dish, it merits a culinary dissertation. Among them, my favorite detail, fermented black beans, offered an unexpected pop of earth and salt, hidden among the crevices of fried crust and sticky sauce.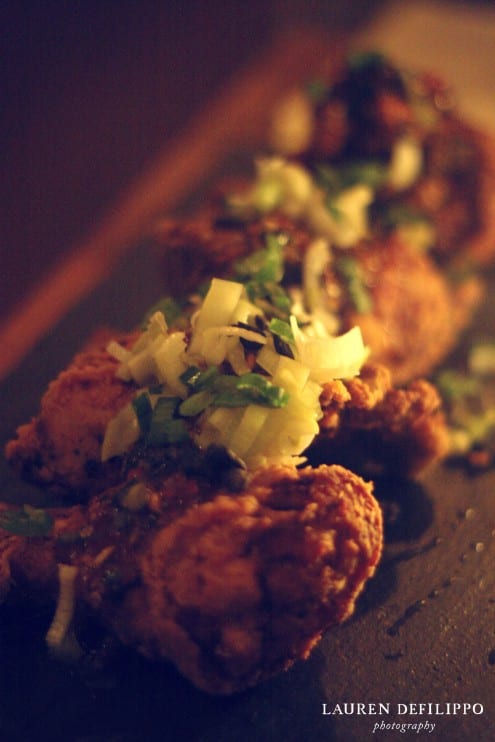 Yet of all the rule-breaking that reigns in Martha's kitchen, their creme brûlée was maybe Valbuena's most daring move. Less a custard than an egg-rich spin on melted ice cream, this dessert was sloppy in all the best ways. The shatter of a substantially caramelized crust caused apple shards to fall into a pool of vanilla-laced cream, and we lapped up every bite like we hadn't already eaten five courses.
In retrospect, it's hard to make sense of such a shapeshifting restaurant. But the fact that Martha's menu makes no claims to cultural authenticity is exactly what makes it exciting. Eliminating the boundaries of tested pairings and single region references, each dish becomes an expression of sheer creativity.
It's a risky pretense—one that could lead as easily to clashes as coherence—but Martha never skidded off course. Just like the innovative residents that have fostered today's Fort Greene scene, these zany dishes play together surprisingly well.
Martha
184 DeKalb Avenue, Brooklyn
718-596-4147
Carly DeFilippo
Carly is a Contributing Writer at Honest Cooking. Though the first line of her college application essay was "I love tunafish," it wasn't until she pursued graduate studies in Paris that she ever considered a future in food. Based in Manhattan, Carly is a freelance writer and the co-founder of Cognoscenti Creative, a boutique branding agency dedicated to establishing artisans as influencers.