During the week of January 21st through January 23rd, all eyes were on Madrid's Ifema Convention Centre.
By Margaux Alexandria Cintrano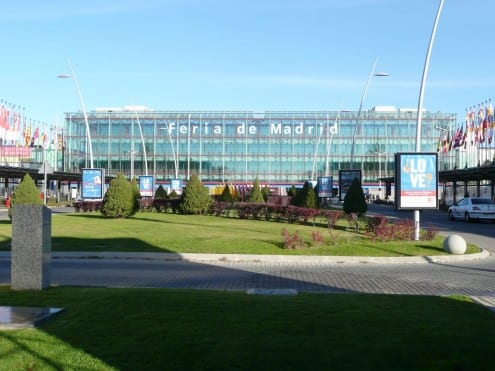 During the week of January 21st through January 23rd, all eyes were on Madrid's Ifema Convention Centre. Over 100 chefs provided culinary demonstrations, introducing their extraordinaire seasonal gourmet products, and unique techniques. The visitors were able to interact with the leading culinary gurus of the Iberian Peninsula, Brazil, Perú, Columbia, Belgium, Russia, Italy, France, Switzerland, Germany and the U.K.
Today´s leading Chefs were discussing a vast variety of topics including; Carrying On Creativity, Science and Nature, Culinary Possibilities, The World of Mushrooms, The Chocolate Revolution, The Indigenous Products of Brazil, Peru and the Amazon, The world of the Sea and implementing Savoury Coffee as a key ingredient …
Three Michelin Star Chef Basque Eneko Atxa and Dénia, Alicante´s Chef Quique Dacosta discussed the world of water and its infinite culinary possibilities.

Chef Paco Roncero, a native Madrileño and Chef Rodrigo De La Calle, a native of Aranjuez, Madrid, presented the World of Mushrooms.
The visiting guest country Brazil brought Chef Alex Atala, the owner and Chef of the world´s 4th best restaurant, awarded by the London Restaurant Magazine. Alex and his crew of over 30 Brazilian and Columbian Chefs highlighted their profound admiration for the Amazonian indigenous product selection.
Basque Chef Andoni Luis Aduriz and Girona native Chef Joan Roca, the world´s 2nd best Chef, chosen by the Judging panel of London´s Restaurant magazine for the last two years, since Ferrán Adrià, had dropped the gastronomic bomb that he was leaving the helm in 2011. They elaborated on their concerns for the environment, and the science behind the art of epicurism.
Chef Alberto Chicote discussed his delectable creations, within the world of forest mushrooms.
Andalusian Chef Ángel León, a genius in his own right, just published his first book; Chef of the Sea. He continued talking about the world of the sea, plankton, algaes, and seafood treatments from the kitchen to the palate.
Basque Chef Martín Berasategui was widening our horizons with signature sandwiches.
Furthermore, the main theme, Creativity Carries On, merged the new South American masters of the culinary arts, coupled with the European disciples of Juan Mari Arzak and Ferràn Adrià, creating and merging a meeting of gastronomic guru think-tanks.
Gracing the tables were Pintxos (tapas), wines from the Ribera del Duero, Extra Virgin Olive Oils, home made breads, farm to table cheeses from Cantabria, Italian Asiago fresh cow variety cheese, Reggiano Parmigiana cured 18 months, Goose Foie Gràs fed on a diet of acorns in a similar fashion to the Iberian hogs, and Peruvian delicacies.