Getting cocktail tips from a Drinking Coach (yes, apparently they exist) sounds like a load of fun. Taking a cocktail class from a Drinking Coach in a hotel room? Count us in for roll-call!
I recently returned from the Atlanta Food & Wine Festival where I spent four fun-filled days sipping, savoring and learning about the flavors of the south. The hardest part was choosing from over 85 culinary classes with creative topics ranging from Whole Cow on the Grill to White Men Can't Dump(ling).
However, the most "useful" l class was the practical Hotel Room Cocktail seminar taught by Tiffanie Barriere, a self-described "Drinking Coach, Liquid Chef, Educator, and Smile Promoter."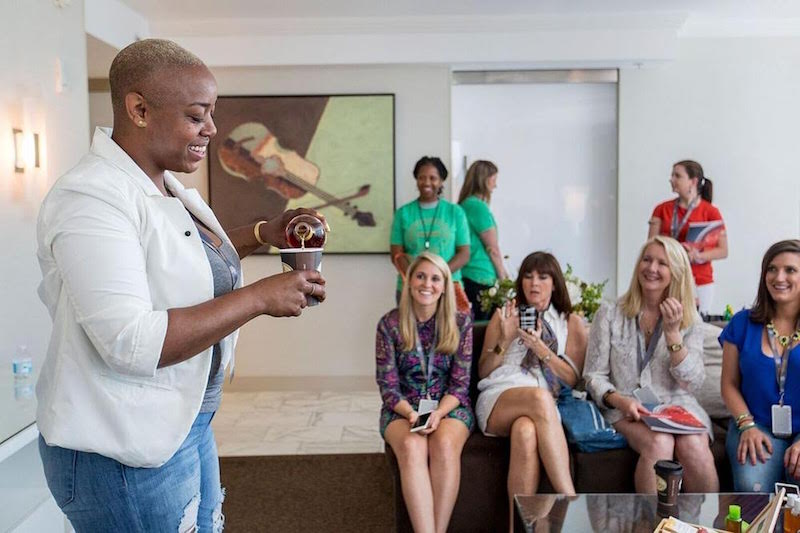 School was held in Tiffanie's suite where, truth in advertising, she greeted us sporting an infectious grin and a cocktail. During her demo, Tiffanie shared user-friendly, MacGyver-style tips on creating scrumptious cocktails using bare-bone resources such as coffee cups with lids (your shaker), ice, a coffeemaker, sugar packets, a lemon, etc.
"I never travel without my cocktail kit," she confessed, "which is packed with a wine key, travel-sized plastic bottles filled with honey syrup I make at home, and a variety of mini liquor bottles. "I did some extra-credit homework and read that, per the TSA Blog, travelers may carry as many 3.4 ounce bottles of liquid (mini bottles of liquor are 1.7 ounces) that fit comfortably in one, quart-sized, clear plastic, zip-top bag. Hallelujah! With some strategic maneuvering, I managed to fit eight mini bottles and two tubes of sweetener in one bag.
Depending on your tolerance for petty thievery (after all, this is a covert operation) you can add to your room stash by liberating an orange, grapefruit, mini-jar of honey, and exotic tea bags from the breakfast buffet.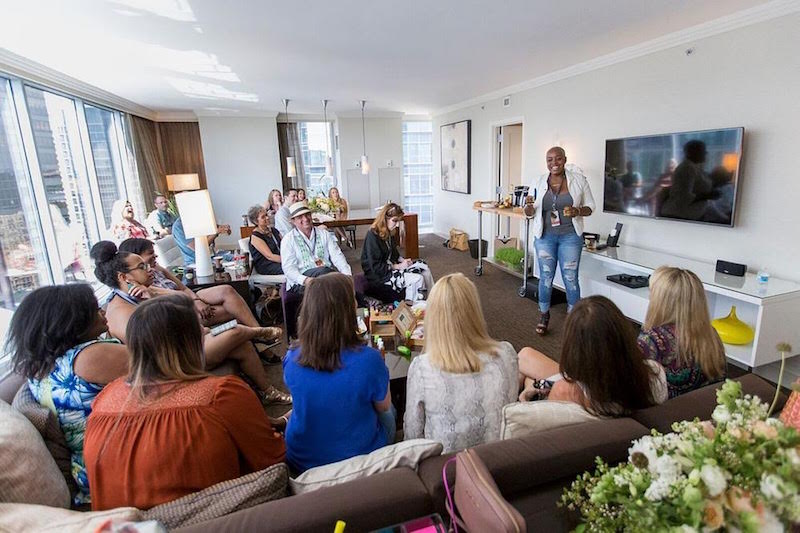 A few cocktails later, my unruly classmates were enthusiastically shouting out their favorite hacks. One stylish southern belle admitted that she often strains her in-room cocktails through a clean bathroom loofah. Another wondered if she could use the coffee creamer packets to make a richer, frothier drink? The answer was yes, plus when the creamer was shaken with hot coffee, a mini-bottle of whiskey, and some sugar, the results would be a totally acceptable Irish Coffee.
Where did you grow up and what was your childhood like?
I grew up in Houston, Texas but spent summers all over south central Louisiana. I was born into a drinking family. We all drink for enjoyment- not to get messed up.
You say you are a "lush at heart". Do you think that was shaped by genes or your environment?
Both! So it's no big surprise that drinking is my hobby, my habit, and my career.
Are you a working bartender?
I have overseen the award-winning beverage program at One Flew South in the Hartsfield-Jackson International Airport since 2008. (Under Tiffanie's creative direction, One Flew South was named "Best Airport Bar in the World" at Tales of the Cocktail in 2014.) I recently began consulting for other bars.
See Also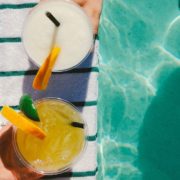 Do you prefer the term bartender or mixologist?
Bartender. Bartenders have to tend the bar and their guests. Smiles and providing great service is my intention in every pour.
How did you come up with the idea for Hotel Room Cocktails (HRC)?
I was speaking about cocktails at "Music to Your Mouth", an amazing showcase of culinary talent in Palmetto Bluff, SC. where I met Dominique Love and Elizabeth Feichter, founders of Atlanta F & W Festival. We were having so much fun that we decided to continue the party back in my hotel room. We were in desperate need of cocktails but only had a few things to work with so I became MacGyver in this 911 emergency and created some tasty (and cheap) libations. Thus began Hotel Room Cocktails (HRC). This is my 4th year teaching for them.
What are some of your favorite bars?
The Brandy Library and PDT in NYC, Leon's in Charleston, SC, Basement in Miami in FL, Ration & Dram in Atlanta, Cure in New Orleans and so many others.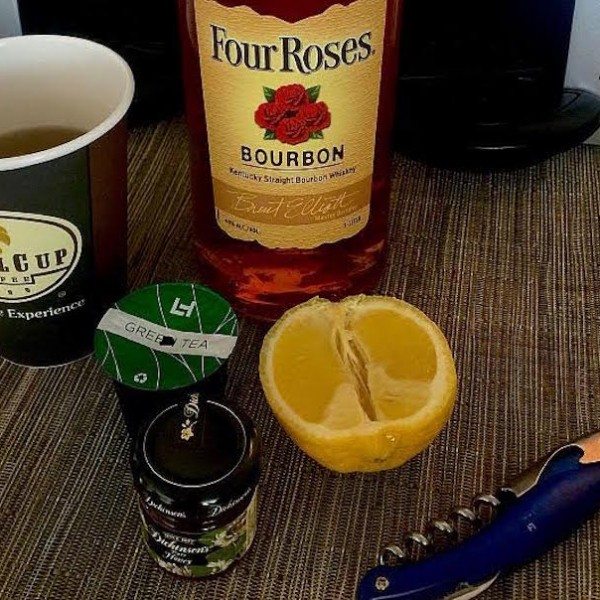 Janice Nieder
Ingredients
Juice of half a lemon

keep the lemon half to use as a jigger

Green tea

Mini bottle of booze

Honey syrup or 2 sugar packets

Ice
Honey Syrup
1

part honey

2

parts hot water
Instructions
Steep a cup of tea using the Keurig coffee maker. Let cool. Take a coffee cup and add the lemon juice, sweetener to taste, and booze. Add the tea and ice. Put on the lid. Shake and serve.

Note: Instead of bringing honey syrup from home you can heat water in your coffee maker and stir in two sugar packets. This frees up more space in your one-quart carry-on bag for additional mini booze bottles!
Janice Nieder
Janice could be the love child of Indiana Jones and Julia Child. She was a specialty food consultant in NYC with a client list that included Tavern on the Green and Dean & Deluca. A culinary trendsetter, Janice has visited almost 100 countries searching out gastronomic adventures. She might be found sharing a smoked monkey dinner with Shuar Indians in the Amazon jungle or "running with the dogs" while truffle hunting in Marche, Italy. To keep things in balance, Janice also writes about her Girlfriend Getaways, including everything from luxurious city penthouses and Michelin starred meals to bespoke travel in remote destinations. You can follow her travels at www.janicenieder.com