Lucky Rice Night Market – A Sunset Celebration of NYC's Asian Cuisine and Culture
New York was the first city on this gastro-culinary tour, with the night market taking place at Chelsea's Maritime Hotel.
By Carly DeFilippo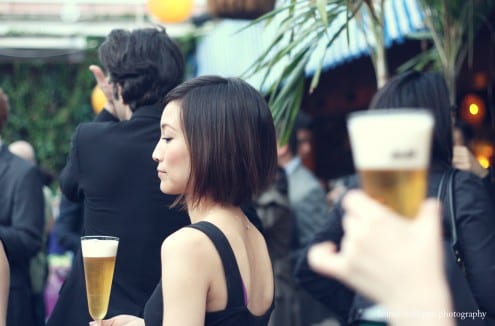 As someone who has never been lucky enough to travel to Asia, I've always been intrigued by tales of nighttime markets that sell sizzling dishes to the hungry throngs. Fortunately for me, Lucky Rice, an annual, Manhattan-based celebration of Asian culture and cuisine, is bringing the night market (along with a number of other exciting events) to 5 major cities across the US.
New York was the first city on this gastro-culinary tour, with the night market taking place at Chelsea's Maritime Hotel. As the sun set slowly over the Hudson, the evening light spilled through the atrium ceiling, and hanging lanterns started to glow.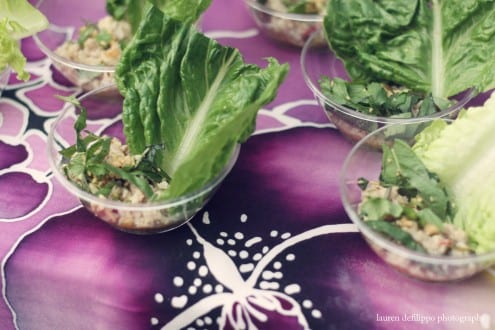 The first dish we sampled was Talde's comforting lemongrass chicken with crunchy romaine, a more mellow, richly flavored take on the intense spice of traditional thai larb.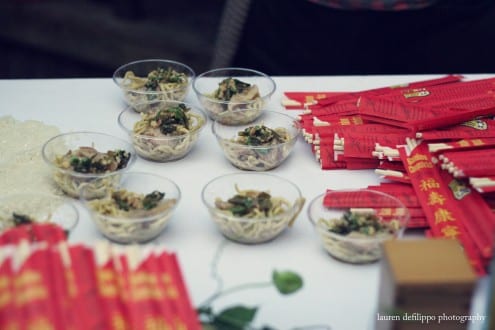 From there, we moved on to the most tongue-numbing dish of the night, Family Recipe's "Soy Vay Teriyaki" Pork Jowl Maze Ramen—a seemingly innocent (and surprisingly creamy) noodle dish that packed the punch of sichuan peppercorns.
One of our early favorite plates was Qi Thai Grill's Ovaltine Pork Ribs, an unusual riff on the flavors of mole, which fell off the bone beautifully.
Ginny's Supper Club's pork belly bun proved that celebrated chef Marcus Samuelsson can tackle just about any global cuisine. The addition of super-crunchy, almost caramelized chiccarones and pickled slaw off-set the dish's rich texture with a refreshing crunch.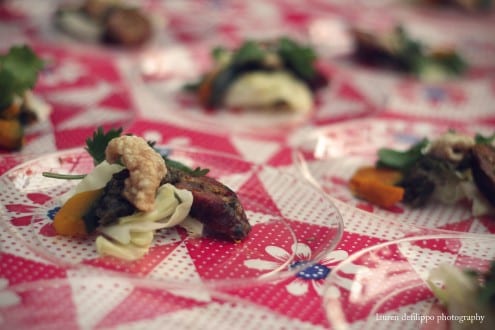 But of all the dishes we sampled that night, two stood out in particular: Pok Pok's Sai Ua Chiang Mai Sausage and Spice Market's Shaved Tuna. The former was the most balanced and complex bite of the evening, combining the spiced umami of sausage with the crunch of bitter cabbage and chiccarones, the sweetness of squash and the spice of burmese curry.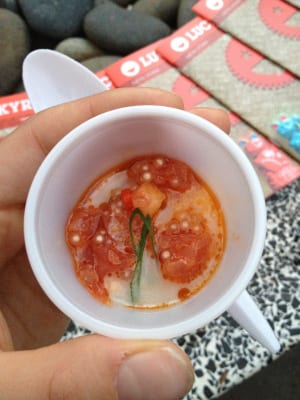 Spice Market's tuna was served in a coconut broth, with tapioca pearls and asian pear. Packing just a touch of heat, it was the most refreshing (and dessert-like) bite at the market—the perfect way to conclude such an intensely flavorful evening.
Photos by Lauren DeFilippo
Carly DeFilippo
Carly is a Contributing Writer at Honest Cooking. Though the first line of her college application essay was "I love tunafish," it wasn't until she pursued graduate studies in Paris that she ever considered a future in food. Based in Manhattan, Carly is a freelance writer and the co-founder of Cognoscenti Creative, a boutique branding agency dedicated to establishing artisans as influencers.