Honest Cooking is on the jury of the 2011 Young Chefs Nations Cup, staged this week in Aarhus, Denmark. Join us on Tuesday, Wednesday and Saturday for live reporting right here on Honest Cooking.
By Kalle Bergman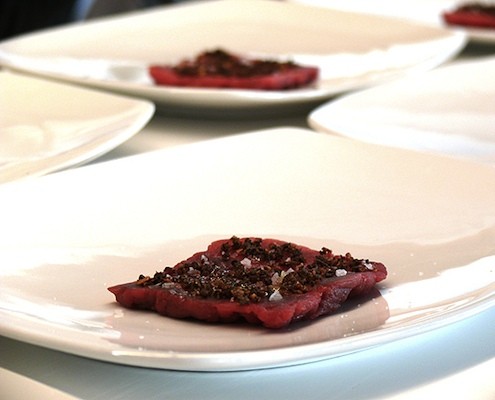 These days, the UEFA U21 European Football Championships (the kind of football where you can't use your hands, wear helmets or throw around a ball that isn't really a ball) are being staged in Denmark. But even if this tournament has gotten the bulk of the media attention, there is another – much tastier – tournament going on. The Young Chefs Nations Cup.
Cooking talent from three of the nations who have had the largest influence on top gastronomy in recent years – Denmark, Spain and UK – are participating in the cup, and we're talking top young talents. The Danish team is made up of participants in the national youth team, the Spaniards have put together a team working for Michelin starred chefs Salvador Gallego, Pedro Larumbe and Mario Sandoval – and competing for the UK will be a youth team assembled by The Dorchester.
Honest Cooking has the honor of being on the jury for the duration of the competition, and we'll live report from the three main events during the week. We'll talk to the young Chefs, check out the preparations, chat with the jury and give you live impressions throughout the week.
So join in and experience top young gastronomy talent this week on Honest Cooking.
(links will be activated when live reporting starts)
Link To Live Report Tuesday: Competition Day 1
Link To Live Report Wednesday: Competition Day 2 (wednesday's live reporting will be on Twitter.com/honestcooking)
Link To Live Report Saturday: Finals