Linzer Cookies with Strawberry Rose Jam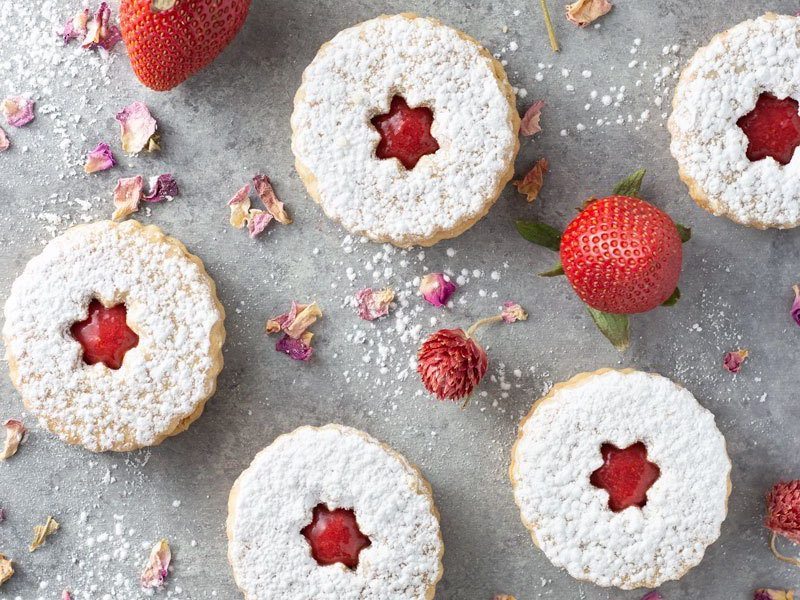 I have a unique cookie recipe for you that's perfect for the late spring and early summer. My Linzer Cookies with Strawberry Rose Jam are sure to impress your family and guests.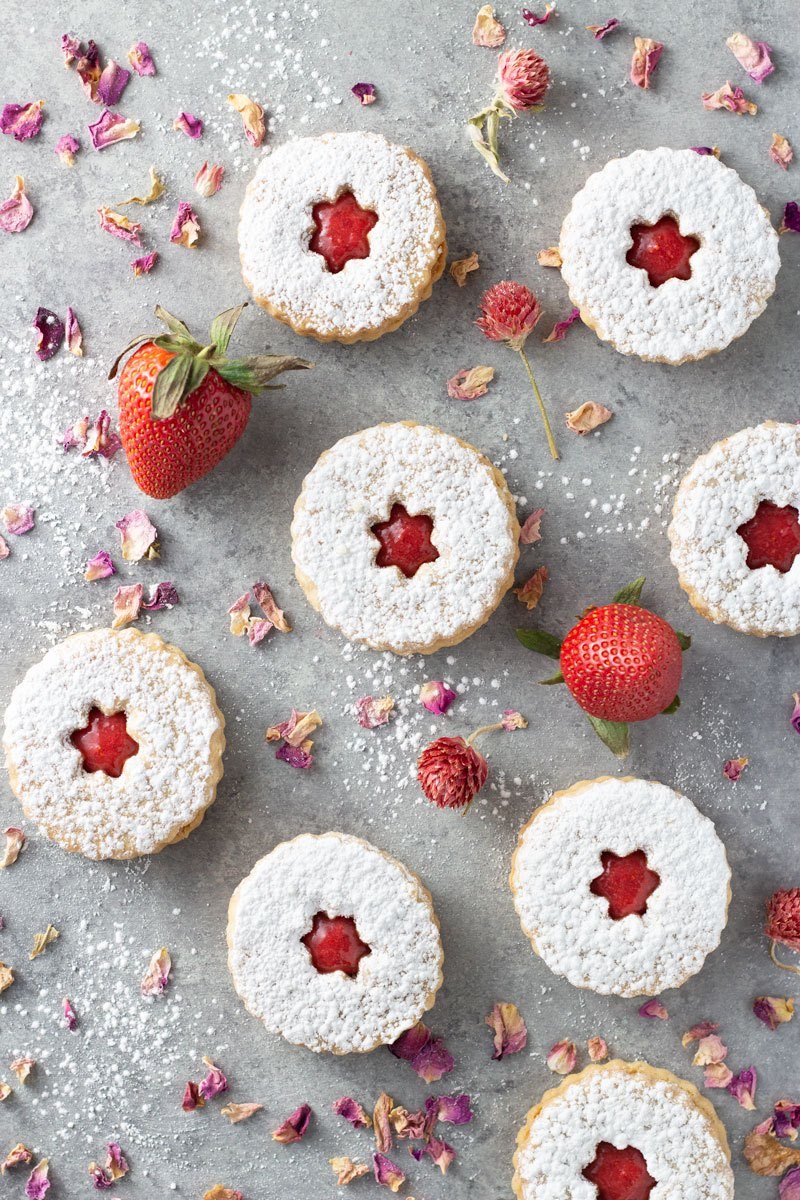 The cookie recipe itself is pretty basic and would be wonderful for your holiday sugar cookies. I did, however, add a few ingredients to spice things up a bit. A hit of vanilla, cinnamon and cloves are a nice subtle compliment to the strawberry rose jam. Often times linzer cookie dough also contains nuts, but I left those out in this case. I tested a couple different recipes, and of course I like the one with the high butter content more. Go figure. Butter makes it better. I'm the worst dietitian…
I bought cookie cutters to make these extra special. The fluted edges and little flower center cut-out make them adorable. Powdered sugar on top is definitely required to finish off these linzer cookie sandwiches.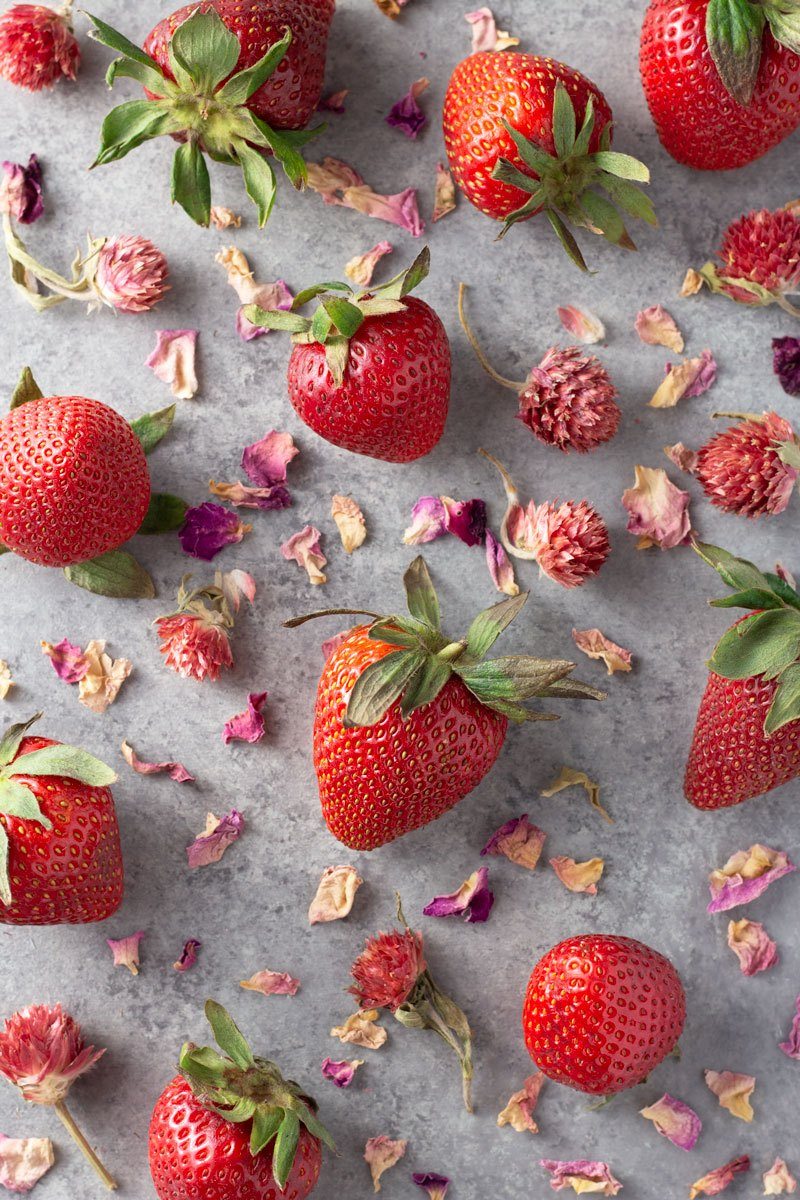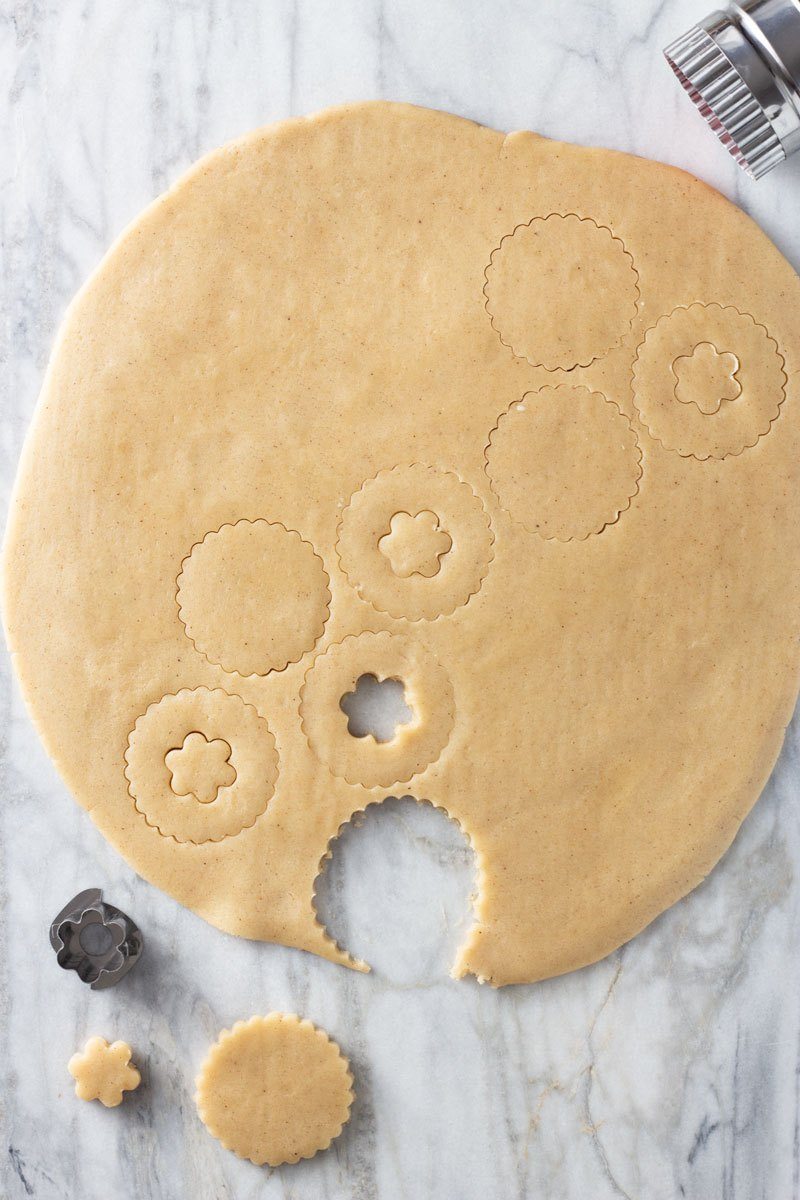 Now let me tell you the jam. Strawberry rose is my new favorite flavor! You're gonna want to spread this jam on everything. I'm even having some with my yogurt today.
Instead of adding the typical lemon to this strawberry jam, I finished it off with vanilla and rosewater, for a slight floral essence. Different brands of rosewater might taste a bit different, so it's also safer to start out with just adding a couple drops, maybe 1/8 of a teaspoon and add more to taste. I used a about 1/4 of a teaspoon for this recipe and that was just perfect for me. Noticeable but subtle is what you want. Once it starts tasting like perfume, you know you went overboard.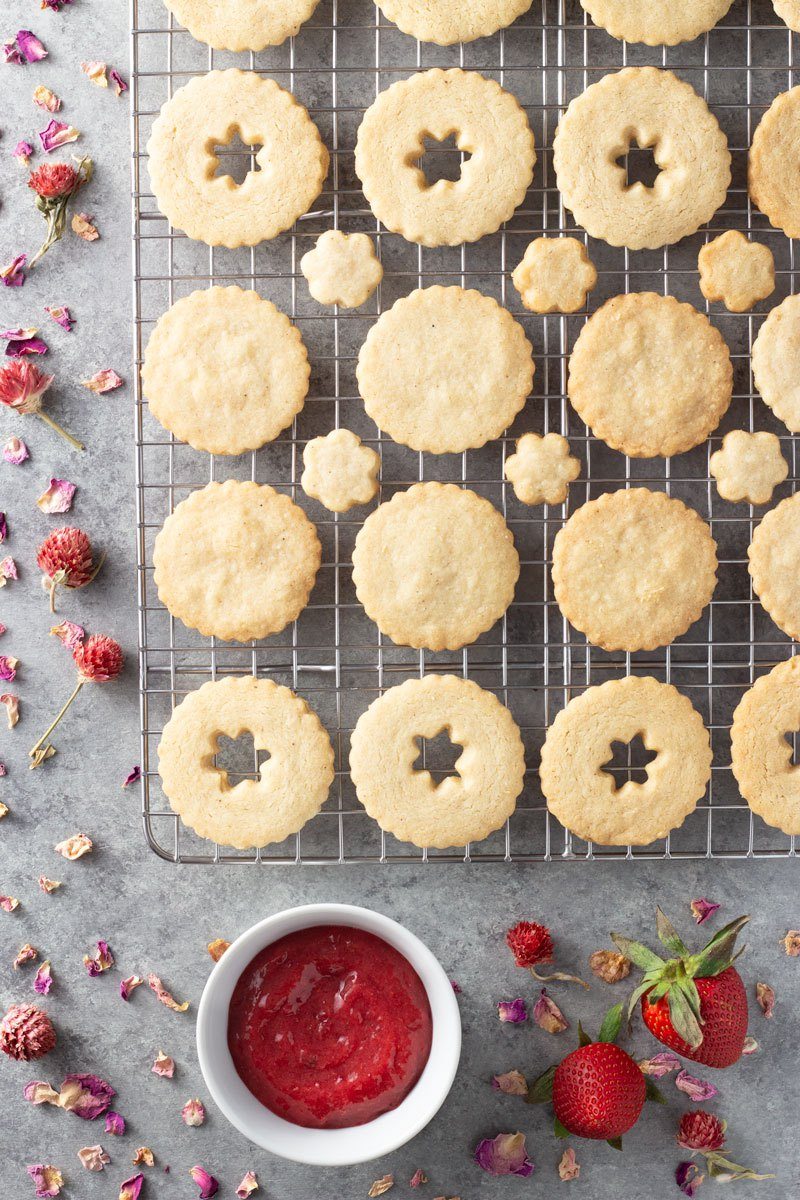 One dilemma I had when making these cookies was figuring out when to spread the jam! Sounds silly but a cookie eaten immediately after spreading the jam is completely different than a cookie which has been jammed and is sitting in the fridge overnight. The verdict was that I liked the cookie pre-jammed and refrigerated much better! The cookie softens and becomes one with the jam. I honestly thought I'd prefer the crunchy, just made cookie sandwich, but I was proven wrong. What would be your preference?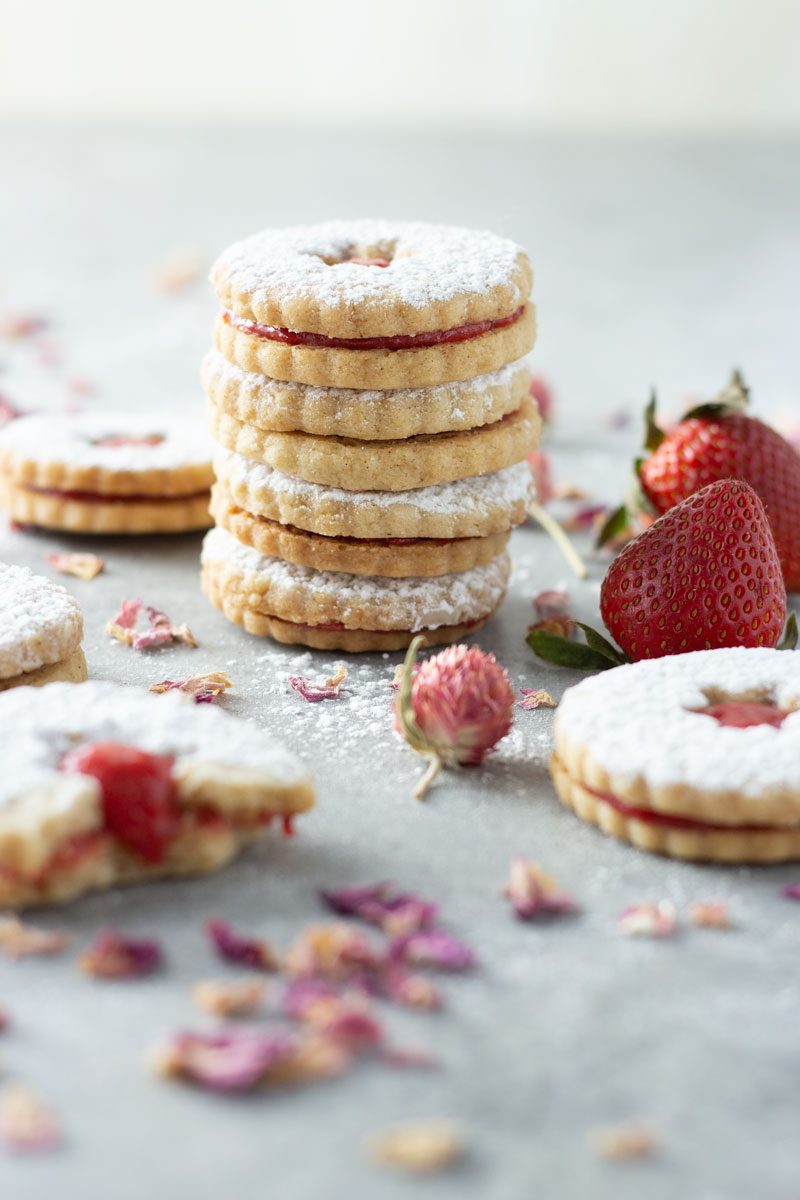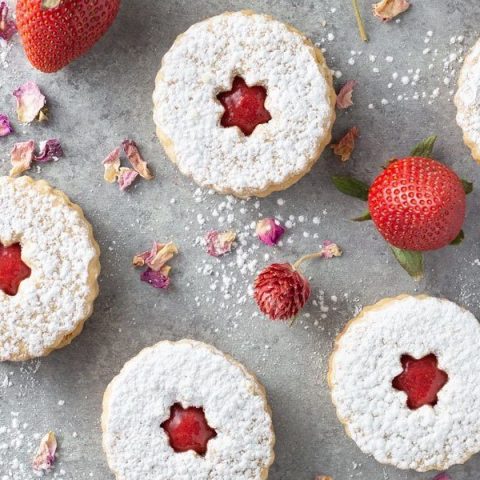 Linzer Cookies with Strawberry Rose Jam
Sabrina Russo
I have a unique cookie recipe for you that's perfect for the late spring and early summer. My Linzer Cookies with Strawberry Rose Jam are sure to impress.
Ingredients
12

tbsp

unsalted butter

softened at room temperature

1/2

cup

granulated sugar

1/2

tsp

vanilla extract

1 3/4

cups

all-purpose flour

1/4

tsp

kosher salt

1/4

tsp

ground cinnamon

Pinch

ground cloves

8

oz

~2 cups strawberries, hulled & halved

1/4

cup

granulated sugar

2

tbsp

water

Pinch

salt

2

tsp

cornstarch

1/8

– 1/4 tsp rose water

or to taste

Dash vanilla extract
Instructions
Mix wet ingredients: Add butter and sugar to the bowl of a standing mixer, fitted with a paddle attachment. Beat over medium speed for 2-3 minutes or until light and fluffy. Stir in vanilla.

Add dry ingredients: Sift over 1 cup of the flour, salt, cinnamon and cloves. Stir to partially incorporate. Add remaining flour in two additions until a dough just comes together.

Chill: Shape dough into a 3/4 inch thick disk and chill in the fridge for at least 30-60 minutes, or until firm yet pliable. Dough can be made several days in advance. If dough is too firm, warm on counter for 10-20 minutes before rolling.

Cook jam: Add strawberries, sugar, water and salt to a small, nonstick pot. Warm over to medium to medium-high heat. Bring to a gentle boil and cook, stirring occasionally, until sugar dissolves and strawberries soften, about 8-12 minutes. Remove strawberries using a slotted spoon and place in a food processor or blender. Dissolve cornstarch in 2 teaspoons of water and whisk smooth. Add cornstarch to pot with strawberry juice and bring to a boil. Cook 1 minute, or until thickened and syrupy. Transfer to food processor with strawberries and blend until smooth. Allow to cool to room temperature and then refrigerate until ready to use.

Roll and cut: Place dough between two large pieces of parchment paper. Using a rolling pin, roll between 1/8 and 1/4 inch thick. Cut out 2 inch rounds, using a fluted cookie cutter. Using a small cookie cutter of preferred shape (I used a flower), cut out the center of half of the cookies. Place dough on a parchment lined baking sheet and refrigerate for at least 10 minutes or until firm. Re-roll excess dough and repeat. Bake in batches, as needed.

Bake: Preheat oven to 350°F. Bake cookies approximately 12-18 minutes or until golden brown, rotating half way through. The cut-out centers should take less time to bake than the cookies. Cool on a wire rack.

Decorate & serve: Dust cookie tops with powdered sugar. Flip bottoms, spread with about 1 teaspoon or so of jam, and place on top. Repeat with remaining cookies. Store in fridge.
Sabrina Russo
My Three Seasons represents the 3 key factors that are most important to me in cooking. #1 Seasonal ingredients #2 Proper Seasoning (don't skimp on that salt!) #3 Cooking like a Seasoned chef (technique is everything). My name's Sabrina. I live in NYC. I'm a registered dietitian with professional cooking and food styling experience. Come cook with me.