Leftover Mashed Potato Waffles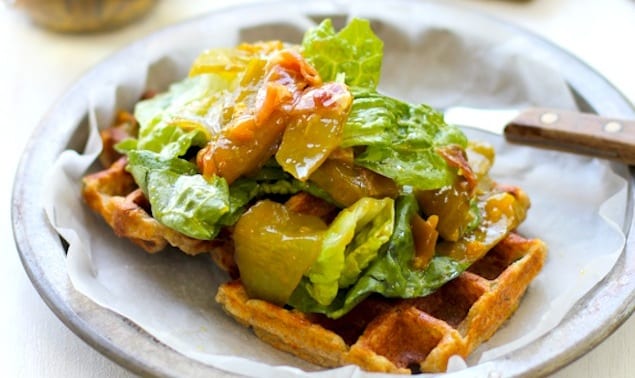 Made with leftover mashed potatoes, these breakfast waffles are a fancy alternative to a more traditional potato hash. These waffles are a special breakfast treat with a prosciutto relish.
By Martyna Candrick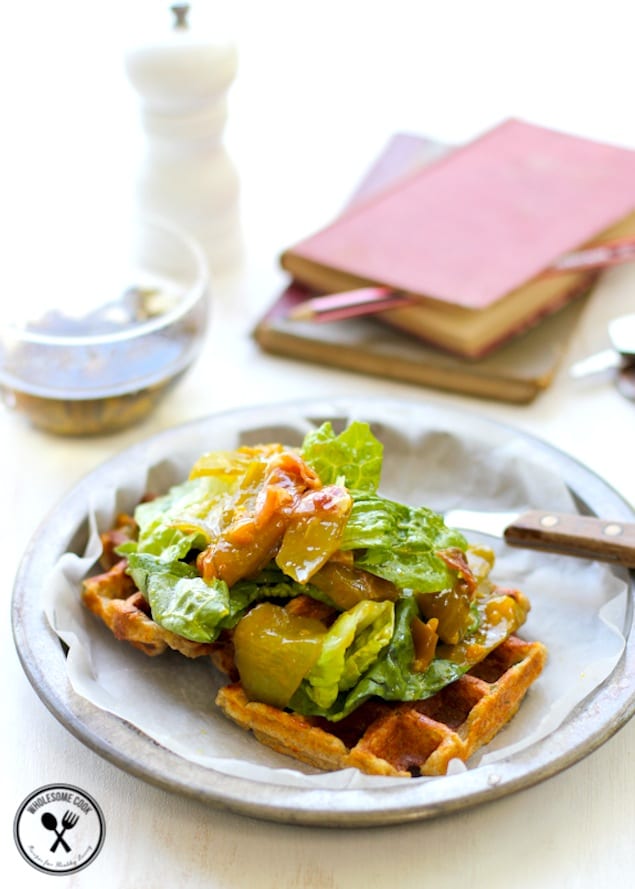 Inspired by a visit to Cumulus Inc and adapted from Joy the Baker these waffles are a special breakfast treat. You will need a waffle iron to make these, but if you don't have one you could cook the batter in a greased pan and turn it into fritters instead. You can cook potatoes on the day, but they will work best when cool, so plan ahead and or cook some extra the night before, mash and store in the fridge.

Leftover Mashed Potato Waffles
Made with leftover mashed potatoes, these breakfast waffles are a fancy alternative to a more traditional potato hash. These waffles are a special breakfast treat with a prosciutto relish.
Ingredients
For the Waffles:
2 eggs
20g butter, melted
¼ cup buttermilk
2 cups leftover mashed potatoes
½ cup wholemeal spelt flour
½ cup grated cheese
½ tsp baking powder
¼ tspbaking soda
½ tsp garlic powder
a good grind of sea salt and pepper
oil for greasing the waffle iron, I used Brookfarm's macadamia oil
For the Relish:
1 baby cos lettuce
2 dill pickles
100g prosciutto or leftover roast or corned beef
3 tbsp curried relish, I used Anathoth's Farmstyle Pickle
Instructions
To make the Waffles:
Place eggs in a large bowl and whisk until light and fluffy. In another bowl combine melted butter, buttermilk and mash potatoes. Whisk until the mixture is combine and no large chunks remain. Add potato mixture to the eggs and mix. Add flour, cheese, baking powder, baking soda and spices. Using a wooden spoon, fold mixture together until just combined.
Preheat your waffle iron to hot. Grease with a little oils. Using a spring loaded ice cream scoop (or a large spoon), dollop about ¼ cup of the batter into the middle of each waffle griddle. Close the iron and cook for 5-8 minutes until brown and crisp on the outside.
Transfer cooked waffles onto a wire rack and continue with the remaining batter.
Tip: You can store cooked and cooled waffles in the fridge then reheat them for 3 minutes under the hot oven grill later.
To make the Relish:
Wash lettuce leaves then slice across into ribbons. Finely slice pickles and shred prosciutto. Combine all ingredients in a bowl, add relish and mix well.
To serve:
Serve hot waffles topped with relish. Enjoy immediately to prevent the waffles from going soggy.
Martyna Angell
Martyna is a Polish-born Australian recipe developer and food blogger. Her creativity and passion for good food shines through in many of the delicious and easy to prepare meals which she cooks, styles and photographs for her blog, Wholesome Cook. Fresh cream-filled eclairs are her only weakness.