Italian Holiday Table: Lasagna Bolognese and Hazelnut Chocolate Cannoli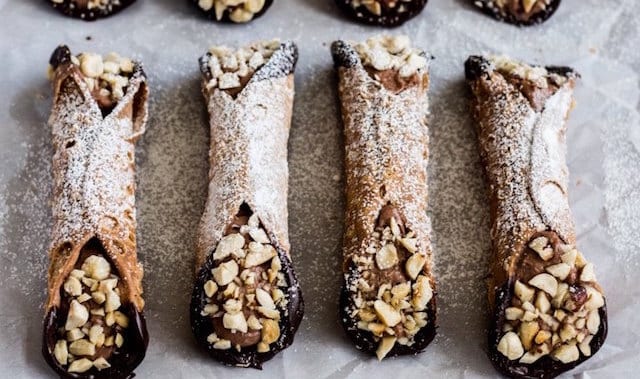 PARTNER POST — The holiday season is here and it is time to add some Italian flair to your menu with authentic ingredients from Colavita and Perugina's rich Italian chocolate.
Warm your kitchen with a hearty lasagna bolognese that all your eaters will enjoy. Then make an iconic Italian sweet, chocolate cannoli with hazelnuts.
By Sabrina Russo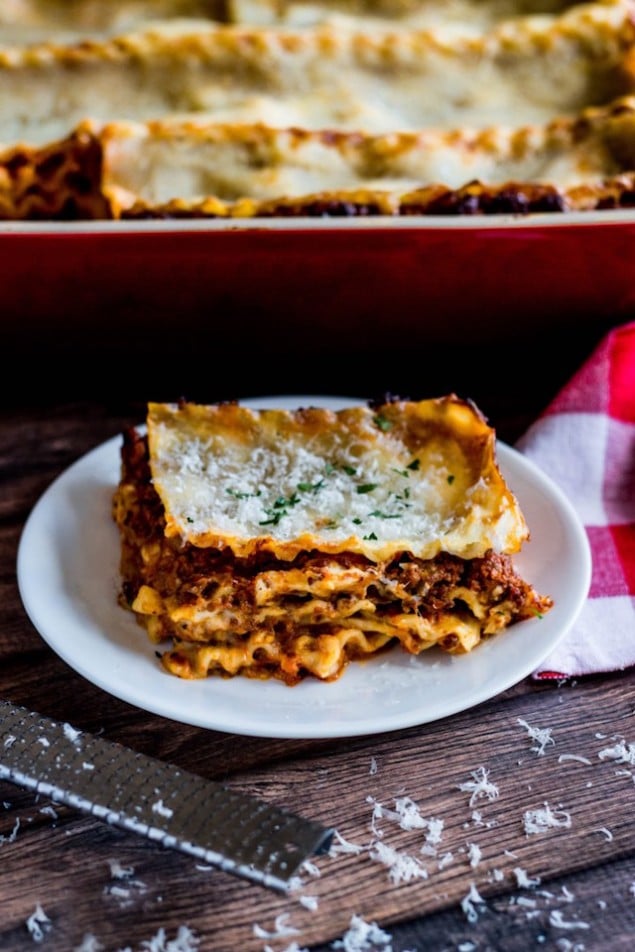 Whether it's a family gathering, Christmas dinner or simply a Sunday, don't be surprised to find lasagna on my table. My absolute favorite lasagna is very traditional; lasagna bolognese with béchamel sauce. When it comes to a great lasagna, it's all about the meat sauce. With the help of Colavita, I've created my best version yet.
I've been using Colavita olive oil for years. Seriously, years. To start off my meat sauce, I fried the pork, beef and pancetta in Colavita's extra virgin olive oil. Next, I used their roasted garlic oil (this stuff is amazing!) to sauté the mirepoix. Colavita's crushed tomatoes rounded out the sauce, taking it one step closer to the ultimate lasagna.
Instead of using ricotta cheese in this dish, I went the classic Italian route; creamy, bechamel sauce. Although no matter what, I need to sneak some cheese into my lasagnas. So don't worry, there's mozzarella and parmigiano to please you cheese-lovers out there.
Italian Holiday Table: Lasagna Bolognese
Cuisine:
Italian-Inspired
Ingredients
For bolognese (can be made 2 days ahead)
2T Colavita Extra Virgin Olive Oil
1lb ground pork
1lb ground beef
4oz pancetta or bacon, finely chopped*
1 large onion, roughly chopped
2 medium carrots, roughly chopped
1 stalk celery, roughly chopped
2T Colavita Roasted Garlic Oil
2T tomato paste
1C dry white wine
1C whole milk
1-28oz can Colavita Crushed Tomatoes
2C low sodium beef broth, plus more as needed
2 bay leaves
2 sprigs of thyme, tied with kitchen twine
1C freshly grated Parmigiano Reggiano cheese, divided
Kosher salt and fresh cracked pepper
For béchamel (can be made 1 day ahead)
5T butter
¼ C flour
3 ½ C whole milk, warmed
Pinch of freshly grated nutmeg
Kosher salt and white pepper
For assembly
1lb lasagna noodles
8oz mozzarella cheese, grated**
Chopped parsley, for garnish
Instructions
Preheat oil in a large heavy bottomed pot or Dutch oven over medium to medium-high heat. Add pork, beef and pancetta, season with salt and pepper, and break up using a wooden spoon. Cook, stirring occasionally until well-browned, up to 15-20 minutes. Remove from pan and set aside.
Using a food processor, finely grind carrots, celery and onion. Reduce heat to medium and add roasted garlic oil to the pan. Add vegetables and season with salt and pepper. Stir frequently so they release most of their liquid but do not brown, about 8-10 minutes.
Add tomato paste and cook for 4-5 minutes, stirring frequently. Stir in reserved meat mixture along with juices. Pour in wine, increase heat to high and allow to reduce until most of the liquid is evaporated, 5-6 minutes. Add milk, bring to a boil and reduce to a simmer until most of the liquid is evaporated, 8-10 minutes.
Add in tomatoes and broth, season with salt and pepper, and stir to combine. Be careful not to over-season as sauce will become saltier as broth reduces. Stir in bay leaves and thyme.
Partially cover, bring to a boil and reduce to a simmer for 2 ½ – 3 hours, or until flavors deepen and sauce thickens, stirring occasionally. If sauce becomes too thick, thin out with additional broth or water. When cooked, stir in ¼ cup of parmesan and taste for seasoning. Discard thyme and bay leaves.
While sauce simmers, prepare the béchamel. Add butter to a small saucepan over medium heat. When foaming, stir in flour. Stir constantly for 2-3 minutes. Whisk in a ½ cup of warmed milk at a time until combined. Simmer for 8-10 minutes or until you reach the consistency of a cream sauce. Season with nutmeg, salt and pepper. Set aside.
Bring a large, wide pot of salted water to boil. Add lasagna sheets and cook until easily pliable, about 2 minutes under al dente. Drain and lay out in layers on a baking sheet between silicon mats or lint-free towels.
Preheat oven to 350°F. For assembly, grease a 13×9 inch baking dish with butter. Ladle in a thin layer of béchamel to coat the bottom of the pan. Lay over lasagna sheets, followed by more béchamel, a layer of bolognese sauce, a light sprinkling of mozzarella and a sprinkling of the reserved parmesan. Repeat with remaining noodles, for 5-6 layers total. Coat top layer with béchamel and a healthy grating of parmesan. Bake uncovered in the center rack of the oven for 50-60 minutes or until golden and bubbling. Cover pan during last 10-20 minutes of baking if topping reaches desired golden color. Allow lasagna to rest about 20-30 minutes before serving. Garnish with parsley and serve with additional cheese, if desired. Enjoy.
Notes
I suggest partially freezing the pancetta for about 10 minutes, to make it easier to chop.

**Most lasagnas in this style do not include mozzarella cheese, but I like to add some for the gooey, stringy texture. If you like very cheesy lasagna, I suggest you double the mozzarella.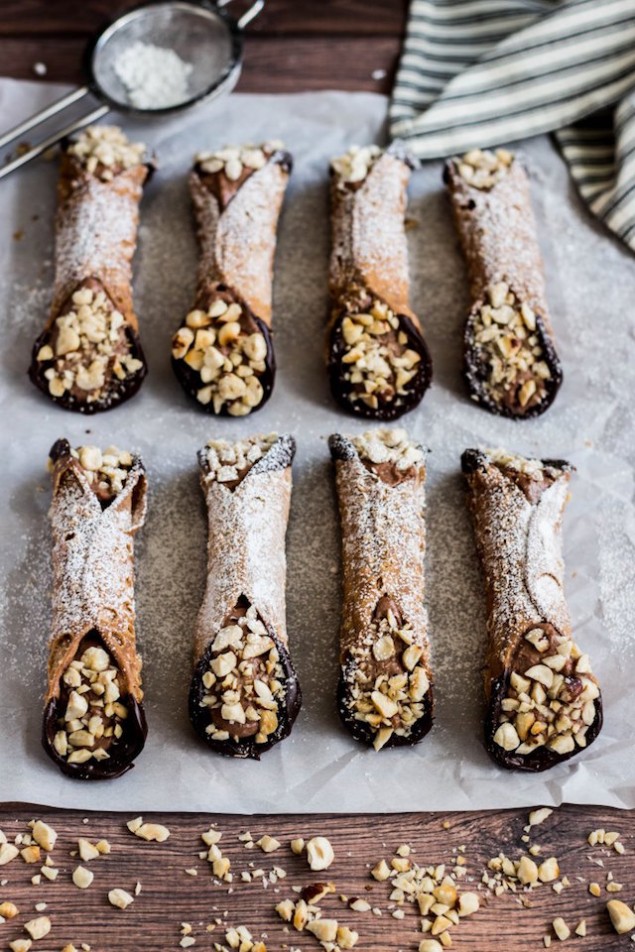 Chocolate-hazelnut has probably become one of the most popular dessert flavor-combinations out there, and it's no surprise. Whether it's ice cream, brownies, cookies or these cannoli, I don't think there will be many objections. My cannoli are actually inspired by another chocolate-hazelnut confection; Perugina's Baci chocolates. They are addicting with their creamy chocolate-hazelnut filling and whole hazelnut center.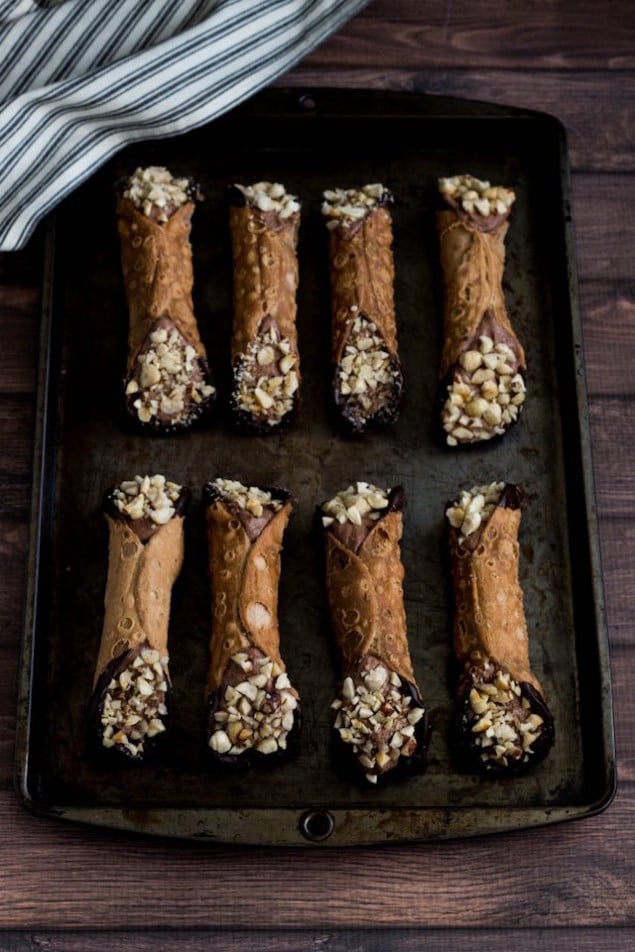 The Baci are not only the inspiration for these cannoli, but are also chopped up and running through the filling. Perugina's dark chocolate lines the rim of the shells, and chopped hazelnuts finish it off for some extra crunch.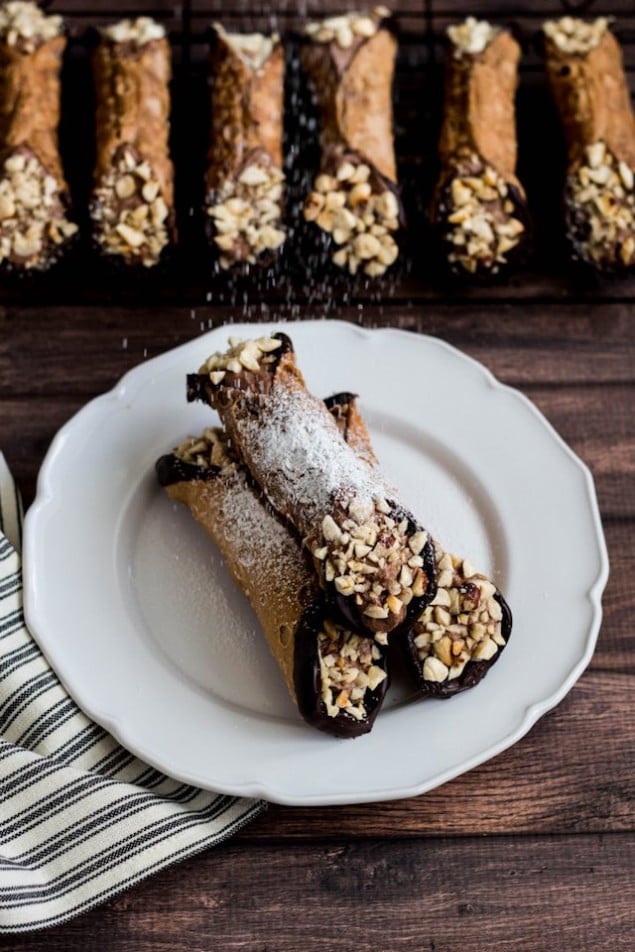 Italian Holiday Table: Hazelnut Chocolate Cannoli
Recipe Type:
Dolci, Dessert
Cuisine:
Italian Inspired
Ingredients
2C ricotta cheese
2oz Perugina's Luisa 51% Cacao Dark Chocolate Bar, finely chopped
10, 6-inch cannoli shells or additional smaller shells*
¼ C heavy cream
¾ C chocolate hazelnut spread, such as Nutella
½ tsp vanilla extract
⅛ tsp kosher salt or a pinch of fine salt
2 Milk Chocolate Baci candies, finely chopped
2 Dark Chocolate Baci candies, finely chopped
⅓ C skinned, toasted hazelnuts, chopped
Powdered sugar, for dusting
Instructions
Strain ricotta overnight in the fridge to remove excess liquid. Place cheese in a sieve lined with a cheesecloth over a bowl, and cover with plastic wrap.
Create a double-boiler to melt the dark chocolate. Heat 1 inch of water in a small saucepan to a rolling simmer. Using a bowl that will fit over the pan without touching the water, add 1 ½ ounces of chocolate and stir frequently until 70% melted. Remove from heat and stir in remaining ½ ounce of chocolate until all is melted. Continue to stir until chocolate is cooled to room temperature, about 2-3 minutes. This will temper the chocolate. Dip cannoli shells on both sides into chocolate to coat ¼ inch of the rim. Allow excess to drip off. Transfer to a baking sheet lined with a silicon mat or parchment paper. Place in fridge until firm.
Chill the bowl of a standing mixer and whisk attachment in the freezer for about 5 minutes. Add heavy cream to bowl and beat on high speed for about 1-2 minutes or until stiff peaks form. Transfer to a small bowl. Add ricotta, chocolate hazelnut spread, vanilla and salt to mixing bowl, and beat over medium speed until combined, using a paddle attachment. Fold in whipped cream. Stir in chopped Baci candies. Transfer filling to a piping bag fitted with a medium-sized round tip, or create your own piping bag by snipping off the end of a plastic ziplock bag. Pipe filling into cannoli shells, working from the center outwards on both sides of the shell. Cover exposed filling with hazelnuts. Dust shells with powdered sugar, and enjoy.
Notes
I suggest purchasing the shells from a good-quality bakery rather than a grocery store, if possible. There are also many great recipes online for homemade cannoli shells.
Sabrina Russo
My Three Seasons represents the 3 key factors that are most important to me in cooking. #1 Seasonal ingredients #2 Proper Seasoning (don't skimp on that salt!) #3 Cooking like a Seasoned chef (technique is everything). My name's Sabrina. I live in NYC. I'm a registered dietitian with professional cooking and food styling experience. Come cook with me.