The opening of French boulanger La Maison Kayser in NYC was a well orchestrated event. A crowd of young elegantly hip people lined up in front of this new establishment on third avenue at 74th street awaiting a tasting extravaganza of delicacies by master Pastry Chef and Baker Eric Kayser.
By Riccardo Costa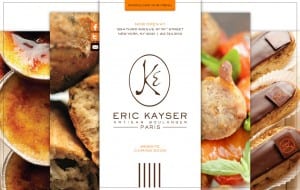 Eric mixed with his guests in a modest manner at this new fascinating café, working the crowd by inviting them to try various tasty hors d'oeuvres and desserts he created. An array of different freshly baked breads were coming from the see-thru kitchen. Breads with walnuts or pistachios and apricots or figs were the main foundations of the evening coupled together with deliciously homemade pates, one of which was the best I have ever had.
The presentation of oysters and jumbo clams laying on a big sculpted rectangular ice bed was not just beautiful to look at but it told a lot about Eric's attention to the visual details of a gastronomical event. With flowing Champagne and beers from Corsica, I lost count of everything that was sailing in on platters out of the kitchen such as shrimp with guacamole, éclairs, petite raspberry tarts, and chocolate mousse. Such a parade of delectable bites makes it too difficult to say which I liked most since everything was superb. However, high on such a list was a baby lamb chop. Well, I'll be going back just to have that again; tasty, tender, perfectly cooked to a medium rare, without a pungently gamey taste that lamb can sometimes have. Eric is a friendly gastronome who exudes a passion for his work and love of food. He also ate items amongst his guests. I always like to see a chef eating his own food; that's a good sign.
Maison Eric Kayser
1294 Third Avenue
New York, NY 10021
Website