Is the neighborhood butcher returning to the City Of Angels? Charles G Thompson thinks – and hopes – it might be so.
Text And Photos By Charles G Thompson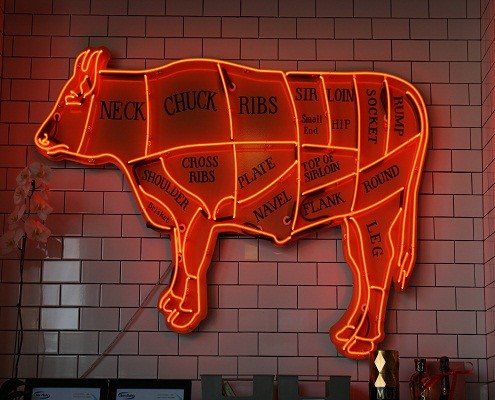 There once was a day when every neighborhood had a local, stand-alone butcher shop.  Chain grocery stores slowly whittled away at these mom-and-pop shops and most have closed.  I live in Los Angeles and without doing research to find them I used to know of two butcher shops.  One was on Larchmont Boulevard in the Larchmont Village neighborhood of Los Angeles, and the other, Marconda's Meat Market was, and still is, inside the world-famous Farmers Market at 3rd Street and Fairfax Avenue.  I used to live near Larchmont Village and would often shop at the butcher there — especially when I needed something unique, or very specific. The butcher in Larchmont Village is long closed. An outing to the Farmers Market requires a long drive and pushing my way through crowds of tourists.  There are still a handful of small butchers one can find in the Los Angeles-area but they are hither and yon, spread across a large, geographical area.  But all is not lost.  In the past year two neighborhood butchers have opened their doors much to the relief of chefs, home cooks, and the fooderati.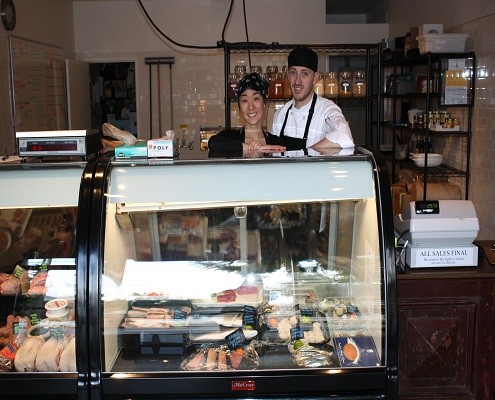 McCall's Meat & Fish Co. opened a little more than a year ago, is owned by husband-and-wife team Nathan McCall and Karen Yoo.  Both were chefs and worked in restaurants before becoming neighborhood butchers.  Unlike butchers of yore, they specialize in meat and fish that is from "traditional farms where animals are naturally and humanely raised on the best feed without the use of hormones or chemical enhancements."  Their fish and seafood is "wild-caught and/or raised in the most natural environment."  They stock CAB (Certified Angus Beef), locally raised poultry and eggs, sushi-grade salmon and tuna; they make their sausages in house.  They are a local and sustainable butcher and fishmonger.  The best part is they're in my neighborhood.  Where there were only supermarket butchers before, McCall's is a bright light.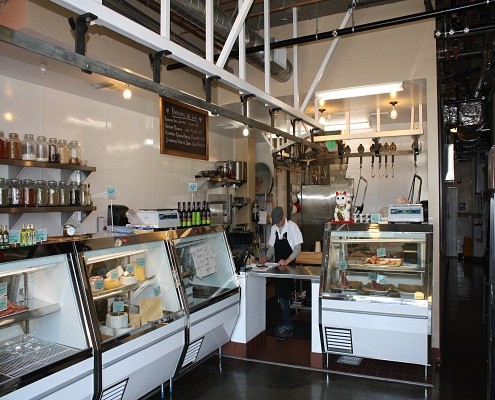 Lindy & Grundy, Local, Pastured & Organic Meats opened two weeks ago.  Owned by wife-and-wife team, Erika Nakamura and Ameila Posada, Lindy Grundy (as it's affectionately called), only sells pastured and organic meats sourced within 150 miles.  "Lindy" and "Grundy" are the women's nicknames: Lindy is Posada aka the Shop Mama, and Grundy is Nakamura aka Meat Maven.  The Tokyo born Nakamura learned the butchering trade from Josh Applestone of Fleisher's Grass-fed & Organic Meats, a sustainable butcher in upstate New York.  Posada, a native of the Los Angeles-area, oversees the day-to-day operation of the shop, and is also a food activist committed to teaching America how to eat.  Lindy Grundy practices nose-to-tail butchering, allowing them to use the whole animal which produces very little waste.  The small, family farms they source their meat and poultry from never use antibiotics or hormones, and the grass the animals eat is not treated with pesticides or herbicides.  In addition to the beef, pork, lamb and poultry they carry, they make their own sausages and charcuterie.  Because they only sell from whole animals running out of stock is always a possibility which happened in their first week of business.  The anticipation in the community was such that they sold out of almost everything by the end of the first week.  This is not only a good sign, it's a great one.  It speaks to the high-quality one can expect when shopping at Lindy & Grundy.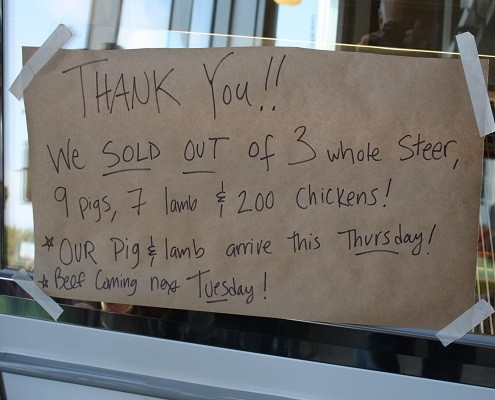 Let's hope that more butchers follow the McCall's and Lindy & Grundy models.  Let's also hope that more neighborhood butchers like these open soon.
McCall's Meat & Fish Co.
2117 Hillhurst Ave.
Los Angeles, California, 90027
323-667-0674
www.mccallsmeatandfish.com
Lindy & Grundy, Local, Pastured & Organic Meats
801 North Fairfax Ave.
Los Angeles, California, 90046
323-951-0804
http://www.lindyandgrundy.com/
Charles G. Thompson
Charles G. Thompson is a freelance writer. After a 20 year stint in the restaurant and retail food industries he is now recounting his food oriented tales and experiences on his food blog, 100 Miles. He first learned to cook while working for a French family in France using Julia Child's "Mastering the Art of French Cooking" as his teacher. He has contributed to such sites as One for the Table, and is published in "Foodista Best of Food Blogs Cookbook: 100 Great Recipes, Photographs, and Voices".