This crispy fritters are gluten free and vegan and can be served as an appetizer or as a side dish.
By Carol Egbert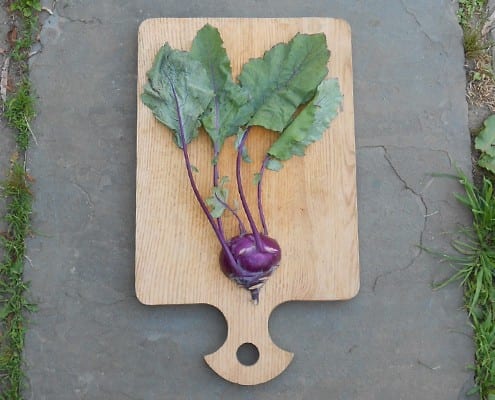 Our weekly CSA pick-up is an opportunity to see friends and vegetables, both old and new. We look forward to sharing a pot luck meal with old friends like Shoshana and T and their daughters Tess and Devi, both discerning vegetarians, and new friends whose names I hope I'll remember the next time I see them. Unlike people, all of the vegetables on the tables are labeled, so the dilemma with new vegetable friends is not forgetting their names but figuring out how to serve them. Kohlrabi was the new friend many of us met last Thursday. Adding peeled slivers of kohlrabi to a salad was the only 'recipe' that came to mind when I saw the pile of pale green and purple globes next to the spinach. It was time to learn more about this new vegetable friend and figure out a creative, and tasty, way of serving it.
The name Kohlrabi's is a combination of the German word for cabbage, kohl, and rabi, Swiss-German for turnip. Although it looks like a root vegetable, the edible globe is actually a swollen stem that grows above ground. I've heard kohlrabi described as a cross between an octopus and a space capsule or the offspring from a 'mixed marriage' of cabbage and broccoli. To me, it's a vegetable trying to look like a hot air balloon – the purple globe is the basket, the multiple stems are the vertical ropes and the leaves are the balloon. Whatever it looks like, I wanted to do more than peel, slice and salt it before we ate it, so I used it as the main ingredient in vegetable fritters. With paste made by combining chickpea flour, also called besan, and water to bind everything together, these vegan fritters were also gluten free.
This recipe invites experimentation. If you don't have chickpea flour in your pantry, make a paste with an egg, a dollop of cottage cheese and enough flour, white or whole wheat, to make a paste; boost the flavor with a handful of chopped fresh cilantro, a teaspoon of curry powder, or a teaspoon of grated fresh ginger or garlic; add a handful of chopped fresh kale, spinach or green peas to the kohlrabi mixture; or, add a bit of minced cucumber and fresh chili pepper to the yogurt to make a spicy dipping sauce. If you don't have kohlrabi in the fridge, don't worry – soon there will be more zucchini than you can imagine and zucchini fritters are yummy too.
This crispy fritters are gluten free and vegan and can be served as an appetizer or as a side dish.
Recipe Type:
Vegetarian Side Dish
Serves:
18 small fritters
Ingredients
1 medium kohlrabi, peeled and coarsely shredded
4 scallions, sliced in ¼ inch pieces, include green tops
½ teaspoon paprika
1 teaspoon ground cumin
1 teaspoon black mustard seeds
½ teaspoon kosher salt
⅛ teaspoon cayenne pepper
1 cup (100gr) chickpea flour, (besan)
⅓ cup (75gr) water
Vegetable oil for frying
Instructions
Squeeze kohlrabi to remove the excess water.
Combined kohlrabi, scallions, paprika, cumin, black mustard seeds, salt and cayenne pepper and set it aside.
Slowly stir in enough water to chickpea flour to form thick paste.
Add paste to kohlrabi mixture and stir until combined. Cover and set aside, at room temperature, for half an hour to develop flavor.
Pour vegetable oil, about ½-inch (1cm) deep, into medium, frying pan, heat over medium heat until tiny bubbles form on the tip of a chopstick submerged in the oil.
Form fritters using two teaspoons.
Flatten fritters slightly, lower gently into hot oil, fry for two minutes, turn and fry on other side for two minutes more.
Draine fritters on paper towel, sprinkle with salt and serve with plain yogurt for dipping.
Carol Egbert
Carol Egbert is a writer, painter, graphic designer and cook. Her studio is on a country lane in rural Vermont. During mud season she escapes, for a couple of months, to a flat in Sicily overlooking the Ionia Sea. Her newspaper columns, magazine articles and blog are illustrated with her watercolor paintings – Honest Cooking means beautiful food.