The 2013 Restaurant of The Year 'Aipono Award and the gold award for Best Hawaiian Regional Cuisine were won by restaurant Ko (sugarcane in Hawaiian).
By Michelle M. Winner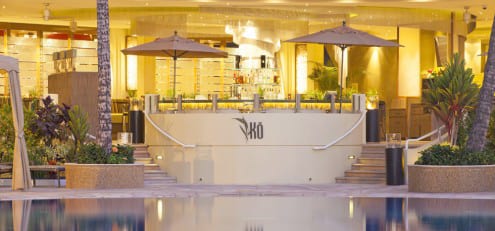 I love the Fairmont Kea Lani, Maui in Wailea. It is a sprawling property with beautiful suites and villas, several pools and an awesome sandy beach with a view to a nearby island anchored in the azure sea. It is stunning at dawn when the sun just  starts to rise chasing the stars away. It is stunning  mid-day, when you have  learned to paddle a Hawaiian  canoe or are sunning to your hearts content. And it is stunning  at cocktail time just before the sun glows orange and sinks below the horizon. At the resort there are several  dining options but my favorite is  Ko. I am probably just a bit jaded as I adore the Chef, Tylun Pang, but when my enthusiasm is shared by others, and with a prestigious award even, I just have to share it with you fellow foodies.
The 2013 Restaurant of The Year 'Aipono Award  and  the gold award for Best Hawaiian Regional Cuisine were  won by  Ko (sugarcane in Hawaiian). The restaurant  is all about the diverse culinary history of the sugarcane plantation era of  Hawaiian, Chinese, Filipino, Portuguese, Korean, and Japanese dishes influencing each other. Chef's menu uses about  90% local ingredients prepared from treasured family recipes that have been passed down for generations.
"We're honored to accept the award for Restaurant of the Year," said Executive Chef Tylun Pang. "Our team takes tremendous pride in showcasing cuisine that represents Maui's many cultures. We couldn't have been successful this year without the support of our island community. We're very grateful."
'Aipono combines the Hawaiian words 'ai (food) and pono (excellence) to exemplify exceptional dining. Sponsored by Maui No Ka 'Oi magazine, the 'Aipono Awards annually recognize the best of Maui's food, wine and hospitality industries. Winners are selected  by  Maui No Ka 'Oi magazine readers.
Ko restaurant received four 'Aipono awards in April 2012, including the gold award for Best Menu for a Small Planet and the silver award for both Best Epicurean Twist on a Local Favorite and Best Hawaii Regional Cuisine. At that time, the Maui County Farm Bureau also awarded Executive Chef Tylun Pang its Friend of Agriculture award for his support of local purveyors and agriculture programs.
"Ko restaurant is certainly deserving of this honor," said Diane Haynes Woodburn, Publisher of Maui No Ka 'Oi Magazine. "The menu is a delicious celebration of our island's heritage, presented beautifully with attention to every detail."
Chef Tyun doesn't rest on his laurels and was taught by his kupuna (grandparents and grandparents generation) when growing up to always give back and  foster the next generation.  He supports students at  Maui Culinary Academy through the Fairmont Kea Lani's $5,000 Tylun Pang Aspiring Chef Scholarship each year, and  by offering many opportunities to the students to learn and grow.
"Maui Culinary Academy is grateful for the generosity, friendship and support of Ko restaurant," said Chris Speere, External Program Coordinator at the Maui Culinary Academy. "Our students aspire to be the next generation of great chefs in Hawaii and capture meaningful and relevant skills under Chef Pang's mentorship. We offer our deepest congratulations on Ko's numerous accolades, including Restaurant of the Year."
Well said Chris, I couldn't agree more. Congratulations Chef Pang and kitchen staff, Ko and Fairmont Kea Lani, Maui!
Michelle M. Winner
Michelle was born with a fork in her hand. As a culinary travel writer and confirmed foodophile she delights in the world-wide discovery of new flavor profiles, spices, salts and herbs. Based in one of the world's foodie meccas; Portland, Oregon, not far from "Pinot Noir Heaven" Michelle shares culinary travel and chef's recipes. Her photography has appeared in Saveur Magazine and she has contributed culinary travel articles to Forbes online, WSJ online, Business Insider, Condé Nast Digital Media, Islands magazine and many others. A confirmed globetrotter, she still keeps her bags packed and fork in hand (well . . . except through airport security.)