Kitchen Deconstructed: Chef Kristin M. Johnson of Mojave
Meet the talented and ambitious Kristin M. Johnson, the Executive Chef of Mojave who want's Prosser and Mojave to be a destination worth traveling for.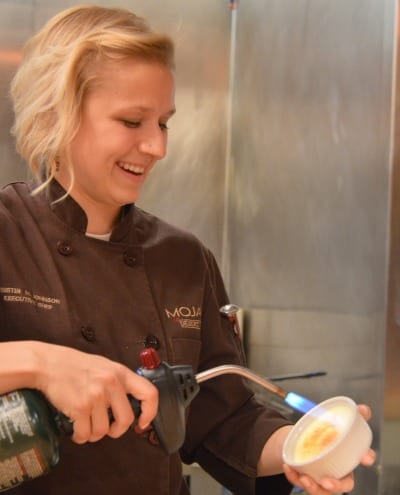 Don't let Mojave's chef Kristin M. Johnson's youth trick you into thinking she doesn't know her way around a  professional kitchen. When we met she had just finished hammering her supplier for the freshest  in-shell crab he had in from the coast for her creamy seafood and prawn risotto.
Born and raised in Alaska's Matanuska-Susitna Valley, where  the combination of 20 hours of sunlight in summer and fertile soil produces huge garden vegetables and an abundance of  juicy berries; Kristine also developed a love of fishing especially for prized Coho or Silver Salmon. So naturally cooking her fresh culinary treasures soon became part of the equation.
While a teen, she worked in commercial kitchens for Alaskan lodges and later attended Western Oregon University in Oregon's Willamette Valley. There she discovered the magic of food and wine pairing.
Working with Chef Janette Starley Conz at L'Attitude Point One, she found she had skill in the kitchen and in  culinary management. She began with a wine bar kitchen and extended to catering intimate dinners and large events and weddings.
Executive Chef Kristin M. Johnson does not sit still for long. As we talk her blue eyes dart from our table to the  sous chef slicing and prepping at the long dining bar in front of the open kitchen.
"I want Prosser and Mojave to be its own destination" Chef Kristin M. Johnson says. Since coming on board at Desert Wind Winery in December of 2011, she wants the restaurant to be visited by locals and visitors. To do that she knows consistent quality and value are the keynotes to success. "I think we need to stick with what we do best. I call it new American Southwest." A theme certainly enhanced by the  winery décor and style. By combining locally-sourced Pacific Northwest products and produce along with her innovative flavors, Mohave provides a Southwestern twist showcasing flavor profiles that pair both with Desert Wind Winery's lusty reds and lighter whites.
My favorite dish at Mojave is the Flaming Tequila Lime Prawn Pasta, a  marvel of  uncased chorizo  sausage that melts into the 40% fat cream and poured over  fettuccine noodles.  Select a rib-eye steak from the nearby Painted Hills,  rubbed with her own MOJAVE blend, served  with tiny Prosser potatoes, and  drizzled  with compound truffle butter.
She's on the right track to creating a destination restaurant worth stopping in for. That, and then there is her Basil Lime Crème Brulee with candied lemon  that will send you to the moon.
Note: Chef Kristin  M. Johnson says she is a " share-er" and will be sending along some of her favorite recipes to you  for Honestcooking. Stay tuned for the link.
Michelle M. Winner
Michelle was born with a fork in her hand. As a culinary travel writer and confirmed foodophile she delights in the world-wide discovery of new flavor profiles, spices, salts and herbs. Based in one of the world's foodie meccas; Portland, Oregon, not far from "Pinot Noir Heaven" Michelle shares culinary travel and chef's recipes. Her photography has appeared in Saveur Magazine and she has contributed culinary travel articles to Forbes online, WSJ online, Business Insider, Condé Nast Digital Media, Islands magazine and many others. A confirmed globetrotter, she still keeps her bags packed and fork in hand (well . . . except through airport security.)