Kale Salad with Apple, Blue Cheese and Maple Glazed Walnuts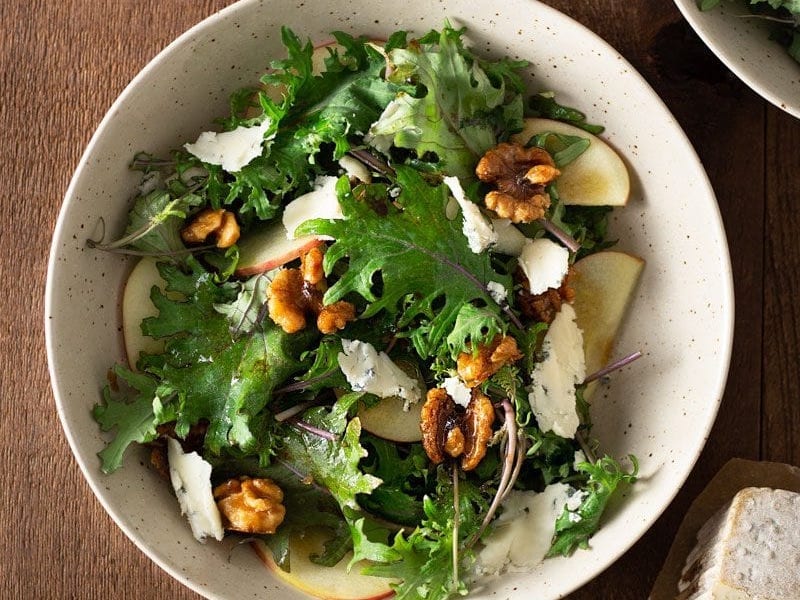 This Kale and Apple Salad with Blue Cheese, Maple Glazed Walnuts and balsamic dressing might become your new favorite winter salad. It's certainly up there on my list.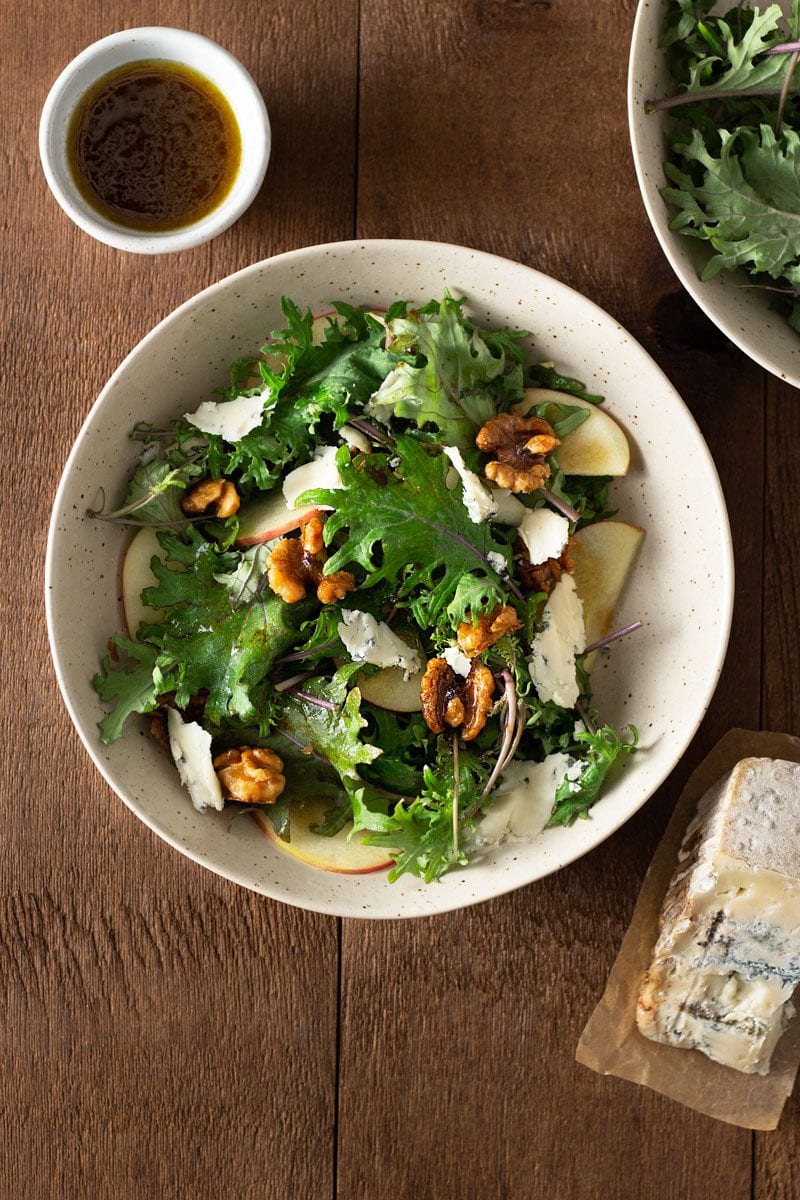 To make a great salad, you have to start off with great ingredients. That's a no-brainer, right? For this Kale and Apple Salad, I spent a lot of time going out of my way for the best ingredients. I found this gorgeous red baby kale at my local farmer's market and am so in love. I was able to find a similar variety last year, and bought it super frequently. If you can find different varieties of baby kale, they're definitely worth trying.
I chose a honey crisp apple, because I think it works really well with the other ingredients in this salad. It has the right balance of tart and sweet, and has that perfect crisp texture. This is by no means the only good apple choice for this salad, but it's my go-to option.
The blue cheese is just as important as the other components. I like the semi-firm variety I found, because it holds its shape if you cut it into thin shavings, while also lending a great creaminess. This particular Italian buffalo's milk blue cheese has such an incredible flavor. I found it at Eataly and the label reads "blu di bufala 4 portoni." It's from Bergamo, Italy. I'm not sure if that helps anyone, but that's the info if you're curious.
Quality also matters on the nuts. Try different brands in your local grocery store and compare! Good nuts are a thing worth investigating.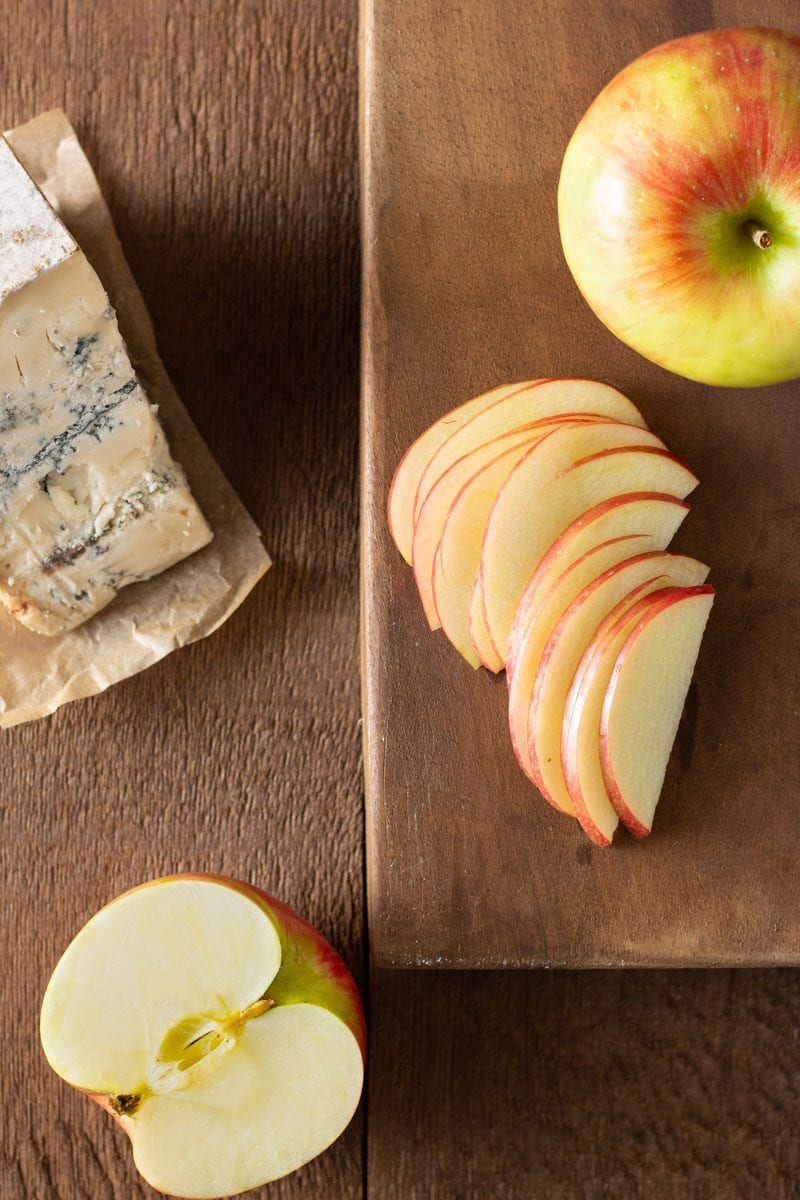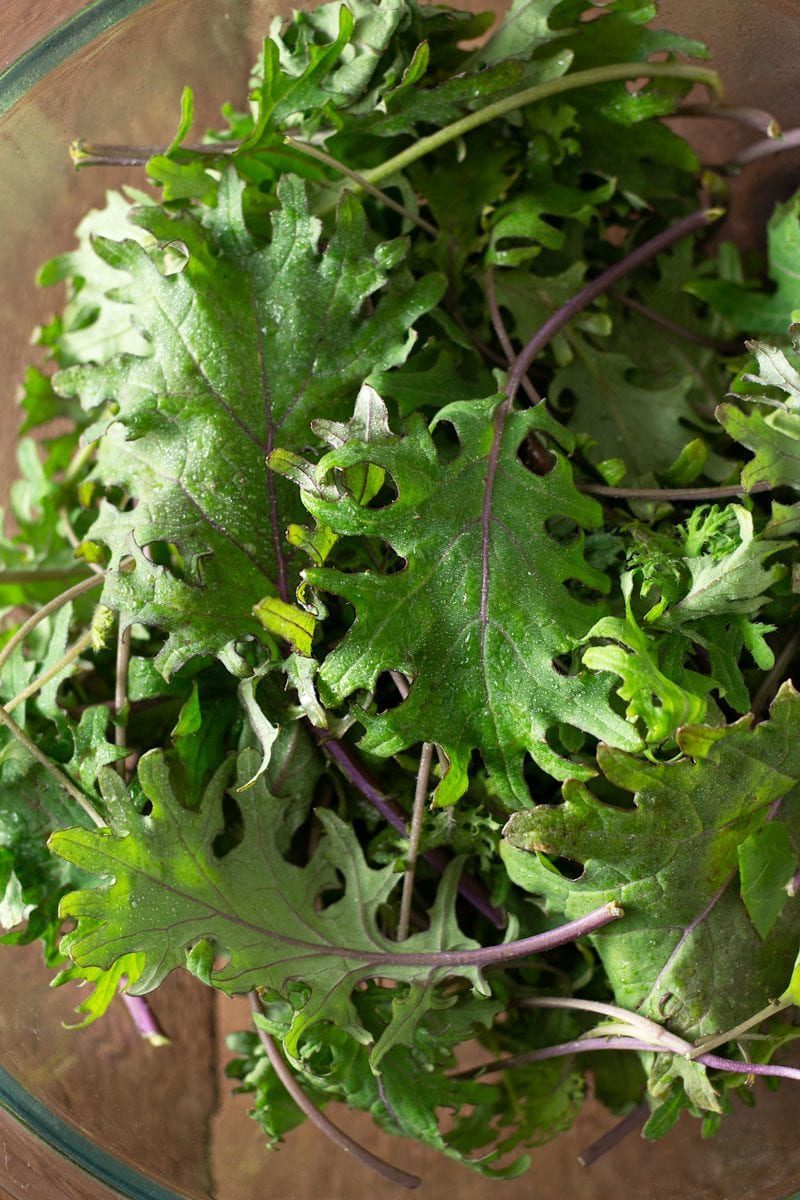 So, more about the nuts. These maple glazed walnuts are extremely addicting. Don't tell me I didn't give you fair warning. They start off on the stove top with some butter and finish cooking in the oven. At the end, the maple syrup hardens to make the tastiest candied nuts. These are certainly a great snack to have around the holidays or really anytime.
I kept the flavor profiles classic in this Kale and Apple Salad and opted for a balsamic dressing. However, this is actually not your typically balsamic dressing. I added lemon juice, which echoes the lemon used on the apples, and a touch of maple syrup to tie in the flavors from the nuts. It's a unique, yet simple dressing you're going to love to use all throughout the fall. With Thanksgiving approaching, I think this Kale and Apple Salad would be a wonderful addition to your family table. You're gonna love it.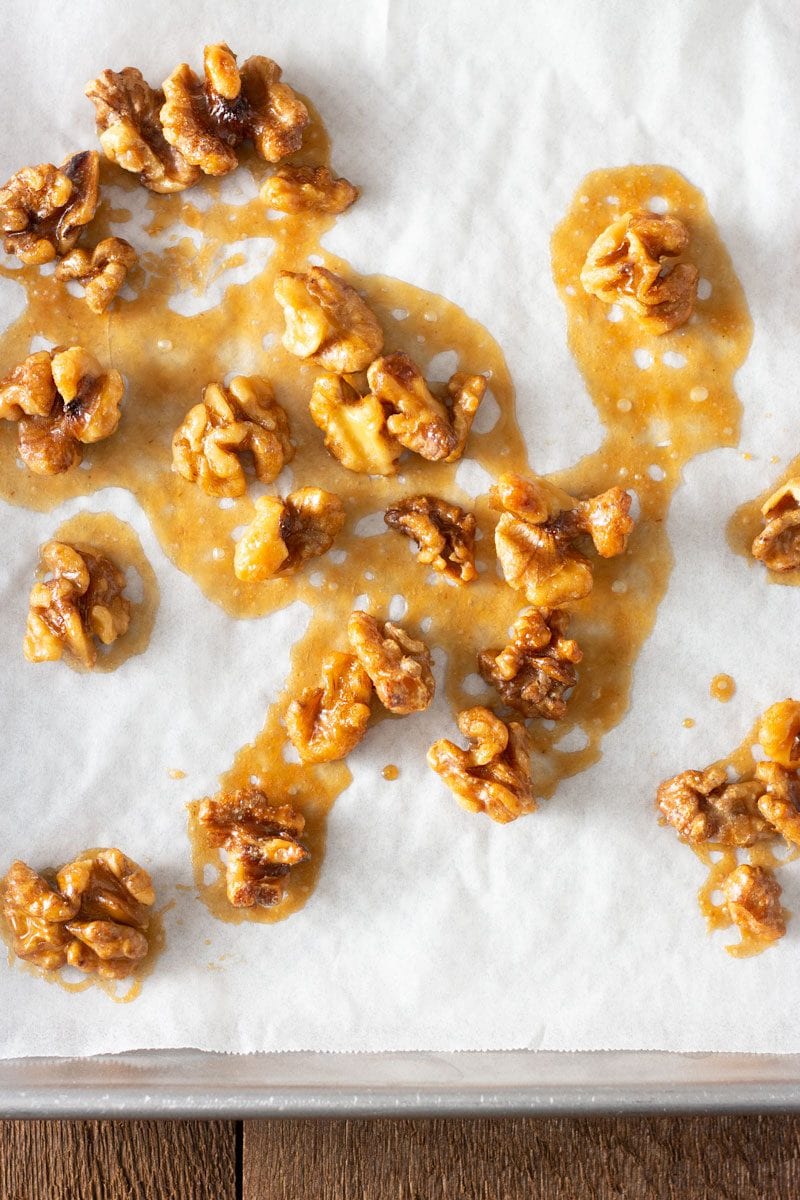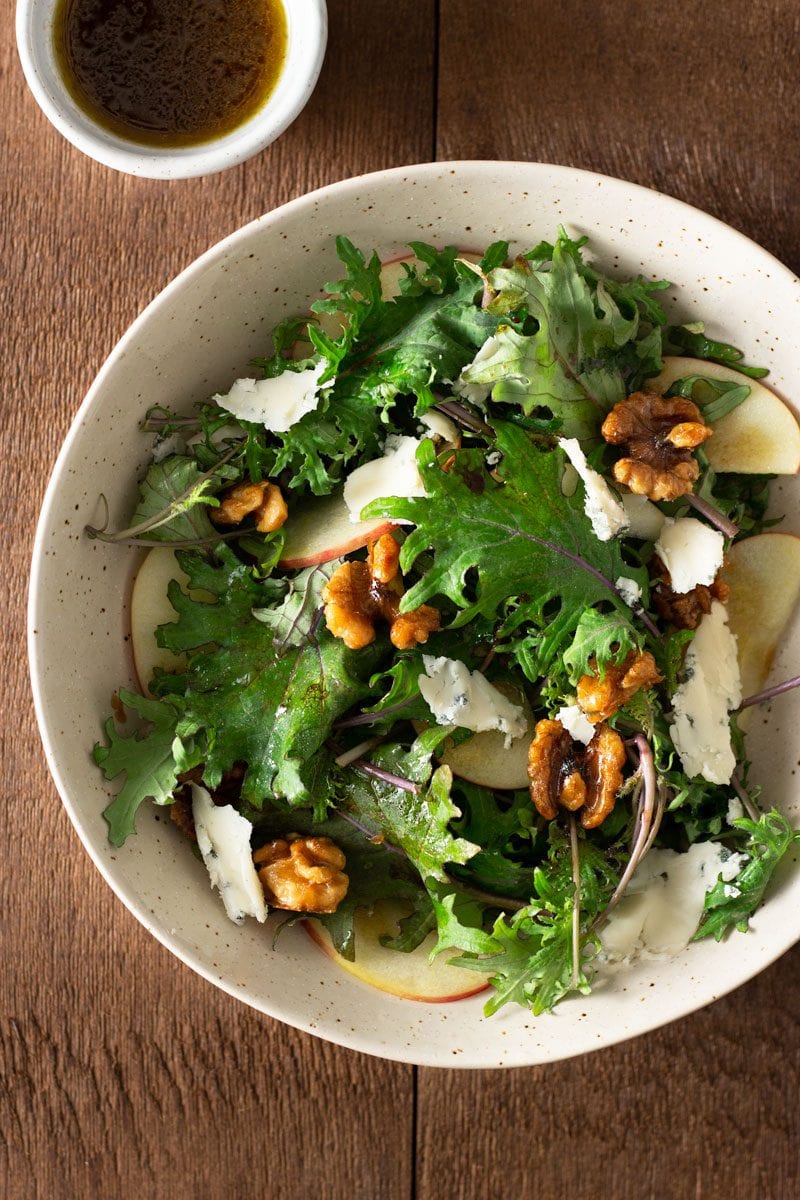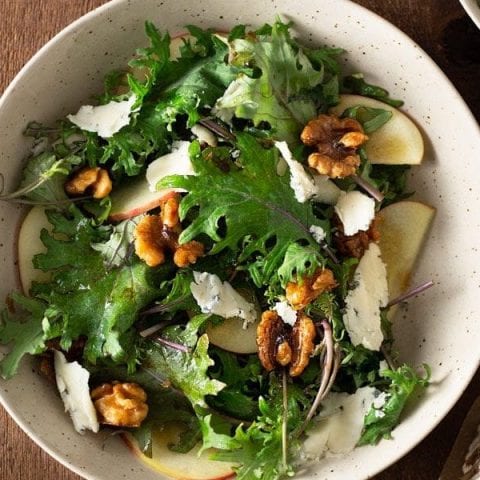 Kale Salad with Apple, Blue Cheese & Maple Glazed Walnuts
Sabrina RUsso
This Kale and Apple Salad with Blue Cheese, Maple Glazed Walnuts and balsamic dressing might become your new favorite fall salad.
Ingredients
8

cups

4oz baby kale

1

honey crisp apple

4

oz

Semi-firm blue cheese

I used an Italian buffalo milk variety

½

cup

walnuts

1

tsp

unsalted butter

2

tbsp

maple syrup

Kosher salt

1/4

cup

extra virgin olive oil

1 ½

tbsp

balsamic vinegar

½

tbsp

lemon juice

plus more as needed

½

tsp

maple syrup

Kosher salt
Instructions
Glaze walnuts: Preheat oven to 375°F. Line a small baking sheet with parchment. In a small nonstick pan, melt butter over medium heat. Add walnuts to pan, season with salt and toss to coat. Pour in syrup and bring to a simmer. Do not stir after maple syrup starts simmering as this could cause the sugars to crystalize. Cook 3 minutes or until most of excess liquid has evaporated, being careful not to burn the sugar.

Bake and cool: Transfer walnuts to lined baking sheet. Bake on center rack for 10 minutes or until remaining liquid has evaporated. Cool to room temperature on a wire rack. The nuts should have a crispy coating similar to a praline.

Prep apple: As nuts cool, cut the apple. Slice in half lengthwise, and then in half again. Remove core but cutting out on a diagonal. Using a sharp chef's knife or mandolin, cut into thin slices. Transfer to bowl and toss in lemon juice to prevent browning. This also adds a nice tart flavor.

Make dressing: Add oil to bowl. Slowly whisk in vinegar and lemon to emulsify. Whisk in syrup. You can also add all ingredients to a jar and shake.

Serve: Add kale and apples to a large bowl. Drizzle over desired amount of dressing and toss to coat. Transfer to serving bowls. Top with nuts and thin shavings or crumbles of blue cheese. Enjoy.
Sabrina Russo
My Three Seasons represents the 3 key factors that are most important to me in cooking. #1 Seasonal ingredients #2 Proper Seasoning (don't skimp on that salt!) #3 Cooking like a Seasoned chef (technique is everything). My name's Sabrina. I live in NYC. I'm a registered dietitian with professional cooking and food styling experience. Come cook with me.