Tucked away on a quiet side street located in Williamsburg, Brooklyn is Juniper restaurant – with a menu reminiscent of Nanette McLain's Midwest roots and family visits down South.
By Nanette McLain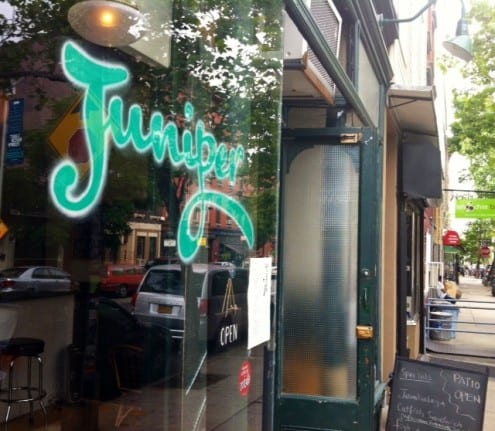 What was meant to be a night of open art studios and a visit to Brooklyn came close to a dismal end as I arrive late and am greeted by darkened buildings.  I wander the streets.  A windy night, trash rolls across them like urban tumbleweeds.  Just as I think I am lost in a vortex of darkened side streets I see a green globe marking the entrance to the L train – a lighthouse leading me to the subway and more familiar Brooklyn ground.  Similarly it is the green letters spelling Juniper that catch my eye.  Tucked away on a quiet side street located in Williamsburg, Brooklyn is Juniper restaurant with a menu reminiscent of my Midwest roots and family visits down South.  As I step into this small, quaint restaurant my disheartening evening and failed trip to the art studios is saved by Southern comfort food in Williamsburg.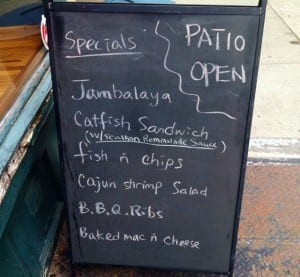 I order the mac and cheese, catfish sandwich, spicy fries and Cajun shrimp salad.  The waitress is attentive and updates me on the progress of my food. I can hear the shrimp sizzling on the grill as the door to the kitchen opens and closes.  With anticipation I watch the steam roll off the food as it arrives to my table.
The baked mac and cheese has a crisp top and is served piping hot. Not a contemporary mac and cheese made from a medley of fine cheeses or truffle oil, but at Juniper it is true comfort food.  Served in a white glass bowl with a large spoon the simplicity of this dish is what makes it special.   Likewise, the catfish sandwich is more than just down-home cooking but instead is transformed to something that could almost be described as gourmet.  The sandwich is artfully crafted with the right size catfish, just the right amount of lettuce and scallion remoulade and an exceptionally fresh bun creating a perfect Southern sandwich. Spicy fries are served on the side.  I include french fries in most of my dining experiences. If they are on the menu I will order them. Sometimes I am immensely disappointed, and other times I am immensely pleased. This was an immensely pleased french fry, living up to the word spicy, as did the shrimp, which is by far the standout of this meal.
The Cajun shrimp salad is generously tossed with cherry tomato halves and fresh pieces of mango. The dressing is sweet; but the shrimp is spicy, a spicy that lingers.  Not a bring tears to your eyes spicy but more of an Emeril Lagasse kick it up a notch spicy.  They are spectacularly seasoned and are served lightly charred. With the addition of the mac and cheese and spicy fries Juniper serves up some wonderful Cajun cuisine.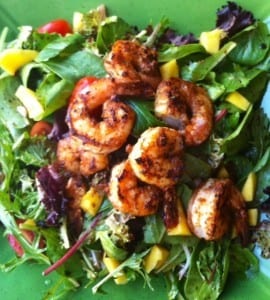 As I leisurely enjoy my meal I do not notice the open sign turns to close.  The waitress remains attentive and does not offer the check or remind me of the time.  Instead she allows me and the other patrons to enjoy the comfortable atmosphere.  With the same attentiveness the chef himself visits the table to inquire of my satisfaction. I have wandered these Williamsburg side streets before, but now I can confidently step-off the L train and make my way to Juniper.  No wandering required.
Juniper
112 Berry Street
Brooklyn, New York 11211