Squid and Pear is an award winning, UK based street food and event catering company run by sisters Claire and Lisa.
By Reena Pastakia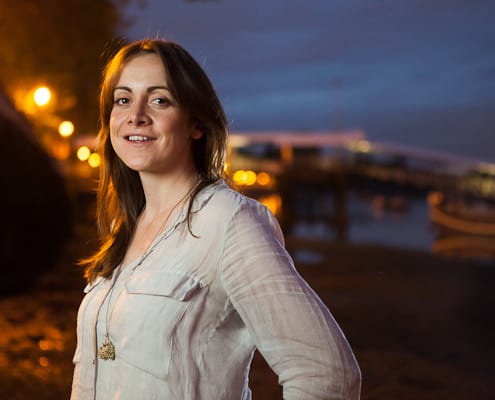 Squid and Pear is an award winning street food and event catering company run by sisters Claire and Lisa. Reena Pastakia sat down with Lisa (AKA Squid) to find out more about how they started, their ethos and their aims for the future.
"The business started because Claire had been a chef for over ten years in really good restaurants in London and she was fed up with working eighteen hour days in high pressure, male dominated environments. After tasting Claire's food I knew we needed to do something with her talent. I have always wanted to work for myself and I was trying to understand what I wanted to do with my life. At the time my day job involved managing and producing photo shoots and as part of this I was booking caterers. Everyone was so nice to the caterers because they were the ones feeding them and I kept thinking I want to be on that side of the fence.
We are both passionate about sustainability and we wanted to encourage people to eat food that is abundant in this country. Our first venture was to sell "Kentucky Fried Rabbit" at a little stall at Oval Farmers Market in London. It was delicious and everyone who tasted our samples really loved it.  Unfortunately no one came to the market that day!  We had driven to Kent and bought sixty rabbits from a gamekeeper but we only sold twenty and had loads of rabbits left over. After that we decided to focus on seafood as Claire was a seafood chef for a long time.
I discovered the Sustainable Restaurant Association on Twitter and worked with them to create a membership category for caterers. Through them I have learned a lot about waste disposal and so, as a result, everything we serve our food in is fully compostable; containers, cutlery, bowls and plates. Within eight weeks it will all have fully decomposed. When I went to Mexico I saw so many polystyrene containers washed up on the beautiful beaches that I could never use them.  Occasionally someone will say we love your sustainability ethos and we want to work with you but most of our clients book us for the food.
Our name has also been instrumental in our success because it is so memorable.  People like our branding and our logo and I get daily emails from people who want to work with us saying that they love our name. "Squid and Pear" came about because our nephew Erik couldn't pronounce Claire's name and so called her Auntie Pear. He also thought I looked like Squidward from SpongeBob SquarePants and so called me Auntie Squidy. Now people constantly ask me whether I'm the squid or the pear!
It is really hard work. On average I do twelve hour days, seven days a week. I've still got scars following our busiest period; I was surviving on three hours sleep a night for ten consecutive days. When it was all over I sat down on the settee and fell asleep for ten hours solid without moving an inch. When I woke up I had pressure sores down my right side.  I still have a big scar on my shoulder. It's worth it though – I totally love it and I'm really pleased with what we've achieved so far. We've only been going a year but we've won two awards and had some great clients including The Houses of Parliament, Nike and Jamie Oliver.
We have made so many mistakes and we have learnt as we have gone along.  We've never had a set plan; we just wanted to do food.  We didn't know we would end up catering for organisations such as the Houses of Parliament.  The best advice I can give someone wanting to enter the industry is research as much as you can and keep an open mind.  If one thing isn't working try a different market or approach.  We've evolved as a company and we still don't have a firm plan; our next goal is to have our own bistro although where we are going to get the money from I don't know".
Squid and Pear Catering
Website
Reena Pastakia
Reena grew up thinking Indian cooking was a dark art where the quantities of spices required in each dish were innately known to a chosen few. It was only after she married an Englishman with a voracious appetite for Indian food that she started phoning home for cooking tips. She started her blog (coconutraita.com) in an attempt to document her family's recipes and make Indian cooking accessible to all.