Cooking Croatia: Kristina Kuzmic, Winner Of Oprah Winfrey's Your Own Show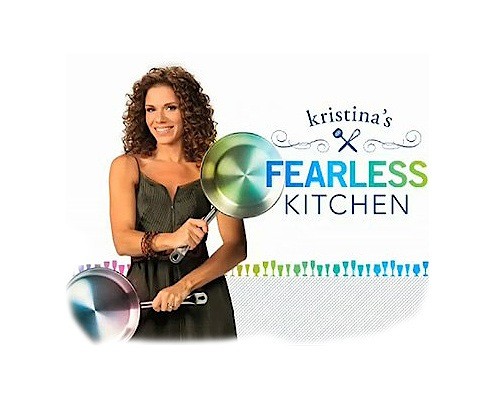 At the end of February, Kristina Kuzmic was named co-winner of Oprah Winfrey's Your Own Show. Here, she's interviewed by fellow Croatian Tamara Novacoviç.
By Tamara Novacoviç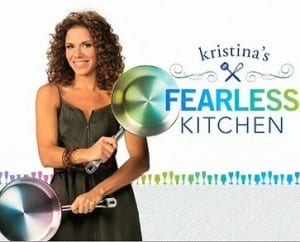 "Dear Girl Scout cookies,
Please stop trying to hang out with me late at night… and in the middle of the night…and in the early morning…and afternoon. I know you're obsessed with me. I know you're attracted to me. But you've made me neglect Nutella today and this is unacceptable. Please lay off. Thank you.
Love,
Kristina"
If you know who Kristina is, you have probably already read this on her facebook page. It's a lovely preview of her relaxed sense of humor and the fact that we're in for an exciting ride with her new culinary show Fearless kitchen going forward.
Kristina Kuzmic is a young woman living out her dream: having both a family and starting her long-time loved culinary career on TV, acknowledged and awarded at Oprah Winfrey's new show: Your own show. In this show, contestants recognized as determined, passionate and driven were chosen from thousands of auditions to compete to get their own TV show on The Oprah Winfrey Network.  In each episode, contestants were mentored by Dr. Phil, Suze Orman, Gayle King and more, they were put through numerous intense challenges to successfully completing a pilot presentation. The road to Oprah's golden approval wasn't easy, though.
Both Kristina and Zach Anner were chosen as winners of the show; this result was truly a win-win situation since Kuzmic and Anner became close friends while filming. I must admit I was so thrilled by this double-winner decision, eventhough I must say Kristina was my favorite from the beginning: emotions of pride and joy surfaced while I watched this fearless and creative young woman rush towards her dream in America. Why? Because Kristina is someone who comes from the same country (Croatia) and very similar background as myself, she is someone you can so easily identify yourself with, someone who suceeded in the land of dreams, who went out and grabbed "the world by the lapels".
Kristina and her family escaped war-torn Croatia when she was 15 and moved to Hamilton where she attended Hamilton-Wenham High School. She graduated in 1997. The path to the point where she finds herself today was difficult, at one point she was struggling as a single mother, living on food stamps to take care for her two children after a difficult divorce.
Kuzmic is now happily married and lives with her family in Alhambra, California.
Kristina's show Fearless kitchen will air this summer and I'm sure you'll want to follow her culinary adventures, escapades, advices and challenges. It will be a show with a twist in which Kristina will break and make kitchen rules and tabus, show you tips and tricks as well as how to fearlessly get around in kitchen and make delicious, healthy food with no fuss. If you find cooking to be irksome, Kristina will convince you to think otherwise. Interesting fact is that she is not a trained cook, so I'm sure people around the globe will so easily identify with this young woman. Having exchanged a few e-mails with Kristina and followed her through Oprah's show, I've come to realize that she is truly someone who will show us new, funny, witty, exciting. The thing that amazes me and fills me with respect towards this young woman is the fact that she answers every e-mail, all her facebook fans' and friends' questions and comments, she listens to people's ideas, remains so grateful and humble, makes herself available, friendly, kind and modest when we know for a fact that she has been beyond busy since entering and winning this contest. She sounds like someone so grateful for the chance given, the chance she will use the best she can and work hard. I honestly do believe great things lay ahead of this lovely young woman.
I'm bringing you short and sweet interview with Kristina:
1. Can you pinpoint the moment/time when you first became interested in cooking and developed love for it?
"When I was a little girl I spent a lot of time with my grandmother, who I still consider the best cook in the world.  Every time I visited her, I spent all my time just watching her in the kitchen, helping out, getting my hands dirty, asking a thousand questions.  That's where I developed my love for cooking, and she is still my favorite person to cook with because I learn something new from her every time we're in the kitchen together."
2. Since you come from Croatia, do you plan on featuring some of traditional Croatian cuisine in your show?
"Croatian cuisine is still my favorite, so I would definitely like to teach the American viewers how to make some great Croatian dishes, although I also want to feature cuisines from all over the world.  But no matter what I'm cooking, I think there will always be at least a little bit of a Croatian influence, because that is where I first learned to cook and developed my passion for good food."
3. What is your biggest kitchen success and/or failure (some dish you're especially proud of and something you made but turned out to be a "disaster")?
"I think my biggest successes come from figuring out how to take a dish that's really complicated and finding a way to simplify it, to make it less intimidating for people.  I can't just pick one biggest success, and same with my failures… it's hard to pick just one.  I've had many wonderful successes but I've also had many embarrassing failures. And I think it's important for me to show that on my show.  If people can relate to me, and see that even though I have a cooking show, I still have kitchen "disasters," I'm hoping that will empower people to not fear failure.  We're all going to make mistakes.  That's just a fact!  So, it's all about learning from our mistakes, not just in the kitchen, but in every part our lives!"
4. What unique experience or qualities separated you from other candidates in Oprah's show and made you a winner?
"That's hard for me to answer because I'm still in shock that Oprah picked me.  I wasn't expecting it.  I was just so happy to even be one of the 10 finalists.  My best guess would be that she saw how passionate I am, and how committed  I am to working hard and creating a show that's unique and different from any other cooking show on TV."
5. Where do you see yourself in 5 years?
"If I can still have my cooking show in 5 years, and more importantly,  if my kids and my husband are still healthy and happy – I will feel like I have everything I want.  But I do dream about starting a cookware line for children because I would really like to inspire kids to start cooking early.  I think it's a great way for children to build confidence, and also develop healthy eating habits."
I would like to finish this text by quoting a line from Kristina's facebook page: "The instant I realized my dreams were too unrealistic, I ran as fast as I could…toward them!" Life truly is a colorful rollercoaster. Keep in mind that dreams do come true. You just have to hold on to them pretty hard. Don't let go. Ever.
Watch the pilot of Kristina's cooking show at http://www.oprah.com/own-your-own-show/Your-OWN-Show-Webisode-Kristinas-Fearless-Kitchen-Video
You can follow Kristina via her facebook and twitter page.
Tamara Novakoviç
Tamara Novakovic is a passionate self-taught cook, food blogger, freelance food writer and photographer behind bite-my-cake.blogspot.com. Her life journey has led her through Faculty of Humanities in Zagreb, Croatia to discovering passion for making cakes. She is currently a weekly food columnist for Croatian newspaper V magazine and food magazine Repete.