Indian Spiced Lamb Curry with Eggplant and Yogurt Sauce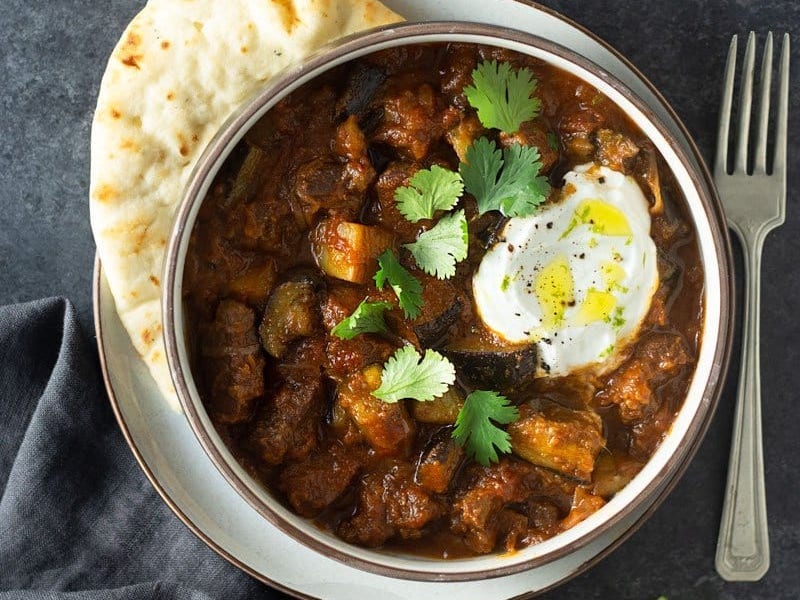 Nothing's better than a warming curry in the cooler months. My lamb curry with eggplant and yogurt sauce is just the dish to cozy up to.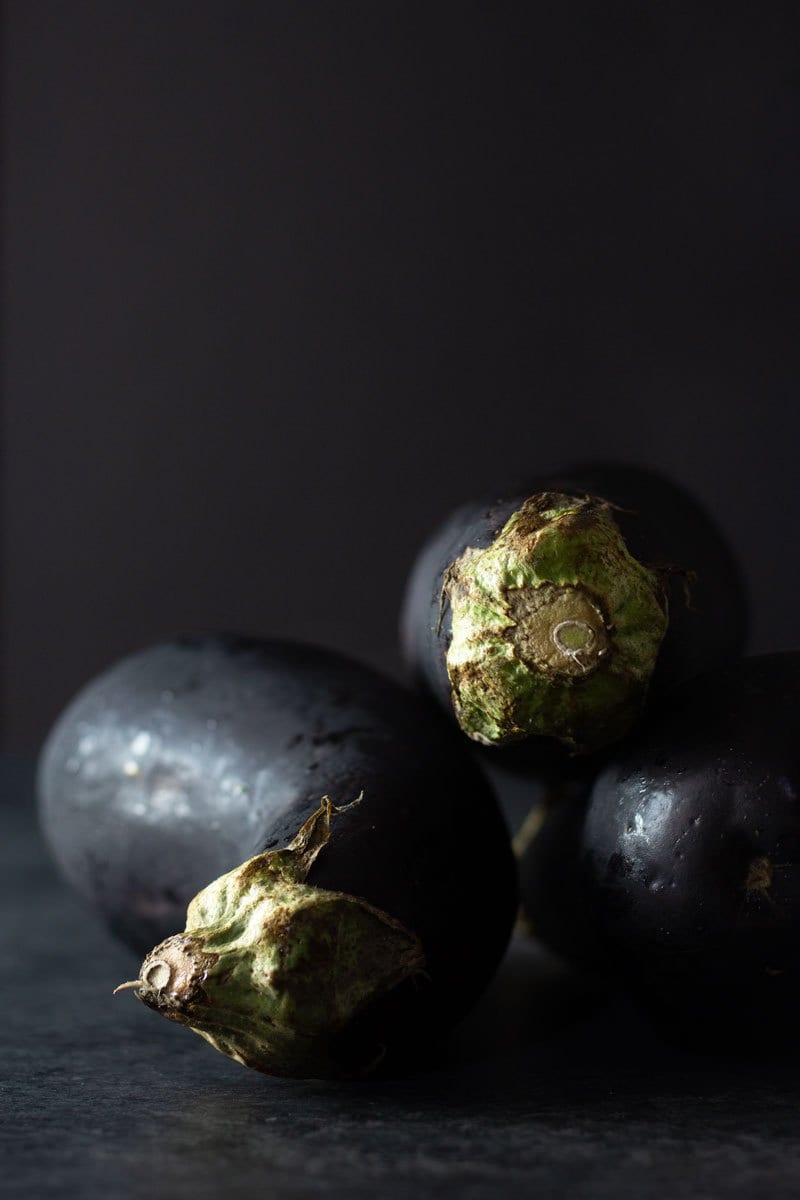 I don't know about you, but eggplant is one of my favorite vegetables. I love how creamy the flesh gets after cooking, and wanted to incorporate them into this recipe. Bitterness can definitely be a problem with eggplants, so I usually chose smaller ones when they're available and I tend to go for male eggplants over the females. I realize that sounds crazy, but the theory is that the males contain fewer seeds and are therefore less bitter. Makes sense right?
So the way to distinguish whether an eggplant is male or female is to flip it on its bottom and do a quick exam. If the indentation is round, it's a male, if it's shaped like a dash, it's female. Strange, but useful knowledge. The photo above is pretty dark and moody, but you can probably see that the eggplant on the right side is most definitely a boy. Another issue with eggplant is the skin. Many people don't like the texture. If you're one of those people, feel free to peel the eggplant for this recipe. I left it on for two reasons. One, it's a good source of fiber and vitamins (but also pesticides?), and two, it helps the eggplant chunks hold their shape.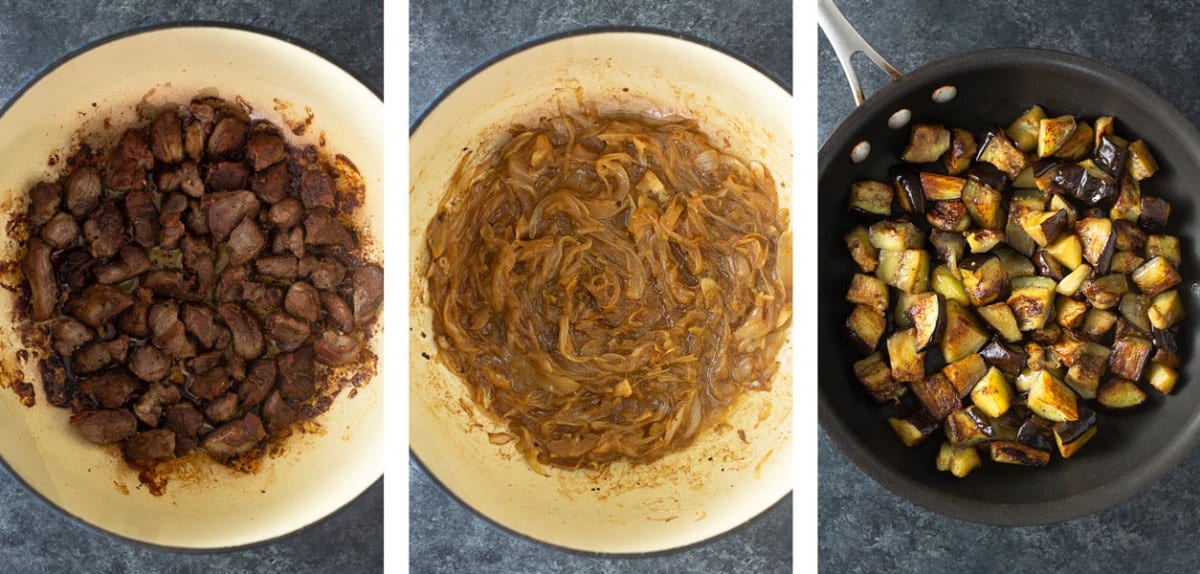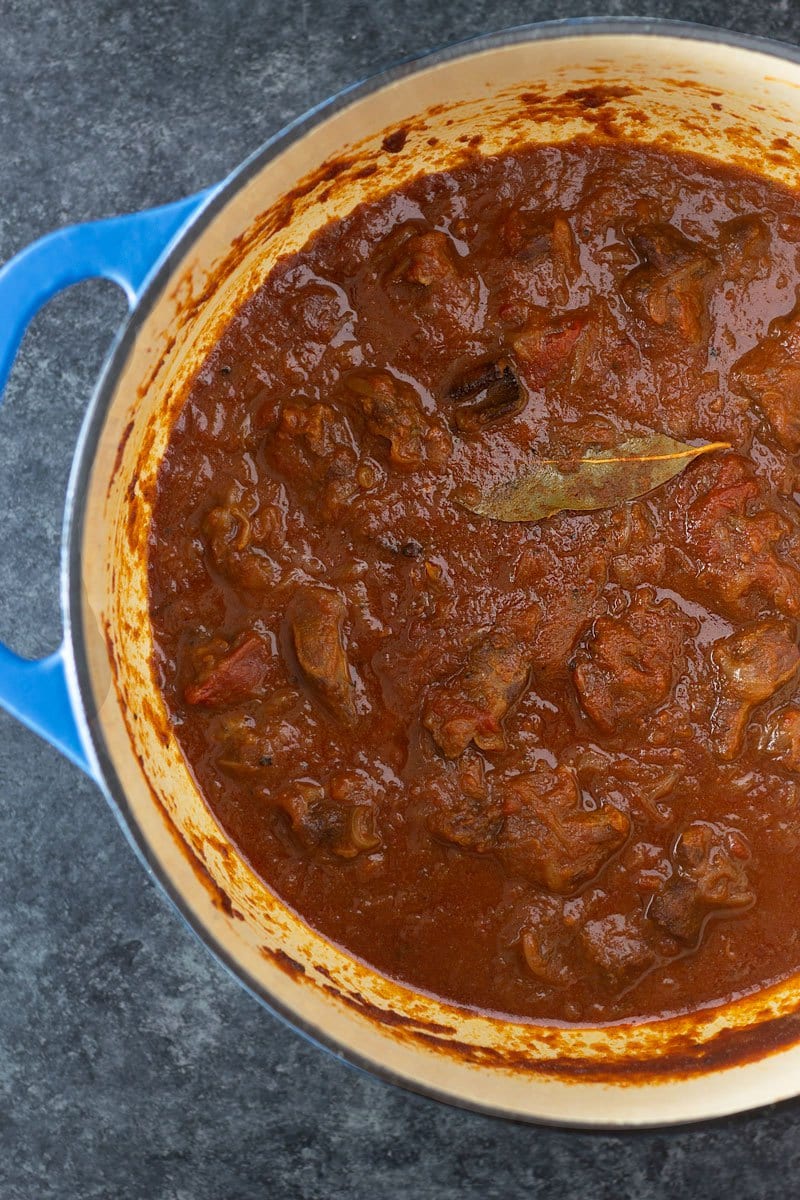 When creating this recipe, I first decided I wanted to use eggplant and then chose lamb as my protein. I absolutely love eggplant and lamb together. You might not see this combo in Indian dishes, but both of those ingredients are certainly common. Also, I never said this recipe was based on a traditional Indian dish. This lamb curry is absolutely my own creation. I use Indian spices, but it is not Indian in any other way. Okay. So hopefully I'm not offending anyone…
I used lamb shoulder in this dish, because it's perfect for slow cooking applications, and becomes tender and delectable when braised. There's also a good amount of onion in this recipe. Onions are a great flavor base and add a good amount of sweetness to the curry. They also dissolve and become nearly undetectable texture wise by the time this stew is done cooking, which is perfect.
Another key player in this lamb curry are canned San Marzano (the BEST) tomatoes. Eggplant and tomatoes are long time lovers in Italy, so why not take them to a trip to India. Then there are the spices. I won't list them all here, but I used a number of classic Indian spices. The flavor and heat level of kashmiri chili powder is SO good, but I realize this spice is difficult to find unless you buy it from an Indian specialty shop or online. If you can't get your hands on it (and decide not to click the lovely amazon link I provided for you), feel free to substitute a mix of standard chili powder and cayenne pepper. A fresh chili would be a great addition, too.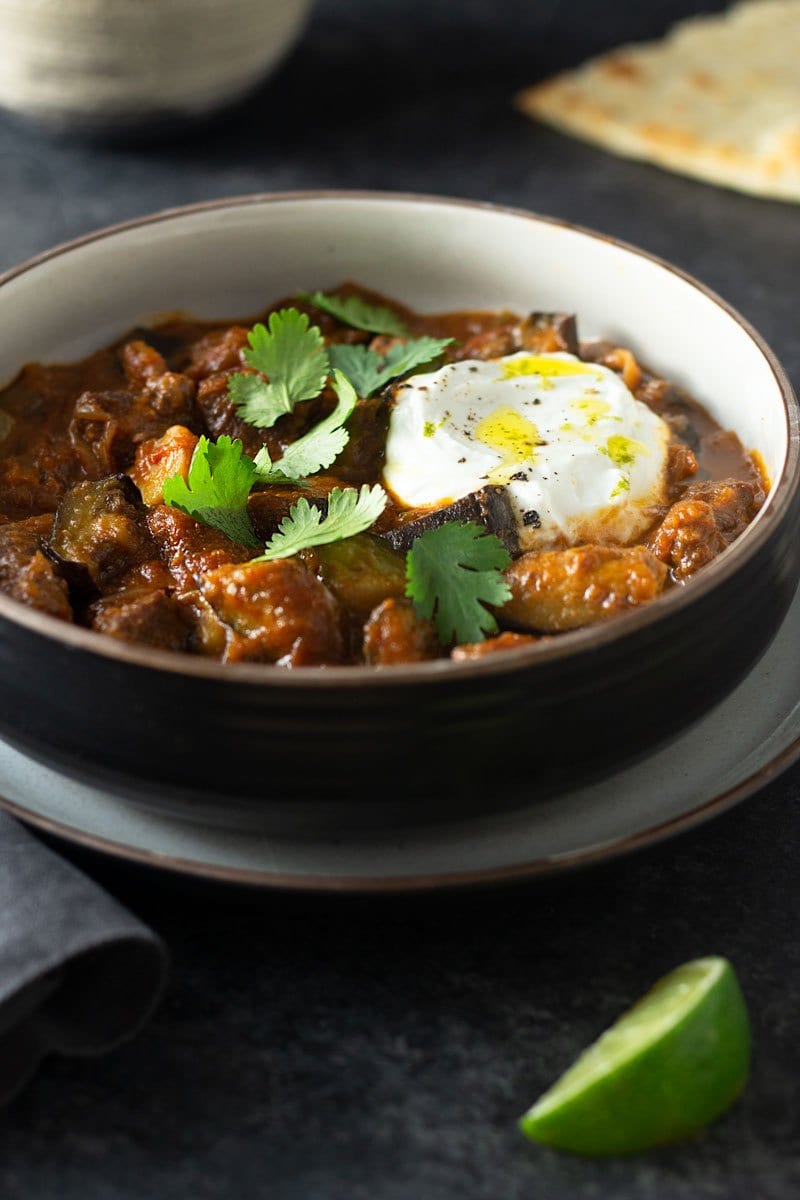 Now, lets talk accompaniments. Yogurt sauce is such a nice compliment to this curry. It helps mellow out the heat and adds a nice creamy component. Instead of making a traditional raita, I just mixed together plain yogurt, grated garlic, lime juice and zest. The drizzle of extra virgin olive oil is obviously my touch too. I can't help it. I love my olive oil no matter what cuisine I'm cooking up.
Then there's cilantro for freshness and lime wedges for an extra acidic kick. I like to serve this lamb curry with naan which I crisp up in a pan with a little butter. Rice is obviously a great pairing too. My lamb curry might not be for a well-versed Indian chef, but it's a good curry people. A very good one in my opinion. Hope it gives you some inspiration to venture out and do fusion your way. Buon appetito.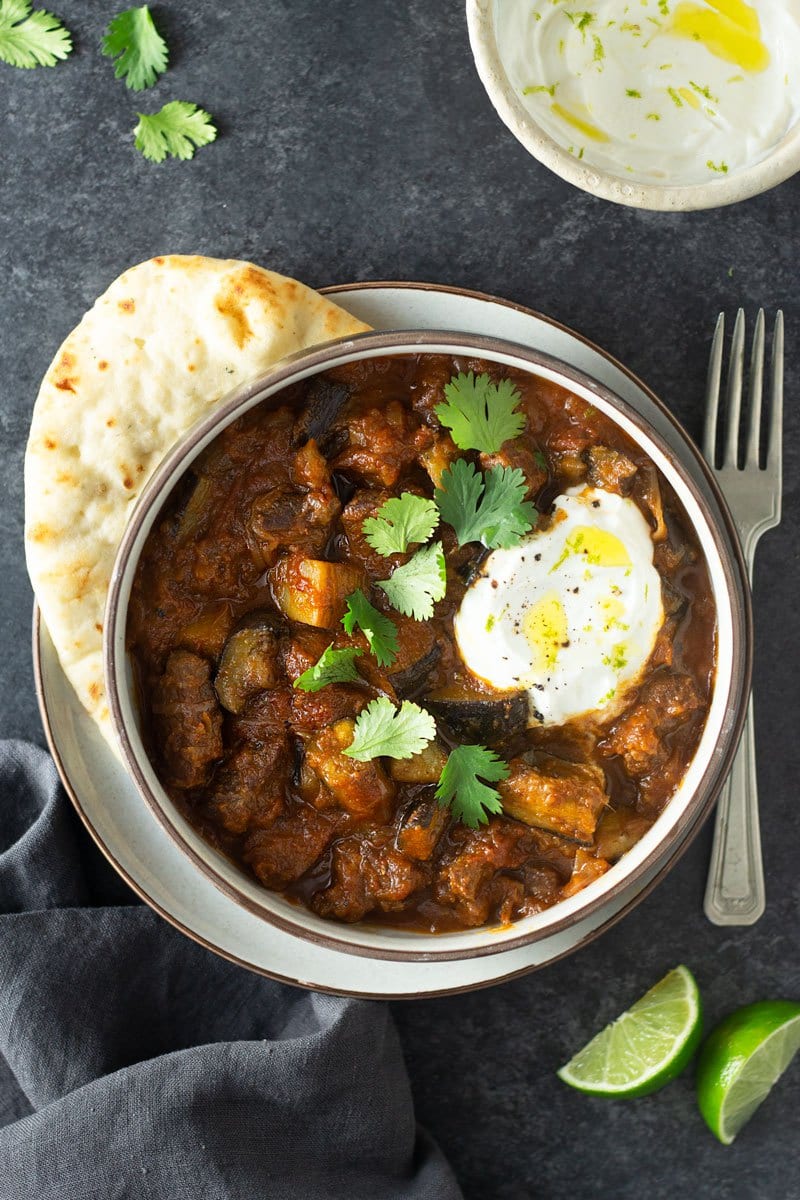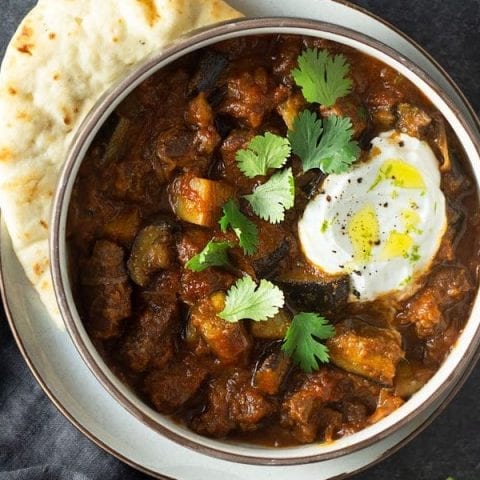 Indian Spiced Lamb Curry with Eggplant & Yogurt Sauce
Sabrina Russo
Nothing's better than a warming curry in the cooler months. My lamb curry with eggplant and yogurt sauce is just the dish to cozy up to.
Ingredients
1 ½

lbs

boneless lamb shoulder

cut into 1 inch chunks

2

tbsp

extra virgin olive oil

2

large onions

very thinly sliced

4

×1 inch piece ginger root

finely grated on microplane (~2 tsp paste)

4

cloves

garlic

finely grated on microplane

2

tsp

ground cumin

1 ½

tsp

ground coriander

1

tsp

sweet paprika

¾

tsp

Kashmiri chili powder

or more paprika/cayenne pepper, to taste

1 ½

inch

cinnamon stick

3

whole cloves

1

large bay leaf

14

oz

canned whole San Marzano tomatoes

¼

cup

extra virgin olive oil

1

lb

eggplant

about 1 large, cut into 1 inch cubes

Kosher salt and fresh cracked pepper

Pinch

sugar

optional

1

cup

whole fat plain yogurt

1

clove

garlic

grated on microplane

1

tbsp

lime juice

Kosher salt

Lime zest and olive oil for topping

Naan bread

warmed or cooked basmati rice

Lime wedges
Instructions
Brown the meat: Heat a dutch oven or large, heavy bottomed pot over medium-high to high heat. Pat lamb cubes dry and season generously with salt and pepper. Add 2 tablespoons oil to preheated pot, followed by meat. Cook undisturbed until well-browned on first side. Flip and brown on remaining sides, about 12-15 minutes total. Remove lamb and set aside, reserving excess oil in pot.

Cook onions: Reduce heat to medium and add onions to pot. Season with salt. There should be enough oil to cook the onions, but add more, if needed. Continue to cook over low to medium heat for a total of 25-30 minutes or until soft and lightly caramelized.

Add aromatics & tomatoes: Add ginger, garlic and all spices to pot. Toast in oil for about 30-60 seconds, being cautious to avoid browning the garlic. Add tomatoes and season with salt. Add back lamb. Stir in about 1 ½ cups water or enough to cover meat.

Simmer curry: Bring curry to a simmer and cook over low to medium-low heat for about 2-2 ½ hours or until lamb is tender and sauce is flavorful. Add additional water while cooking, if needed, if sauce becomes too thin. Alternately, if sauce is too thin, simmer curry until it thickens to desired consistency.

Fry eggplant: Heat a large nonstick pan over medium-high heat. Add ¼ cup of oil, followed by eggplant. Toss to combine. Do not salt immediately. Brown eggplant on all sides, then season generously with salt. Cook until well-browned and tender, adjusting heat as needed, for a total of about 12-15 minutes. Stir into curry after lamb is tender. Taste and adjust seasoning. Add a pinch of sugar to balance flavors, if desired.

Make yogurt sauce: Combine yogurt, garlic and lime juice in a bowl. Season with salt. Top with lemon zest and a drizzle of olive oil.

Serve: Distribute curry among serving bowls, top with cilantro and yogurt, and serve with warmed naan bread or rice, and lime wedges. Enjoy.
Sabrina Russo
My Three Seasons represents the 3 key factors that are most important to me in cooking. #1 Seasonal ingredients #2 Proper Seasoning (don't skimp on that salt!) #3 Cooking like a Seasoned chef (technique is everything). My name's Sabrina. I live in NYC. I'm a registered dietitian with professional cooking and food styling experience. Come cook with me.