Enjoy an amazing prawn salad recipe from Valentina Mariani.
By Valentina Mariani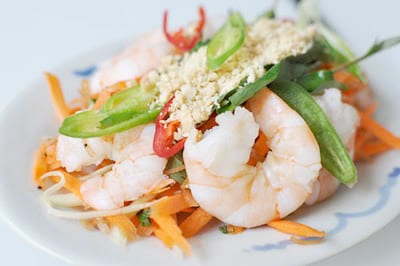 My love for London will never die since I discovered that it's a place able to bring you far, far away to other places, lands, islands, territories without booking a flight (maybe by taking the tube).
Lost in a library in east London, I was trying to think about my next dream holiday, when  I found a Vietnam Guide Book. I started reading from the last pages and I found a post-it, with a message "to love Vietnam, start from food".
With one of the thousand London Apps I downloaded before moving here from Italy, I found a place I've never been before, and, as I told you, London is always able to bring you so far, far away.. since.. Hackney! Where I discovered that the best and most authentic Vietnamese food in the capital isn't found in a restaurant, but in the Hackney kitchen of food stylist, blogger and author Uyen Luu.
She runs a supper club from her home with a menu that takes inspiration from her food-loving family in Saigon.
Such is the popularity of Luu's Supper Club that she's launching a collection of recipes passed down through her family, called My Vietnamese Kitchen, later this year.
After having done some research on this amazing women, I tried to cook one of the most delicious dishes I've ever eaten!
Take a look, it's so easy to prepare and its flavour took my soul so far, far away..

Prawn Salad
Enjoy an amazing prawn salad recipe from Valentina Mariani.
Author:
Valentina Mariani
Recipe Type:
Prawn Salad With Carrot, Mango, Banana Blossom and Hot Mint
Ingredients
300g king prawns
300g julienne carrots
100g julienne unriped mango
3 shallots sliced
1 tbs cider vinegar
50g banana blossom (optional)
50g hot mint (rau ram)- de-stalked
coriander for garnish
sliced chilli for garnish
Sauce/ Dressing
2 tbs cider vinegar
2 tbs sugar
2 tbs premium quality fish sauce
1 x clove minced finely chopped
1 x birdseye chilli finely chopped
2 heap tbs crushed peanuts
Instructions
Poach the prawns in boiling salted water and peel when cooked (about a minute).
Prep the salad ingredients. Pickle the shallots with a table spoon of cider vinegar, sugar and pepper and mix the sauce ingredients together. Toss the carrot, mango and banana blossom together with the dressing, then coarsely cut the hot mint into the mixture and add the prawns.
Serve immediately with crushed peanuts and coriander on prawn crackers. Also great in baguettes. You can also use chicken or squid instead of prawns and use sweet basil, mint or coriander instead of hot mint.
Notes
TIP: Make sure all your ingredients are dry, for example, do not put the carrots through a blender as it becomes soggy.
Valentina Mariani
Gemini with ascendants in Lion (enough said?). Red hair, horse rider and lover, fortune-teller and a little bit witch, but also traveller and photographer! She loves black and white pictures, ancient and forgotten cinemas and the sea. She'd like to live in a forest, (but now she lives in London). As a Lion, she loves meat (both cooked and raw), sushi and salads. As a Gemini, she loves cooking without weighting the ingredients. Valentina's masterpiece in kitchen is her famous pear and chocolate tard! If she was an animal, she would be a horse. If she was a cat, she would be a chocolate souffle, filled with raspberry cream!