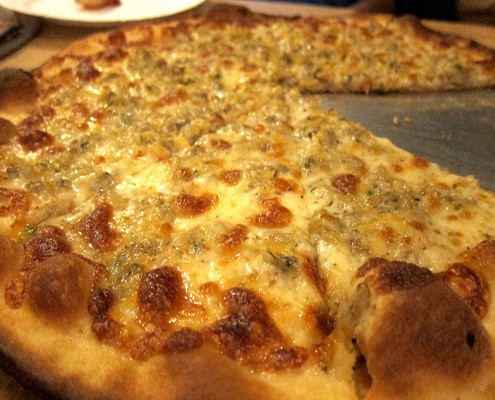 Joan Nova once again sets out to take a small bite out of a big city. This time, four pit stops in The Big Apple are on the menu.
Text And Photo By Joan Nova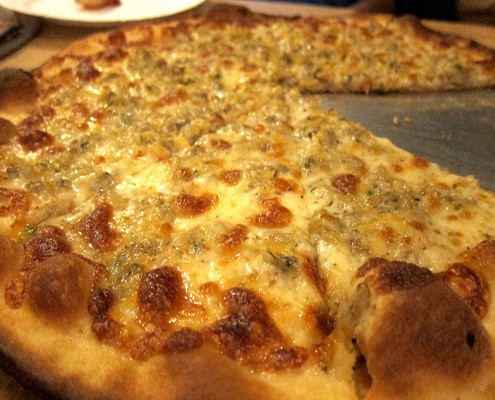 New York, New York…it's a wonderful town. The Bronx is up and the Battery is down.
On my most recent trip to NY, I ate in the Bronx and I ate in the Battery. In fact, I ate in 4 of the 5 boroughs comprising New York City. Sorry Queens…I'll get you next time.
I have the good fortune to have life-long friends who, like me, love to entertain at home so I can't recommend all of the places I eat in when I'm in NY. But, trust me, they do it up BIG. There was a welcome dinner party in the West Village…tapas, lots of wine, lots of fun! Another dinner party on the Lower East Side with a very interesting gin pork roast and a Veracruz Corn dish, among other things. (I'll be posting that corn dish one day soon.) Then there was a light lunch of chicken satay and shrimp salad in Riverdale which preceded our Arthur Avenue outing and dinner. I closed the 5 days with Sunday dinner in Bensonhurst, Brooklyn. If you know the area, you know the menu. It was 5 hours of non-stop antipasto platters, stuffed shells, eggplant parmigiana, roast chicken (with mozzarella stuffing), breads, pastries…and who can remember what else?
But, I did manage to eat in 4 restaurants that I'm happy to tell you about.
Pizza in Staten Island
The night I arrived I briefly passed through Staten Island for a pizza stop. Oh, yes, and to meet up with relatives and friends. Lee's Tavern in Dongan Hills can best (and kindly) be described as a 'dump'. A 'hole-in-the-wall' denotes a certain charm that Lee's does not have. It's culture shock, it's major time warp, it's bad wines (I ordered beer) and it is thin-crust pizzas that have been packing them in for 40-50 years. Favorites are the clam pizza (shown above) and the most crispy, non-greasy, fried calamari I ever tasted which is served with a spicy fra diavolo sauce.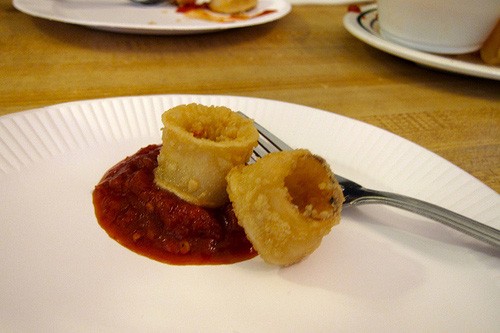 The Mussel Pot is an attractive small spot on Bleeker Street in The Village. Like many NY eateries, it's narrow in width but it does spill over in back to a nice patio garden. We shared a lobster, bacon + truffle mac n' cheese appetizer that was so uber rich 3 of us couldn't finish it. And then we attacked 2 pots of mussels. As you might guess, the house speciality is mussels and the menu offers them up every which way.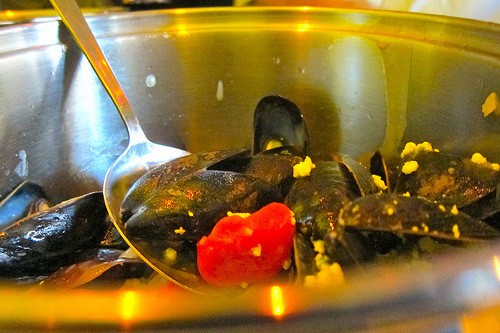 Socarrat Paella Bar. This is really nice space and concept. Narrow, one communal mirrored high-top table down the center and a really nice menu of tapas, paellas and wines. We had a red + yellow beet salad with goat cheese foam and a seafood paella with fava beans, which I thought was a strange (but tasty) ingredient. You're instructed to eat the paella from the center outward to leave the rice extra time to caramelize and crust.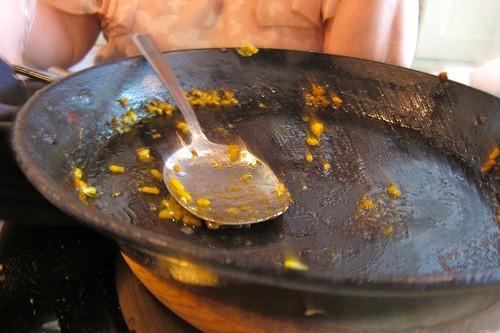 Arthur Avenue, The Little Italy of the Bronx.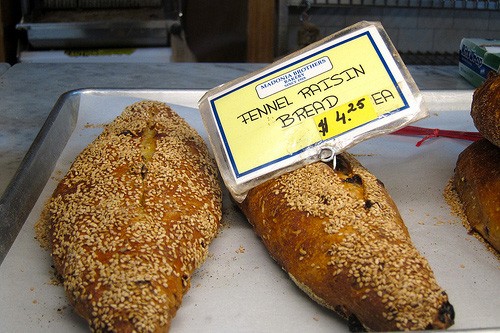 Fabulous bakeries, interesting meat markets with quartered lambs and lamb heads on display (capozzelli di angnelli, an old world Italian delicacy), speciality pork and cheese shops, interesting varieties of pasta and other Italian imports for sale, and outdoor stands with freshly-shucked seafood.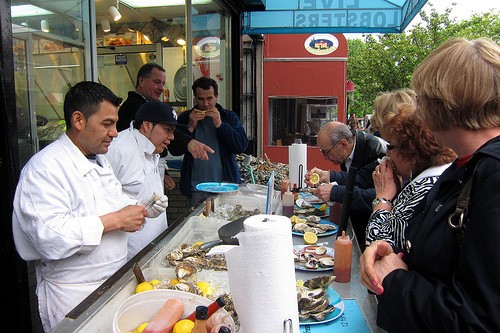 See Also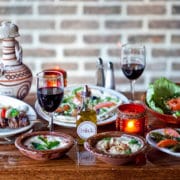 Whatever you do, do not go to Arthur Avenue after lunch…go for lunch! We were killing time between lunch and dinner so all we did is gawk which I don't recommend. The visuals and smells enticed big time. :) Beyond the food, the experience itself is a little kitschy, but I heartily recommend it.
The Cookery in Dobbs Ferry was a fabulous find…and about the only reason we could see to ever go back to Dobbs Ferry. The town, sadly, has not stood the passage of time well. But, The Cookery is an attractive storefront restaurant serving authentic and fresh Italian food, creatively done and presented by a young Italian (also handsome) chef whose philosophy is sustainable and local.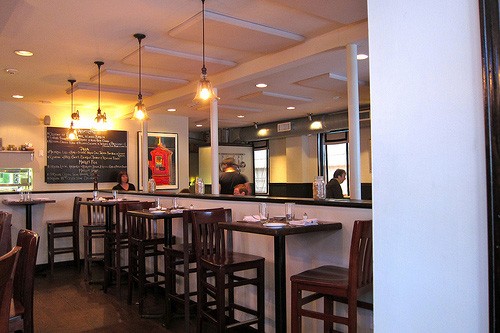 We were 7 people and tried a variety of appetizers and entrées. Some of the standouts in appetizers were shaved fennel, orange + parmesan salad, creamy polenta with egg + proscuitto, and the Easter Pizza (served every day). Stellar entrées were cauliflower ravioli with lemon brown butter, house-made pasta with pulpo, pine nuts and chilis, osso buco. They also have a nice and fairly-priced wine list. We enjoyed a couple of bottles of 2009 Nero d'Avola, Santa Anastasi – Sicily, recommended by our waiter. Service was excellent.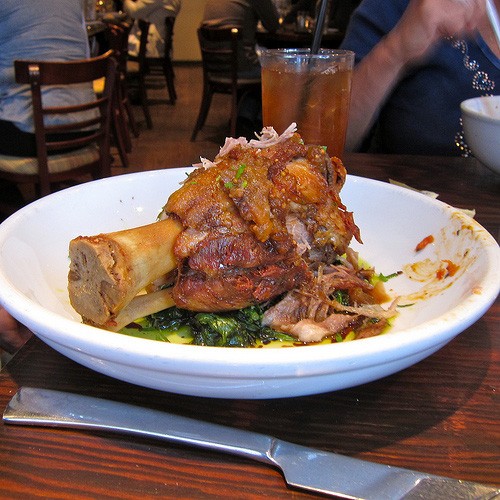 And how about warm chocolate polenta with pretzels, slovenian fleur de sel and caramel for dessert???
Joan Nova
Joan Nova is the publisher of FOODalogue: Meandering Meals, Musings + Travel which melds her lifelong passions for food, travel, photography and publishing. Her culinary style is bold and colorful with finishing touches that take each dish to the next level. She is an active participant in many online food organizations.