PARTNER POST — Discover how to take your recipes to the next level with Maille mustard.
With flavorful mustards, pickles, fruit and a creamy cashew cheese, here's how to make a vegan cheese board won't leave you feeling like something is missing.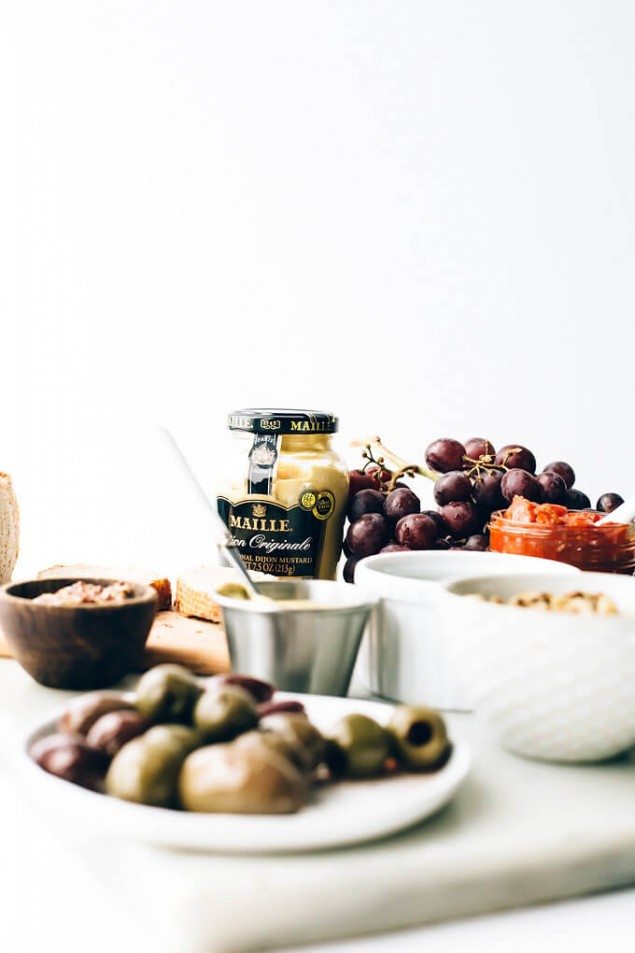 Before you get lost in this delicious vegan cheese board, we have to tell you to be sure to click the banner below! Share your favorite mustard tip and you could win a beautiful Le Creuset set.
Last week, I celebrated my three-year vegan-niversary. It left me thinking about my journey from meat-eater to pescatarian to vegetarian // cheese-lover extraordinaire to plant-passionate vegan.
Despite all the changes, my food loves and cravings have remained the same: I love cheese. I love tangy, vinegary things. I love warm, freshly baked baguette. I love juicy fruits like grapes. I love condiments (hellooo, hot sauce, mustard, and ketchup). I love carbs.
I've simply found veg-friendly ways to nourish the few cravings that weren't inherently plant-based to begin with. I'm lookin' at you, cheese.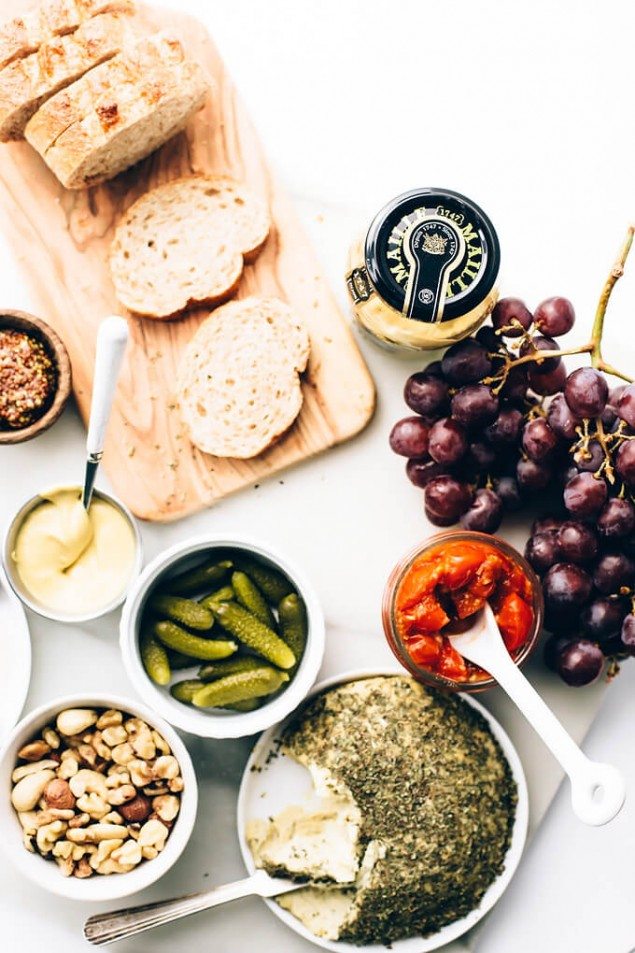 Like so many vegetarians, I swore I'd never go vegan because of my fondness for dairy-based cheese, but to my complete surprise, I haven't missed the stuff at all. Not only is there an enticing array of delicious, plant-based cheeses in stores, but it's actually quite easy to make homemade vegan cheese. Really!
I've even grown to prefer it over dairy-based cheeses. Not only for its compassionate roots and rich flavor but also because I've felt miles better since eliminating dairy.
If you've read the intro in my cookbook or my about page, then you know I believe there is power that resides within our everyday habits. When we tune in to the cues our bodies sends us, we're able to discern between the choices that serve us and those that don't. From there, we can choose the habits that foster a sense of well-being within our lives and release the others.
This process enlightens us with a sense of clarity and puts purpose behind our daily decision making, providing us with a feedback loop of information which we can leverage to build an arsenal of lifestyle choices that support our ability to thrive—a wellness foundation per se.
What's my point? Well, let's just say dairy-based cheese wasn't doing me any favors in the *thrive* department.
Funny thing was, I didn't realize it was disrupting my digestion and contributing to my recurring twisted anxiety tango until I gave it up for good. Had I known, I would have ousted the stuff years earlier. But hindsight's 20/20, and it's hard to know what you don't know until you know, you know?
Bottom line and point being: Whether you're a plant-loving vegan, a cheese-praising vegetarian, or the meat-cheese-and-occasional-potato type, I think you'll find a special place in your heart for this epic vegan cheese platter…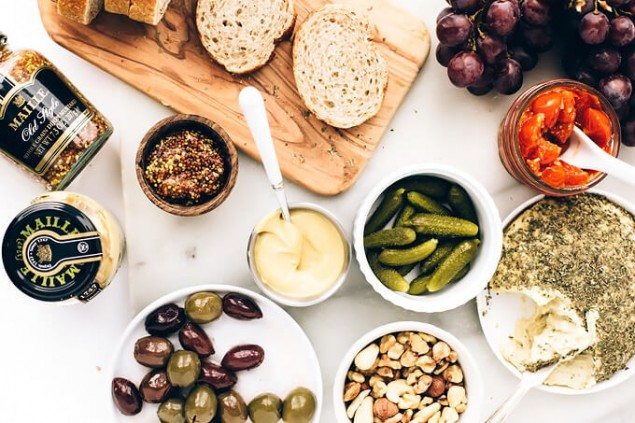 It's packed with a multitude of my favorite things:
Soft baguette slices.
Herbed vegan cashew cheese.
Spicy tomato jam.
Juicy grapes.
Protein-packed nuts.
Salty olives.
Teeny, tiny, crisp + tangy Maille Cornichons.
Zesty Maille Dijon Originale and Old Style mustard.
One of my favorite pairings from this platter is a baguette slice with a generous slather of cashew cheese topped with Maille's Dijon Originale and Old Style mustard plus one (or two) cornichons.
The zing of the mustard and tanginess of the cornichons perfectly complement the savoriness of the cashew cheese. The combination reminds me of the cheese platters my parents served when I was growing up; Maille cornichons + dijon were non-negotiables and always the first items to need replenishing.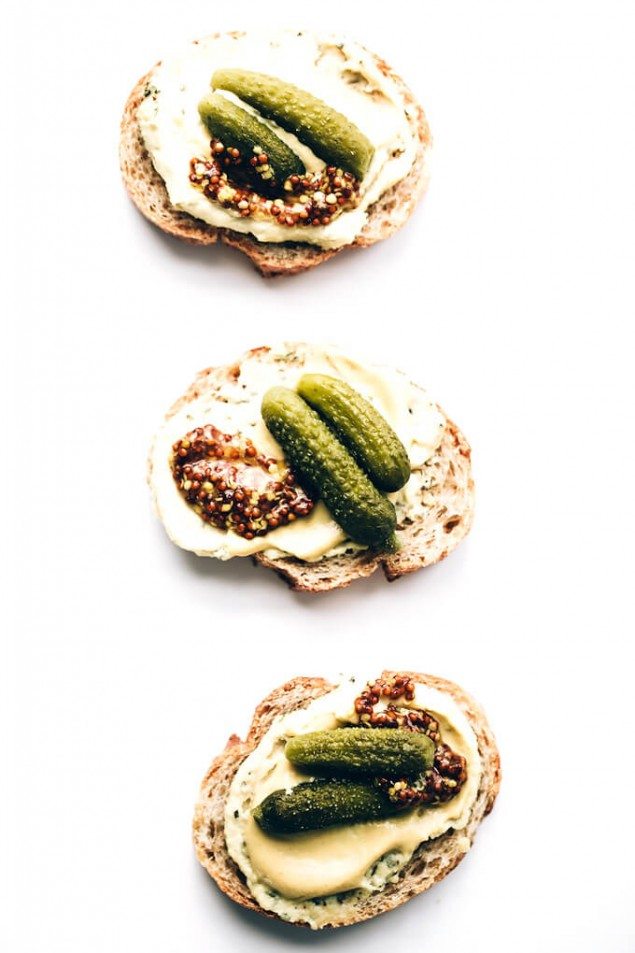 To watch this epic vegan cheese platter comes together in a flash, be sure to checkout the video below. Then, scroll down to 1) get the full rundown of ingredient details and 2) enter Maille's Flavor Hero contest. Happy snacking!



,

How to Make a Vegan Cheese Board
With flavorful mustards, pickles, fruit and a creamy cashew cheese, here's how to make a vegan cheese board won't leave you feeling like something is missing.
Ingredients
1 multigrain baguette, sliced or bread/crackers of choice
1 recipe herbed vegan cashew cheese (see link earlier in this post)
1 recipe spicy tomato jam (see link earlier in this post)
Olives
Grapes or sliced apples
Mixed nuts
Maille Dijon Originale
Maille Old Style mustard
Maille Cornichons
Instructions
Plate each ingredient and place on a large cheese board or serving tray.
Gather serving gear and utensils.
Serve immediately.