The refreshing drink of ground nuts and rice from the Spanish speaking world gets added flair. Indian spices are mixed in for a twist that works so well.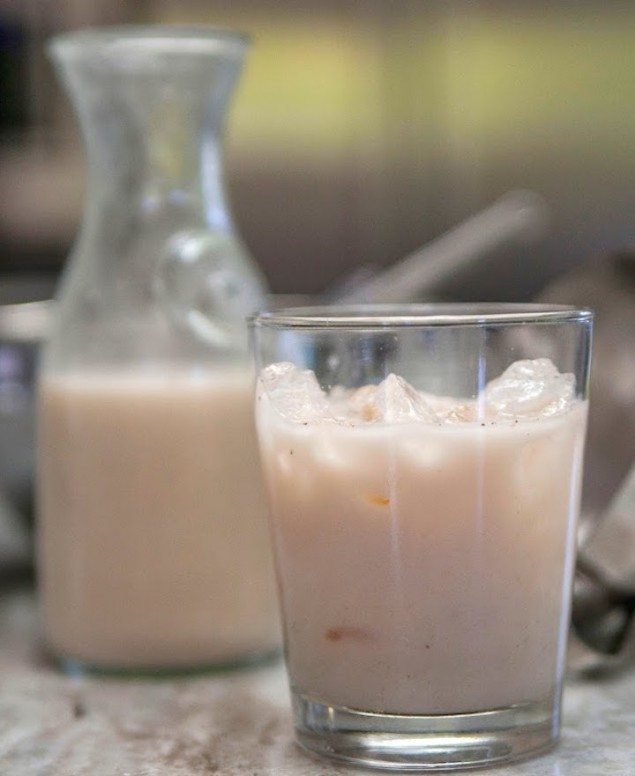 One of the things I developed a taste for after living in Los Angeles for so long was a nice cooling glass of horchata. This ancient drink made of water, ground nuts, sugar, rice, spices, seeds and what have you stretches throughout the Spanish speaking world. Each country has their own version of this refreshing milky drink, and along with a nice glass of Lychee boba, is one of the two beverages that I can't get here in Sonoma. Okay, I take that back, I can get a very good horchata here given that Sonoma was the capital of Mexico's province of Alta California. As for the boba I'm still working on that one.
I decided to make my own. But rather than leave well enough alone, I wondered if there was an Indian version of horchata our there. Since the spice profiles in Hispanic food and Indian food have a lot of overlap I figured there must be. Sure enough, there was. It seemed everybody and their uncle had made this Indian flavored horchata, so why not add me to the list?
Print
Author:

Kathy Gori

Category:

Beverage
1 cup

of basmati rice

3

and 1/2 cups of water

1

cinnamon stick

3

green cardamom pods cracked open

1 teaspoon

good quality vanilla

1/3 cup

of sugar
Instructions
Scoop 1 cup of clean basmati rice into a food processor.
Grind it up into small bits. This takes a while.
Pour it into a bowl along with 3 1/2 cups of water and the cinnamon stick and cardamom seeds.
Add in the vanilla and sugar. Stir everything around until it's well mixed.
Pour it into a container that can be covered.
op the top on and stick it into the fridge overnight.
The next day, pour the mixture into a blender. You can do this in two batches.
Grind everything up.
While the mixture is getting ground to bits, place cheese cloth over a bowl and get ready to strain your horchata.
Pour the liquid through the cheese cloth into the bowl.
Squeeze the liquid through the cloth.
Even though the recipe says to filter it through 3 layers of damp cheesecIoth, I actually filtered mine 3 times to insure a nice smooth milky texture.
Third times the charm! Finally pour the mixture through a fine mesh strainer.
Pour the chilled horchata over a glass of ice.
Kathy Gori
Kathy Gori has a passion for Indian cooking. She brings 20 years of cooking experience and a natural flair for communicating her culinary adventures to her blog The Colors of Indian Cooking "A Hollywood Screenwriter, A Bollywood Kitchen". Food writer, commercial and cartoon voice actor (Rosemary the telephone Operator in Hong Kong Phooey among others) and screenwriter (Chaos Theory starring Ryan Reynolds) Kathy is also a Clio award-winner. She and her screenwriting-partner husband Alan live with their Siberian Husky Patsy in Sonoma, California.