SPONSORED POST: From Dijon Originale mustard to Cornichons, Maille has a rich heritage starting in 1747 that honors tradition. Check out these flavorful, fun recipes that are made with Maille and perfect for BBQ season. What can we say? Maille is BBQ's best friend. PLUS, be sure to enter for a chance to win an awesome grilling kit below.
Honey Mustard Grilled Salmon in foil packets are savory, sweet, and delicious. Plus: easy clean-up!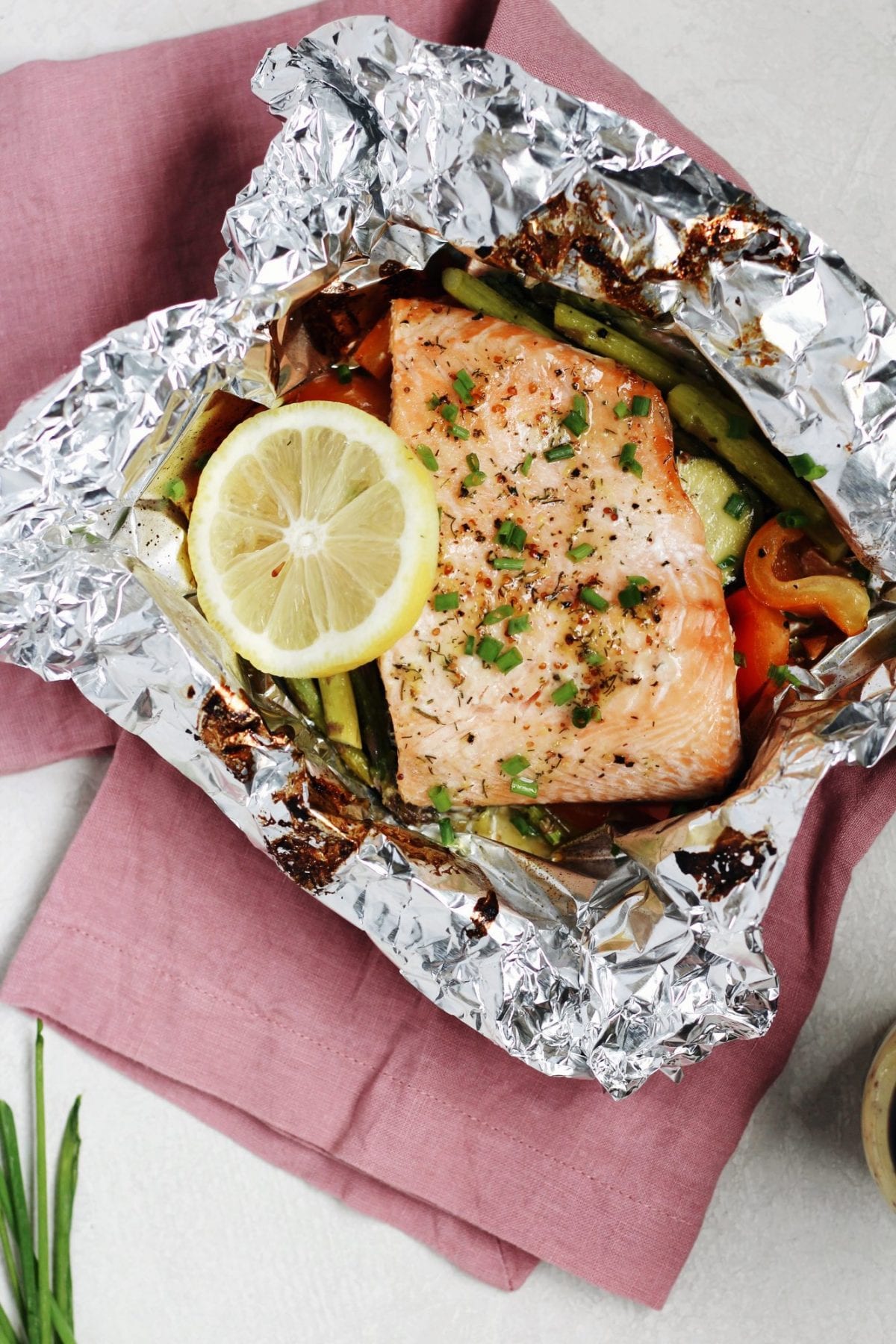 Have you ever heard of the fancy French term Fish en Papillote?
It basically means fish "in paper" and it's a very popular and classic way of cooking. I learned this technique very early on in culinary school and have been using it since.
This type of cooking encloses your ingredients — fish, vegetables, aromatics, seasonings — in parchment paper or foil. Everything gets cooked in the foil envelope and steamed. It is perfect for cooking delicate foods, like fish, and keeping them moist and tender while quickly cooking.
Not to mention, there's no clean-up involved! It's basically one of the easiest, tastiest, and mess-free one pot meals. But the "pot" is a foil pouch.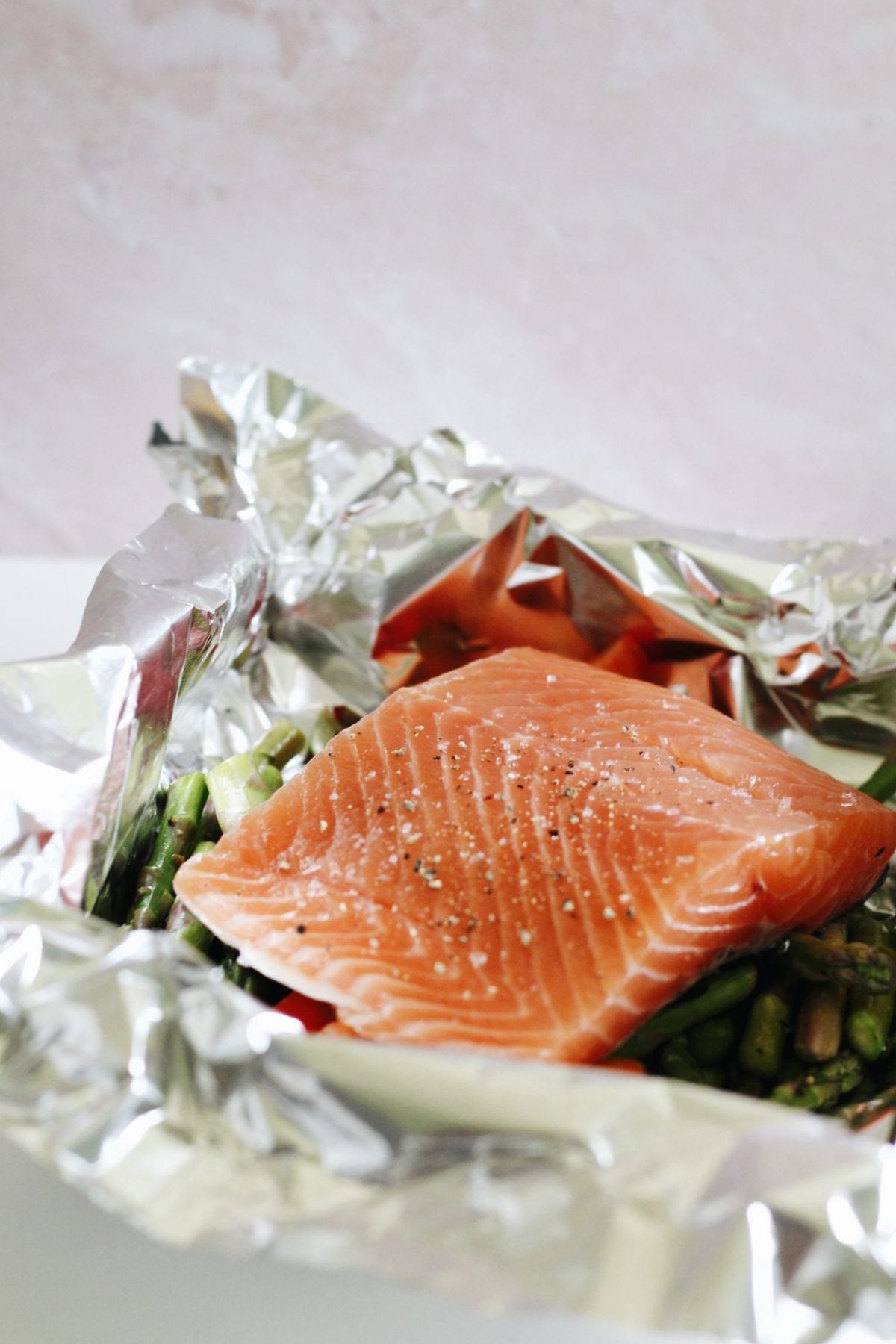 HOW TO MAKE GRILLED SALMON IN FOIL PACKETS
You can either grill or cook the foil packets in the oven. I personally love to grill these, especially in the summer. It's quick, there's no need to turn a hot oven on, and I think the grill gives these much more flavor.
To make grilled salmon in foil packets, you need:
heavy duty foil
salmon (you could also use cod, halibut, tilapia, etc.)
aromatics and herbs (like lemon, dill, basil, garlic, rosemary, etc.)
vegetables (such as bell peppers, zucchini, asparagus, leeks, onions, mushrooms, or greens)
a sauce/glaze
My favorite type of salmon (and how I prepare this recipe) is a honey mustard salmon.
This honey mustard sauce is sweet, savory, and perfectly paired with the salmon and vegetables.
The star of the sauce is Maille Rich Country Dijon, a mustard I use for pretty much anything and everything. Maille is my secret weapon when it comes to elevating summer grilling. From potato salads to grilled salmon, it just makes everything taste so much better.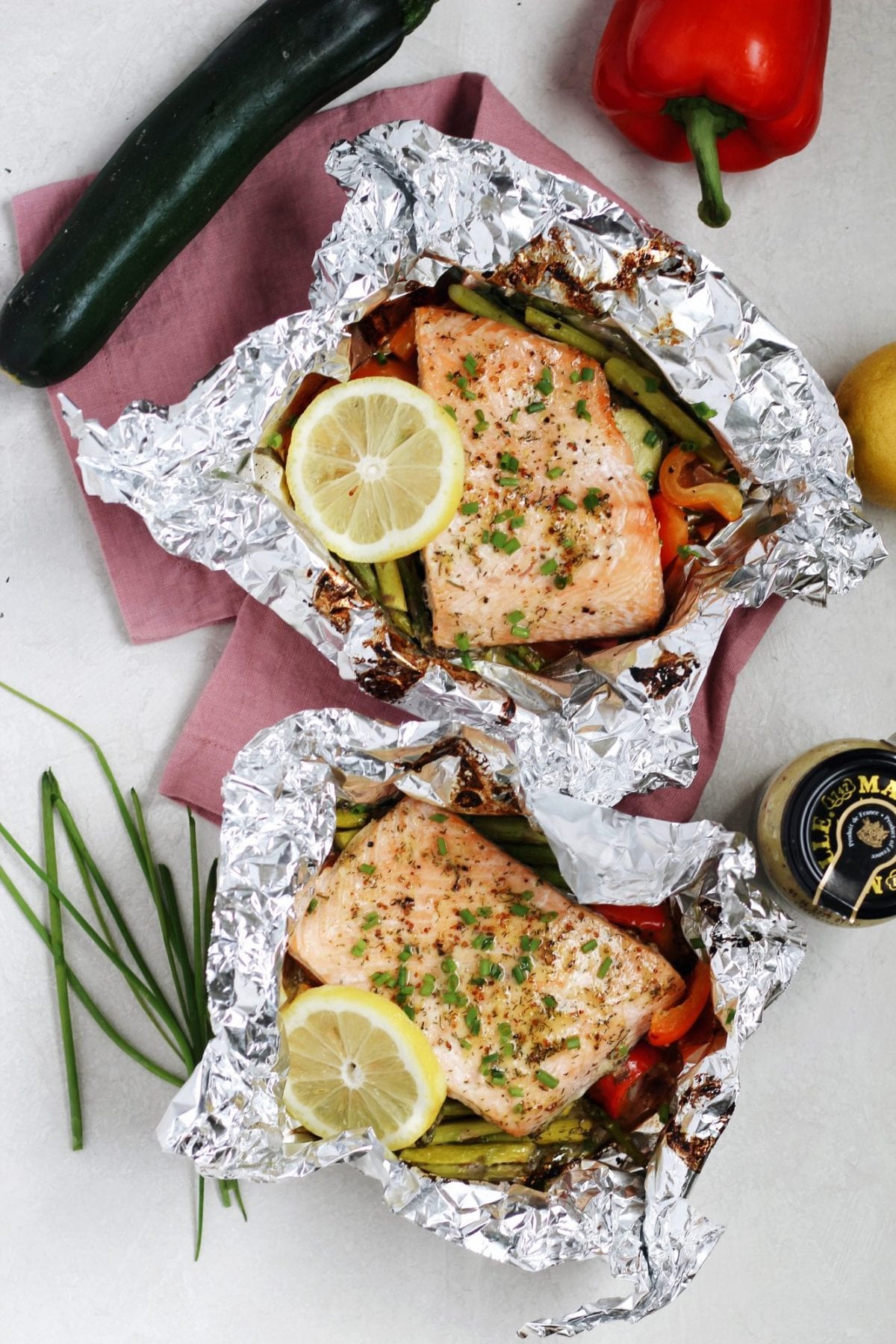 I've used Maille to make next-level grilled ham and cheese and comforting one-pot dishes in no time. I'm also constantly browsing their Recipes page and Facebook group for inspiration because they're always sharing amazing recipes and ideas.
Easy. No-fuss. No clean-up. Cooks up on the grill in just 15 minutes.
Can it get any better?

Honey Mustard Salmon Packets
Ingredients
2 tablespoons olive oil, divided
2 tablespoons Maille Rich Country Dijon
2 tablespoons honey
2 tablespoons lemon juice
1 teaspoon grated lemon zest
1 garlic clove, minced
1 teaspoon dried dill
4 (6-ounce) salmon filets
1 large zucchini, sliced
1 red bell pepper, diced
1 small bunch asparagus, cut into thirds
2 tablespoons chopped fresh chives
Sea salt and pepper, to taste
Instructions
Heat the grill to high.
In a small bowl, whisk together 1 tablespoon olive oil with the Maille Rich Country Dijon, honey, lemon juice, lemon zest, garlic, and dried dill.
In a medium bowl, toss the zucchini, bell pepper, and asparagus with the last tablespoon of olive oil and sea salt and pepper to taste.
Cut four pieces of large foil.
Divide the vegetables among the foil pieces. Place the salmon filet on top of the vegetables. Season the salmon with sea salt and pepper.
Evenly divide the honey mustard sauce on top of the salmon. Close the foil packets almost all the way.
Grill the foil packets with the lid covered until the salmon is cooked through and flaky, about 15-18 minutes.
Serve the foil packets topped with fresh chives.