Perfectly tender ribs are rarely made on the grill. Instead start the low and slow process in the oven and finish on the grill, if desired, with a sweet and spicy honey and bourbon glaze.
By Emily Clifton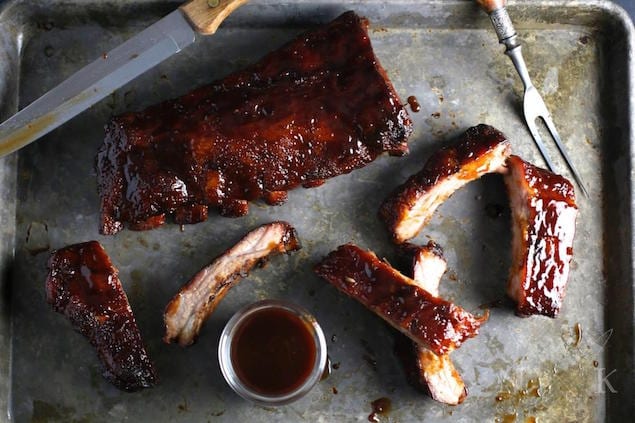 It turns out that you don't have to be a grill master to make perfect ribs because there is an easy, no-fuss technique that works every single time. The secret? Cook them in the oven. Yup. Ribs need to be cooked low and slow, preferably with moisture involved and the oven is a perfect place to make that happen. It's like magic!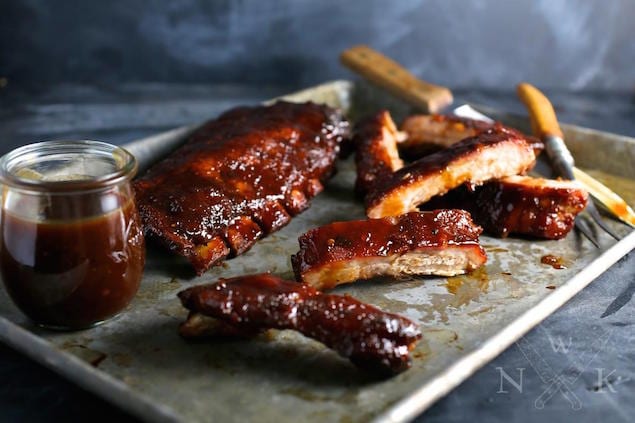 And speaking of magic. These might be the four most mouth-watering words in the English language; Spicy Bourbon-Honey Glaze.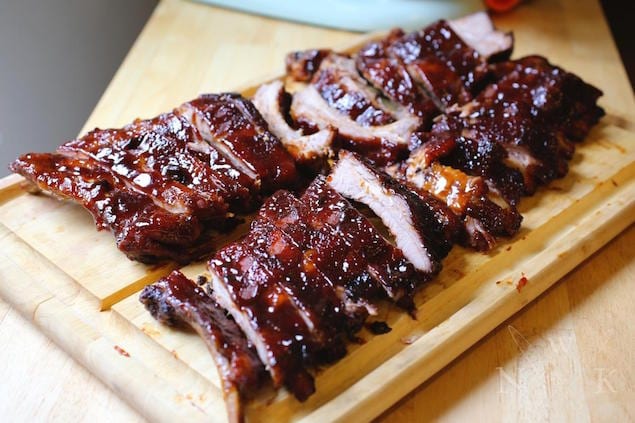 While not the quickest process in the world, the result is well worth it. My suggestion is to make more than you think you'll need because these go fast. They also make great leftovers.
TIPS:
Well-cooked rib meat will pull cleanly off the bone when you bite it, but will still have a little bit of chew, like tender steak.
We made our own rub but you could use your favorite store-bought kind. Keep the rub free from meaty hands so you can store the leftovers and use it on chicken, pork shoulder or your next batch of ribs. The rub will last for about 6 months or so.
If you don't have apple juice, you could use pineapple. Even water or stock would be okay.
We've had mixed results in removing the membrane from the back of the ribs. Sometimes it comes right off, sometimes not. Don't stress if you can't get it cleanly off. This video might help some.
If you want to make the ribs in advance, do the low and slow oven cooking, then refrigerate them. On the day you want to serve them, put them in a low oven (225ºF / 107ºC) for 20-30 minutes until they are warmed through and then follow the recipe for glazing.
You can glaze them in the oven or on a grill.
Here is more mouth watering rib inspiration: Ribs with Coffee-Honey BBQ Sauce.

Honey and Bourbon Glazed Ribs
Perfectly tender ribs are rarely made on the grill. Instead start the low and slow process in the oven and finish on the grill, if desired, with a sweet and spicy honey and bourbon glaze.
Ingredients
4 lbs pork baby back or spare ribs (about 2 racks).
8 oz apple juice
For the Dry Rub (or use a good store-bought rub):
2 tablespoons white sugar
2 tablespoons brown sugar
½ tablespoon ground mustard powder
½ tablespoon garlic powder
½ tablespoon onion powder
1 tablespoon paprika
1 tablesooon smoked paprika
1½ tablespoons coarse kosher salt
½ tablespoon cracked black pepper
½ tablespoon cumin
For the Bourbon-Honey Glaze BBQ Sauce
½ cup plus 3 tablespoons honey
½ cup bourbon (+ 1 tablespoon at the end)
3 tablespoons hoisin sauce
2 tablespoon Dijon mustard
1 tablespoon guachujang (optional, though if omitting, you might want more hot sauce)
1 tablespoon dark molasses
¼ cup ketchup
3 tablespoons cider vinegar
4 teaspoons soy sauce
3 teaspoons Worcestershire sauce
2 teaspoons Chili garlic sauce (like sambal or Sriracha)*
½ teaspoon ground black pepper
Instructions
For the Sauce:
Combine all the ingredients (except for 1 tablespoon of the bourbon) in a medium saucepan and bring to a boil. Lower the heat to a simmer and cook until reduced by ?, stirring often. Sauce should be dark and slightly thickened (about 20 minutes). Turn of the heat and stir in the last tablespoon of bourbon. Sauce can be made up to 4 days ahead and stored in the refrigerator.
For the Ribs:
Preheat the oven to 225º F. Remove the membrane from the back of the ribs. Slide a sharp knife under the white membrane on the back of the ribs and cut a hole into the membrane. Use your fingers to slide under the membrane and pull it away from the meat. Usually it helps to use a paper towel for extra grip. Remove all of the outer membrane and discard.
Pat ribs very dry with paper towels and cut each rack in half (to make them easier to turn later). Sprinkle a good tablespoon of dry rub on each side of the ribs and press until it's well-coated all over. (you should use about 4 tablespoons for 2 whole racks).
Lay a large piece of foil on a baking tray and place one rack on it, meat-side up. Fold up 3 sides of the foil to create a rim: pour half the apple juice into this pocket and then fold over and crimp the packet closed. Wrap the packet in a 2nd layer of foil. Repeat with the second rack. Cook for 4 - 4½ hours. The ribs are ready when you can pierce them easily with a fork. Remove the ribs from the oven and set aside. Unwrap the ribs carefully and place them on a baking tray, meat side up. (Ribs can be par-cooked the day ahead and refrigerated at this point. If making the day ahead, let the ribs cool for 20 minutes, then take them out of the foil and place in sealable bags and refrigerate overnight. Let them come to room temperature before the next step).
Notes
Ribs can be finished in the oven or on a grill. Turn the broiler on high (or prepare a grill with medium-high heat) and set an oven rack about 6 inches from heat. Coat the the ribs well with BBQ sauce. Place the ribs under the broiler or on grill and cook until the sauce just starts to bubble (4-5 minutes). Take them out and apply another coat of glaze and cook again until glaze bubbles and browns (Do not walk away while broiling! They can burn easily so watch carefully). Remove from the broiler or grill, cut the ribs and serve.
Emily Clifton
I love to cook and learn about food. I was born and raised in New York City and I was exposed to a lot of different food cultures as a kid though I was weirdly picky. I hated mashed potatoes but I loved kim chee. Hated fish, loved escargot. I said I was weird, don't judge me. My mom is a great cook but I definitely don't have any "passed down from grandma" types of recipes. Both my grandmothers were horrible cooks. I mean really, truly bad. I give my mom a lot of credit for knowing that string beans are not actually supposed to be gray. In real life I'm a film/TV editor which just might be the most fun job in the world. Occasionally it can be the most annoying job in the world which is why I really appreciate it when I get to take a break and do my other favorite things which is cook, take photographs and write.