A little over a year ago, Honest Cooking was born. Backed by 50 very ambitious food and wine writers, bloggers, chefs and photographers from across the globe – we were hoping to create a food and wine website that would be interesting, inspiring and inviting to anyone who was passionate about food, food travel and wine.
Today, Honest Cooking features almost 300 contributors from all corners of the globe – and our readership has confirmed that there is a place for a digital magazine like Honest Cooking. But now we're taking the next step – by launching Honest Cooking Spain – a spanish speaking edition of Honest Cooking.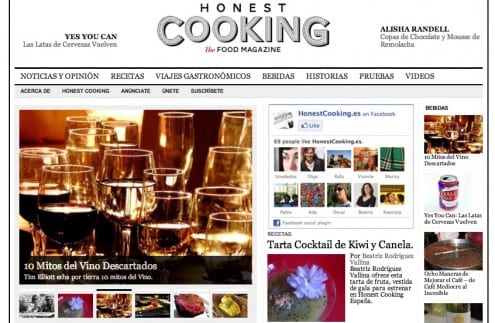 Honest Cooking Spain features many of the best articles from Honest Cooking, spiced up with lots of local food and wine content from Spain and Latin America. Ranging from recipes to travel and food news, our goal is to make Honest Cooking Spain as inspiring and exciting to spanish speaking foodistas as Honest Cooking is to our english speaking readers.
So, head on over to Honest Cooking Spain and get your latin flavors on!