PRESENTED BY FIJI WATER – SHARE YOUR OWN #HOMETOWNGUIDE HERE
Valerie Harrison exposed the best eateries in Kelowna, British Columbia.
By Valerie Harrison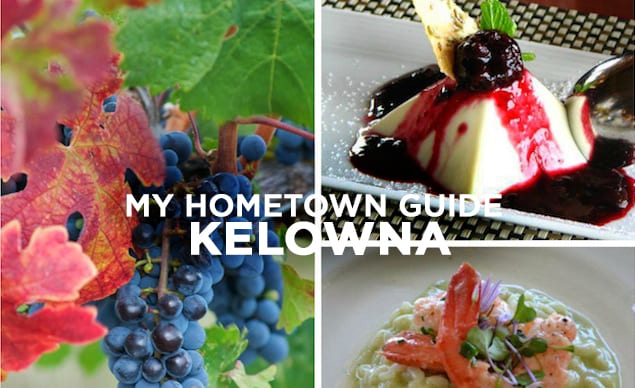 This is my hometown. Kelowna in the Okanagan Valley in the heart of the province of British Columbia.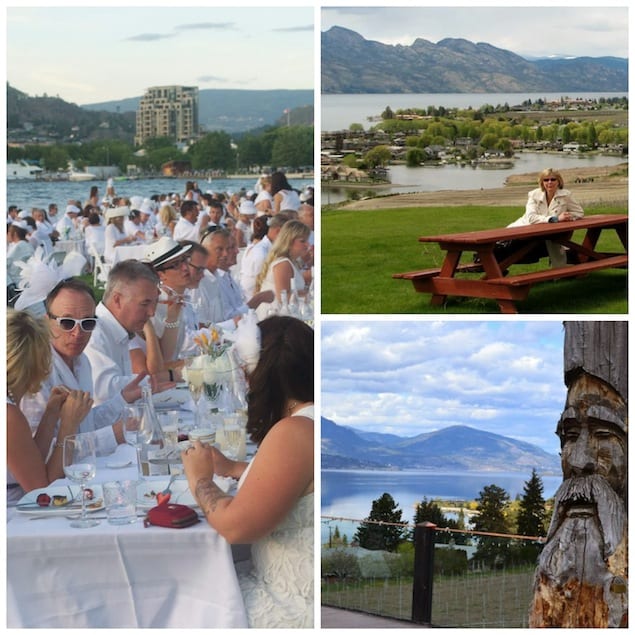 For those of you who read these pages you know I would never miss an opportunity to rave about the area where I live in the heart of wine country. The Okanagan Valley has been dubbed "The Napa Valley of the North" and is one of Canada's best kept secrets. When you live in a foodie mecca the biggest decision of the day was how to filter through the endless array of wineries, farm-to-table restaurants and foodie venues and narrow my choice to just 5. In the end it was an easy choice by just looking at my weekly routine. I head to most of these places at least once a week.
1. Mission Hill Winery and Terrace Restaurant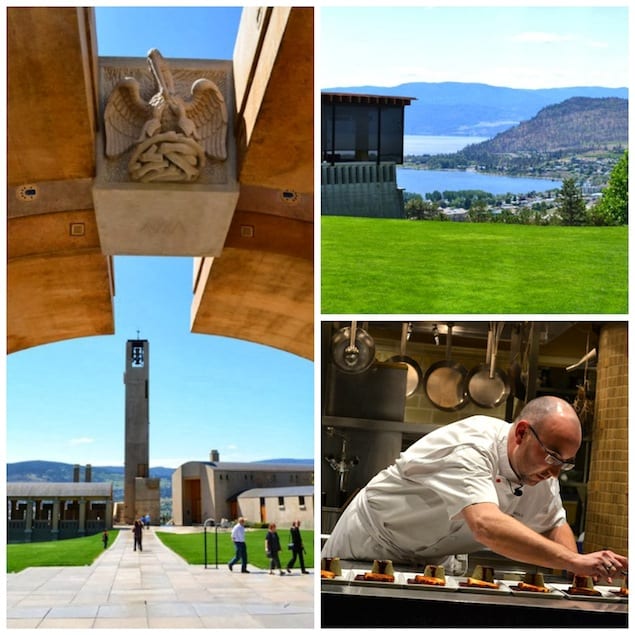 Mission Hill Estate Winery is situated in the heart of the Okanagan Valleys beautiful wine country. With over 200+ wineries in the valley I chose Mission Hill Winery because of its visually grand venue and diversity. It has so much to offer visitors cannot resist its draw and locals gravitate here throughout the year for tours and tastings. The beautiful grounds of Mission Hill are set high above Okanagan Lake and features Mission-style architecture dominated by a 12-storey-high bell tower overlooking the sweeping vineyards.
The winery also boasts an award-winning restaurant "The Terrace" that is open during the summer months that features dishes created by their creative team headed by executive chef Matt Batey that features local fruits and vegetables many of which are grown in the gardens right on the winery premises. The property also boasts an outdoor amphitheater for summer concerts, and of course a variety of Mission Hill wines available for tasting and purchase at the wine boutique.
Another outstanding feature of this winery are the demonstration cooking classes held throughout the year. I must admit to attending these classes whenever I have the opportunity. The chefs prepare each dish in their state-of-the-art Culinary Theatre where they readily share their expert knowledge about ingredients and techniques that are essential to the creation of great food. Each course is paired with premium Mission Hill wines or course.
Mission Hill Winery and Terrace Restaurant
1730 Mission Hill Road
Kelowna, British Columbia
Phone (250)768-6448
Website
2.Valoroso Foods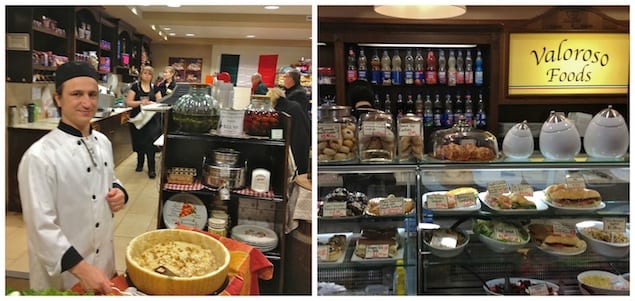 At least once a week I make my weekly journey to my hometown version of "foodie mecca," our local Italian grocers. Over the better part of the past few years Valoroso Foods has been expanding and upgrading and introducing many ingredients directly from all corners of Italy. They have always carried and introduced new lines of pastas, sauces, and ingredients that leave me weak in the knees and my mind spinning with recipe ideas. When I am searching for fresh ricotta, burrata, porcini mushrooms, figs, truffles, or a myriad of other products this is my "go to" place to find those longed for ingredients to add "gusto" to my cooking. My kitchen cupboards are overflowing with pasta of every shape and description, but, as I wander the aisles at Valoroso I am hypnotized, "What is one more?"
Besides access to an endless variety of cheeses and charcuterie, each day Chef Pietro and the ladies tease us with mouth watering dishes made from local ingredients. Italians are known for taking 'simple' dishes and basic ingredients to the height of perfection which is easy to do with quality ingredients. Grab a stool at their counter and enjoy an afogatto or espresso, or a myriad of tempting and unique salads, sandwiches, pizzas, and main dishes. Perfect for packing a picnic lunch to enjoy the beaches and parks of the Okanagan Valley too.
Valoroso Foods
1467 Sutherland Avenue
Kelowna, British Columbia
Phone (250)860-3631
Website
3. Carmelis Alpine Goat Cheese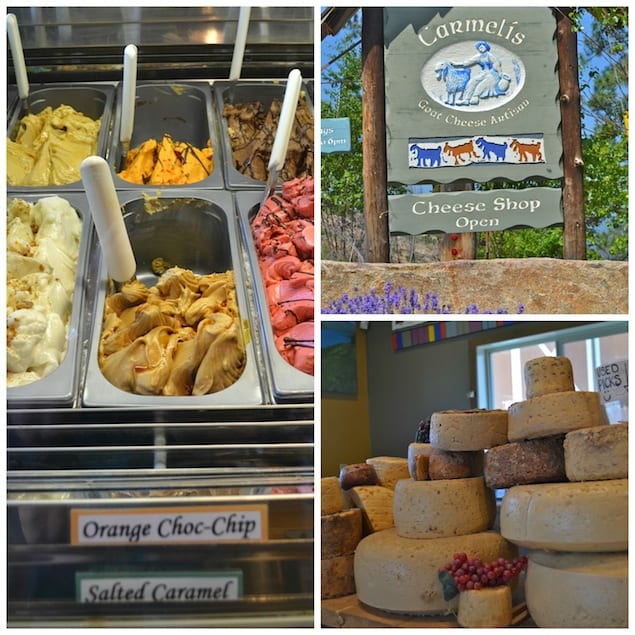 Once Spring arrives one of the first things to do is make my first annual sojourn to Carmelis Alpine Goat Cheese here in Kelowna. The drive to this family owned boutique dairy is up the side of the mountain with a jaw-dropping view of Okanagan lake and the city. I always bring my camera to take photos of the vista of undulating vineyards while saving some shots for the goats too since they are responsible for the array of over 20 cheeses you can sample. The reasons for the large selection of cheeses is that different recipes have been developed for different times of the year to take advantage of the changing seasonal qualities of the milk.
Besides cheese they have over 24 flavours of gelato. Goat cheese gelato is easier on the human digestive system than cows milk so 8 out of 10 lactose intolerant people can rejoice. All of their gelato is handmade on the premises. Some is made with fresh Okanagan fruits and some with the addition of flavourings from Italy. They have flavours like Sour Cherry, Italian Pistachio, a true Canadian Maple Walnut, Tiramisu and my personal favourite Salted Caramel. Your heart will melt.
Carmelis Alpine Goat Cheese
170 Timberline Road
Kelowna, British Columbia
Phone (250)764-9033
Website
4. Okanagan Grocery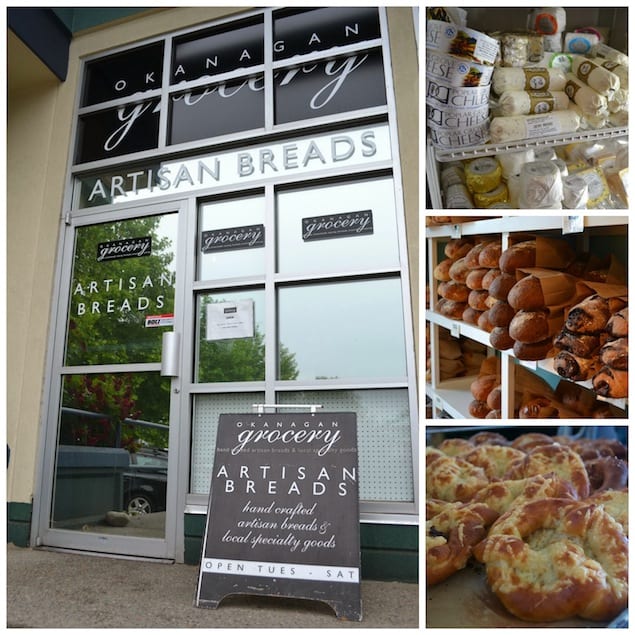 This tiny Kelowna bakery opened in 2004 and has risen to the ranks of one of the best. Anyone who has ever bitten into a flaky, buttery croissant from Kelowna's Okanagan Grocery, with or without chocolate, or a perfectly crusty-on-the-outside-chewy-on-the-inside artisan loaf such as baguettes, alpine loaf, heavenly brioche, Callebaut Chocolate loaf, or rosemary focaccia cannot deny baker Monika Walker's mastery of the art of baking. The Queen of Bakers also has specialties each week such as fragrant potato and scallion sourdough and peanut butter and jelly loaf. Also on hand are an array of ever-changing dessert choices such as creme brûlée, rice pudding and lemon tart.
Monika is the high priestess of bread in Kelowna, and luckily for us rookies and home bakers she offers bread baking classes that are a perfect blend of fun and insider secrets. I learned the secrets of making buttery croissants as well as an artisan loaf baked in their state of the art kitchens at their second location.
Okanagan Grocery also carries gourmet cheeses, soups and stocks, artisan jams and preserves, oils and vinegars from local artisans and producers.
Okanagan Grocery
2355 Gordon Drive and 115 – 1979 Windsor Rd.,
Kelowna, British Columbia
Phone (250)862-2811 and (250)868-9429
Website
5. Waterfront Wines
Kelowna has more than its share of world class farm-to-table restaurants that my friends and I are privileged to enjoy. To choose the "best of the best" however was not a hard decision. High on my list is Waterfront Wines owned by one of the Okanagans top chefs Mark Filatow who combined his vast culinary talent to create this gem. Not only is Mark an exceptionally talented chef, he is also certified by the International Sommelier Guild which allows him to retain an extraordinary wine list and create perfectly paired dishes. The list of accolades and awards for both chef and restaurant would have you scrolling down much further on this page, but you can read about it on their website.
Under the direction of Chef Mark Filatow the restaurant offers a fresh, continually evolving seasonal menu which reflects all that the Okanagan has to offer with international influences and hand-made care. You have the joy of pairing your dishes with wines and unique craft beers from their stock of over 300 local and international wines.
The restaurant blends the bounty of the Okanagan with a smart, sleek, and funky vibe making Waterfront Wines one of the top places to gather in Kelowna for visitors and locals alike. Many of the events I attend throughout the year are beautifully catered by their catering company as well.
Waterfront Wines
1180 Sunset Drive
Kelowna, British Columbia
Phone (250)979-1222 Ext 2
Website