PRESENTED BY FIJI WATER – SHARE YOUR OWN #HOMETOWNGUIDE HERE
Explore Penang, the food capital of Malaysia
By Shannon Lim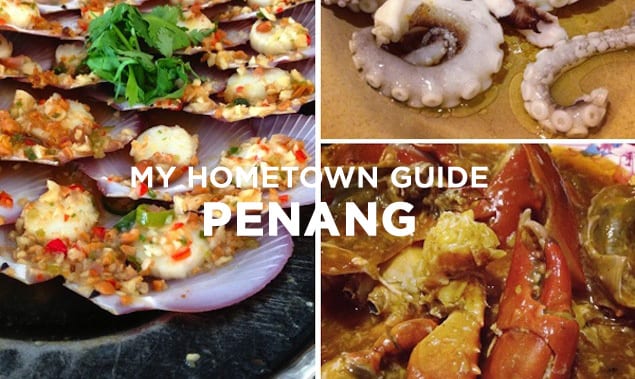 Penang is indeed the food capital of Malaysia – renowned for its street food (called "hawker food" here in Malaysia) – dishes prepared and served by hawkers (specialists) from mobile carts on the street and in kopitiam (coffee shops). Malaysians in general are obsessed with food, and it's clearly seen in the 24-hour eateries packed customers way past midnight.
Mention a Penang dish that you've tried in other places to a fellow Penangite, and the response may be a look of theatrical horror. Penang is where you come to try the real thing: flavours are brighter, textures are more distinct and lightness is prized. Simply put, there's a very good reason why visitors come to Penang just to eat, and end up having indigestion from overeating at the end of the trip.
The best food spots are usually hidden gems, so always ask the locals where these awesome little places are – filled with locals, interesting personalities, great food and amazing stories.
1. Ban Chien Kueh (Peanut Pancake) Stall at Taman Free School Market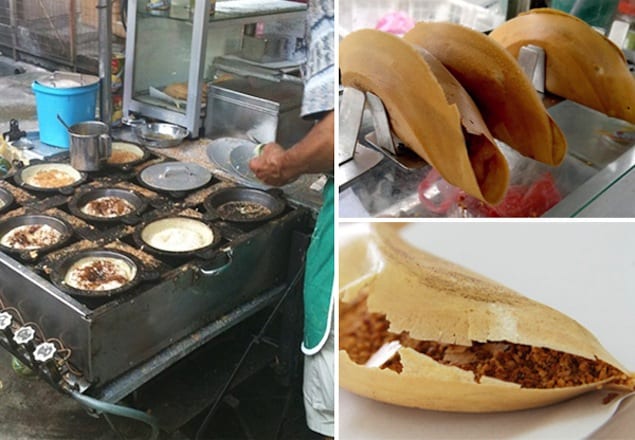 http://www.foodspotting.com
Sometimes the simplest things in life turn out to be a gem. Just a stone's throw away from my childhood home, is the famous Ban Chien Kueh at Taman Free School market. It's a crispy pancake made by layering the batter over a hot griddle and filled with generous amount of roasted ground peanuts and sugar. Other choice of fillings include sweet corn or egg. I always watch the stall owner with awe, he's able to remember all the non-stop customized orders: sweet corn; egg; no crispy sides; no sugar or with brown sugar. My favourite combo: no sugar with sweet corn. It's best eaten on the spot when it's still fresh and hot. After the morning session is over, the owner then starts his other stall at Medan Selera (Food Court) Taman Free School from 4pm to late night.
Ban Chien Kueh Stall
Taman Free School Market
Taman Free School
10460 Penang
2. Swee Garden Seafood Restaurant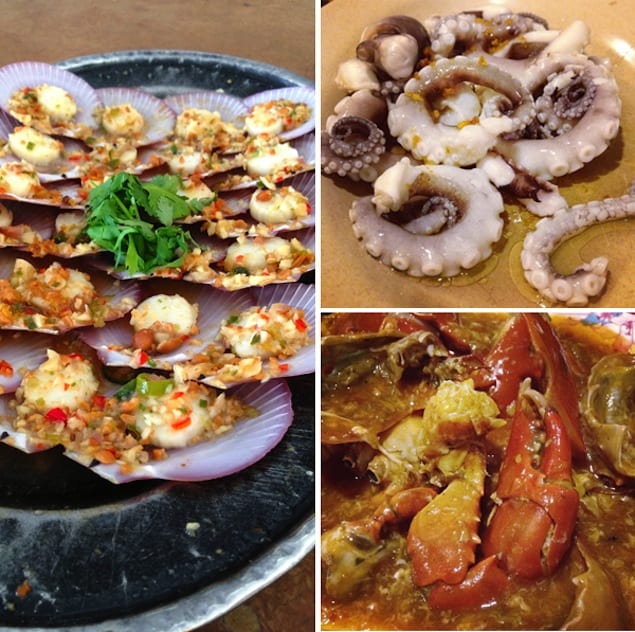 Being born and raised in Nibong Tebal (south of Seberang Perai) before moving to Georgetown at age 7, the specialty foods of Nibong Tebal always hold a special place within me. Known for it's seafood dishes, the restaurant I enjoy going in Nibong Tebal is Swee Garden Seafood Restaurant. The must order dishes for me are Crab Porridge, Tu Bo Sing (Boiled Baby Octopus with Garlic Oil) and Steamed Scallops with Garlic and Chilli. Don't miss out ordering the refreshing umbra (kedondong) juice by the jug. Among other popular dishes are Crispy Pork Knuckles, Sweet & Sour Crab, Asam Prawns and Steamed Fish. Don't be surprised to see dining crowds in between lunch and dinner hours, so be there early to avoid long waiting time.
Swee Garden Seafood Restaurant
No 1, Jalan Punai
14100 Nibong Tebal,
Seberang Perai, Penang
Phone (604)593-4768
3. Mee Goreng Stall at Kedai Kopi Swee Kong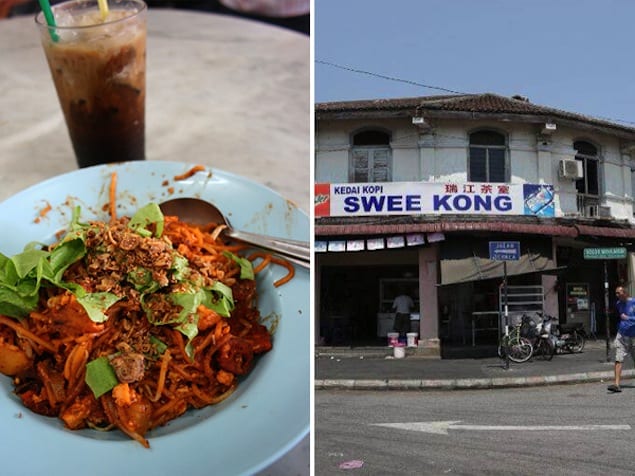 After a morning hike at Youth Park, our usual breakfast place is Kedai Kopi Swee Kong in Pulau Tikus. My preferred dish, without fail, will be Mee Goreng (Fried Noodle), an Indian Muslim style Fried Noodle with sweet tangy thick tomato gravy mixed with lime juice. The Mee Goreng here is to die for. I just found out that the man who has been running the stall, has recently passed away and now his son (the 3rd generation) runs the stall. This young man's cooking is even better than his dad's, and will no doubt bring in more business. The stall also serves a delicious Mee Rebus (blanched noodles topped with thick spicy potato-based gravy, hard-boiled egg, bean sprouts and fried bean curd). If you are still hungry after a plate of mee goreng, there are also other good dishes at the kopitiam to try – Hokkien Mee (usually sold out by 9am), Wantan Mee and Apom.
Mee Goreng Stall at Kedai Kopi Swee Kong
Solok Moulmein
Pulau Tikus
10250 Penang
4. Air Itam Market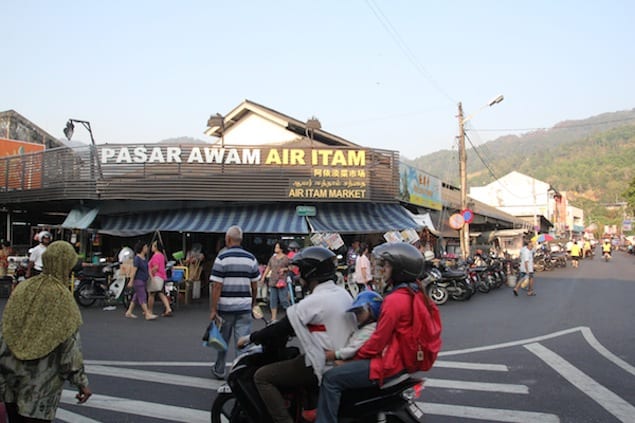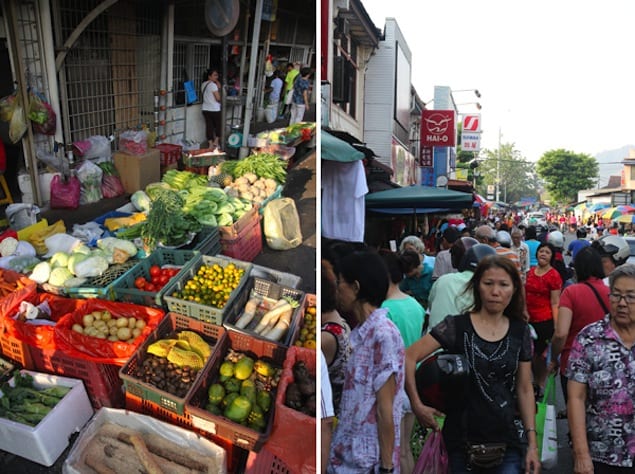 The Air Itam Market, one of the most popular wet markets in Penang, has been around for many decades. In the early years when the place was still a rural village, farmers brought their fresh vegetables from their farms on the hill to the valley below, back then known as Ayer Itam. Today the Air Itam Market is a congested, but fun place to do your grocery shopping. It has a huge variety of produce and things available for sale, even reptiles such as the python (near the junction to Ayer Itam Methodist Church). The main market building is located at the junction of Jalan Air Itam and Jalan Pasar, with stalls lining along the sides of both roads. As with most markets, this one has plenty of hawker stalls selling street food. The most famous is the Ayer Itam Asam Laksa and Lim Sisters Curry Mee.
Air Itam Market
Junction of Jalan Air Itam and Jalan Pasar
Air Itam, 11500 Penang
5. Penang Road Famous Teochew Chendul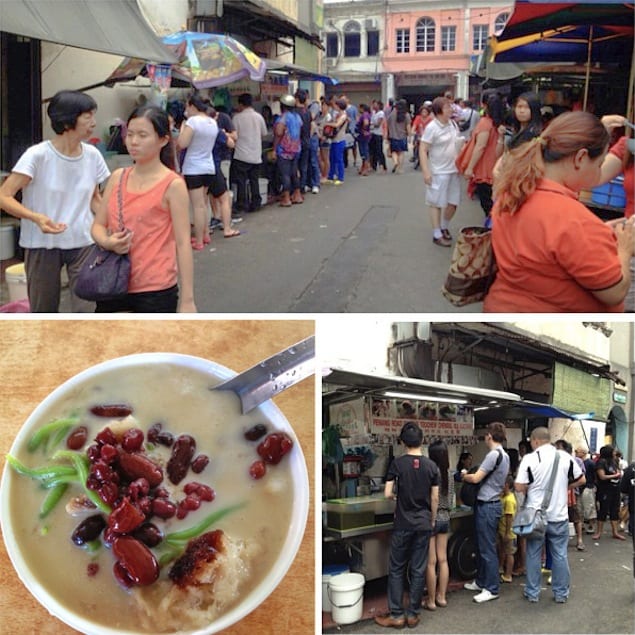 The Penang Road Famous Teochew Chendul stall at Keng Kwee Street remains probably the most popular Cendol stall in the country. It is located next to Joo Hooi Cafe, the coffee shop famous for its Penang Asam Laksa. Cendol is a dessert consisting of shaved ice, Gula Melaka (palm sugar syrup), coconut milk, kidney beans, and Cendol – little green pandan-flavored worm-shaped rice flour noodles. In addition the stall also sells ice balls and Ais Kacang. During weekends or public holidays, the street will be packed with out-of-town visitors or tourists, forming long queues under the hot sun waiting for their bowl of ice cold treat. It still baffles me to see the queue because the stall has opened various outlets. Even though you can have the cendol in the comfort of the air-conditioned shop owned by the operator, customers still prefer slurping their bowl of delicious Cendol on the street. While you are waiting for your order, try a bowl of hot piping Asam Laksa from Joo Hooi Café. My tip: Take away cendol (same price as dine-in) are twice the size of the bowl served at the stall. But remember to bring a cooler bag as the ice melts fast under the Malaysian heat.
Penang Road Famous Teochew Chendul Stall
No. 27 & 29, Lebuh Keng Kwee, 10100 Penang, Malaysia
Telephone: 04-261 8002
Website