PRESENTED BY FIJI WATER – SHARE YOUR OWN #HOMETOWNGUIDE HERE
Tacoma is a culinary goldmine. From cheap eats to the upscale, the diversity of the cuisine featured in many of Tacoma's restaurants is as outstanding as is the quality.
By Kimberly Killebrew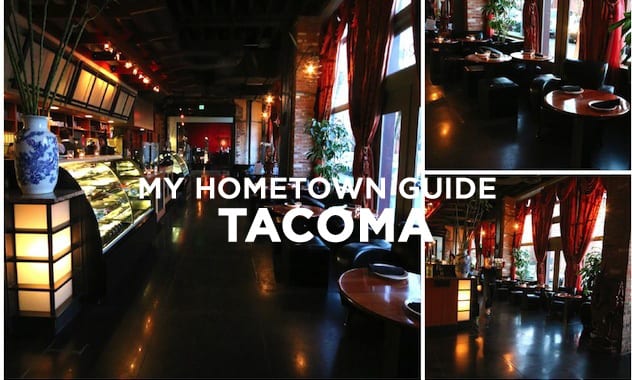 If there were time and space I'd love to include all of my favorite Tacoma eats in this post. But for now I'm going to share just five of them with you – five great eats that I recommend to anyone visiting Tacoma. All very different, all very good, all affordable.
So let's get back to Tacoma where I'm going to focus on…FOOD, of course! I'm going to walk you through each restaurant so you can get a feel for it visually and then we're going to talk…you got it – FOOD! For this post, my husband and I visited these restaurants with camera in hand so we could share our experience with you.
1.Dirty Oscar's Annex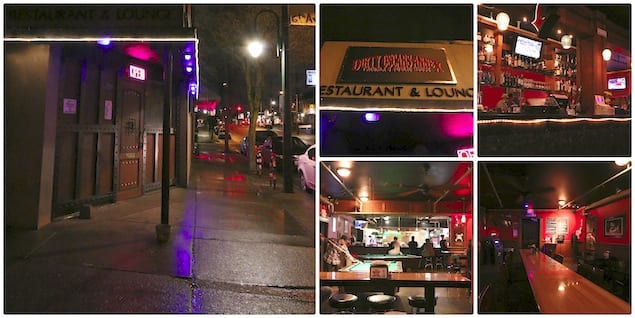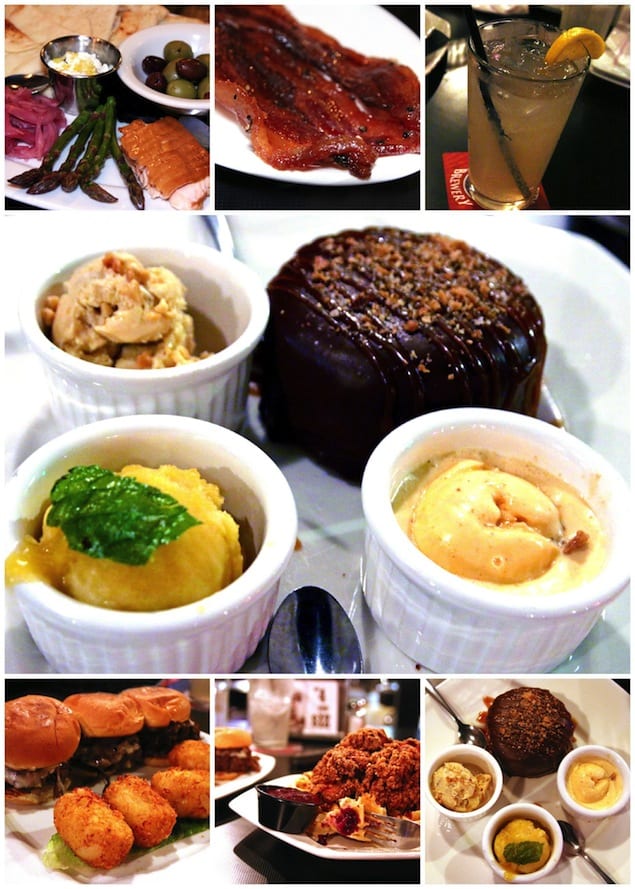 There, on a dark corner, in the dark shadows of a streetlight – its sign barely visible to the passerby – sits Dirty Oscar's Annex. But despite foregoing much in the way of sidewalk advertising, this place packs a crowd and has caught the coveted attention of The Food Network. Featured last Spring on the popular "Diners, Drive-ins and Dives" series, Dirty Oscar's Annex was showcased along with two of it's fabulous dishes: Tasso Tacos and Parmesan Tots. Specializing in New American Cuisine, DOA (as it's nicknamed) features an eclectic menu. What'll it be tonight? The pork medallions with roasted fingerling potatoes, crimini mushrooms, caramelized onions and citrus mustard, or the Dead Elvis Burger complete with candied peppered bacon, fried banana, over-easy egg, creamy peanut butter and mayonnaise?
For starters we had one of their featured specials, the Salmon Platter, featuring smoked salmon, lemon chevre, pickled asparagus and red onions, kalamata and black olives, and grilled naan. We also ordered a serving of DOA's famous Bacon Candy. The only description on the menu: "It's addictive." And once again, they're right. Both were outstanding.
In case you're wondering why I've included a picture of a glass of lemonade, let me explain. In most restaurants you go to, the standard non-alcoholic offerings are…you guessed it – soda pop. What would you like tonight with your Veal Scallopini? Root beer, Coke, Fanta, Sprite, or Lemonade? (And that's soda fountain lemonade). It was nice to see something else available: Sparkling Ginger Lemonade. It was refreshing with just the right touch of ginger to tingle our taste buds through each course.
For our entrees we chose the Elk Sliders with some of those famous Parmesan Tots and the Fried Chicken & Waffle. The Elk Sliders feature braised and shredded elk shoulder piled on toasted slider buns and topped with Havarti cheese and roasted garlic aioli. The Fried Chicken & Waffle consists of three pieces of thickly breaded buttermilk chicken sitting on top of a bacon-stuffed waffle (because you can never have enough bacon – never!) sprinkled with powdered sugar and served with fresh mixed berry jam and maple syrup. The Elk Sliders are deliciously tender and full of flavor and the Parmesan Tots were awesome – like croquettes, they're about 2 inches long and an inch wide with a perfectly crispy exterior and soft and fluffy interior.
And then there was the dessert. We had their Chiffon Cake with Chocolate Ganache, Mixed Berry Filling, Walnuts and Sea Salt Caramel with their three featured ice cream flavors: Peanut Butter Banana, Sriracha Vanilla Ginger, and Pineapple Papaya Basil (sorbet). I swear the layer of chocolate ganache on the cake was like 10 inches thick and I enjoyed the sensation of my teeth sinking into that rich chocolately goodness with each bite. The ice cream was amazing. The banana was so fresh and vibrant, the sriracha packed a K.I.C.K., and the addition of fresh basil in that refreshing pineapple papaya sorbet was fabulous and our personal favorite.
Dirty Oscar's Annex is a great option when you want to throw on your jeans, let down your hair, and enjoy some great, creative food.
Dirty Oscar's Annex
2309 6th Ave, Tacoma, WA 98403
Phone (253) 572-0588
Website
2. Indochine – Asian Dining Lounge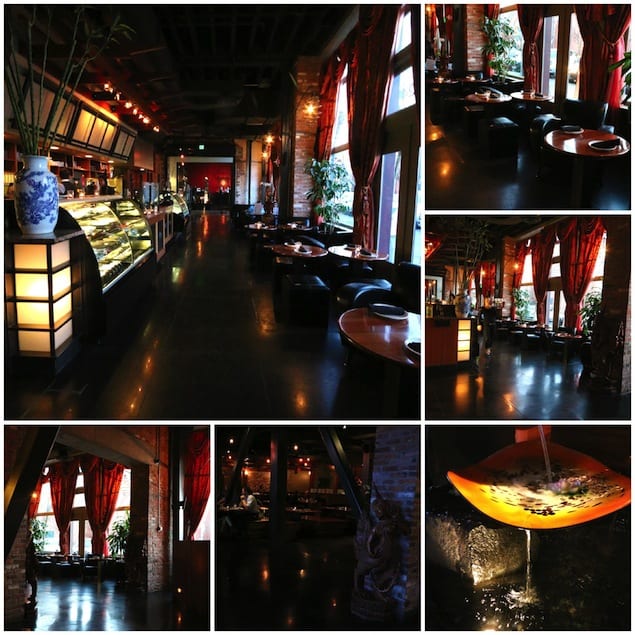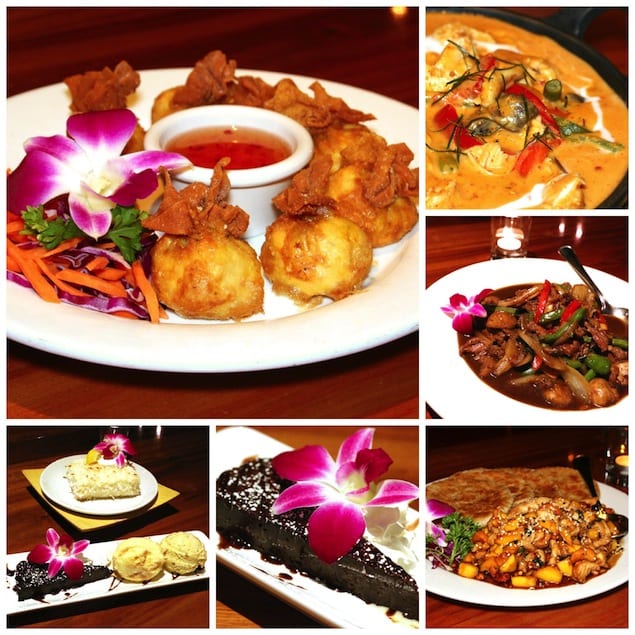 Situated in the heart of downtown Tacoma's cultural center, Indochine should be a landmark. While the atmosphere is jaw-droppingly majestic and beautiful, the prices – thankfully – don't reflect that. Indochine is a family-run establishment and the owners, Ly and Russel, and the staff are friendly, warm and gracious. The story of the family is as compelling as their restaurant. Having fled Cambodia in 1979 to avoid the mass genocide, Ly's family ended up in Thailand where they were sponsored by First Baptist Church of Federal Way, a town just 12 miles north of Tacoma, and eventually settled in the safe harbors of the Pacific Northwest where her parents opened up their first restaurant. Though having studied fashion in Paris, Ly's passion is food, which is evident in every item on the menu. While Ly is creative force behind many of Indochine's dishes, her husband Russel, who left a successful career in software to join the family in establishing the restaurant, is the artistic mastermind behind Indochine's construction. Their united talents and dedication have resulted in an eating establishment that is truly remarkable both in taste and appearance. Both mind, heart and soul has gone into its making.The Crab Wontons are stuffed with Dungeness crab, cream cheese, cilantro and garlic and are served with sweet chili sauce. Delicious! As for the Toasted Sesame Chicken Wraps, let me just say that the title doesn't even begin to do this dish justice. Tender chicken is tossed with roasted whole cashews, peanuts, fresh mango and Thai basil in a drippingly delicious caramelized sauce. More like buttery puff pastry than anything else, they're a culinary masterpiece. And even though this was only the starter – and a very large one at that – with two more courses to come, I couldn't resist scooping up every last morsel and lapping up every last drop.
For our entrees we had the Panang Chicken Curry and the Spicy Basil Beef. The Panang Chicken Curry featured a luxuriously creamy peanut-based red curry sauce topped with aromatic kaffir lime leaves. The flavor was wonderful and we chose some jasmine and saffron rice to accompany it. My husband chose 4 out of 5 for the heat level, so I wasn't able to indulge as much as I would have liked. The Spicy Basil Beef was sublime. A Thai-inspired dish featuring fresh seasonal vegetables cooked to perfection with just the right amount of "crisp" and tender spicy beef in an ultra-flavorful hot basil sauce.
Finally, the dessert. There was barely enough room left for it, but we couldn't leave without sampling the sweet side of Indochine. We tried the Nemesis Flourless Chocolate Cake with Gelato (we tried two flavors) and the Lemon & Coconut Cake with Coconut Creme. Both were delightful and we especially loved the ice cream. Indochine makes all of their gelato in-house. And they have quite the selection! We tried their Salted Caramel and Pistachio gelatos. Outstanding. It was the final touch of the royal treatment we had enjoyed in the form of a stunning atmosphere and exquisite food
If you want to experience a touch of the majestic along with the best Asian food you've ever tasted, you're going to have to come to Tacoma. Because that's where it is. Indochine.
Indochine – Asian Dining Lounge
1924 Pacific Ave, Tacoma, WA 98402
Phone (253) 272-8200
Website

3. Katie Downs – Waterfront Tavern & Eatery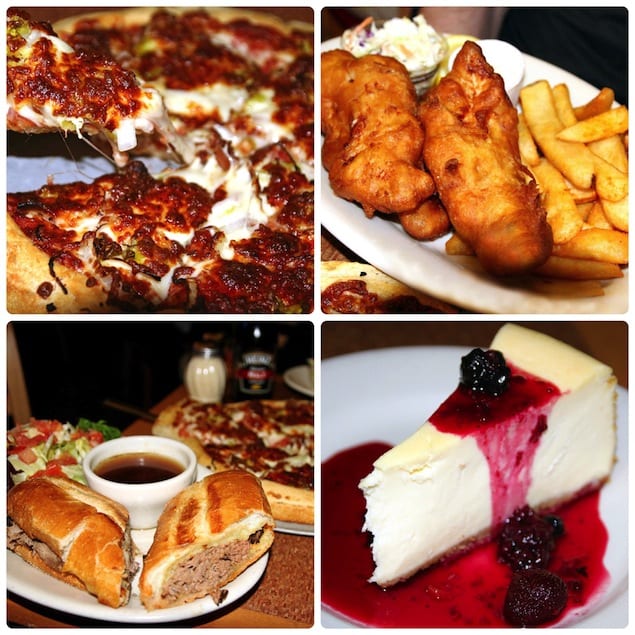 Katie Downs is beautifully located in Tacoma's waterfront district on Ruston Way. Literally hovering over the water, Katie Downs offers views of the Olympic and Cascade mountains as well as Puget Sound. The place to come if you want to be re-energized, Katie Downs is always lively. It's been noted, "it's always noisy, so if you want quiet go somewhere else." Not your average bar food, Katie Downs offers a nice selection – everything from its award-winning pizza to gourmet burgers and sandwiches, beer-battered fish and chips, grilled steaks, fresh calamari and salmon, a wide range of appetizers, and a variety of healthy salads. We were starving when we arrived at Katie Downs. And we were really craving some good "comfort food." We skipped the appetizers and dove straight into the entrees. Todd ordered Fish & Chips, which has been a favorite of his ever since living in England for 2 years as a young adult. Beer-battered and accompanied with steak fries and malt vinegar, Todd gave it a thumbs up. He's super picky about his fish and chips and really enjoyed these. I ordered the French Dip which was everything a good French dip should be and we both inhaled our comfort dishes while waiting for the final entree. I know what you're thinking, but we couldn't leave without sampling their award-winning pizza! You can either order a custom-made pizza with all the toppings and combinations of your choice, or you can select from some Katie Downs' classics. We chose the one called "Fearless"! Complete with red sauce, smoked bacon, white onion, fresh garlic, provolone cheese (and lots of it!), pepperoncini peppers, and a fabulous crust.
Katie Downs – Waterfront Tavern & Eatery
211 Ruston Way, Tacoma, WA 98402
Phone (253) 756-0771
Website
4. Savor Creperie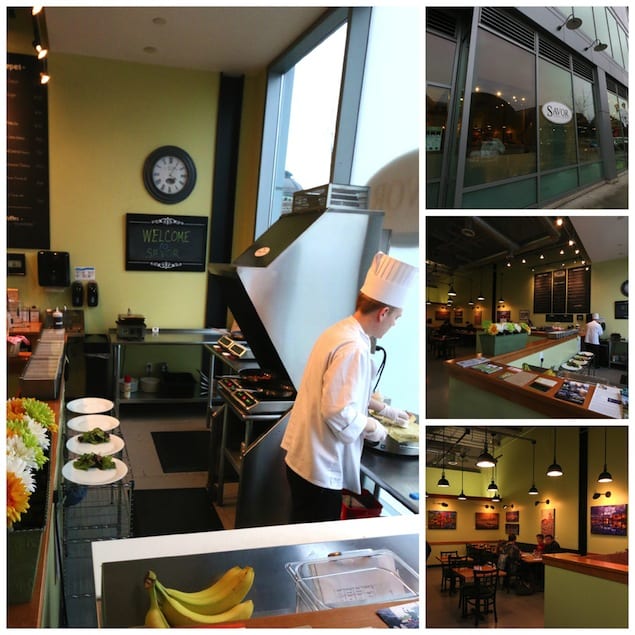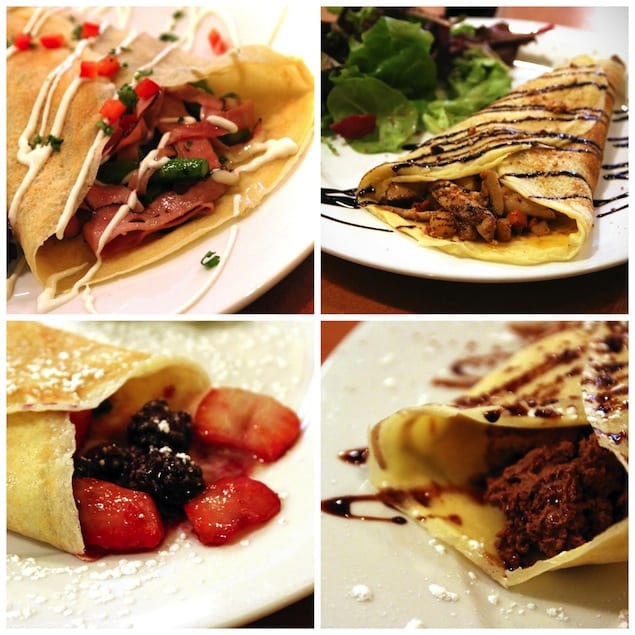 A touch of class in the heart of Tacoma. Standing just across the street from the Tacoma Glass Museum, Art Museum, State History Museum, and the historic Union Station Courthouse, Savor Creperie is worthy of its prime location. The flavors and ingredients all beautifully composed and balanced. Here are just a few examples you can enjoy through the palate of your imagination: Maple Roasted Butternut Squash, Stilton Cheese, Candied Hazelnuts, and Fresh Thyme. And what about Leek, Apple, Chicken Fennel Sausage, Goat Cheese? Or how about Shredded Pork, Mushrooms, Cabbage Slaw, Hoisin Sauce? The list of deliciously creative crepes goes on and on. And then there's the dessert list. How about Crème de Coconut with Mango Lime Sauce? Or Strawberry with Brown Sugar Pecan Crumb and Vanilla Crème Fraiche? Looking through the menu is like reading poetry! In addition to the rosemary chicken crepe described above, we tried the Ham, Roasted Asparagus and Gruyere with Dijon Crème Fraiche and the Smoked Salmon with Boursin, Tomato, Red Onion, Chives and Capers. For the dessert crepes we tried the following: Bittersweet Chocolate Whipped Cream with Mocha Sauce and Mixed Berry with Ginger and Mascarpone Cheese.
And though I haven't tried them yet, Savor Creperie also features real Belgian Waffles. Liege waffles are made with an elastic yeast dough, not the watery waffle batter we're used to here in the U.S.. I've heard wonderful things about Savor's waffles and look forward to trying those next.
At first sight, Savor Creperie may seem a little intimidating with its modern chic design and professionally dressed staff, but the moment you walk in you realize you're in a warm and welcoming environment with a staff that delivers prompt and friendly service. And the crepes are simply delicious. Tom Vigue's culinary creativity is fun and inspiring. The first thing you see on the wall in front of you as you walk through the front door is the sign inviting you to SAVOR. And savor we did. Every last bite.
Savor Creperie
1916 Pacific Ave, Tacoma, WA 98402
Phone (253) 365-5534
Website
5. Frisko Freeze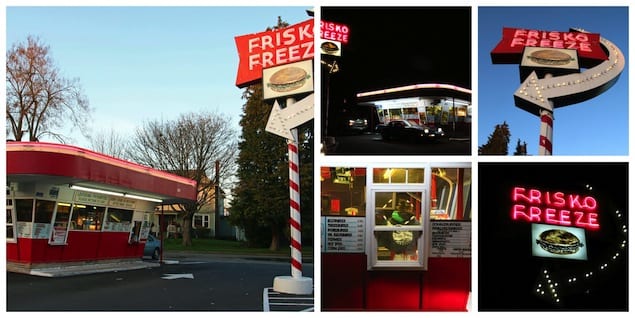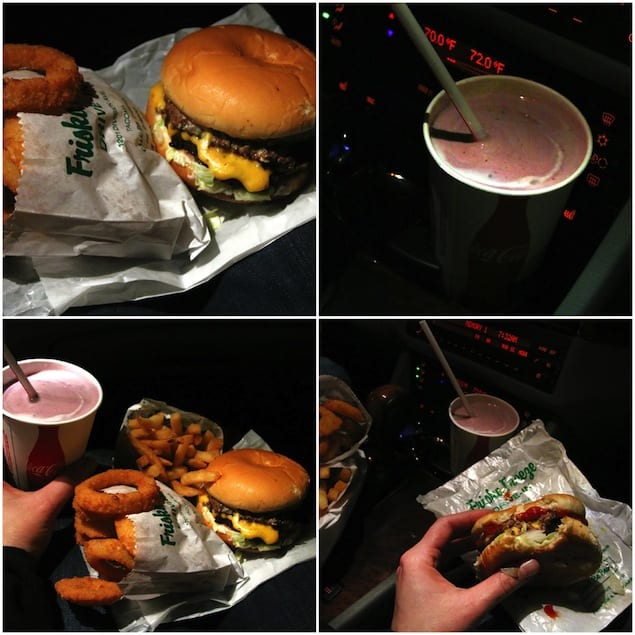 Like a scene from "Happy Days", Frisko Freeze is a slice of Tacoma history. A nostalgic landmark that every Tacoma resident knows, this iconic fast food joint has been here since 1950 and continues to operate as a eat-in-your-car drive-in burger joint. And in 2008 Frisko Freeze earned a place in the Tacoma Register of Historic Places. Featuring classic burgers, large servings of onion rings and fries, and delicious milkshakes, Frisko Freeze is the place to grab some food when you're in a hurry or when you're taking a leisurely drive through downtown and don't want to get out to eat. Or it's the place to go if you're in the mood to take a walk down memory lane. It's the perfect date in combination with a visit to the LeMay classic car museum just down the street across from the Tacoma Dome.
We each ordered a double cheeseburger, onion rings, fries, and blackberry milkshakes. Marshall McClintock, the North Slope Historic District board president, commented on the cultural significance of 1950?s drive-in joints: "One of the things I discovered was that walk-up food stands are different from the drive-ins. There were plenty of ice cream parlors, but they were designed on the model of sit-down restaurants. Walk-ups like Frisko Freeze kind of provided teenagers and young adults with ultimate freedom. There was little supervision, and far greater freedom than other venues. You got your food and went back to your car. That was one of the reasons they were so popular — no one was telling you how to behave."
Todd and I chomped down happily on our burgers and sipped our milkshakes while Johnny Cash wailed from the speakers of Frisko Freeze. For the drive home we turned on our 50?s playlist and sang along to Fats Domino, Jerry Lee Lewis, The Everly Brothers, Bobby Darin, Sam Cooke, and The Platters.
Frisko Freeze
1201 Division Ave, Tacoma, WA 98403
Phone (253) 272-6843