PRESENTED BY FIJI WATER – SHARE YOUR OWN #HOMETOWNGUIDE HERE
Get the honest truth about the best eat and drink establishments in Buenos Aires.
By Allie Lazar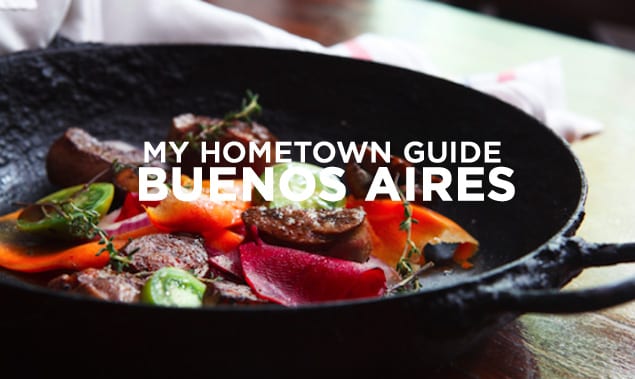 "What's the best restaurant in Buenos Aires?" I probably get asked that impossible question at least once a day, and will never be able to answer in a concrete way. It's like I'll always be on that endless quest to find the great Buenos Aires edible and drinkable spots. In a city with an infinite amount of restaurants, bars and everything in between, there are countless hidden gems, restaurants openings, cafés closing down, cooks improving, and kitchens getting worse one steak at a time. But all this rambling aside, and although my choices will probably change tomorrow, I can provide a list of my favorite Buenos Aires eats for a handful of food situations.
1. Parrilla (Steakhouse)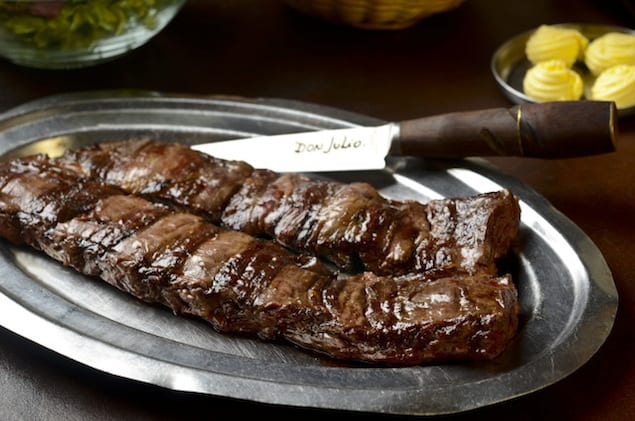 Don't just roll up to any meat den, order a random cut on the menu, and expect to be served the steak of your life. Do your carne homework, know the best cuts, and how you want each cooked (jugoso!). Classic Palermo Soho steakhouse Don Julio's entraña (skirt steak) makes dreams come true as does their bife ancho (prime rib) with a goat cheese provoleta (grilled cheese) on the side and a beautiful bottle Lagarde's Henry Gran Guarda No 1 a blend. Now that's a perfect dinner in your mouth. (Photo by Don Julio)
For years Congreso's Parrilla Peña has been my top pick for a no frills parrilla, going with friends or out of town guests for a casual meat-ing (get it?) in a very local setting. Get your cheap bottle of Malbec comfortable on the table before ordering a bife de lomo (tenderloin), chorizo sausage, and French fries.
Don Julio
Guatemala 4691, Palermo Soho
Phone +54 11 4832-6058
Website
Parrilla Peña
Rodriguez Peña 682, Congreso/Recoleta
Phone 11-4371-5643
2. Casual Contemporary Argentine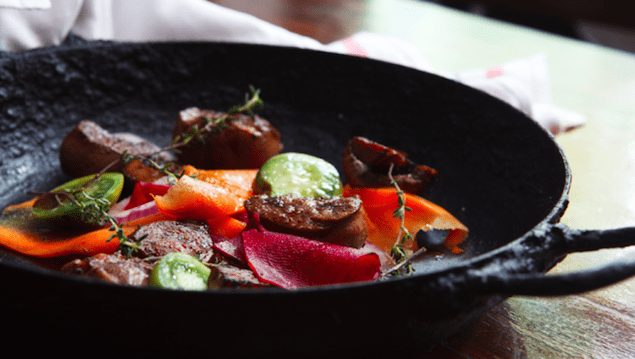 A few years ago it wasn't common to find a restaurant that served modern Argentine food. But in the lack of variety sea of Buenos Aires dining, Las Pizarras made for an exception using market fresh ingredients to create a seasonal menu of simple yet creative dishes — all in an informal bistro setting. The hardest part of the night is awkwardly studying the chalkboard (and whoever sits underneath) to choose what to order. (Photo by Las Pizarras)
2013 restaurant newcomer Astor follows a similar model of seasonal cooking, in a more elaborate way, combining multiple cooking techniques to make dishes that play with flavor combinations, temperatures and textures. Go with a group of 4 or more, request the round table, and order one of everything to share, or dine solo at the bar getting down with a tasting to sample the whole menu.
Las Pizarras
Thames 2269, Palermo Soho
Website
Astor
Ciudad de la Paz 353, Colegiales
Website
3. Porteño Cuisine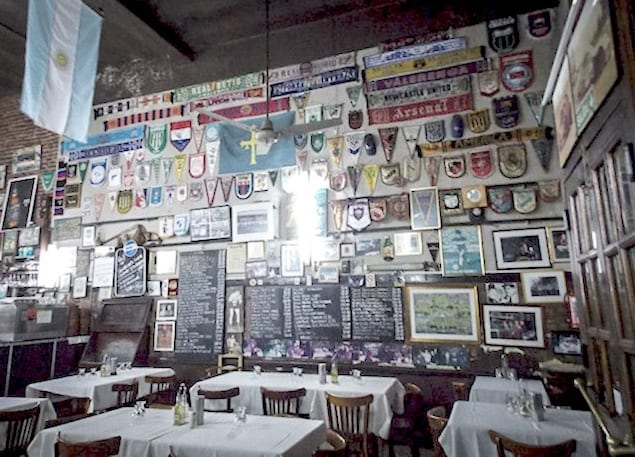 Buenos Aires certainly has it's own style of food, famed for several popular dishes influenced by the parrilla, along with Spanish and Italy immigrant cooking to form a strong tradition of porteño cooking. El Obrero in La Boca has been a Buenos Aires food landmark, where since 1954, the menu hasn't changed one bit (except the prices, of course). The bodegón (porteño cantina) is decorated with fútbol jerseys where regulars get down with tortilla española stuffed with big chunks of spicy chorizo, mollejas (sweetbreads), and provoleta. (Photo by El Obrero)
Peronist theme restaurant Peron Peron puts a more contemporary twist on the classics serving up dishes like ossobuco empanadas, a massive milanesa napolitana, and grilled Pacú fish. To drink? Stick with the old school aperitivos like Hesperidina or Cynar with grapefruit.
Bodegón El Obrero
Caffarena 64, La Boca
Website

Peron Peron
Carranza 2225, Palermo Hollywood
Website
4. Special Occasion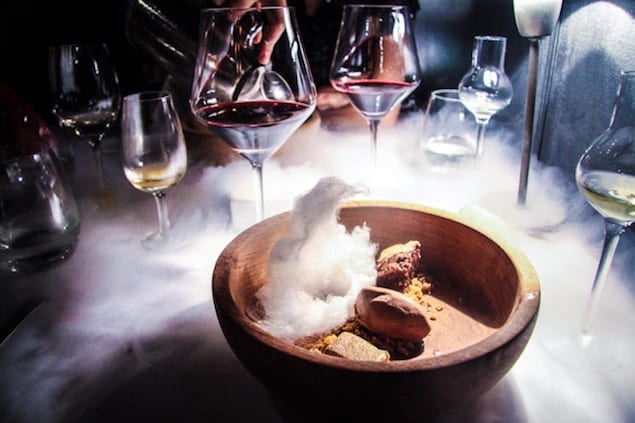 When I first visited Paraje Arévalo, I wanted it to take me to a telo and impregnate me with an illegitimate food baby. It's intimate, it's romantic, it's ideal for a special occasion whether you want to get lucky with your date, ORRR get it on with the 6, 8 or 10 course tasting menu.
I Latina, which is technically a puerta cerrada (closed door restaurant), brings a totally new style cuisine to Buenos Aires as it puts a modern spin on Colombian cooking. Inventive Caribbean flavors are matched with a beautiful setting and top notch service.
When a 3 hour dinner, hitting almost a dozen courses, culminates in an exciting Willy Wonka smoky table lagoon with heaps of cotton candy spilling out of the bowl and onto the table, you know that you have had a special dining experience. Aramburu may be pegged as the city's premiere "molecular gastronomy" restaurant, but it isn't really about that. Instead? Flavor, creativity, and technique come first, presentation following, and that extra wow factor sprinkled into the mix. (Photo of Aramburu by Fork Up the Pork)
Paraje Arévalo
Arévalo 1502, Palermo Hollywood
Website
I Latina
Murillo, Villa Crespo
Website
Aramburu
Salta 1050, Constitución
Website
5. Street Food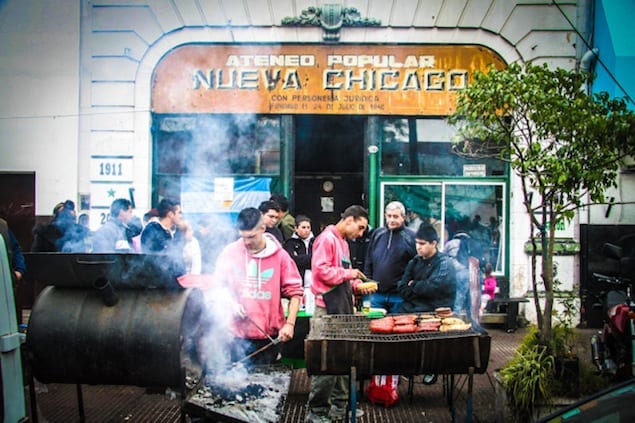 Buenos Aires does not have a strong street food culture, or really much of any street food culture, but if Argentines know how to do one thing, it's gril a piece of street meat and smother it with acidic salsa criolla and spice-filled chimichurri accompaniment. Sure, some people may feel weary of ingesting a questionably sanitary street food that may or may have not been lying on a hot grill all afternoon, but sometimes you just have to stop thinking about "health codes" (in air quotes), and follow your nose to that sweet smoky chorizo-bondiola-vacio-fried empanada stand in the sky.
Feria de Mataderos (Sundays)
Av. Lisandro de la Torre y Av. de los Corrales
Parrilla Mi Sueño
Av. De los Italianos y Macacha Guemes
No Name Parrilla – San Telmo Market
Carlos Calvo 471, San Telmo