Once your garlic is roasted, you are well on your way to dipping into this delicious homemade roasted garlic hummus.
The longest part of this Easy Roasted Garlic Hummus is actually roasting the garlic. The rest? Forget about it! The roasted garlic gives a lovely little hum of garlic flavour to this ultra creamy, homemade hummus.
So, question of the day – do you like garlic? Me? I LOVE it! I may be a bit weird when it comes to garlic (actually, I know I am). So, confession time – I actually like the smell of garlic on my fingers after handling it. Yes, you read that right. I like it.
Have you roasted garlic before? It definitely softens the flavour of the cloves, that's for sure.
Do you know what gives this hummus its ultra creamy texture? Removing the skins on those chickpeas. Ever since I made this Chipotle Lime Hummus a while ago, I've been taking that outer layer off. It's completely optional, though. This may take a few minutes, but totally worth it. Grab a buddy, maybe a beverage, and get peelin'.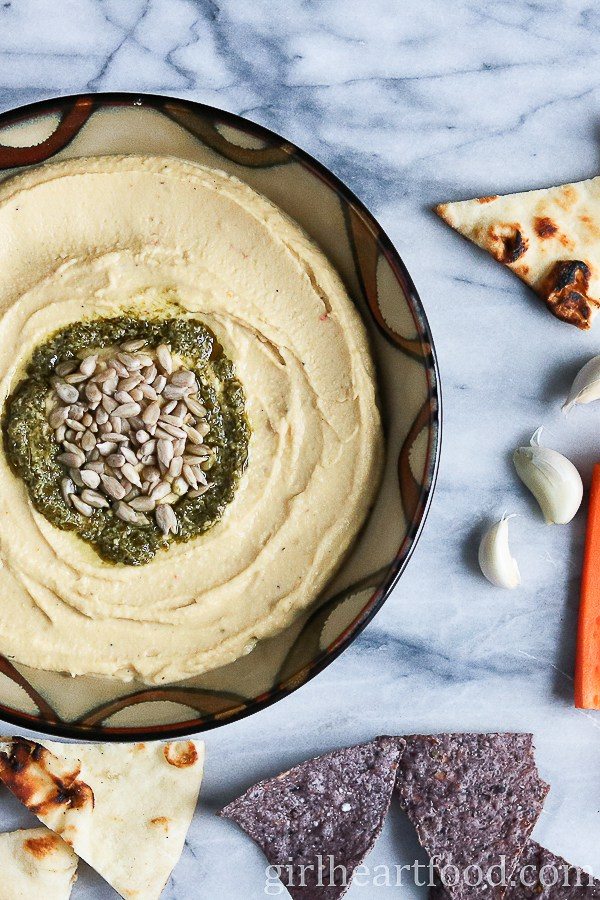 Like I said, roasting the garlic makes it less pungent so when you taste it in this hummus, there's just a little hum. However, if you want your garlic to punch you in the face so to speak, feel free to add some minced raw garlic to the party. I would suggest no more than one clove, but do what make your belly happy!
Garnish this hummus to your tastes or not at all. I garnished with some pesto and sunflower seeds and it worked wonderfully.
Dawn
I love food A LOT so I blog about it! There's always something delicious cooking in the kitchen and I'm always wondering what to make next. On girlheartfood.com, you will find a range of recipes from healthy to indulgent. There's something for everyone!